London is massive, and with all those amazing things to see around town sometimes you gotta get high to appreciate it. So unless you've got a problem with heights/lifts then check this lot out.
Want more? Ping BarChick Concierge and we'll send you somewhere insane.
FROM HIGHEST TO LOWEST...
It's a no brainer that the best high seat in the house is at The Shard – Take your pick from which bar to go drink in the view. Whether it be Aqua (level 31), Oblix (level 32) or our fave, the Gong– you won't be disappointed. Make sure you book (because everyone wants a slice of this pie), hit the lift and go enjoy.
32 London Bridge Street, London, SE1 9SG
Perched up on the dizzying 42nd floor in the old Natwest building, is a small Champagne Bar (London's highest) boasting some of the most unrestricted views of the city. It's the highest bar around, so it's no surprise that your drinks will come with a lofty price tag (kicking off at 14 quid), and like any place with views this good it can get a little touristy at times, but grab yourself a seat by the window, steer clear of the cocktail menu and stick to Champagne, and suck up that view.
Tower 42, 25 Old Broad Street, EC2N 1HQ
Take a ride up to the 40th floor of the Heron Tower and you'll hit one of London's highest bars. Hang out with The Shard and The Gherkin for company and enjoy the mega views over London. It's also a 24 hour bar so is on hand anytime you need, which is just what London should have more of. Their cocktail menu is short and sweet and their signature dish – fried duck egg sitting on a waffle topped with mustard maple syrup is what to order if you hit it in the early hours.
Heron Tower, 110 Bishopsgate, London, EC2N 4AY
Well heeled types sip on truffle oil Bloody Marys as they look out over Hyde Park from the 28th floor of the Hilton Park Lane. These are cocktails at grown up prices, but the views and immaculate service are worth it. BarChick asked nicely (in a very short skirt) and they let her out the door for a proper look, am sure you can too.
22 Park Lane, London, W1K 1BE
With banging views taking in the Thames, St Paul's Cathedral and Somerset House, jazz pianists and well executed cocktails there's nothing not to like at the Harvey Nics run Oxo Tower Bar. The decor may be a little bit cruise-ship chic, but sometimes it's what's on the outside that counts.
OXO Tower Wharf, Barge House Street, South Bank, London, SE1 9PH
It's risky visiting an (almost) all year-round rooftop bar in London, but don't let the cold weather scare you off, they have heaters and blankets to keep you warm while you're taking in Nelson's column, Trafalgar Square and Big Ben. The drinks are great, and filled with many ingredients grown right up there on the 6th floor roof. The heavy prices keep the tourists out, not a problem.
2 Spring Gardens, Trafalgar Square, London, SW1A 2TS
Watch the Thames traffic float on by as you work your way through the cocktail menu at Skylon restaurant's tiny 3rd floor bar. The drinks are as stunning as the view, definitely worth the trip over the bridge, embrace it, take the boat there. If you're on the Southbank this is definitely a bar you want to hit.
Royal Festival Hall, London, SE1 8XX
If you've seen pictures of this place, you can stop reading. On top of East London's Netil House, a creative community of fashion labels, artists and acrobats have opened some hippy happening hangout... there are Yurts, BYO booze and best of all? On a roof top you can play chimney – so smoke away! Only problem is that you have to be a member to get up there or non-members can check it out for special events, so get online and get up there for the next one!
Netil House, 1 Westgate Street, London, E8 3RL
PORTRAIT BAR AT THE NATIONAL PORTRAIT GALLERY 

Being all cultural has its downsides: brain overload, museum legs and the sudden need of a stiff drink. Conveniently located on the roof of the National Portrait Gallery is a restaurant/bar which has killer views out over Trafalgar Square and Westminster. We say order the Spiced Sailor with rum, fresh lime, elderflower and coriander and give Nelson and his column a salute whilst you're sipping.
St.Martin's Place, London, WC2H 0HE // Winter opening times: November/December/February/March: Fri & Sat evenings: 5pm – 11pm
Get yourself over to St Pauls and instead of climbing up it you'll want to take yourself to Madison for equally good views that include the cathedral. This place has a large roof terrace and yes, it gets a bit rammed when the sun's out, but that's England for you. Come for drinks, tuck in to the tapas with your mate/date and enjoy that view.
Rooftop Terrace, 1 New Change, St Pauls, London EC4M 9AF
You can't beat a full-on view of Tower Bridge (The Shard looks pretty sweet from here too). To make things cosy for winter, the Coppa crew have put a whole load of glass igloos outside. Epic.
3 Three Quays Walk, Lower Thames St, London EC3R 6AH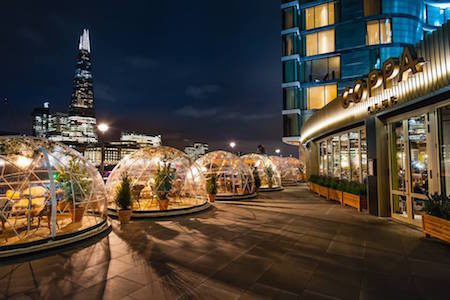 Lovin' this? Get heady on this lot:
Where To Grab A Drink After Midnight