We got battered all over town to bring you the ten best stacks on the market...
The clue's in the title with this one; of course their pancakes are going to be outta this world. With five on the menu, choose from the veggie option, bacon or berries. They sound good but we're going big on the All American with eggs, sausage, fried potatoes, bacon and maple syrup. Start the day like a champ.
Various locations
If you wanna do breakfast like a baller then swing by The Delaunay. These guys take pancakes to a whole new level with maple syrup and bacon, or blueberries, crème fraiche and pear compote. Plus in surroundings this suave it's totally acceptable to drink champagne pre-10am.
55 Aldwych, London, WC2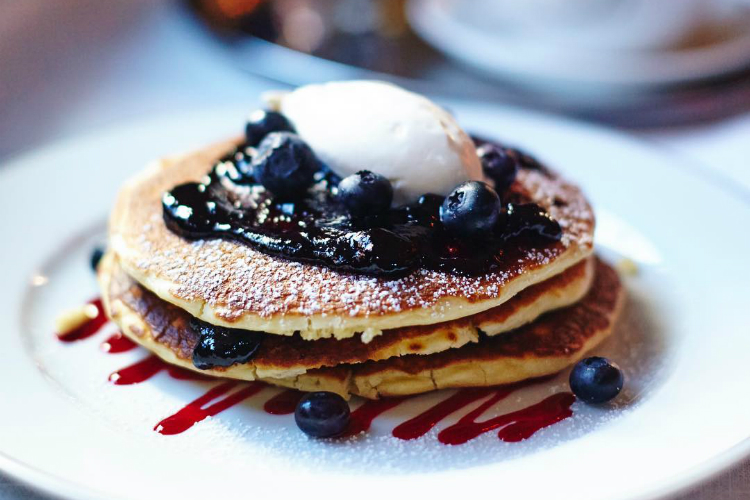 With 8 locations across London, you can nail your pancake craving in super quick time. These guys are taking pancakes up a notch with inspiration from all those treats that always find their way on to your desk: choose from the Jaffa pancake, the Oreo Cookie Cake or the Red Velvet Wonder. Wanna keep it plain Jane? They've got maple syrup, banana or blueberry - stack 'em up five high and wash them down with a hard shake.
Various locations
They've always got their awesome blueberry and whipped mascarpone on the menu.  These spongey bad boys are spot-on for breakfast, nothing like tucking into some pancakes surrounded by palms.
65A Brushfield St, London E1 6AA
When these bad boys cruised past us the other day we felt a stab of jealousy. Three fluffy, melt in the mouth pancakes, served with vanilla clotted cream, blueberries and a jug of maple syrup. Wash them down with one of their killer Bloody Marys. Good morning!
43-51 Great Titchfield Street, London, W1
Jackson + Rye will be slipping some much-needed booze into your day with their spiked pancakes. Made with a good glug of good rye whiskey and rye infused whipped cream, served with a side of sweet and salty maple slab bacon. Eat yourself tipsy.
Various locations: City & Richmond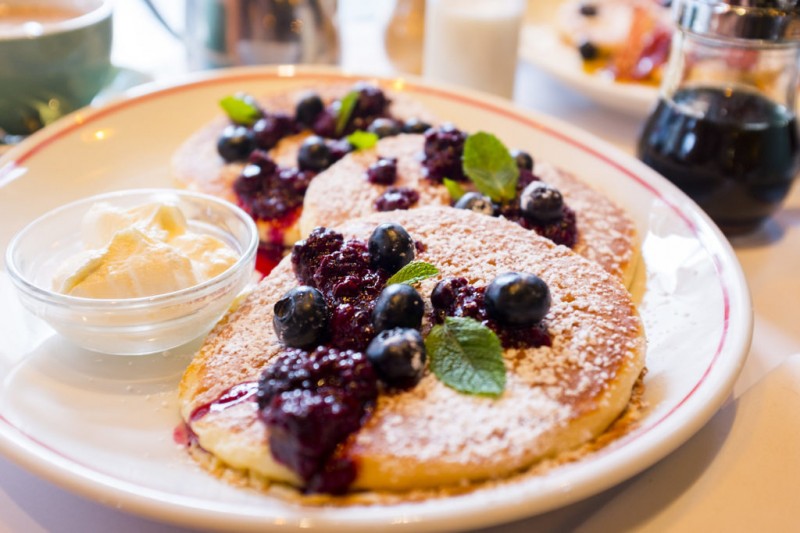 Why would you just have one pancake when you can have... millions? This mega cute bakery in Soho's backstreets goes to a whole other level of pancake indulgence with their epic menu of instagrammable mille-crepes. Our fave?  It's gotta be this matcha made in heaven;  Layers of French crepes with light ceremonial-grade matcha pastry cream in between with powered matcha to top.  
Unit 5, 9-12 St Anne's Court, London, W1F 0BB
These guys are always in it for a good time, like every day of the week is Pancake Day… so you know they'll do it right. Go for an irresistible stack of maple and bacon pancakes and wash it down with a boozy milkshake. Your arteries won't thank you but who needs gratitude when you're knee-deep in batter?
Shoreditch / Brixton / Camden
It's all in the title with this place. This is literally where the pancakes are. All of them. From your savoury to your sweet, your classic to you're weird, epic and mega. There's even choices for vegans, veggies and those riding the gluten-free wave with the 3 in 1 batter. The hardest part is choosing which topping you're digging. 
Arch 35a, 85a Southwark Bridge Road, London SE1 0NQ
BYO usually means something different in our circles, but we can get on board with the acronym at this Covent Garden joint, too. The Build Your Own Pancake menu lets you be the master of your own brunch; start with your base or Buttermilk, Blueberry or Buckwheat and go from there. 
18 Wellington Street, Covent Garden , London WC2E 7DD