Piled high, stacked low, American-style, loaded with the goods or just topped with good old-fashioned lemon and sugar. However you like your pancakes, these wicked London spots flip 'em up the best - and they've got epic drinks to wash 'em down with.
The clue's in the title with this one; of course their pancakes are going to be outta this world. Choose from veggie options, or get involved with some bacon or berries. They're all spot-on, but we're going big on the All American with eggs, sausage, fried potatoes, bacon and maple syrup. Start the day like a champ by pairing ya plate with a Breakfast Mai Tai - 'cos who doesn't want two kindsa rum in the morning?
Various locations
This is the home of *probably* the most Instagrammed plate of pancakes in London. In fact, they're so legendary, these bad-ass NYC imports have been trademarked! That's right, these are Sunday Pancakes™️, honey. These break-the-internet cartoon style stacks are the epitome of American excess, and when it comes to our pancakes, that's just the way we like it. You're here to indulge, so quench your thirst with the Champagne Problems cocktail - that's genepy, strawberry, lemon and bubbly. Yum.
98 Westbourne Grove, London W2 5RU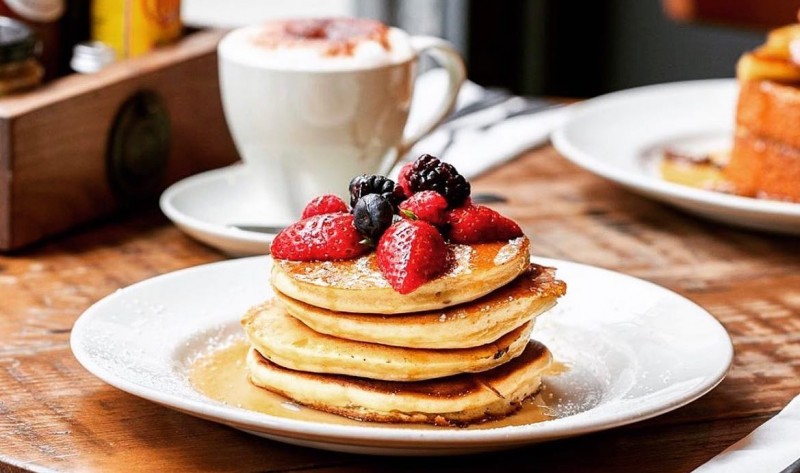 You've been partying hard in Soho, now you need something to soak up your sins at 3am. Enter: Balans, the Old Compton Street joint open til 5am every night/morning of the week so you can get your pancake fix until the dawn chorus reaches its crescendo. If the warm maple butter doesn't keep that hangover at bay for at least a few hours more, one of their famous Pornstar Martinis certainly will.
60-62 Old Compton Street, London W1D 4UG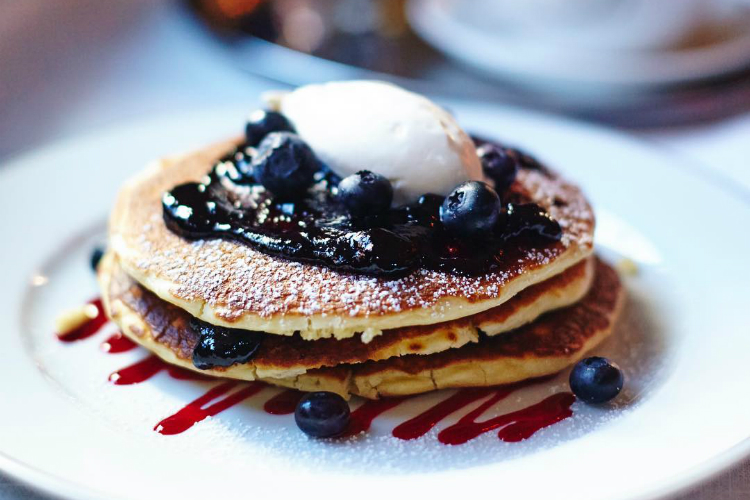 If you wanna do breakfast like a baller then swing by The Delaunay. These guys take pancakes to a whole new level with maple syrup and bacon, or blueberries, crème fraiche and pear compote. Plus in surroundings this suave, it's totally acceptable to drink champagne pre-10am.
55 Aldwych, London WC2 4BB
We've seen it in the movies: American diners do pancakes best. These guys are taking diner-style pancakes up a notch with their build-your-own-stack option: top ya 'cakes with vanilla ice cream, Biscoff, banana, toffee sauce, tutti frutti, Nutella or hazelnuts and go in on a masterpiece of your own creation. Wanna keep it plain Jane? Get a classic buttermilk stack with fried eggs and bacon, then wash 'em down with an Espresso Martini - because you need your morning coffee.
2 Jamestown Rd, London NW1 7BY
If you come here and you don't order these, you're gonna end up with a serious case of brunch envy when you watch 'em cruise by. Three fluffy, melt-in-the-mouth pancakes, served with vanilla clotted cream, berries and a jug of maple syrup. Pair 'em with one of their killer Bloody Marys. Good morning!
43-51 Great Titchfield Street, London W1W 7PQ
These guys are always in it for a good time, like every day of the week is Pancake Day… so you know they'll do it right. Go for an irresistible stack of maple and bacon pancakes and order a boozy milkshake too, for good measure. Your arteries won't thank you, but who needs gratitude when you're knee-deep in batter?
Shoreditch / Brixton / Camden
It's all in the title with this place. This is literally where the pancakes are. All of them. From your savoury to your sweet, your classic to your weird, epic and mega. There are even choices for vegans, veggies and those riding the gluten-free wave with the three-in-one batter. The hardest part is choosing which topping you're digging. Toast your excellent decision-making skills with a Mimosa.
Arch 35a, 85a Southwark Bridge Road, London SE1 0NQ
Our mate Christopher knows how to stack 'em. Choose from classic buttermilk pancakes with maple syrup and bacon, coconut pancakes with berries and coconut yoghurt or blueberry buttermilk pancakes. You really can't go wrong - especially if you order the brownie and bourbon shake as a cheeky accompaniment.
18 Wellington Street, Covent Garden, London WC2E 7DD
Updated 17/02/2023