Listen up, gang. Whisky ain't just for dads and pretentious old member's clubs. Whisky is here for everyone, and these hot bars are serving up some of the best drams in London.
Black Rock
An awesome whisky bar is all well and good but how about whisky inside an 18ft oak tree? Exactly.  This sultry basement bar takes killer whisky to the next level with its pretty insane whisky raging system inside a tree, a river of whisky cocktail and 4 epic cabinets of the stuff. Choose your flavour palette, get stuck into the oak aged awesome or just go rogue with their suggestion of a cocktail.  Either way, you'll have one hell of a night. This place rocks. 
9 Christopher Street, London EC2A 2BS 
Boisdale Canary Wharf
If BarChick could, she'd live here. There's a f*ck ton of tartan and whiskey, live music, a classic cigar room and a pimping terrace. If you want a Jack Daniels with a splash of diet coke, you best re-evaluate. The bar upstairs houses over 1,000 malt whiskies (predominantly Scottish), but they've also got a killer cocktail list. Match that with an oyster bar and you'll get what we're on about. Whether you fancy perching at the amber bar or sidling up to one of the cabaret tables, get comfy 'cos you've got a hell of a lot of whiskies to work through.
Cabot Place, London E14 4QT 
The Vault @ Milroy's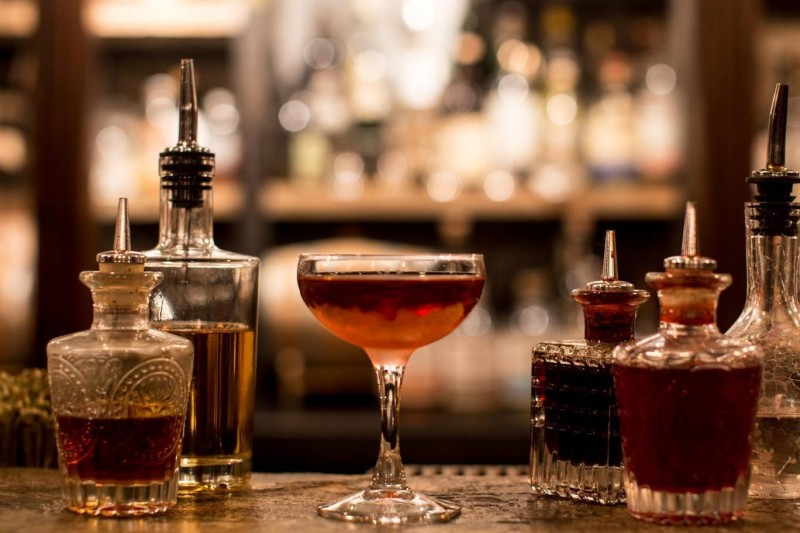 Bars don't get better than when they're hiding underneath one of BarChick's favourite whisky shops. Upstairs is London's oldest whisky shop where you could get warmed up at the tasting bar with an aged single malt (or two); but if you wanna take a wee adventure, give the bookcase a nudge 'cos a subterranean cellar bar decked out with old chesterfields and bare brick walls awaits you. The menu changes seasonally, but it's always sh*t hot and rife with top shelf whisky-based numbers. Do it neat or take advantage of their wicked array of house-infused spirits (the pear, honey and rosemary infused bourbon is a keeper) and get stuck in. 
3 Greek St, London W1D 4NX  
Whisky Bar at the Athenaeum

 
You're gonna have to bypass some dumbstruck tourists in the lobby of this swank hotel, but once you find that whisky bar you'll understand why. What could go wrong in a place where the walls are pretty much made of glowing bottles of booze? Make friends with the hotel guests and London's league of whisky-obsessors on the plush rouge seats cos you have 350 plus whiskies to make your way through. Too faint-hearted for neat drams? Stick with the cocktail list and level yourself out with some cheese. 
116 Piccadilly, Mayfair, London W1J 7BJ  
Showdown at The Lockhart

 
New York meets Mississippi meets 'The Talented Mr. Fox' at this bourbon-fueled two-storey haven. Upstairs is where you'll find a 'civilized affair' of gastro Southern dining and red wine sipping, but swagger downstairs and you'll get the whole shebang. The cocktail list is comprised of categories like 'Sour', 'Long, 'Strong', 'Tap and Bottle', 'Weird' and 'Shooters', so you have plenty to work with. These guys chamoion American whiskey (Woodford Reserve is pretty much the crux of the menu) and Mr. Fox is doing some pretty wicked things with that poison. There are even iced tea cocktails on tap for your mate who just can't take the heat. 
22-24 Seymour Pl, London W1H 7NL  
Blues Kitchen Camden
Rock up and take in the Mississippi Delta vibes on Camden High Street, of all places. The bourbon selection here is as insane as the deep fried food and trust us, you'll be needing both. If you're a novice in the whiskey world, ask for yours on the rocks or use it to spike that milkshake; but if you're a bold one, obvs get it neat. Wanna live the American dream? Do like BarChick and match your top pick with a Jambalaya, cornbread and prime seating for that banging live blues. 
111-113 Camden High St, London NW1 7JN  
Britannia 
It looks like your stock boozer from the outside, but once inside you'll see it's anything but. This unpretentious pub in the backstreets of Borough has a real a penchant for whisky. Feast your eyes on that blackboard showcasing the names of some 130 odd whiskies (most of which belong to the five-to-ten-pound terrain) and you'll get the idea. If you're frazzled by the sheer amount, just stick with the 'malt of the month' and get to swapping stories with the locals. 
44 Kipling St, London SE1 3RU  
Slim Jims
For those who're into Detroit-looking dive bars that boast malts, blended scotch, swivel stools and bras dangling from ceilings, here's your pit stop. What's the clincher? Red lights all over baby. Whack on that band tee you've never heard of, slip on the leather and leave most of your dignity at the door cos Picklebacks are happening. Alternatively, sip on that Highland or Islay malt. Anything goes. If you're on the Pickleback train like BarChick, you'll be well happy about the Zeppelin/Guns and Roses playlist pumping from the jukebox. 
112 Upper St, London N1 1QN  
St Pancras Grand 
Just alighted the Eurostar and fancy a whisky and some lazing in a plush Belle-Epoque brasserie? Sure you do. Everything's grand in here, as the name suggests, so maybe dress to the nines and make like a visiting dignitary for this one. Although they're not purveyors of as large a whisky selection as Boisdale's 1000+ catalogue, but they have a neat array of 50 that definitely shouldn't be underestimated. With an Imbibe Seal of Fine Whiskey award under their belt, you know you're in good hands. You'll find BarChick at the bar swingin' her legs and watchin' the world pass by.
Grand Terrace, St Pancras International Station, London N1C 4QL  
Bull in a China Shop 

 
Everyone's banging on about Japanese whiskey right now and this is BarChick's favourite place to get a taste of it. It's low key, tucked under the arches of Shoreditch station and it's chock-full of curiosities like bone china ornaments and medicine bottles. If Japanese whisky alongside an Asian-spiced whisky-glazed rotisserie chicken sounds like your bag then get involved. You won't be finding any hoity-toity types here and with a manageable, specially-curated list of just about 30 whiskies, you won't be frazzled from indecision either. Beginner? Opt for a Nikka. Whether you wanna enjoy yours as a cocktail or neat in a highball with hand-carved ice is up to you, but if you go with the latter, you'll get a bartender who's trained to carve ice cubes just like the Japanese masters. 
196 Shoreditch High Street, London E1 6JE
Swift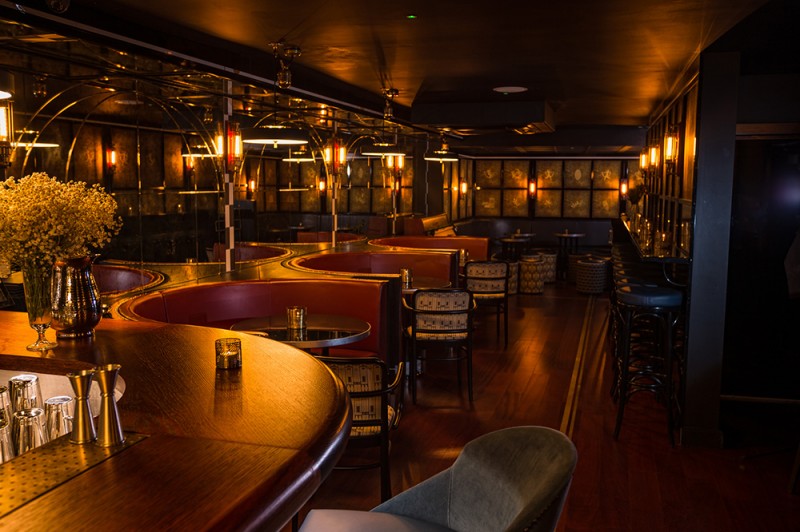 Hushed whispers and good behaviour has never been BarChick's thing, but we've found a library that fits a lot more with our kinda style. In the basement of Swift you'll find art deco vibes and a 250 strong whisky library, with a menu that reads better than a Robert Burns anthology. Drink 'em straight or in a cocktail in one of the slick leather booths and settle in for more than just a swift one.   
 
12 Old Compton Street, Soho, London  
Strongroom Studios Bar & Kitchen 

 
The whisky collection at the Strongroom Studios Bar is as legendary as the tracks that have been recorded there. There are over 50 smash hit whisk(e)ys and bourbons behind the bar, and if you're still trying to learn your Islays from your Highlands, you can check out their super chilled Whisky Wednesday masterclasses hosted every month... or ask the barman for the dram of the month. They guys here know their sh*t. 
 
120-124 Curtain Rd, Shoreditch, London 
Iron Stag 
Tartans have given way to tropical touches and taxidermy has been given a metallic twist at this Hoxton basement bar, where the chesterfields are plush and there are more Union Jacks than a royal wedding street party. Set to a hip hop soundtrack, this bar offers a f*ck tonne of whisky, including a killer whisky ginger on draft and some pre-bottled cocktails as intriguing as the contents of a Scot's kilt! Yes please! 
 
45-47 Hoxton Square, London  
Sexy Fish

 
The clue is in the title of this place: it's sexy and the fish is epic. But while the food is cracking, you know for us it's all about that pimping bar. Yes, it has Damian Hirst Mermaids adorning each end, and the guys behind the bar are as immaculately dressed as they are handsome. More importantly, if you're into your Japanese Whiskies, you're going to think you're in heaven with the biggest Japanese whiskey collection in the world. They mix up some wicked cocktails with awesome names to match, MisoThirsty is what you'll find BarChick sipping on; made with Hibiki 17yo, it's a corker. 
 
Berkeley Square House, Berkeley Square, Mayfair, London   
Salt Whisky Bar 
No one'll scoff at you for requesting a mixer with your malt here. The facade looks like a gap year-friendly club in the south of France, but the interior's anything but. And with over 200 whiskies to choose from, what's there to complain about? It seems slapdash, but take our word for it: it works. You'll find BarChick on the shisha patio, whisky in hand. 
82 Seymour St, London W2 2JB