Hangovers not included.
Non-alcoholic beer can be awesome. FACT. If you do it right that is. Spoiler alert, these guys are doing it right.
Drop Bear Tropical IPA
If you dig tropical vibes in your beer
If you're looking for an alcohol-free beer with bite, Drop Bear's Tropical IPA is gonna be your jam. Packing the punch of a full-strength IPA without the booze, this bad boy is locked and loaded with tropical hops, including hits of passionfruit, stone fruit and citrus. Oh mama! If you're more of a bitter drinker when it comes to your beer, you'll dig the hints of roasted coffee and dark chocolate that burst through the tropical base. Serve it ice-cold, kick back, and imagine yourself in a hammock on a tropical island.
Grab a case of Drop Bear Tropical IPA for £13.50
Lucky Saint
If you love a biscuity malt
When it comes to epic non-alc beers, these guys have absolutely nailed it. And we don't think luck had anything to do with it. Lucky Saint is a 0.5% unfiltered lager brewed in Germany, but created in the UK. Yeah, it's 0.5%, but don't go thinking this doesn't make it booze free. 0.5% is about the same amount of alcohol you find in a ripe banana... and according to EU law, 0.5% is still classed as alcohol-free. They leave their beer unfiltered for maximum flavour, and its made using Bavarian spring water, pilsner malt, Hallertau hops and their own single-use yeast. All of that brings biscuity malts and a smooth, citrus hop finish. Saints? Yeh, we reckon so.
Lucky Saint is the Official Beer of Dry January and they're currently offering free delivery on all orders, both cans and bottles.
Heineken 0.0
When you wanna stick to what you know
Chances are you've already heard of this brand, and if you're no stranger to riding the booze-free wagon, chances are you've also already given their non-alc a swig, too. Heineken 0.0 is made with the same quality ingredients as its alcoholic counterpart. Great news if booze-free beer is a newish concept to you and you don't wanna veer too far from what you know. This non-alcoholic edition is double brewed with a unique recipe and its alcohol content carefully removed - so if you're out with your crew and wanna get on the beers, but you're also the designated driver, this is the bottle to get on. 
Heineken 0.0 is available in 4 and 12 packs of 330ml bottles and a 6 pack of 330ml cans in major supermarkets and convenience stores.
Binary Botanical 0.5
The beer to drink if you prefer wine
When vino is your usual but you're craving something a little more refreshing, and beer just ain't your thing, Binary Botanical is the answer. This is the beer for people who don't really like beer. It was dreamt up by Danielle Bekker, a gal who was seeking a lighter beer-like alternative to quench her thirst when she wasn't feeling her preferred grape-based tipple. It's rocking a tropical aroma, a dry, prosecco-like taste, and a clean finish thanks to an infusion of organic hop leaves and wine yeast. It's available with both 4% and 0.5% alcohol for when you wanna drink less or not at all.
Available on Ocado, Prime and in your local Sainburys.
Big Drop Brewing co.
For fans of off the wall flavours
Some breweries moved into the non-alcoholic market, while others were born right in the heart of it. The Big Drop Brewing Co was one of the first to specialise exclusively in beer of the booze-free variety, and oh man have they honed their craft. Unlike some breweries who take the booze out after brewing, these guys only take it up to 0.5% in the first place, and the result is flavour. A sh*t tonne of it. They've got a kick-ass range from pale-ales to craft lagers and even an awesome, thick stout, with a few seasonal specials in between (pumpkin spiced beer, anyone?)
Small Beer Brew Co.
For when you wanna ease yourself into going booze-free
The Small Beer brewers specialise in brewing classic styles below 2.8% ABV. So yeah okay, these guys aren't technically "non alc", but if you're looking to gently ease yourself into going totally sans booze, these guys provide one hella tasty gateway. Whether you prefer your ales pale or your lagers darker, these guys have grafted to make sure these small beers remain mighty by brewing with only the best ingredients and creating a natural carbonation. They also only brew the lot to strength, so the alcohol doesn't need to be removed and the flavour makes it in from the start. Ace.
Grab your small bottles (or large kegs) of Small Beer Brew here.
Fungtn Beer
When you wanna keep ya health in check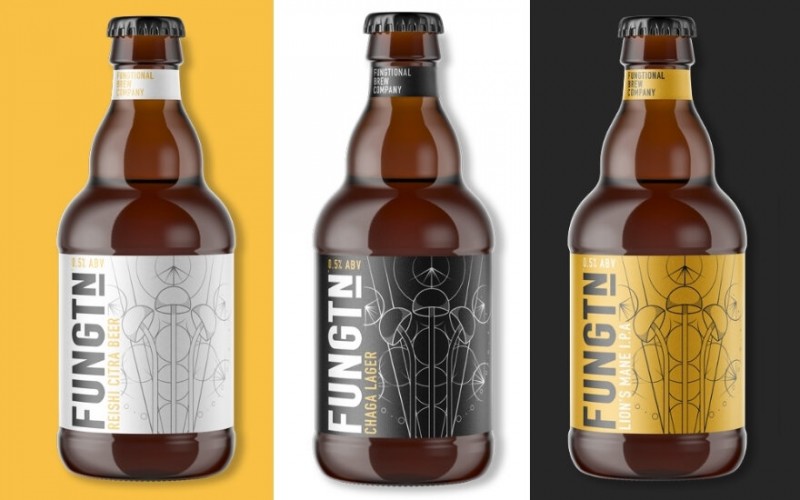 Beer made from mushrooms? Yeah, we raised our eyebrows too. Fungtn harnesses the ancient wisdom of medicinal mushrooms AKA myco adaptogens - which are a class of fungi known for their health benefits. We always knew going booze-free was good for ya... this takes it to another level. Adaptogenic mushrooms have been used in medicine for thousands of years, known for helping the body adapt to environmental and psychological stresses. Sounds like the ideal lockdown bev to us. They've got 4 varieties in the fam at the mo. Our fave? The juicy, sweet & sour citra beer with a pineapple & topical fruit nose. Refreshing & juicy.
Get it direct from the crew at Fungtn here
BrewDog Nanny State
For when you wanna give some brand loyalty
Lets face it, you prob either know BrewDog for their bad-ass beers, or for their insane marketing stunts, although at the rate these guys have been taking over the country with their infamous bars, it's probably both. We were gutted that the government didn't take them up on their offer to use their venues as vaccination stations (Pfizer with a beer chaser sounded pretty great to us) but Boris' loss if our gain, especially if we can hit them up for a few of their Nanny State Pale Ales made using eight different types of malt and coming in at a hangover escaping 0.5%.
You can get Nanny State in most local supermarkets, and from the bars themselves.
Signature Brew Lo-Fi
The beer for turning up the volume, not the ABV
Signature Brew's Lo-Fi is their Alcohol-Free answer to Pale Ale. Inspired by the lo-fi beats the Signature Brew crew listen to when they want a chill one, this hazy, non-alcoholic beer contains nothing but the highest quality simcoe hops for some big pine aromas & tropical fruit flavours. That means this bad-boy sits harmoniously alongside Signature Brew's core range of amped-up beers. Rock on.
You'll find Lo-Fi at Signature Brew's venues in Haggerston and Walthamstow, and via this link