Going booze-free doesn't mean there isn't a seat at the bar with your name on it.
Calling all designated drivers, preggos & you hardcore wagon riders... these ones are for you
Heads + Tails
We all have a dark side, but if the angel on your shoulder has a louder voice than the devil, Heads + Tails have got your back. We always bee-line for this bar when we're chillin' in West Hampstead - it offers epic contrasts from its decor to its cocktail menus. Heads, the bright and pure bar upstairs, focuses on lighter drinks with an entire menu section devoted to low and no alcohol cocktails.  Sit pretty on one of the velvet stools and sip on the "Everleaf Highball" - a delicious Whisky Highball made with botanical Everleaf and Sekforde soda (made for whisky). It brings all the floral and spice notes of the spirit to the forefront and balances with the Sicilian orange and rosemary flavours in the soda. In short; a tall, refreshing, savoury banger.
175 West End Ln, West Hampstead, London NW6 2LH
The American Bar at The Savoy
Just cos you're off the sauce doesn't mean you can't enjoy one of the best bars in the world, right? The Savoy Hotel's iconic, award-winning and downright awesome American Bar has dedicated a few tracks from their music inspired Savoy Songbook menu to those who want the music to be the only reason they're swaying in their seats. The Deep Purple inspired Smoke On The Water uses Seedlip Grove as its base, rather than something more potent, alongside Burnt Barkey, Smoke, Opopanax Honey & Soda. We'd have that on repeat.
The Savoy, Strand, London WC2R 0EZ
Cub x Everleaf
If your New Year's resolution was to drink less and be more sustainable this year, oh boy - you're gonna knock it outta the park with this one. For 2 weeks from 15th January, deliciously complex non-alcoholic aperitif Everleaf are partnering with zero-waste focused restaurant and bar, Cub to create a Dry January Hub. Say what? No January blues here. This space is gonna brighten up your month whilst promoting sustainability, wellbeing, and non-alcoholic drinks which are full of flavour. BOOM! Rock up to one of the Everleaf masterclasses or dig into the sustainable cub set menu built around botanicals to complement a few of the Everleaf cocktails.
153 Hoxton St, Hoxton, London N1 6PJ
Hacha
Craving the zing of a margarita but you're off the sauce? The only place that can magic up a slammin' marg without bringing out the big liquor guns is the home of the best in London. Hacha might specialise in making the best agave cocktails in town, but they also have a knack for creating a serve that'll leave you buzzing without the booze. This particular Tommy's is made with Seedlip, Rosemary Smoked Lime & Pistachio Agave Syrup. Wow!
378 Kingsland Rd, Dalston, London E8 4AA
Redemption Bar
The original East and West London outposts of the super insta-friendly Redemption met in the middle and set up shop in Central. And they really upped their game, opening the world's first alcohol-free cocktail bar offering a wicked range of booze-less cocktails. Yeh. You read that right. The menu is bang full of flavour but not a drop of booze in sight.  Check out the pious pina colada or the frozen pineapple margarita for a taste of summer. Close ya eyes and picture yourself on a beach. Heaven! There's also kombucha on tap and a selection of alcohol-free beers, wines and spirits. Hangover? What hangover.
15 Short's Gardens, London WC2H 9AT
www.redemptionbar.co.uk/coventgarden 
Polpo
If "the usual" for you is a refreshing, cold beer but you wanna take it a bit easy, you're gonna dig this. Pop over to Polpo and get jiggy with their Lucky Saint Spritz Menu. These spritzes have been created with non-alcoholic beer Lucky Saint and paired with ciccheti - you know we always love snacks when we're drinking, whether is boozy or not. It's your perfect pre-dinner aperitif. We're into the Lucky Switchel Spritz - this comes with a splash of Mother Root Ginger Switchel, topped up with Lucky Saint 0.5% Superior Unfiltered Lager, and it's paired with Mushroom & thyme arancini. Hell yes.
Multiple Locations
Ella Canta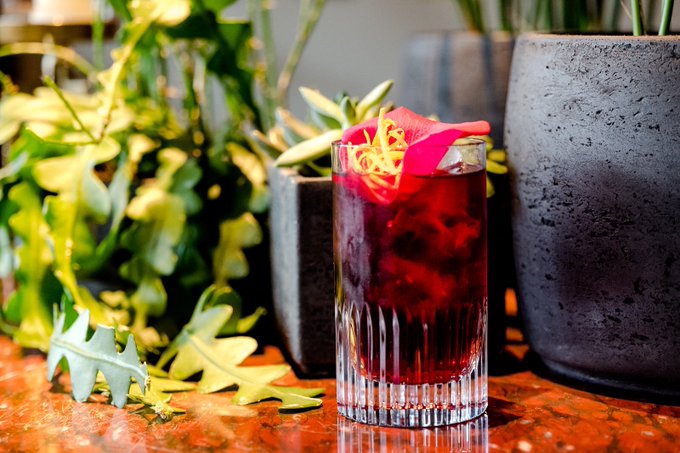 Freshen up in 2020 with the agua fresca menu at Martha Ortiz's Ella Canta. This traditional South American drink blends fruits, cereals, flowers, seeds and so much flavour you won't even notice it's missing booze. For freshness with a spot of spice, go for the mix of watermelon juice, pink peppercorn syrup and habanero bitters.  That'll kick your January into gear.
One Hamilton Place, Park Ln, Mayfair, London W1J 7QY
Ruya
If you've gone ham on the hard stuff and want to bring some equilibrium back to your bod, celebrated Anatolian restaurant has your back., They're known for creating some hella sophisticated and contemporary twists on Anatolian classics, and they've spun it further with a menu of detoxifying drinks that'll make you feel fresher than a new set of bed-sheets. The Detoxijto will give you that rebirthed feeling with its mix of cucumber, mint, Lime Juice, agave and jasmine tea soda, and a sip of the Red Power, with Fresh Watermelon,  Raspberries, Lemon Juice, Honey, Rosemary, Pomegranate Juice. 
30 Upper Grosvenor St, Mayfair, London W1K 7PH
Amplify Your January at Skylight
New non-alc kid on the block Amplify has a January calendar packed full with interactive events and pop-ups taking place across London. Giving up the booze isn't the same as giving up fun, y'all. This line up is the antithesis to 'dry and boring'; from mindful creative workshops and pampering packages, to killer fitness events, team games and sober clubbing (trust us when everyone's in the same boat, this is a riot!) Amplify has also teamed up with Skylight Rooftop to serve non-alcoholic cocktails and serves throughout the month. It'll make you feel fresher than Will Smith after he touched down in Bel Air.
Tobacco Dock, Pennington St entrance, St Katharine's & Wapping, London E1W 2SF
www.tobaccodocklondon.com/skylight/  
Coupette x Saicho
Sometimes in life, you gotta make the difficult decision: cuppa or cocktail? It's the Sophie's Choice of the drinking world. But for January, one of our fave Bethnal Green hangs is making life a more simple, beautiful place with their gently effervescing Tea Light Spritz. They're adding this refreshing serve made with Saicho Hojicha Sparkling Tea to their dynamic menu throughout January so you can refresh yourself without having an existential imbibe crisis. Ace. It's made with Roasted Barley Cordial and Winter Leaves, and those winter-hardy herbs draw out the inherent nutty flavour of the tea with hints of bread and chocolate. Decision = made.
423 Bethnal Green Rd, London E2 0AN
Lyaness
The thing about cocktails at this bar is you know that whether or not it has alcohol in it, it's going to be a banger. With their unfamiliar and fascinating mixes of unique ingredients that only Mr Lyan and his team could have dreamt up,  it's an adventure whatever you order. Their Golden South Sea Pearldiver is one of the serves that'll blow your mind without altering it. They've chosen Seedlip Grove & Garden as their non-alc spirit base before adding in Golden Levain, Beurre Noisette & Strawberry. Sobriety never tasted so good.
20 Upper Ground, South Bank, London SE1 9PD
Wanna stock up your non-alc booze cabinet at home? You need these bottles in your casa