Ryan 'Mr Lyan' Cheti and his team at Southbank's award-winning Lyaness have done it again, launching an epic new menu filled with drinks unlike anything you've ever tried before. And it might just be their best yet.
Forget Nigella this Christmas. The only cookbook you need to know about is The Lyaness British Cookbook, AKA the third menu to feature at the award-winning bar found within the iconic Sea Containers London hotel since it rose from the ashes of its predecessor, Dandelyan, back in March 2019. When it comes to creativity and innovation, these guys are The Dons, so just like the two menus that came before this, the focus is on core ingredients you won't find in any other bar in the world, created exclusively by the bar team using interesting and unique processes (it's not magic, but it's damn close enough).
For this menu, the team, led by Head Bartender Will Meredith, has taken a global approach to flavour and balance. But none of what they've done has been remotely simple. These guys aren't about scratching the surface of flavour. They take a metaphorical pneumatic drill and go deep, excavating their way through til they find a way of using an ingredient in a way it's never been used before. Specifically for the "Lyaness British Cookbook', they've found ways of interpreting flavour and concepts and putting them through a British lens. It's less about British geography, techniques and ingredients, more about the global resonance British flavours have in order to bring a new set of directions to some of the team's favourite cocktails. And baby - they've smashed it.
So what will you find on the Lyaness British Cookbook menu?
OYSTER HONEY
We love a bit of contradiction when it comes to our drinks, and this new core ingredient is an exploration of two seemingly contradictory flavours, and the ability that animals (we're talkin' bees and oysters, here) have to transform elements from their environment into a unique physical form. 
Oyster Honey is bringing a real sense of decadence to the menu. The oyster's rep for indulgence paired with the golden sweetness and depth of honey results in a flavour profile that traverses from coastal to fruity; a wicked addition to classic cocktails to bring real balance.
Drink it in: The welcome drink (which will give you the perfect appetite-whetting preview into what's to come) and then pluck for a Marigold Gimlet, with Bacardi Ocho, Oyster Honey, white verjus, brioche and apple blossom. 
With some serious golden sunset vibes, this marigold-hued cocktail (the flower, not the gloves) brings plenty of fresh, tart vibes to the menu.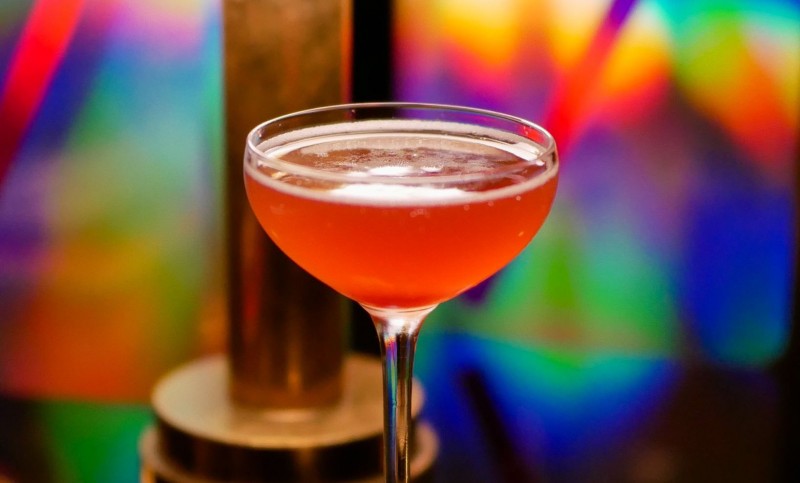 BLOOD CURAÇAO
We imagine this will be a divisive flavour, but we had a hunch this would be one of the best new ingredients to come out of this new menu and baby, we were right. To create this definitely-not-vegan-friendly ingredient, the Lyaness crew looked to embrace the fruity richness & luxurious weight that blood can bring to dishes found around the world. Love black pudding with your Full English? You'll dig this.
Playing on the classically British approach of 'nose to tail' cookery (waste not, want not, y'all) the team re-hydrated dried pigs blood and cooked it into whisky. They then mixed oranges with brown sugar, parsley and Sichuan pepper, and vacuum infused it before blending both concoctions together with balsamic vinegar. The result: bold, warming and bad-ass.
Drink it in: Blood Brown Derby: Maker's Mark, Blood Curaçao, grapefruit honey and fermented rose.
As cocktails go, the Brown Derby isn't really a common household name, so The Lyaness team have given it an overhaul, pimping it with the legendary Lyaness techniques to make something worth writing home about. Light, bright, with a tangy undertone from the white balsamic chilling in the Blood Curaçao, this whisky-based drink mellows out with the sweetness of the grapefruit - this is a wicked drink to start your night with if you wanna ease yourself into these unusual ingredients. In terms of garnish, they've kept it simple with mint and orange. Why d*ck around with something outrageous when the bright orange glass does all the talking?
GREEN SAUCE LIQUEUR 
Looking for a more exciting way to get your daily intake of greens? We found it. Green herbs, sour fruits and a variety of fungi make up the foundations of this deep Green Sauce Liqueur, inspired by the classic sauces found in the kitchens of many cultures, like Chimmichurri, Salsa Verdi, Chermoula and Pesto, all designed to accompany richer dishes and cut through fattiness.
The team have played to the flavour profile, but brought some deeper umami and acidic vibes to this core ingredient by blitzing together typical green sauce herbs, such as parsley, tarragon and dill with bay leaves, passionfruit and mushroom vinegar. They then work some classic Lyaness-style magic to create an ingredient with a sherbet brightness; zesty enough to cut through richer serves.
Drink it in: A Chestnut Rabble: Hendrick's Gin, Green Sauce Liqueur, St. Germain, beeswax, chestnut, pineapple leaf soda
Looking for something fresh and pleasing? Pretty much everything on the Green Sauce pages will tick those boxes, but this one in particular really hits the spot. The beeswax gives it a rounded mouthfeel, while the garnish of red peppercorns gives a fragrant hit as you sip. No second guessing that this is a Green Sauce serve - the lurid green liquid practically glows under the lamps in the mirrored tables, and will definitely draw the eye of your drinking neighbours.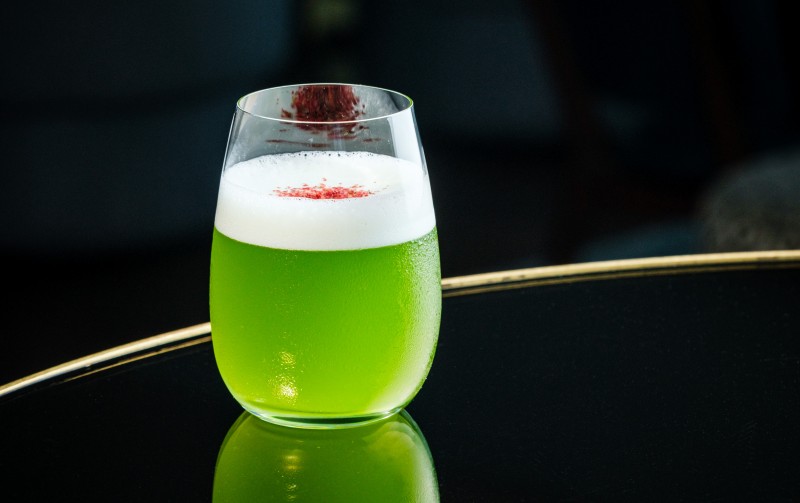 MALT & GRASS "AMAZAKE"
Love a bit of malting? Not as much as the lyaness team, we bet. For this new menu addition, the team have taken what they know about the fundamental elements of malting and channelled it into new ingredients to help them understand the process in a different manner. The result? This new malted liquid which brings a harmoniously biscuity, rich, creamy flavour with some proper body to the table. 
Drink it in: The (Im)perfect Martini: Discarded Grape Skin Vodka, Grass Amazake, Fierfield 'Birch', over-ripe 'nectarine'
The Cereal Martini on the previous Lyaness menu was a ride or die cocktail for us (so long, old pal) so as far as we were concerned, this new Martini had some pretty big shoes to fill.  Turns out the Cereal Martini was the younger, cool, sourdough rocking little sister to this grown up & sophisticated (yet slightly nutty) serve. 
FRUIT FURIKAKE
When it comes to the flexibility of these new, creative ingredients, none of them quite match the versatility of the Fruit Furikake. For this, the team turned to the sea to source an ingredient that provides a unique contrast of sweetness, salinity and richness on its new menu: seaweed.
To make the Fruit Furikake, the team paired native seaweed with local fruits and vegetables to bring a variety of flavours to overlay with the maritime and spicy notes of the base. The drinks made with this ingredient are treated to a bit of boldness and depth, with notes of honey and fruit. 
Drink it in: a Dufftown Manhattan: Glenfiddich 15, Fruit Furikake, green peppercorn vermouth, koseret bitters
The green peppercorns really bring the warmth in this rich and bold cocktail. The mellow spice keeps you going back for more, while the depth of the whisky brings a harmonious rhythm to the whole experience of drinking it. Can't imagine we won't be coming back over and over again for this one - it's the kind of drink you keep thinking about long after you've sunk the last drop.