Are you ready for some South American sass in your glass? Let us introduce you to Caleño - the new alcohol-free alternative that's going to be rocking your sober nights from now on. It's flavoured with tropical ingredients such as Inca Berry, Pineapple and Papaya, and is inspired by founder Ellie Webb's Columbian roots. We caught up with the chica herself to learn more about the inspiration and creation of the drink that's been described as 'joy in a bottle'. 
Hi Ellie, thanks for chatting with us today! First things first - let's pretend we're sitting and having a drink together. What kind of Caleño cocktail are you going to make to introduce BarChick to the brand? 
So, if we're sat together having a drink, then I'll probably have a Tropi-Cali in hand! It's fresh, it's tropical and it SO reminds me of Colombia!
Sounds epic, we're in. How's your life changed since setting up Caleño?
I was working on Caleño for two years before quitting my job. It was terrifying leaving a stable position but I wanted a different challenge. I was slightly disillusioned by the corporate world, the corporate machine moves a lot slower and has a tendency to dull creativity and I really wanted to be more involved in a creative output. Running a start-up is exciting, yet challenging at the same time! You definitely have more control over your own destiny, which I love
What does a typical day look like for you now? 
Right now a typical day is waking up around 7am and taking my dog Hardy for a walk (Yes obviously after Tom Hardy…). I then make sure I have breakfast (the most important meal of the day), write a list of everything I want to get done that day, which could be important catch-ups with the team, looking at sales forecasts, working on brand plans, or reviewing production cycles with my sister – it varies so much, depending on what's going on at the time!
Let's talk about your 'eureka' moment - you were dancing with friends during a Dry January night out and realised there just wasn't a great range of exciting, adventurous non-alcoholic options. When did it turn from a 'this would be a good idea' to 'I'm actually going to make this happen'? 
I think it was totally a mixture of a couple things. One, I was a big lover of the drinks industry, and don't get me wrong, I was into my alcohol, yet I was in this situation where I didn't want to drink alcohol, but just couldn't find something I actually wanted to drink! I thought, OK, if I'm having this problem right now, surely there must be loads more like me – why are people not doing more about it?
The second part was that I'd reached a point in my life (rapidly approaching 30…) where I was reassessing my career and what I wanted to do next. I decided one day, driving home from work in January 2017 that I wasn't going to focus on a 'corporate career' but on starting something of my own, and that was that.
And did you always know that you wanted to inject part of your Columbian heritage into the drink? 
From the very beginning I knew I wanted this drink to be different, but always fun, colourful, vibrant. I even sketched out a bottle once which was all of those things. I guess that was just my way of thinking, and then when I went back to Colombia, after having not visited for a while, I fell in love with the country again, and everything became so much clearer. I had to inject lots of colour and vibrancy into the bottle and I needed to find some unique tropical flavours to help make Caleño one of a kind.
Tell us more about the process - you spent a year exploring botanicals in your kitchen then headed to Columbia for more inspiration. What elements of Columbia most stood out for you that you wanted to capture?
Growing up and spending lots of time in Colombia as a child, I always remembered the delicious 'jugos' made from blending exotic fruits like pineapple, papaya, coconut and lulo! I wanted to make the non-alcoholic category accessible in terms of taste, so I needed to include these kinds of flavours, but at the same time it needed to have its own personality and be balanced out in other dimensions like citrus and spice, to get the right complexity of a spirit.
We're taking a sip of a Caleño and Tonic, closing our eyes… where are we being transported to? Can you give us a specific scene in Columbia we should be imagining? 
I would imagine the colourful streets of Cartagena a port city on Colombia's Caribbean coast, the walls painted in hues of pinks, yellows, oranges, bright blues and greens, with a tropical breeze, next to the ocean as you sip on a deliciously cold Caleño & Tonic over ice.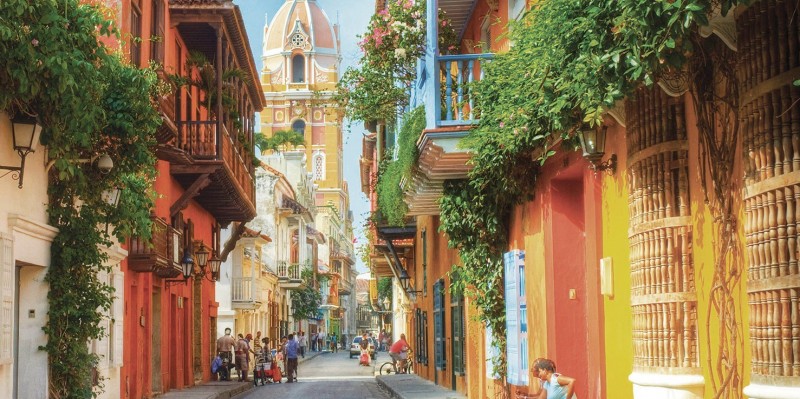 What were some of the frustrations you found during this period of creation? Were there any low points/times when you thought you wanted to give up? 
I think the most frustrating part of my journey was the 3 months leading up to the launch. I was trying to produce my first 1,000 bottles and struggling to find anywhere that could help me bottle a non-alcoholic spirit, let alone such a low quantity – as most were used to bottling in the hundreds of thousands. I found a lot of the time things were out of my control, and yes things did go wrong, but I learnt from those experiences. It's all such a massive learning curve when you first start out
The branding is beautiful - the colours are so rich and vibrant! We love the combination of the Columbian flag colours and the golden shimmer of the dancer, they look so joyful, dynamic and full of zest. Did you always know what kind of imagery you wanted or were there lots of options on the table? 
Thank you! I think designing the bottle has to be up there as one of my favourite parts of building this brand! I worked with an agency called Design Bridge who are one of the best, and I had interned with around 8/9 years ago, so it was an absolute dream to work with them! They had loads of great ideas, some were rooted more in Colombian heartland folklore, whereas others were more modernistic. In the end I went with a route that was called 'And the beat goes on…' as I loved the energy and the passion that shone through.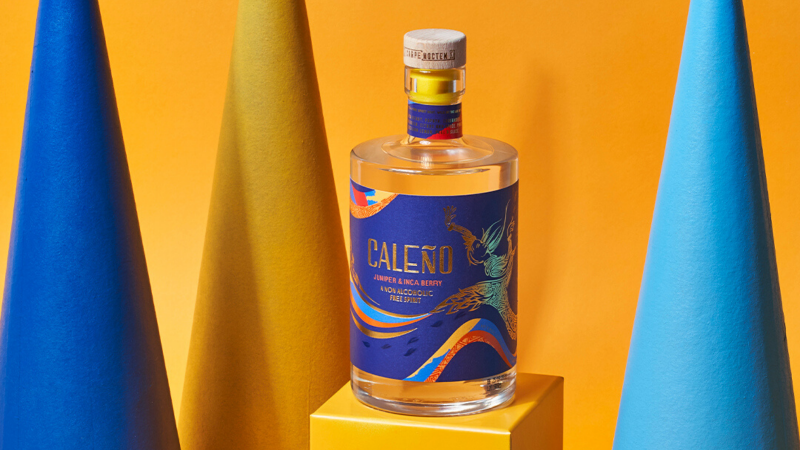 What would you be doing if you weren't running Caleño?
If I hadn't started Caleño I'd hopefully still be working in the drinks industry. I used to work for a drinks wholesaler which was good fun, but I was always keen to get closer to the brands, so maybe I'd still be managing a brand, which is kind of where I see my job now with Caleño, although also a company too!  
Now's your chance to give a shout-out to someone amazing along the way who's really been an inspiration/help/motivation to you - who are you choosing? 
Hands down my family, I can't pick just one of them either. Ever since I told them my idea and what I wanted to do, they were so supportive and never ever discouraged me. My dad was a huge help spending literally hours of his time helping me build spreadsheets and sales plans. Without him, my mum my sisters and my boyfriend believing in me, I don't think I'd have got to where I am now.
What advice do you have for other entrepreneurs/creatives looking to set up their own thing?
Choose something you feel passionate about, not something that you think will be a quick way to make money. There will be hard days and if you don't love what you're doing, you'll soon give up. Be prepared to work hard, and stick at it. Remember the hardest part is getting started, but don't be afraid to ask for help – there are so many lovely people at there that will be willing to give you their time.
What's been the best day/biggest achievement since starting Caleño?
Landing a major national listing with Sainsbury's in almost 500 of their stores has to be up there as one of the highlights, closely followed by the day I quit my job, and was 100% able to follow my dream.
And the worst day at Caleño?
The day I received my very first batch of bottles only to discover that hundreds of the bottles had been terribly labelled. I just sat there and cried as I'd worked so hard to get to that point and was let down at the last hurdle, just before my launch in January. Luckily both my sisters spend their Christmas break helping me relabel bottle after bottle whilst watching Christmas movies!
Tell us something amazing about the drinks industry?
Hands down the people – everyone is so passionate about what they do, and full of energy and enthusiasm, from the distillers, to the bartenders, for me it's one of the most exciting and innovative spaces to work in.
Which other brands do you really respect? 
I really love what Avallen are doing at the moment. Run by Stephanie Jordan and Tim Etherington-Judge. They have created an ethical and sustainable calvados brand and are really paving the way for other brands to follow
If we wanted to have a bar snack alongside our Caleño and tonic, what would you recommend? 
I would recommend Colombian empanadas! The only way I can describe them are like deep-fried Cornish pasties, you can have them stuffed with meat, cheese or vegetables, but you need a nice lime-avocado dip too!
In your experience, what have you found is the biggest leap for people to make when deciding to go sober instead of having a drink? 
I think for the most part, it's taking control of your mindset and really asking yourself, do I need that alcoholic drink, or has it just become habitual? On the one hand you have complete sobriety and on the other, the sober-curious and the two are quite different. The first is about cutting out alcohol completely, as you'd rather not have it on your life at all and feel better for it, and the other is about really understanding your relationship with alcohol and why and when you choose to drink it.
When you are drinking the hard stuff, what's your go-to cocktail and bar in London? 
I think I'd have to go for a spine-tingling Laki Lambo at Laki Kane!
Finally, what's been the best way someone's described Caleño to you so far? 
A customer once left us a review saying Caleño was like 'joy in a bottle' - which I absolutely love!