As far as London neighbourhoods go, East has it all. Epics bars, killer restaurants, cool shops... and if you want, you can find all three concentrated in this awesome Distillery in Bow Wharf, which just so happens to be the home of the East London Liquor Company. We chatted to the man behind it.
Let's start by you introducing yourself – who are ya, and what are you the maker of?
My name is Alex Wolpert, I founded East London Liquor Co, a whisky and gin distillery, almost 7 years ago now. We also make vodka, import rums from Guyana and Jamaica, and have recently launched canned cocktails and seltzers. 
East London Liquor Company is a distillery, a bar, a restaurant and series of bottle shops. That's a lot! Tell us all about it, how did it all start?
Well, we have our brand home in East London where you can watch us brew and distil from the comfort of our cocktail bar, and over the years we've added a small bottle shop, and restaurant. About two years after we launched we opened a shop in Borough Market – it's such a wonderful thing, the bustle and energy of the market is infectious! 
Obviously you guys are London based. Where do you like to go for a great cocktail when you're off the clock in London, and what is your order?
A quiet drink at Bistrotheque on a Monday night is a favourite, probably with an East London Gin martini, garnished with an olive. 
What's the best thing about being based in East London?
The unrelenting appetite for experimentation and development by so many local organisations and entrepreneurs, and the loyalty of our customers.
If you could teleport to any bar in the world, where would you be zooming off to?
The Black Cat in LA for a Boulevardier. It's an amazing place to park yourself up at the bar, book in hand, to enjoy incredible bar snacks and work your way through the cocktail list (several times).
Having your own distillery means the world is basically your oyster when it comes to experimenting & producing kick-ass spirits… what's the craziest thing you've created and have you got anything wild on the horizon?
Two of the most recent experimental spirits we've released are a Balsamic Gin, developed by Chris, one of our distillers, a few years ago, and our distiller Caitlin more recently developed an incredible botanical bitter spirit made with peated moonshine, barrel-aged gin, rhubarb and blackberry jams, and a range of botanicals. 

Last year you launched East London's first-ever Single Malt whisky which basically sold out straight away… any plans to produce any more?
Hell yes! We've got our 2020 releases going live next week: a London Wheat Whisky and a new release of our London Rye Whisky – both delicious and very different. There will be more Single Malt next year, for sure, so keep checking in on us. 
So you've recently changed up the look of your bottles. Why the change and what's the new vibe?
Same juice, same company, just a better articulation of what we've always been about: great booze for great people at great prices, with no crafty bullsh*t. We've never called ourselves craft – I'm not even sure what that even means, and we think the new look better reflects that.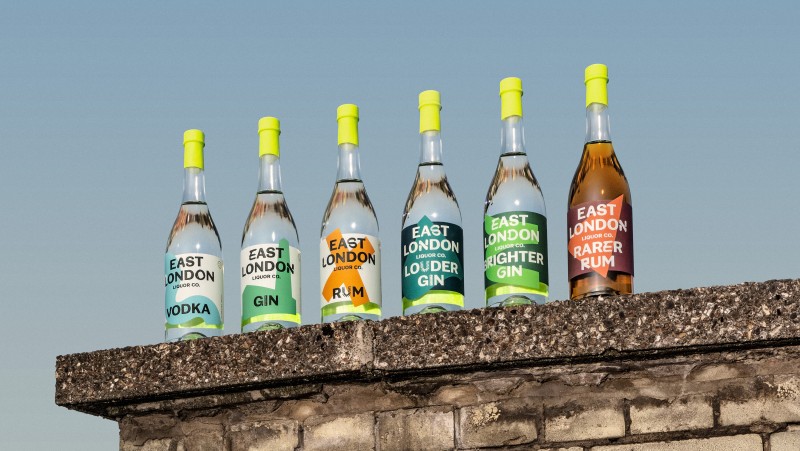 We've only got room for one bottle left in the BarChick bar… which ELLC bottle should fill that space?
Definitely our 2020 London Rye Whisky, it tastes incredible, and there's only a limited amount of it. Before we finished it an STR sherry cask we aged it in a chestnut cask which has given the Rye an amazing green coffee note which complements the spice of the Rye and the fruitiness which comes from the sherry cask 
What does an average working day look like for you?
6am start, so I'm ahead of the kids, coffee, school run and then emails and meetings….unfortunately most are on Zoom, which is dull as f*ck. I miss seeing people in person, the banter and the drink at the end of the day.
What has been the biggest challenge for ELLC?
COVID, without a doubt. We lost over 90% of our revenue in April, and we've had to be bloody agile since with an unfortunately reduced team, but still a wonderful one.
What are ELLC's greatest achievements and what are you most proud of?
Still having our doors open today, in spite of COVID. Making some really delicious whisky, and standing for something above and beyond just booze: Accessibility, Transparency and Affordability. 
Amen to that! Well obviously we're big fans of ELLC... but have you got any celebrity fans of the brand?
We've heard through the grapevine that Emma Thompson is a fan of our whisky – the feeling is mutual ;-)
With so much success for the brand, have you found yourself with any traditions or superstitions to keep it all going?
Superstition-wise, I guess we all believe if you don't have at least three Daiquiris on a Friday it's bad luck. 
We believe that, too - but we always make it 4, just to be safe! And finally, what's next for you and ELLC?
Hopefully a holiday. More great whisky, next week for starters and next year with more Single Malt…and expect new canned cocktail and seltzer development…lots of it!