Time to meet one of the dudes behind the hottest New World whiskies in the biz. Bottoms up
The crew behind this Australian whisky brand have ditched the airs and graces and focussed on flavour to create their fam of epic New World whiskies. Looks like they're onto something. We got the low-down on how things are done Down Under at the Starward Distillery.
Who are ya, and what are you the maker of? 
G'day, I'm Sam Slaney, Production Director at Starward Whisky. We make award-winning Australian whisky right here in Melbourne. We make the most of the incredible local ingredients on offer that are all sourced within a day's drive from our Port Melbourne Distillery. We have access to excellent barley, great maltsters and we mature in wine barrels that have previously housed great Australian red wines.
So you guys are based in Melbourne. Tell us about your home town and what do you love about living and working there? 
Melbourne is a real melting pot, with an ever-evolving culture, food scene and a crazy four seasons in a day weather. Melbourne has all the convenience of a big city, but we also have access to some great parklands, beaches and it is still very easy to escape to the country.
As Brits, we love to chat about the weather, and Melbourne's is pretty bonkers - what influence do you think your climate has on the whiskies you make? 
We make the most of the sometimes-crazy weather! The daily and seasonal temperature variations mean that our barrels see a large amount of temperature change.  We embrace Melbourne's highly reactive climate and make the most of it by storing our whisky in tin sheds that we stack high.  We see high angel's share, but we lose more water than ethanol due to the low humidity, so our alcohol strength actually rises. 
Scotland and America have very clear rules about the production of Scotch and Bourbons. Tell us about the laws behind Australian whisky production, and what makes your whisky uniquely Australian? 
Australia has clear rules around what can and can't be called whisky and these rules have been in place for about 30 years longer than Scotland's own regulations on whisky making. Our rules, however, are very broad. The key requirements are that our whisky must be aged in wood (note no size or type stated) for more than two years, that it is made from cereal and it tastes like whisky (a bit of a circular reference). This allows for a huge amount of innovation to take place and we can do things that other whisky-producing countries with tighter restrictions would not allow.  
We're creating a bit of a legacy by re-writing tradition. Our whisky is uniquely Australian, we use 100% local ingredients, we mature it in red wine barrels from our famed wine regions and make the most of our unique Melbourne weather. 
If we were gonna spend a long weekend in Melbourne, what shouldn't we miss? Where will we find the best bars? Where do you go when you want a cocktail? 
Whisky + Alement and Elysian for the best whisky experience. For some ripper Australian cocktails head to Fitzroy and check out Bad Frankies or Black Pearl.  
Hire a bike and follow Melbourne's iconic river on the Capital City or Yarra Trail. The inner north has exceptional coffee, and the city is always great for lunch. For a day trip, get out to the Yarra Valley, it's only an hour out of town and you'll experience some great booze and food, as well as some great walks.  
If you could teleport to any bar in the world, where would you be zooming off to? 
Right now, I'm hanging for a trip to Scotland, so maybe the Pot Still in Glasgow. 
You currently have several whiskies in the Starward family, as well as a few awesome pre-batched cocktails – is it going to be expanding? 
We have our core range of whiskies – Nova, Solera, Fortis and now Left-Field. Left-Field is our newest addition and it's been specially crafted for the European palate. Left-Field is a single malt whisky that's been fully matured in French Oak red wine barrels. It's a soft fruity whisky with a balanced palate and some spice from the French oak - we're really excited to have this whisky launch in Europe and the UK.  
 
Then we have our extended range, which is more one-off experimental whiskies - it's where our team can let their creativity flow. We've long been known for crafting interesting, new whiskies - our extended range is a great representation of what it means to be an Australian whisky maker.  
Tell us about the names of your whiskies and how you come to choose what name is given to each.
We've built a very modern brand that isn't named after a person, place or bird. Starward - reaches for the stars and pushes the boundaries of what whisky can be. The whisky names themselves stem from the liquid and process. Solera was our first whisky and utilises a modern Solera system, so the name is fitting. Nova meaning bright or new star is a disruptive whisky that's been built around full red wine barrel maturation.  
Do you have a favourite cocktail to use your whiskies in? What food do they work well with?
An Old Fashioned is always fun! I also drink highballs, typically with soda, citrus garnish and good ice for a super refreshing drink. I drink it with any meal, but pizza and barbeque meats work particularly well. 
What does a working day look like for you?  
Being on the production team we start early – so coffee is first. Then it's on to planning meetings and catching up with the team to check in on blends, the packaging schedule and the wash and spirit production. The rest of the time is project-based, ensuring we have enough capacity to keep up with the growing demand. We've got a great team that helps to do a lot of the heavy lifting, so I can make sure we are looking to the long term.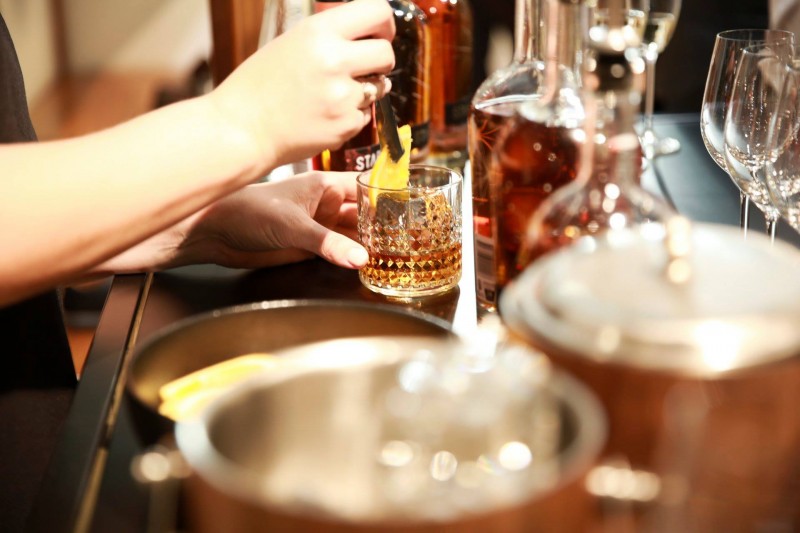 What must been the biggest challenge in producing & launching your products? 
The timespan involved in whisky, it takes a long time to make and you are slow to learn lessons. I've got a beer brewing background which typically has a short production time (around two weeks), meaning you can modify recipes and the process quickly based on the final product. Whisky takes a lot longer and so changes are slower – we're in a good place now with over ten years of distilling and maturation experience - we know what works and how to make incredible whiskies.  
What are Starward's greatest achievements, launches, accolades, reviews etc? 
We've got a few awards; my proudest moment was when we were awarded the Best Craft Distiller Whisky from San Francisco in 2016. Closer to home, 'Whisky + Alement's, Peoples Choice 2019 and Whisky of the Year, both for Starward Nova.  San Francisco is the world's biggest and perhaps most renowned spirit competition and Whisky + Alement is our favourite whisky bar in Melbourne.  
Hit us with something you think has made a huge impact in your business/product? 
We do a lot of sensory analysis (tasting whisky), but we have (had) a process where you couldn't pour your own tasting glass, someone had to pass it to you.  It was quite a strange sight seeing twelve distillers exchange glasses in a silent process – there was a superstition that if you drank from the glass you poured, it would taste terrible. COVID-19 ruined that for us! 
What does the future look like for Starward? 
We're excited to be growing into new markets and sharing Starward with the rest of the world.  We completed a distillery upgrade in 2020, doubling our capacity, so the next step is making sure our downstream processes (disgorging, blending, and packaging) can keep up!  We'll continue to build on the innovative projects coming through, so we can continue to release interesting whiskies.