New places to booze in London? Yeah, we know a few. Read on for our pick of the best new openings in the city, from raging rooftop bars to luxe spots for sipping Champagne.
October 2022
Canary Wharf is about to get a whole lot more fun. The Cocktail Club is expanding its party-bar empire to the Blade Runner-esque financial district. The new venue will have room for 100 peeps, with an epic terrace and all the rowdiness of the other 10 outposts. It's also set to run a killer happy hour - we're talkin' two-for-one on every drink, Monday-Friday from 4pm-7pm. See ya there...
9 Cabot Square, London E14 4QS

This one's gonna be big, folks. The ace team at Swift are bringing their signature Irish Coffee and impeccable hospitality to Borough. Read all about it here.
66 Borough High St, London SE1 1XF
September 2022
It's a truth universally acknowledged that Australians slay the all-day café game, so it's safe to say the new Soho branch of Queen's Park restaurant Milk Beach is gonna be dreamy. Naturally, coffee will be a major draw here, and founder Elliot Milne just set up his own roastery to supply both restaurants. Booze-wise, Milk Beach Soho will feature a list of 65 low-intervention wines and a bunch of new cocktails, and the team has developed a new food menu as well. Catch us at the eight-metre-long bar, where we'll be slurping Bloody Mary oyster shooters spiked with Four Pillars Gin.
Opening 12 September
Ilona Rose House, Manette Street, London W1D 4AL
It's basically the makeover scene in Clueless, but in restaurant form. Chotto Matte Soho closed its doors in July to get a glow-up, and now it's reopening as a shinier version of itself, with a new lounge bar and a complete redesign of its interiors. Decor-wise, expect loads of natural materials like Japanese lava stone and shou sugi ban wood, tropical foliage, sleek furniture and some sick wall art inspired by the urban culture of Tokyo. The kitchen will still serve up its signature Nikkei cuisine, but the team have dreamed up some delish new dishes for the menu. They've also created an all-new cocktail list for the occasion - we'll be at the sushi counter working our way through the drinks menu between bites of yellowtail sashimi.
11, 13 Frith St, London W1D 4RB
Button up your finest flannel and channel your inner lumberjack, 'cos craft beer is served with a side of axe throwing at the new Soho outpost of Whistle Punks. Like the company's locations in Vauxhall, Manchester, Leeds and Bristol, the Central London space will offer cocktails, beers and draught ciders and wine, along with sourdough pizza and the opportunity to hurl a heavy metal blade at a wall. Round up your mates and book a lane for a session led by one of Whistle Punks' expert instructors, who will show you the axe-throwing ropes and have you acing trick shots in no time. 
Opening 5 September
53 Eastcastle St, London W1W 8ED
August 2022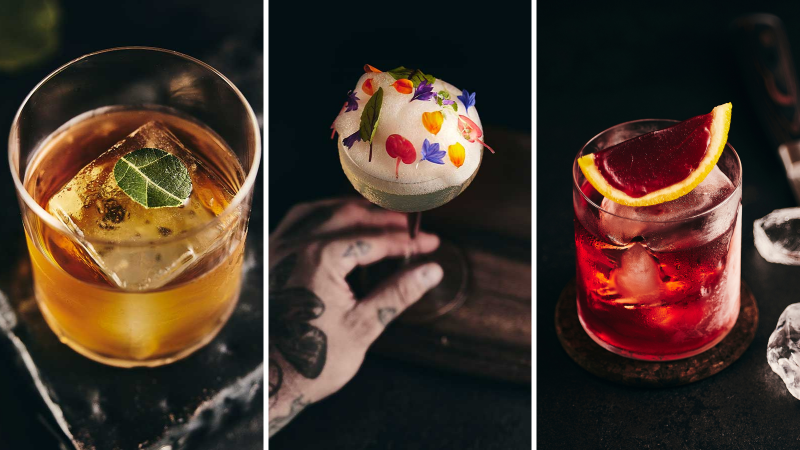 Like low-cut jeans, mullets and Bennifer, the speakeasy is BACK, baby. This one, tucked in Waterloo train station, is one of the summer's most-anticipated openings - partly because it's a collab between BrewDog and cocktail legend Rich Woods (the bartender behind the drinks at Duck & Waffle, Sushisamba and more), and partly because the cocktails sound epic. Our first order? It's gotta be the Martini Roulette, a trio of tiny 'tinis that all look alike but have wildly different flavours. Yeah, we're the gamblin' type.
Inside BrewDog Waterloo, Unit G, Waterloo Station, 01 The Sidings, London SE1 7BH
July 2022
Picture it: you've spent the afternoon roaming through the markets, and now you're in the mood for a little aperitif. You stumble upon a cosy bistro, take a seat at the marble bar, and glug a glass of natural wine between bites of vichyssoise oyster tartare. Sounds like a scene straight out of the 6th arrondissement, non? Well, now you can make all your Parisian wining and dining dreams come true in Brixton thanks to the opening of Bottle & Rye. This all-day bar, the latest addition to the buzzy Market Row scene, pours minimal-intervention European wines, cocktails and Brixton Brewery beers, served up with a food menu inspired by the French classics. Ooh la la!
404-406 Market Row, London SW9 8LD
This new neighbourhood spot set between lslington and Shoreditch has big boujee pub energy. The Baring serves up relaxed vibes in a setting that's refined and minimalist, and its menu places a major emphasis on sustainability and provenance (we love to see it). Expect elevated gastropub mains like salt marsh lamb rump, köfte, aubergine and shishito pepper, and don't skip the lush puds. The drinks here also take all the pub must-haves to the next level, with beers from small UK breweries, low-intervention wines and a concise cocktail list starring local spirits and homemade ingredients - and you KNOW we love a pub that makes a mean cocktail.
55 Baring St, London N1 3DS
Two bars, a big-ass BBQ, rosé slushies and mega views of west London? Yup, sounds like a recipe for summertime bliss to us. Find it all at Aerial Rooftop, the new crown jewel of The Broadcaster pub in White City. During the day, this place offers breezy brunches and cute nooks to kick back with mates over a coffee or a cheeky afternoon cocktail. When the sun goes down it's party time, with live music and DJs on deck. Get ready to boogie and make sure your phone is CHARGED, hun - you're gonna want it for those skyline selfies. 
89 Wood Lane, London W12 7FX
Exhausted from trying on designer shoes and ogling spendy chocolates in the Harrods food hall? Take a break from the hard work of shopping for luxury goods by ordering a glass of Champagne at the new Moët & Chandon bar, a permanent addition to the famously extra department store. For fancy folks who like their bubbly spiked with something stronger, there's a selection of Champagne cocktails on offer - and if you've come to splash the cash, you can even order a magnum of the 1959 Moët & Chandon Grand Vintage, which will set ya back a casual £4,400. Credit cards at the ready...
Harrods, Knightsbridge, London SW1X 7XL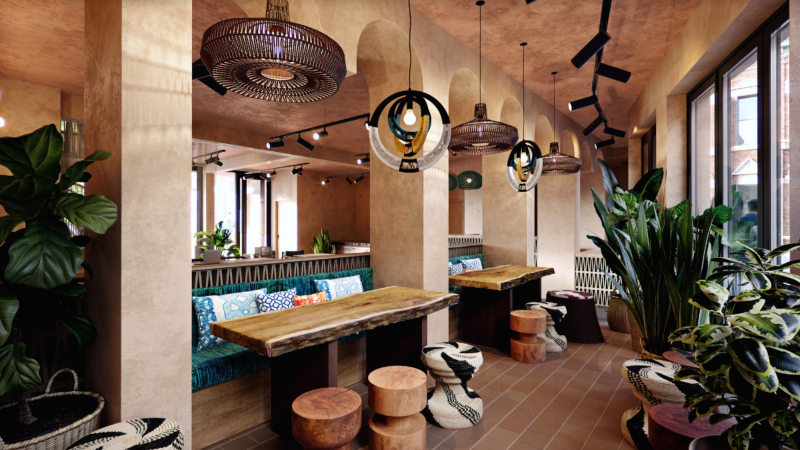 Akwasi Brenya-Mensa's Tatale began as a supper club, and it's now blossomed into a full-on bricks-and-mortar restaurant set in The Africa Centre in Southwark. The space showcases the works of African artists and designers, with bold murals, woven fabrics, carved timber furniture and plenty of foliage. When it comes to the food, Brenya-Mensa draws from his Ghanaian heritage - the resto's namesake dish is a traditional Ghanaian plaintain pancake, which naturally features on the menu alongside a range of Pan-African plates (chichinga buttermilk fried chicken wings, yes PLEASE). 
The Africa Centre, 66 Great Suffolk Street, London SE1 0BL 
This over-the-top new restaurant at private club Annabel's is open only to members and their guests, so you're gonna want to get cosy with a card carrier ASAP. If you manage to get in, you'll find the space decked out with antique rugs, massive hand-blown glass chandliers and loads of Japanese prints - the hint is truly in the name here, y'all. The same is true of the food, which features Japanese flavours and ingredients (we're talkin' grilled wagyu, super-fresh tuna and matcha-laced desserts). As for drinks, the cocktail menu is inspired by The Book of Five Rings (haven't brushed up on your martial arts philosophy lately? It's a book on swordfighting strategy written in 1643). Pro tip: once you've shmoozed yourself into one of the velvet banquettes, don't miss the epic collection of sake and shochu.
46 Berkeley Square, London W1J 5AT