Clear your April diaries. You've got some sick new bars to check out
From a hidden bar Mary Berry might be found in and a space reinventing live-fire BBQ, to an all-singing-all-dancing neighbourhood joint and a beautiful botanical gin garden. There's no shortage of epic new bars opening this month...  the question is: which one are you gonna check out first?
Beetle Juice - Now Open
Beetle Juice began life as a travelling VW campervan cocktail bar, travelling the country like a booze-enabling nomad bringing the vibes to the road and serving up drinks at 50 different music festivals. Now it's pumped the brakes and set up camp in its very first bricks and mortar site in Brixton Village, with a punchy cocktail menu including a whole section dedicated to our ultimate fuel: Margaritas. Park yourself up at one of the tables in the fresh new space (we'd pick the one by the taxidermy flamingo) and give their Tommy's Marg a try.
24-25, Granville Arcade, London SW9 8PR
The Act - Now Open
At The Act, service doesn't come with a smile, it comes with a full god damn performance. Yup, this is a whole new breed of bar that has been welcomed to Notting Hill. The crew here have a background in theatrics, and the whole bar is their stage, kid. Prepare yourself for spontaneous bursts of song from the actress topping up your prosecco, and epic pop-up performances from the casts of the latest West End productions while you enjoy the kitchen's take on contemporary Indian small plates. It's showtime, baby!
126-128 Notting Hill Gate, London, W11 3QG
The Pantry Bar - Now Open
The Mayor of Scaredy Cat Town called, he wants his secret entrance back. This new bar in Haggerston is like Great British Bake Off meets London's Speakeasy resurgence of the early 2010's, in that its all totally inspired by cake, and you have to sneak through some refrigerator doors to get to it. Granted, it's not a Smeg fridge so the afformentioned Mayor can't get his knickers too much in a twist, and once you're inside, it's like stepping into Mary Berry's idea of heaven: baking & booze. This is where you'll find The Pantry Bar, the accompanying drinking den to The Big London Bake East experience, though you don't need to have donned an apron to gain access. In here you'll find an exceedingly good menu of tempting cocktails (BakewellTini, anyone?) served under hanging whisk lights and candy jar lamps in a space found beneath East London's railway arches. A total showstopper if we ever saw one.
Under the Bridge, Lee St, London E8 4ED
The Arber Garden - Now Open
It's a botanist's favourite time of year, and over in Central London the greenery truly is flourishing at the new Arber Garden, the latest contemporary pub from the team behind The Lighterman in Kings Cross and The Broadcaster in White City. The place is decked out in botanicals, and they've gven the menu a herbaceous focus. Its all quality and seasonality here, yo. Head outside and you'l find The Gin Garden, the antidote to the chaos of London, with shelter from the elements when needed, and a slick menu of gin cocktails to keep you watered through the Summer.
1 Pearson Square, London W1W 7EY
Acme Fire Cult X 40FT Brewery - Opening 1st April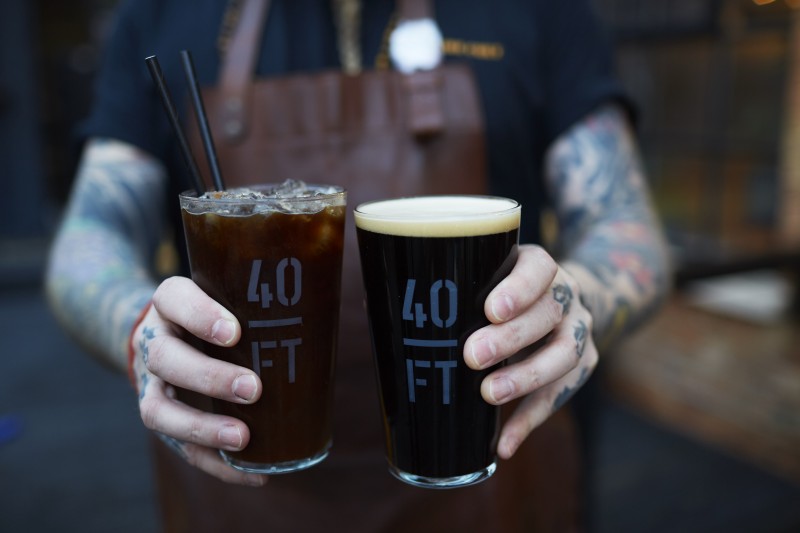 With British Summer Time now here, we're calling it: it's officially BBQ season, baby. And this new Dalston opening is LIT.  Acme Fire Cult is the new live fire concept from chefs Andrew Clarke and Daniel Watkins, and you'll find it at 40FT Brewery in Dalston. These guys are bringing a whole new approach to BBQ. The sausage ain't king here, baby - this show is all about the vegetables. They're also showcasing the ways food and drink are linked using beer by-products (we're talking yeast and spent grain) to make ferments and hot sauces, and using Acme's favourite ingredients as adjuncts in beers, such as ancho chillies. HOT DAMN!
Abbot Street Car Park, London, E8 3DP 
Newton's Bar - Opening 1st April
Gravity Southside in Wandsworth is one of those places that has birthday/stag-do/tinder date written all over it. Boasting 100,000 sq. ft of entertainment including eight state-of-the-art immersive experiences including GT e-karting, Urban Street Golf, Electric Shuffleboard and Electric Gamebox, it's got everything you need to get your heart racing. At least it does now that they've added a dedicated adults-only cocktail bar into the mix. Newton's Bar is the place to catch your breath with an expertly-crafted signature cocktail once you've had your fill of competitive gaming with your crew. 
Southside Wandsworth, Wandsworth High St, London SW18 4TF
The Corin - Opening 1st April
London will never have enough roof terraces as far as we're concerned, and now Tooting has joined the list of 'hoods playing host to an awesome one. The Corin is coming at ya from the same team behind Rozu in Birmingham. They've given the space a stylish refurb, with room for 130 diners inside alongside a brightly decorated downstairs bar, while the rooftop is bringing some chilled Tulum vibes with plenty of pale pink throws and muted lighting. And don't worry - when the weather is looking as reliable as a chocolate teapot, they've got a retractable roof to shelter you from the English showers.
54A Tooting High Street, London SW17 0RN
Soda & Friends - Opening 2nd April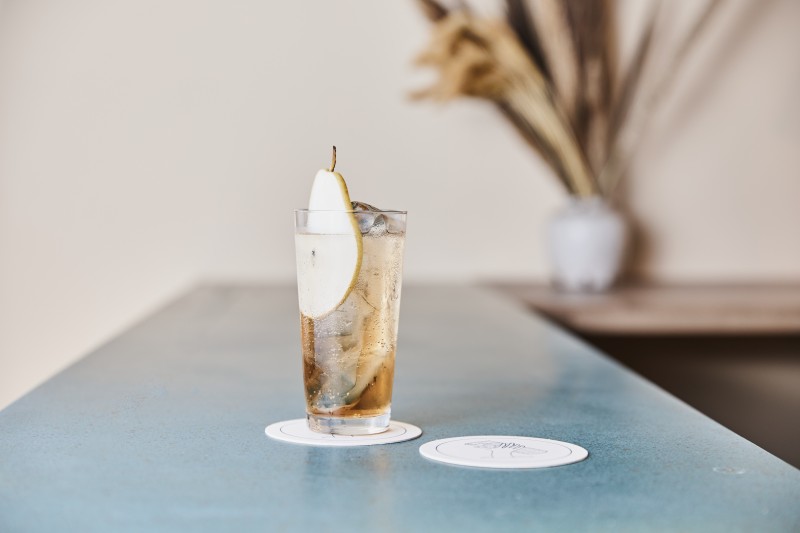 This one goes out to all the highballers out there. Soda & Friends is a new minimalist neighbourhood bar opening its doors on London City Island (it's a new neighbourhood, FYI) this April, and the M.O? Highballs, baby. They're gonna be showcasing a selection of fine and rare spirits, each expertly mixed with house-made cordials, liqueurs and ferments, lengthened with a range of sodas and seltzers, all coming in at the £9 mark. Expect serves such the Soda House Highball AKA a pear, apple and plum highballer, with whiskey and soda; Blackberry Picking made with blackberry, bay, peated malt and soda; Irish Air Con built with cantaloupe melon, Pommes, Irish vodka and cucumber soda; and the Rye-Ball, a tall blend of cherry, cherry wood, vetiver, Finnish malt and cherry soda. 
Soda & Friends, 20 Hopewell Square, London City Island, E14 0SY 
The Walmer Castle - Opening 12th April
What do you get when you combine the uniquely restorative, mineral-rich waters of the River Spey with the eclectic vibe of London's Westbourne Grove? The epic reimagining and reopening of Notting Hill's dining and drinking institution, The Walmer Castle, obviously. In collaboration with Scotland's oldest whisky hotel, the Craigellachie Hotel, renowned entrepreneur and hotelier Piers Adam is bringing the spirit of Speyside to West London. Expect two floors of awesome Celtic feels; on the ground floor you'll find the luxuriously cosy dining room finished with roaring open fires and Speyside cask wood where they'll be serving up modern highland cuisine; but it's on the first floor where you'll find us, sampling a dram or two from the collection of over 400 fine world whiskies found in The Spey Bar. Slainte!
58 Ledbury Road, Notting Hill, W11 2AJ 
Nightjar Carnaby - Opening 20th April 
Some sequels can be truly, TRULY terrible (Sex & The City 2, we're looking at you) but this second installment from London's OG speakeasy has Godfather II vibes written all over it. Just like its Shoreditch original, Nightjar Carnaby can be found in a basement, this time under the cobbles of Kingly Court. Follow the wide staircase down into Carnaby's underbelly, check yourself out in one of the Lalique style mirrors on the walls, and get yourself cosy in one of the booths facing a centre stage which will host a music programme that'll do this space (which once hosted The Rolling Stones) justice. Expect the same wildly inventive cocktails served in extraordinary glassware, but if you want something unique to this new spot, order from the Nightjar Signature section full of Carnaby originals.
Nightjar Carnaby, Fifty Carnaby, W1F 9PY
KOKO Camden - Opening date TBC
If you didn't thrash about in an inappropriate mosh-pit or dance the night away to a night of guilty pleasures at this iconic Camden music venue, you probably weren't living in London in the 2010's. Nights on the sticky floor of KOKO were a rite of passage back then, and an experience that probably won't be repeated now that it's had a £70m makeover. Yep, that rough-around-the-edges vibe this old theatre-turned-music venue used to have has been replaced with a super slick interior overhaul which has resulted in quite the revamp. Live music will still be found at its core, but around the edges you'll also find vinyl rooms, a library, a late-night pizzeria and tap room, a hidden speakeasy and a sick roofterrace hosting three fly new restaurants, as well as recording studios and a sick nightclub open til 6am on weekends. 
1A Camden High St, London NW1 7JE
H-Division by Lollipop - Opening date TBC
You've binged through every unsolved crime doc on Netflix and you're pretty sure you know who the Zodiac is. Now's the time to put your money (£39-£42) where your mouth is with the latest opening from the guys at Lollipop, AKA the creators of some of London's wildest immersive drinking experiences such as the Breaking Bad themed bar and the basement located code-breaking Bletchley experience. Newbie to the line-up H-Division takes its cue from the mystery of a famous Victorian police station in East London. This new police station inspired bar will be opening up old unsolved cases, and spoiler alert: you're there to help (all while enjoying a selection of totally personalised cocktails inspired by your own detective skills).
Shoreditch Funhouse, 18 Bohemia Pl, London E8 1DU
Revolve - Opening date TBC
If you like to switch things up on the reg (your hair, your clothes, your partner etc) then you'll probably enjoy what they're doing at this new brasserie in The City. Revolve has been inspired by the grand brasseries of Paris and New York, serving classic brasserie dishes with a British twist alongside dishes from the roster of rotating guest chefs who will be brought in each month to freshen things up. Kicking things off for the opening are renowned chefs Lee Westcott of Michelin-starred Pensons, John Javier, Josh Eggleton, Anna Hansen and newly appointed two Michelin-starred Gareth Ward. All the dishes each chef creates can be washed down with drinks from their awesome cocktail menu created by their award-winning bar team, or wines from the extensively creative wine list.
100 Liverpool Street, Broadgate, EC2M 2RH