We love a terrace at the best of times. But we love them evenmore when they're brand spanking new. 
The Dorchester Rooftop
Ninety. Now that's a milestone birthday you don't miss out on celebrating, pandemic or no pandemic. And by all means, it would appear The Dorchester won't be missing out on celebrating it. For the first time in its iconic 9-decade history on Park Lane, the rooftop is going to become home to a pop-up restaurant and bar which will host a series of al fresco culinary pop-ups against a killer backdrop of Hyde Park, all to revel in it's iconic birthday and the end of lockdown. Now that's what we call a celebration. It'll be open daily for lunch and dinner, with a minimum spend of £60 per person. That might seem a bit steep but honey, you're about to be over eight storeys up - you better get used to those heights.
The Dorchester 53 Park Ln, Mayfair, London W1K 1QA | www.dorchestercollection.com/the-dorchester-rooftop |  restaurants.TDL@dorchestercollection.com | 020 7629 8888 
14 Hills Alfresco Terrace
What's that coming over the hills, is it a fly new roof terrace with 360° views of The City? Yeah, you bet it is. This rooftop in the heart of the Square Mile is gonna be rocking a wicked dining spot for the first time ever. Complete with a delicious menu of seasonal food with a focus on modern British cooking with a touch of French flair (oui baby) and a drinks list featuring a killer selection of refreshing summer cocktails and signature serves, as well as an extensive selection of wine and fizz. With all the trees and florals turning this space into a sky-high nursery, there's only space for 50 covers at a time, which means less people knocking about in the background of the snaps you won't be able to resist taking.
14th floor, 120 Fenchurch St, London EC3M 5BA | www.14hills.co.uk/book-a-table | 0203 981 5222
Kerridge's Garden Grill
This one is proper lush. Everyone's fave West-Country TV chef is migrating his Corinthia hotel based Bar & Grill outside for Spring. Kerridge's Head Chef Nick Beardshaw will be cooking up seasonal dishes from an open Synergy grill, which'll be served up in this Embankment adjacent oasis that surrounds the glass dome atop Corinthia London's Baccarat chandelier. Get your paws on one of their cocktails and kick back for an afternoon of dining in this sun trap. Don't forget to pre-order the souffle - it's next level.
Kerridge's Garden Grill, No.10 Northumberland Avenue, London WC2N 5AE | www.kerridgesbarandgrill.co.uk | Hello@kerridgesbarandgrill.co.uk | 020 7321 3244
The Rooftop at The Hippodrome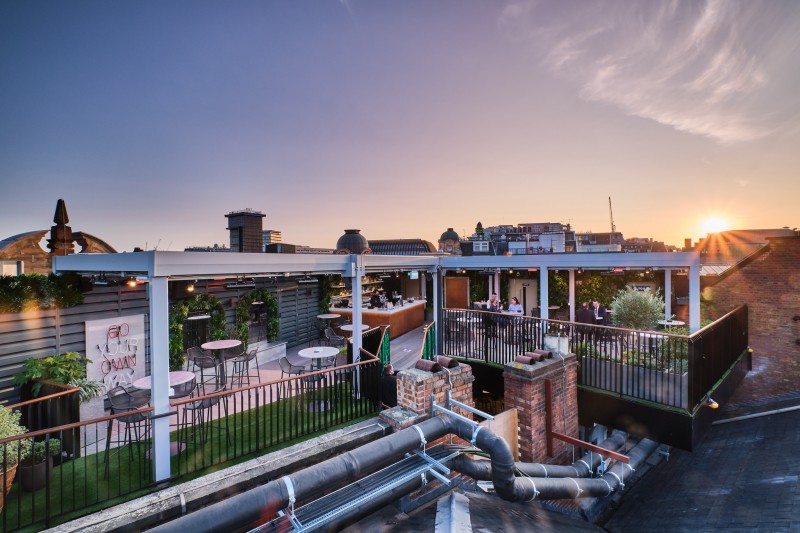 It was only a matter of weeks before the UK's tier system clipped the wings of this new rooftop bar last summer, so chances are you didn't even know it was there, chilling 5 storeys above the West End. So this April it's getting a rebirth, spreading those wings and bringing a new rooftop space for drinking and dining 'til the early hours to Leicester Square. When The Rooftop at The Hippodrome opens on April 15th, its doors will stay open 'til 2am, so you can enjoy cocktails beneath the stars. Ace! And yeah it might be on top of a casino, but you won't need to take a gamble with the weather, as the retractable roofs and terrace heaters mean you're covered – literally – if April showers hit. Bring it on!
The Hippodrome, Cranbourn Street, Leicester Square WC2H 7JH | www.hippodromecasino.com
Smokey Kudu Terrace
There's no smoke without fire, and this Peckham bar is HOT property. The Smokey Kudu "bar under the bridge" is turning into a "bar on the terrace" this April, as they open an awesome spot outdoors for kicking back with your crew with a couple'a Cheeky Kudus (Belenkaya Vodka, Peri-Peri Spice Mix, Smoke & Tomato Juice) in hand. This little slice of South Africa will be rainproof and heated, so you can order the Zulu Platter and not worry that your Bresaola is gonna become a washout or that your Toasted Sourdough will go soggy. Result.
Arch 133 Queens Road, London, SE15 2ND | info@smokeykudu.com | Walk-in Only
Campfire x Two Tribes
We've got a feeling this new King Cross joint from the Two Tribes Brewery is gonna be LIT. Introducing Campfire: part community hub, part entertainment space; a bar and taproom centred around an open-fire pit where live-fire chefs serve up food to a backdrop for visiting DJs and musicians. Hot damn. Been missing the taste of a freshly pulled proper pint? Campfire's opening season will feature exclusive brews fresh from the Two Tribes brewery alongside pit-residents From The Ashes BBQ. This is the place to hit up for beers, BBQ & beats this Summer. We'll see ya there.
Tileyard London, Tileyard Road, London N7 9AH | www.twotribes.co.uk/campfire-venue 
Jolie Jardin 
The "never a dull moment" crew from Lollipop are opening an extravagant Flamingo Champagne Garden as part of the three-storey "adult playground' Chelsea Funhouse, complete with more flamboyance than an afterparty at Elton John's gaff. With a squad of flamingos to accompany you while you hit up the Piper Heidsieck Champagne Spritz menu, this is the place to for a reunion with your man/gal-dem.  And for those feeling short-changed by the 14 missed weekend brunch opportunities during lockdown, you're gonna dig their "Le Formidable Brunch" available any day of the week, with bottomless bubbles straight from a champagne-spitting unicorn. This is the reintroduction into society you've been waiting for.
Ground Floor, Chelsea Funhouse, 459 King's Road, SW10 0LR | www.joliechelsea.com | chelseafunhouse@wearelollipop.co.uk | 020 8076 9846
Coya Angel Courtyard
This hidden gem is bringing South American style to The City. The new COYA Angel Courtyard is an instagrammable oasis in a forest of concrete high-rises. Peruvian lillies make for the perfect backdrop for that reunion selfie with your crew while you catch up over COYA's signature aperitivos and cocktails, fresh Peruvian sashimi, ceviche and tiraditos, and glasses of Veuve Clicquot - the VC guys are backing this new al fresco joint, so there's plenty of the good stuff for cheers'ing the end of lockdown.
Unit 1C, 31-33 Throgmorton Street, London EC2N 2AT | www.coyarestaurant.com/ | reservations.ac@coyarestaurant.com | 020 3907 0000
The Bermondsey Larder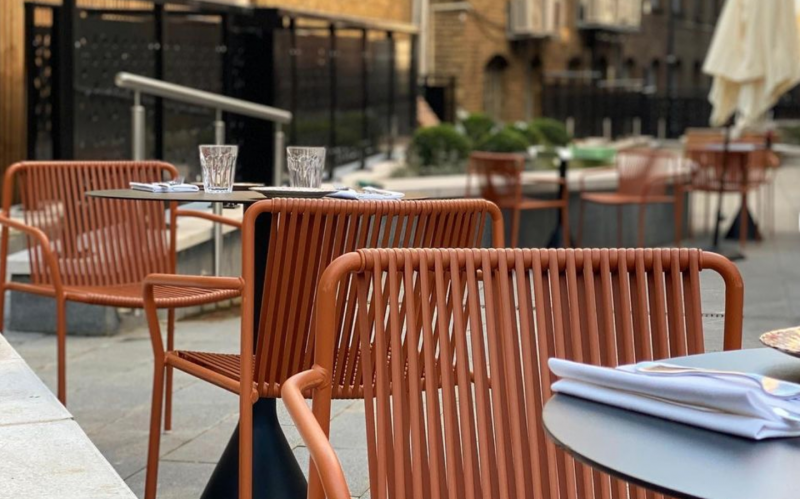 The pandemic has robbed us of a lot this last year. One of hospitalities greatest losses? The Dairy in Clapham. It was RIP to this awesome Common adjacent joint last year, but like a phoenix rising from the ashes a few postcodes away came Bermondsey Larder, which opened last Autumn. Now to keep in line with the new government rules, they're opening with a partially covered terrace on April 14th, complete with a special terrace menu featuring new creations including Farmer Tom's welsh lamb, merguez, fennel and potato pie and Applewood-smoked eel with broad beans, Amalfi lemon and mint. It's a hell yes from us.
Bermondsey Larder, Bermonds Locke, 153-157 Tower Bridge Road, SE1 3LW | www.bermondseylarder.com | reservations@bermondseylarder.com | 020 7378 6254
Brat at Climpson's Arch
There was a time when getting a reservation at Brat was harder than getting a seat on the tube at rush hour. Remember rush hour? Now with a year of pent-up hunger, we bet the want for one of those Michelin-starred tables is gonna be even greater, but this side of the pandemic, there's gonna be two venues to try your luck at. Brat is opening a second permanent location in a covered courtyard complete with a marquee structure, so the threat of April showers won't come between you and roasted chicken rice, or whole Crab with hay butter and wood fired breads. 
374 Helmsley Place, London Fields. Hackney E8 3SB | www.bratrestaurant.com/climpsons-arch | arch@bratrestaurant.com
Sussex Bar & Restaurant Noilly Prat Oyster & Vermouth Terrace, Soho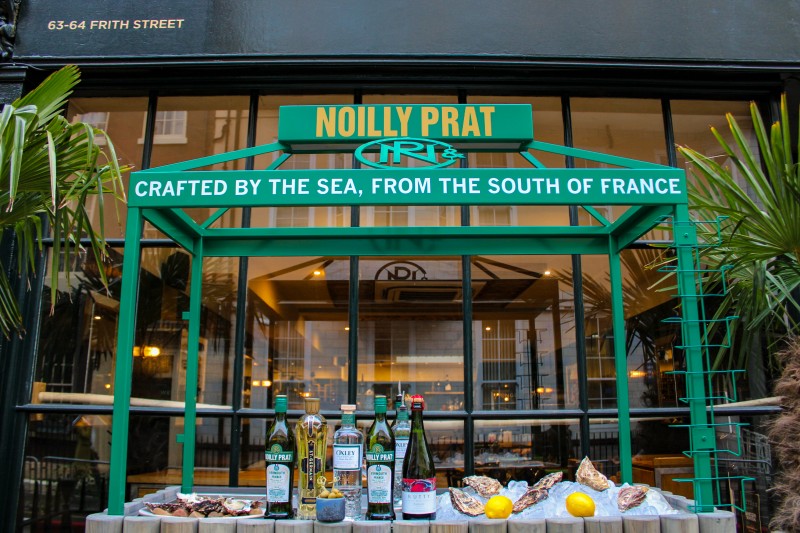 Oysters. Martinis. Soho. This new Sussex terrace has it all. The Noilly Prat Oyster & Vermouth terrace is bringing South of France vibes to Central London, just in time for Spring's longer, warmer nights with your buddies. Their slick Martini menu starts with the classic and migrates to the bouji with the Truffletini, all made with Oxley gin and Noilly Prat. Pair them up with a dozen Malden Rock Oysters, a few plates of charcuterie, a farmhouse terrine, and 5 of your favourite people. Try out the ritual of pouring some chilled Noilly Prat Original Dry over the oyster, then sip it from the shell or knock it back in one. You'll never look back. Shucks away.
63-64 Frith Street, Soho, London, W1D 3JW | info@sussex-restaurant.com | 0203 9237770
Homeboy Embassy Gardens
Bad-ass neighbourhood Irish bar Homeboy is doing something many North Londoners wouldn't even dream of doing. That's right. They're heading south of the river. The Kings of Modern Irish Hospitality are taking their "best pint of Guinness in London" and shipping it to Nine Elms with the opening of their second home in Embassy Gardens (that's the new development with that floating bridge pool you've probably seen on insta). Unlike the Islington original, this one is swapping out the secret Irish pub hidden in the back for a very much not secret heated wrap-around terrace at the front, so you can enjoy Irish Coffees in the sun (tbc) this April. 
Homeboy Embassy Gardens, 6 New Union Square, Embassy Gardens, Nine Elms, SW11 7DN | https://homeboybar.com/contact-us | Image via embassygardens.com
The Terrace By Megan's
Clapham local who loves brunch? Chances are you and Megan's are on more than first-name terms already. But when you're one of the hottest spots for eggs benny and a cappuccino in SW4, why stop at one joint? Yep, Megan's are bringing another venue to the 'hood, but this one is a lil' different. Instead of being tucked away in the village, this one is gonna be on display right in the middle of Clapham Common... and it's going totally topless. That's right - The Terrace by Megan's in gonna be entirely al fresco. Expect a slightly different menu (they're giving their sourdough a Turkish pide makeover) and they're gonna be rocking a generous takeaway menu, too, so you can swap out that Tesco meal deal picnic for something a bit classier. Oh and like all the others, this one is gonna be totally pooch-friendly. Naturally. 
10 Rookery Road, Clapham Common, London SW4 9DD | www.megans.co.uk/the-terrace-by-megans 
Paradise Soho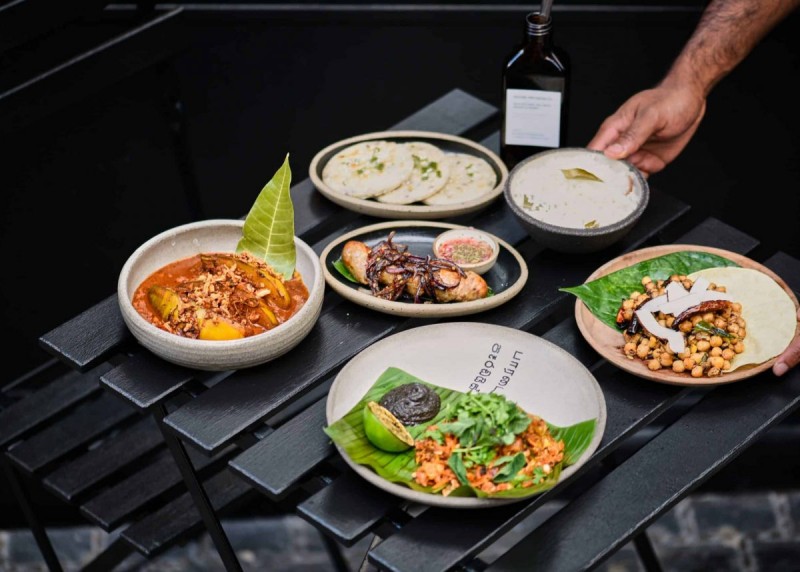 Paradise for us is finally being able to see our friends, eat food we haven't cooked, on plates we don't have to wash up on a terrace that isn't our balcony. Ding ding ding! We've hit the jackpot with this place. Paradise actually exists in Soho, serving up epic contemporary Sri-Lankan dishes based on family recipes influenced by Portuguese, Malay, South Indian and Dutch cuisine. Heaven. For the grand reopening of civilisation, they're introducing a new 30-seater terrace with a Drinking & Short Eats menu. Snacks include beetroot & banana blossom cutlet croquettes and crab patty empanadas with lunumiris mayo.
61 Rupert St, Soho, London W1D 7PW | www.paradisesoho.com/reservations | info@paradisesoho.com | Image by Bex Dickson