Carb-loading for your next Netflix marathon? Same. 
This one pastas the test
Get yourself a letterbox subscription to Nonna Tonda and you'll get freshly made pasta through ya door to knock up an impressive Italian feast on the reg... and it's basically impossible to cock it up. Get in! Made each morning and delivered the same day, their pasta is the freshest mix of eggs and flour around. Each dish includes fresh pasta, a sauce and fresh parmesan and can be prepped and ready to eat in under 5 minutes. BOSH. 
Nonna Tonda currently delivers to London, Brighton & Oxford, and they'll be going nationwide ASAP. Get in on the action here.
Worth spending your pennes on
The duo behind this pasta delivery co both hail from Puglia AKA one of Italy's most celebrated foodie regions, and they met while working at Restaurant Theo Randall. You know what that means? It means these babes are basically the rockstars of pasta making. Vanessa and Valentina stick to age-old Italian traditions with a contemporary twist, creating everything from pasta kits complete with epic sauces, to plain fresh pasta you can pimp yourself. They also offer up epic aperitivos and wicked desserts - we bet you wont be able to resist their Cannolo Siciliano (and if you do, you're a fool.)
All kits will stay fresh in your fridge for up to a week, so stock up and have yourself a week-long pasta party. And pssst. You can get 30% off your first order.
Come and spaghet it!
As far as TV chefs go, Angela Hartnett is one of our faves. This Michelin-starred kitchen queen is all about flavours at her family of Italian cafes, and every month she designs a sophisticatedly simple menu of classic Italian dishes for the Cafe Murano at home menu box, each bringing 4 courses of Cafe Murano classic dishes into your casa. The menu is delivered pre-prepared, cold in an insulated box. All ya gotta do is heat and serve. Easy. Want more than just the one meal? Hit up the online Italian grocery store and check out the selection of fresh pastas, sauces and ingredients to create your own kick-ass dishes from scratch.
Cafe Murano At Home boxes are available for nationwide every Friday.
These guys are gnocci-ding around

When it comes to this pasta institution, we're not sure what's more legendary: their Pappardelle with 8-hour long horn beef shin ragu, or the queue you usually have to wait in to get it. It's probably both, but we all know it's worth the wait. The good thing is the pandemic has handed us all a pretty sweet life-hack, granting us the opportunity to by-pass the standing out in the cold to get our hands on a plate by getting it delivered straight to your door instead. That's right. Padella now offers delivery of their handmade, rolled to order pasta kits, and it includes all the big hitters. Hallelujah!
All deliveries are made from 8am on Tuesdays to 8pm on Fridays. Or you can collect from their Shoreditch restaurant. 
The pastabilities are endless!
When it comes to shopping for epic Italian ingredients at Lina Stores, we're like kids in a sweet shop. Except instead of sweets, it's shelves of fresh, epic ingredients for making bellissima Italian dishes. We're talking oils, breads, cheese, meats and some of the best pasta in the capital. Though now you don't have to actually be in the capital to get your hands on it, cos this deli has migrated online and they're offering up everything you need to make an Italian feast ya nonna would be proud of. But if you do happen to be in London and CBA to come up with a spread to make with it all, you could hit up one of their fresh pasta meal kits which includes enough pasta and sauce to fill up 8-10 plates. Oh mama!
The Lina Stores deli offers nationwide delivery, while their meal kits currently only cater to addresses in London.
This one's tortellini awesome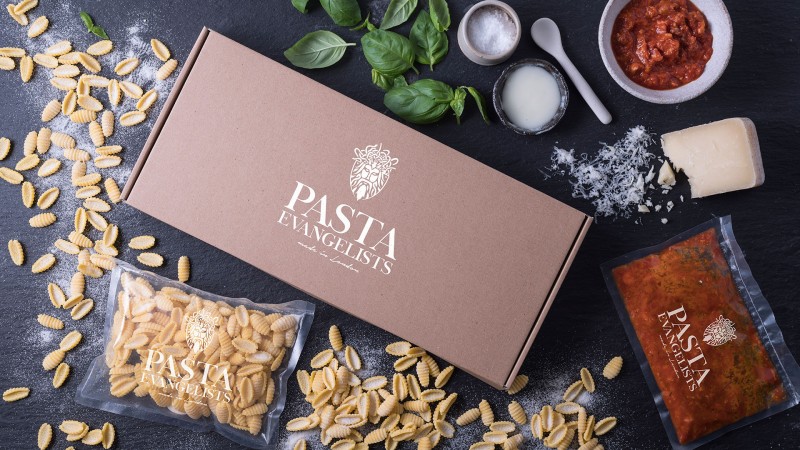 If you're evangelical about pasta (amen, hallelujah and hell yeah we are) then you already know about Pasta Evangelists. These guys are the OG's when it comes to getting pastificio-style pasta into your kitchen, sending you everything you need to make some authentic bad-ass restaurant-quality pasta for your familia in as little as 5 minutes. Pick the recipes you're vibing this week and they'll get 'em delivered to you as soon as tomorrow. You can freeze your kits as soon as they arrive if you're not feeling it right away, and if you subscribe you'll get a sweet discount. It pays to commit, y'all, and we're always committed to pasta.
Place your order before 2pm to get next day delivery (or before 4pm if you're in London)
The pesto's yet to come
The pasta from Scarpetta is made from scratch on the daily using only flour and water. That's how they do it in Italy, yo, and where the artisan ingredients (and the owners) hail from. This is about an authentic as it gets, bambino. That EasyJet jaunt to Italy might be off the cards, but these guys will bring a slice of Amalfi to your casa with perfectly portioned fresh pasta and rich sauces. And they'll do it tomorrow if you order before 1pm. Want plates of Cacio E Pepe and mozzarella bursting gnocchi delivered on the reg? You can subscribe to a weekly delivery and you'll get a sweet discount + free delivery. Now that is *chefs kiss*.