Football's coming home, baby - and we're going OUT. The atmosphere is always better down the pub, and booze is always in reaching distance if sorrows need to be drowned following a poor VAR decision. Good news is, London is packed with awesome bars showing the country's fave sport, so you can get the beers in while you get your cheer on.
CENTRAL
While you watch your fave player pull a hammy (sad times), you can pull your own pints in this Southbank pub. With a beer tap at your table, you just hook up your credit card to the table's iPad and it'll charge you for the liquid you add to your glass. Saves you going up to the bar and missing that goal. The burgers here are epic, too. The future is here, lads, and we're living in it.
62 Stamford St, London SE1 9LX
BONDS - Local allegiance: Man United, Barcelona, you name it
A bit on the clinical side, but a decent size and within 100 yards of your Oxford Street shopping hell, Bonds is a handy escape from the hordes. All games are shown but they don't necessarily take over the entire pub - so probably handy for watching out of the corner of your eye while pretending to listen to whoever you're with. Large food menu and reasonable prices for the area to boot.
11-16 Dering Street, W1S 1AR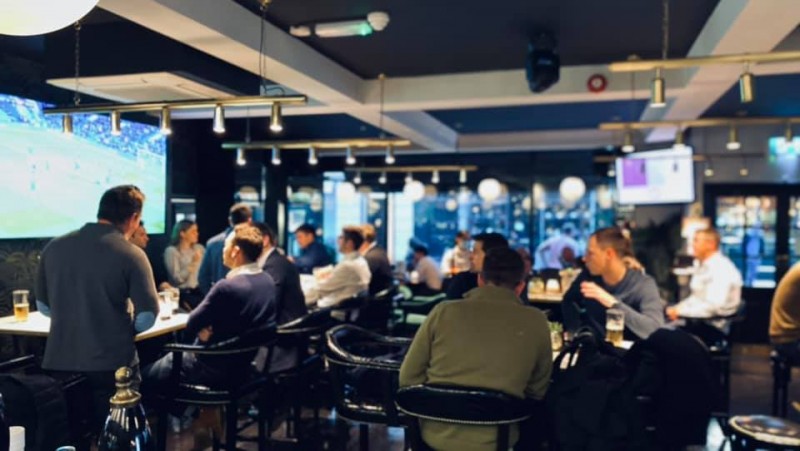 THE SHIP - Local allegiance: N/A (thankfully not quite close enough for Millwall)
Just at the point you think you're getting a bit far from Borough Market and a bit close to Elephant & Castle comes The Ship. Plenty of pub properness here, Fuller's ales and reliable food – and both Sky and BT Sport matches shown on the two flat screens. Darts and table football at half-time anyone? It's better than listening to Gary and Jamie arguing. 
68 Borough High Street, SE1 1DX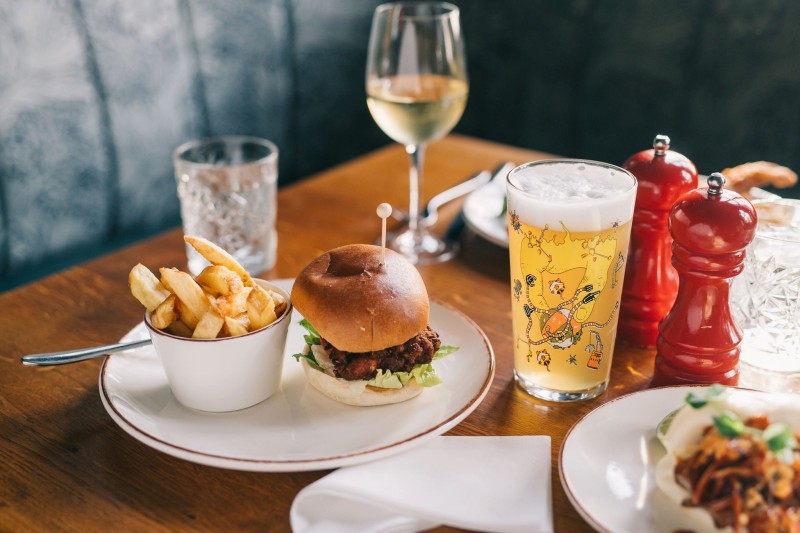 This rooftop in London Bridge guarantees good views of every game on their four-metre cinema screen and five ultra HD TVs, alongside epic views of London if you just pop ya head over the wall. The dream scenario: catching some rays while watching the match. The worst-case scenario: you've paid a tenner to come watch England play in the pissing rain. Ah well, it's all about the love of the game, right?  Hit up their burgers from Borough Market's Ginger Pig for your half time chow-down and make sure you snap a selfie in front of the view. It'll get you likes even if your team has lost points.
Colechurch House, London Bridge Walk, London SE1 2SX
NORTH
THE BEEHIVE - Local Allegiance: Tottenham Hotspur
Projector, pool table, beer garden. If you're kicking it in Tottenham, this is the pub to hit up. They show all the games on BT Sports, Sky and Amazon Prime, but if you support anyone other than Spurs, you might wanna keep it down - this place is a Rory Delap's throw-in away from White Hart Lane, where the local supporters without a ticket swarm to support their team.
Stoneleigh Road, London, N17 9BQ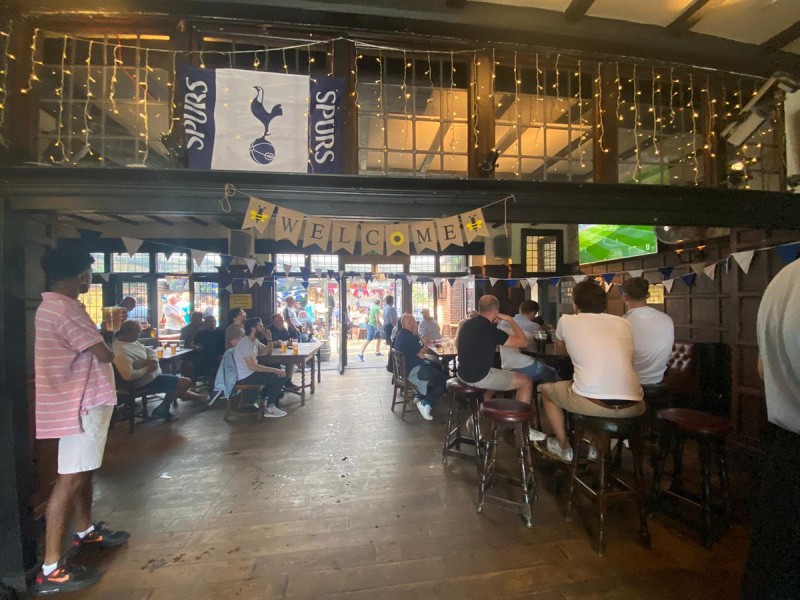 Crop out the surrounding streets and focus on the foliage-adorned pub and you could be in a quaint countryside village. You aren't, of course. Inside are a couple of screens around the horseshoe-shaped bar, but pick a top-of-the-table affair or a rugby international and you'll be heading through to the huge back room. Big screens, long tables and pews provide a Bierkeller-like environment for prime sports enjoyment. And out the back - lordy, beer garden does not do it justice. It's more like the treehouse from your wildest childhood dreams, there are almost certainly monkeys running amok. 
19 Perth Road, N4 3HB
BOXPARK – Local allegiance: England, or any team that ever makes it to a cup final
There's no danger of anyone missing out on the scores, cause you literally can't escape football fever at Boxpark Wembley, where they've got screens just about everywhere. You've seen the viral vids from the 2018 World Cup, so if you fancy ruining your top with the fall out of 200 beers being thrown into the air, you know where to go. There's also a huge range of the best street food in London which can soak up the beer ingested (not thrown). 
18 Olympic Way, Wembley Park, Wembley HA9 0JT
EAST
PIANO WORKS - Local allegiance: N/A (or any artist playing at the O2)
Your most tuneful football chants at the ready. Our fave live music venue is def better known for its stage antics over its screen, but both Piano Works venues are bringing out the big guns for the Euros this year. Get to Farringdon or Leicester Square with plenty of time to spare before kick-off and you can fill it with their killer happy hour running til the first whistle blows. 
113-117 Farringdon Rd, London EC1R 3BX
THE COBORN ARMS – Local allegiance: at a push probably West Ham
Homely, local and comfortable, this Young's number is tucked away neatly off Mile End Road and is a short walk from either Mile End or Bow Road station. One large screen and three other high-level flat screens guarantee a decent view from pretty much anywhere. Of course, the ales are great, the food is solid traditional English fare, and the bar staff are pleasant too, which counts for more than most landlords seem to think.
8 Coborn Road, E3 2DA
SOUTH
Only 2 minutes from the busy Kennington Road/ Kennington Lane Junction, this corker's neatly tucked away on Black Prince Road. It's a proper pub, with good food, a decent selection of ales and - handily - three flat-screen TVs. The friendly bossman advises that they show ALL (nudge, wink, cough) 3pm football matches, but his preference for rugby means the egg-ball might win should fixture clashes occur. There's a lovely outside area too but no funny business please - you're overlooked by a tall modern block of flats.
6 Black Prince Road, SE11 6HS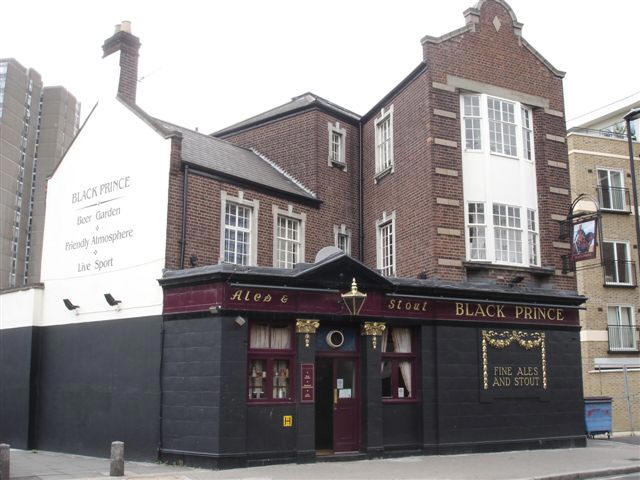 Where rustic stops just short of dilapidated (in a wonderful way), BBC is full of charm and character. It used to be a bowls clubhouse (who'd have thunk it?) and it's comprised of various downstairs rooms of vintage and wonderfully mismatched furniture. There's a flat-screen in one of these rooms and a projector upstairs, but it's worth checking listings as private functions occasionally render the big screen inaccessible. Hint: book the upstairs for your footy-watching p*ss-up. Sky and BT here.
7-9 Ramsden Road, SW12 8QX
HOPE & ANCHOR - Local allegiance: the team that brings the party
With a whopping 24 TV screens showing Sky, BT and Amazon, this is the place to go when you want your eyes glued to the game at all times. Unless you're distracted by one of the kitchen's massive burgers, of course - we wouldn't blame you. Pro tip: for weekend games, get on the bottomless Aperol Spritz brunch.
123 Acre Lane, SW2 5UAWEST
THE PRINCE - Local allegiance: Chelsea
From an old, faded Victorian boozer to a three-floor English garden space filled with three bars, four restaurants and more frosé than a summer hen do, The Prince is less a bar, more an entire botanically lined street in West Brompton. Rolling with a crew? The benched seating fills the "street" style venue so there's plenty of space for group hangs, including a dedicated space for watching the big match on the big screen. Get on the frosés (the official unofficial cocktail of football-watching, according to us) and prep your best footie chants.
14 Lillie Rd, Hammersmith, London SW6 1TT
No one likes to know how the sausage gets made but here's a little secret for ya: The Lighthouse is where the BarChick magic used to happen. That's right - who needs an office when you have a killer neighbourhood pub to bunk down in during the day? Not us, honey. And the best bit about working from here: having first dibs on the table near the screen on match nights (it's first come, first served on match days, FYI). 
441 Battersea Park Road, London, SW11 4LR
First thing's first: The Eight Bells down the road is nicer than this pub. However, on Fulham match days it'll be an absolute scrum, so head to The Temperance 100 yards away instead. A massive pub with loads of screens (pretty much one on every table) and a good selection of beers and ales. As per Bonds off Oxford Street, the food choice is extensive and prices are reasonable, largely because it's the same menu. 
90 Fulham High Street, SW6 3LF
THE CROSS KEYS - Local allegiance: not really… maybe QPR
A mile from Hammersmith but much closer to Ravenscourt Park and Stamford Brook sits this beauty. It's a Petr Cech goal-kick from the A4 but, nestled down the smart residential roads off King St, you'd never know it. The Fuller's link means solid food and an excellent ale selection, and it's sports-friendly which means two flat screens, a projector and an additional wheelie-screen if needed. Oh, and a dartboard. The pretty outside area leads to a sweet outbuilding, suitable for anyone inexplicably not interested in shouting obscenities at 22 men who won't hear.
57 Black Lion Lane, London W6 9BG