The best things in life are done in private...
Whether you're planning a work party, a Christmas do, a boujee board meeting, your wedding or just a f*ck-off massive party, these are BarChick's pick of the best places to dine behind closed doors. 
Capacity: 20 (seated)
Marylebone restaurant and mezcal heaven Kol is the place to hit when you're after a banging Mexican meal (if you can manage to get a booking) - so throw a party at its private dining Chef's Table, and you'll be in for a true culinary masterpiece. Yeah, it's gonna come at a price - the seven-course menu comes in at £180 a head - but just picture the look on your mates' faces when they're sipping mezcal and biting into the best tostada of their lives. Worth it. 
9 Seymour St, London W1H 7BA
Capacity: up to 60 (standing) & 48 (seated)
This bad boy's not only got Damien Hirst mermaids and Frank Gehry fish lamps, but two of the largest coral reef tanks in the world. It's also from the masterful team behind The Ivy, so you know it's gonna be epic. If you and 47 of your mates book The Coral Reef Room, you'll not only get to sit next to those massive tanks, but you'll get your own private bar, some of the freshest sashimi in town and access to the third-largest whisky collection in the world. BarChick'll be there until taxi time.
Berkeley Square House, Berkeley Square, London W1J 6BR
Capacity: up to 18
Wanna get high with your mates? Then book the highest private dining room in London town. Minimum nine people, maximum 18, it's available for breakfast, lunch and dinner. The food and the cocktails are bang on and their signature dish is as good as the view.
Heron Tower, 110 Bishopsgate, London EC2N 4AY
Capacity: up to 10
Chef Nuno Mendes' Fitzrovia restaurant is spot-on for a cosy date night featuring a lush bottle of red from Lisboa and dreamy plate of bacalao, but now that this Portuguese spot has opened its private dining room, The Adega, it's also great for more lively affairs. Tucked away on the lower ground floor next to the massive wine cellar, The Adega can fit up to 10 of your nearest and dearest. Order White Port & Tonics all round before moving onto wine, then get stuck into the seasonally shifting sharing menu. Oh, and heed our advice - if the pork fat custard is on offer, order it. 
30 Charlotte St, London W1T 2NG
Capacity: up to 8, 10 & 18

Seeking a bit of indoor/outdoor dining? This Clerkenwell restaurant has three wicked spaces you can book out for some group dining, and they all bring a bit of rustic Italian charm. The Garden Room has all the style of an Italian garden, while the Pasta Room is designed to look and feel like a traditional Italian home kitchen. Mamma mia! Then there's the Terrace, a covered, secluded and foliage-filled spot surrounded by olive trees and jasmine, is also available and ideal for a cosy, wintery meal with large groups, warmed by the open fire. 
88 St John St, London EC1M 4EH
Capacity: up to 12
Rocking a Michelin star, this beautiful restaurant found in the grand Four Seasons hotel in Tower Hill is the perfect spot for a lavish lunch or special occasion dinner with an added dose of privacy. Guests can order from a five-couse menu (go big or go home, we say), and La Dame de Pic's expert team of sommeliers are on hand to select the perfect wines to accompany any meal. Prices start at £160 per head, so better check your bank balance before you offer to take care of the bill.
Four Seasons Hotel at Ten, 10 Trinity Square, London EC3N 4AJ
Capacity: up to 25, 28 & 50

This American steakhouse boasts three smart private dining rooms, and all will make you feel like you're a f*cking hero - or in a Scorcese film. Opt for the Theodore Roosevelt Room (for 50 people) for a private bar and barman, or the Liberty (for 25 people) or Churchill (for 28 people) Rooms for more of an intimate setting. If you're absolutely minted, book one or two floors for private hire and go wild. Gilded mirrors, globe lightbulbs and mint green hues will be background to your porterhouse steak gorging.
The Adelphi, 1-11 John Adam Street, London WC2N 6HT
Capacity: up to 32 (seated) & 45 (standing) 
This is one of BarChick's favourite stained-glass window and pin-striped awning kinda hangouts. If you're looking to dine privately, you can't get much better than this. Everything is impeccable, from the food and the drinks to the service. The Marx Room, The Leoni Room, The Snug and The Petting Room are all available for your private happiness.
26-29 Dean Street, London W1D 3LL
Capacity: up to 12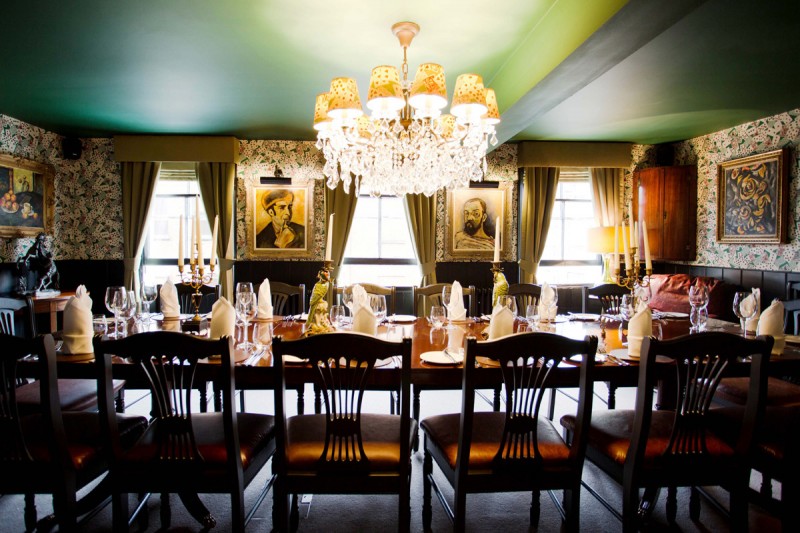 The Punchbowl has seriously upped its dining game with its swanky new Art Deco restaurant upstairs, but it's the club hidden above it where BarChick likes to entertain her finest friends. It's like a Victorian art collector's dream up there; work your way around the room, have a drink with the mysterious faces staring back at you and then settle into a menu of culinary wonders. This is the kind of place you can really get stuck in for long whether it be lunch or dinner; go on and sink into a Chesterfield and make like you're lord of the manor.
41 Farm Street, London W1J 5RP
Capacity: up to 36, 40, 20 & 25 
This recently renovated Fitzrovia pub is named after the legendary botanist Agnes Arber, and it's perfect for when ya want to host a shindig with a garden party vibe, with botanical wallpaper, light wood furniture, trailing plants and loads of natural light. It's got four spaces to choose for your private dining needs: The Garden Room, The Chapel Room, The Orchard Room and The Garden Terrace. Set menus start at £45 - pretty decent for Central London, no? 
1 Pearson Square, London W1T 3BF
Capacity: from 10-300 (!!)
If you want epic riverside dining, this is the spot for you. BarChick opts for the wine cellar-cum-private dining room, but you can rent space in the main restaurant if vistas of the Thames is what you're after. The wine list is obviously mega and the food menu's up there with it: terrine of duck foie gras, raviolo of lobster, salads of golden beetroots and much more. Group capacity is 10-300 depending on which room/space you fancy.
36G Shad Thames, London SE1 2YE
Capacity: up to 26
Think 19th-century shack and BBQ  joint of the American Gulf Coast meets West India Docks, and there you are. Whack on a bib, clutch that cutlery for dear life and get ready to feast on some pulled pork, BBQ and outrageous lobster. Peace out, small plates dining. Want more of a pull? There's a rum bar moored here at all times, with over 100 bottles, a killer cocktail menu and rum casks on tap. But you're here for some privacy, so book the Captain's Table dining room for you and 25 of your mates. It'll be epic.
Crossrail Place, London E14 
Capacity: up to 10 & 18 
We love Rules for its liveried doormen, its roaring log fire and the slab of Stilton that comes with your cocktail. As soon as you walk through the door you half expect to see some old literary hound propping up the bar, cigar in hand, but nowadays you're more likely to see BarChick. The John Betjeman Room accommodates 10 and the Graham Greene Room seats 18. Bring along some TS Eliot poetry and measure your life with spoons of spirit.
34-35 Maiden Lane, London WC2E 7LB
Capacity: up to 12 (seated) & 25 (standing) 
It's t place to go for some good old-fashioned people watching, but you might not know that Coya has a banging private dining room for up to 12 guests. Not only are the walls are covered in bright murals by a Brazilian graffiti artist, you get an awesome view straight into the kitchen. Grab your mates and get your VIP on.
118 Piccadilly, Mayfair, London W1J 7NW
Capacity: up to 40 
Filled to the brim with suits wining and dining their clients, it's old school and it works well. If you really want to go to town, then take things up a level to their second floor private dining room, The Gallery Room, which boasts amazing views across the City, capacity for 20-40 guests and private dining menus. All rooms are appropriately tartan, crimson and swanky so there's your holiday dining stress sorted and booted.
Cabot Place, Canary Wharf, London E14 4QT
Capacity: up to 14 
The Wolseley is the ultimate restaurant with all its old school charm. The private dining room, which is discreetly placed at the top of a staircase, can seat up to 14 guests and it's impeccable. Breakfast, lunch, dinner? Not to fret: it lends itself to any occasion. Light spills in through the windows by day, and seductively lit candles give glow by night. Hello delicious sultry dining.
160 Piccadilly, London, W1J 9EB
Capacity: up to 60 (seated) & 100 (standing)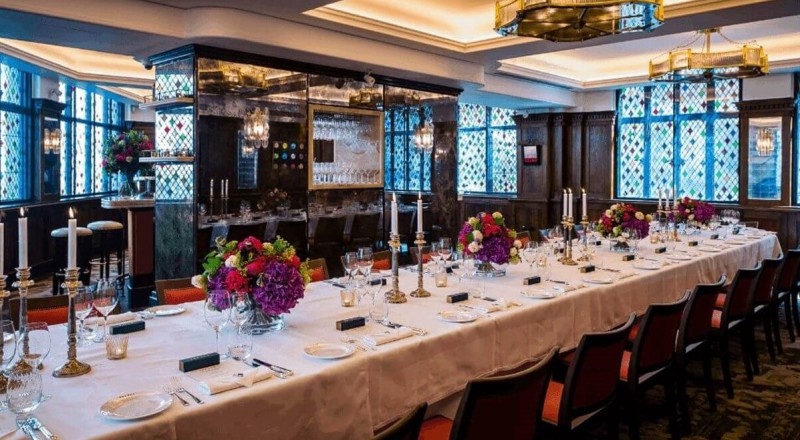 This classic has been revamped and all heads are turning. While the whole space has had an overhaul, we're most psyched about the private dining room (which seats up to 60) fashioned by Martin Brudnizki Design Studio. Envision a room of harlequin stained glass, oak panelling, handwoven camouflage carpet and a bespoke bar, and there's your very lavish abode for the night. The menu will be whatever suits your personal taste (within reason, that is) and the music will come in the form of a baby grand piano, jazz trio or string quartet. Fancy.
1-5 West Street, London WC2H 9NQ
Capacity: up to 32 (seated) & 45 (standing)
Italian cooking at its very best: from raw sea bream and slow-roast duck to risotto with Prosecco and oysters, they've got it handled. Their private and beautiful Remus Room is available to book in a bunch of different layouts, so you can pick the one that best suits your group. Design your own menu or pick one of their Classic or Bocca menus which start at £40; from the first to the last morsel you'll be howling your appreciation.
12 Archer Street, London W1D 7BB
Capacity: up to 24
The Delaunay is as slick as it is charming, and the menus are delicious and feature classic café dishes like moules frites and schnitzel. It has two private dining rooms that seat 10 and 16 guests respectively (but can be joined to seat 24 if you're going BIG). Clad in beautiful wood panelling with lots of original paintings on the walls, the spaces feel well insulated and intimate.
55 Aldwych, London WC2B 4BB
Capacity: up to 40 
Perfect if you fancy something tucked away from the madness that is Covent Garden. The Drawing Room, which is furnished with love seats and antique bronze mirrors, is ideal for the hosting of private drinks parties and intimate dinners of up to 40 for breakfast, lunch or dinner.
The New Wing, Somerset House WC2R 1LA
Capacity: up to 22
Hawksmoor Guildhall is at the steak-beating-heart of city life - it's always heaving with suited and booted slickers. The decor is sexy (in an Oxford College kinda way) and has its own bar, so you can go hard all night long on Shaky Pete's Ginger Brews. The private dining room seats up to 22 and their steak is the best in town.
10 Basinghall Street, London EC2V 5BQ
Capacity: up to 14 
The Tosho Table seats up to 10 and has the buzz of the nearby sake bar, and the Kotatsu Room seats up to 14 with sunken tables sectioned off by open timberwork so you still feel part of the action. The food is high-brow Japanese izakaya-style greatness, and it delivers the goods; let's hope the conversation matches it.
5 Raphael Street, Knightsbridge, London SW7 1DL
Capacity: up to 60 
Balthazar always serves up a good time (unless you're James Corden, apparently). It's got old-school glamour and NYC charm nailed, with the red leather booths, shimmering mirrors and glittering chandeliers. And you can enjoy the restaurant's luxury in private at Le Petit Salon Privé, which was converted from the Balthazar boulangerie and seats up to 24 guests. Meanwhile, Le Grand Salon Privé has its own bar and lounge - and even a private entrance in the heart of Covent Garden. Ooh la la!
4-6 Russell St, London WC2B 5HZ
Capacity: up to 16
This private room has a Champagne button...need we say more? Bob Bob Ricard is the ultimate Russian playground: it's sealed with marble, it's chock-full of Champagne and caviar is always on the menu. Attire? Fur and diamonds, naturally. The private room seats 16, and there's a minimum spend of £1000 plus service at lunch, and £1500 plus service at dinner., but with Champagne just a finger away, this shouldn't be a problem.
1 Upper St James Street, London W1F 9DF
Capacity: up to 60
Where else can you go to the loo and listen to "The Owl and The Pussycat"? That's why we love it here. Not to mention the food and cocktails - and the fact that it makes you feel like an emperor. Choose from one of their private rooms: Ping, Pang or Pong. They can accommodate 18-60 for a sumptuous Cantonese feast.
The Dorchester, 53 Park Lane, London W1K 1QA
Capacity: 8-24
With five locations across London, Barrafina has built an empire around its next-level tapas dishes. That means more opportunities to book their hot-ticket private dining rooms and have a tapas party of your own. At their Drury Lane restaurant's private space, you can chow down with up to 23 of your nearest and dearest as you watch your dedicated chef cooking away in the adjoining open kitchen. Menus start at £65 per person. 
43 Drury Lane, Covent Garden WC2B 5AJ
Capacity: up to 60 
This restaurant is frequently praised to the skies, and for good reason. With simple summer home decor and breezy vibes, you can fully focus on the food and wine. Commandeer their private dining room for 16 or take over the whole bar area and order a suckling pig for 60 of your mates.
26 St John Street, London EC1M 4AY
Capacity: up to 16
Everything listed on the menu here will make you instantly ravenous: a whole grilled sea bass slathered with miso, perfectly tender steaming flatbreads and hot brioche doughnuts, to name a few. The private dining room boasts an original stable, so wear your breeches and embrace the equestrian vibes. 
43-51 Great Titchfield Street, London W1W 7PQ
Capacity: up to 70 
If you wanna host a dinner where you dress as Marie Antoinette and encourage your guests to wear masks and feed each other seductively, this is the place. Choose from The Ballroom, The Chapel, The Crypt or The Drawing Room, all of which are conducive to debauchery. By the end of the night, you and your mates may more accurately resemble savage Hogarthian drunkards, but that's totally cool because you won't know the difference.  
45 Ledbury Road, London W11 2AA
Capacity: up to 22 (seated) & 50 (standing) 
With a whole penthouse to play in, there's no end to your naughtiness; and with room for 20 of your mates and 360-degree views over the London rooftops, this is definitely a dinner that will wow your guests. The banqueting menus have been designed by the team behind Berners Tavern so you know it's going to be as delicious. Go on and take pudding in the bedroom, 'cos you can. There's even a 24-hour multilingual secretarial staff available...Not sure what this entails exactly, but it sounds sophisticated and advantageous.     
10 Berners Street, London W1T 3NP
Capacity: up to 50
The Games Room at this eclectic boutique hotel is the place to play in style with your mates behind closed doors. They've got room for 50 if you're sipping and 30 if you're dining, plus a ping pong table and a private outdoor courtyard for a breath of fresh air (or chaining). When dinner's over, crank up the Sonos sound system.
49-50 St Johns Square, London EC1V 4JJ
Capacity: 15-400 
Embrace the hip-gyrating Elvis and the naked aprons, because by the end of the evening you'll be snogging him and wearing one. Get 40 of your mental mates together, eat pizza, drink Colosseums and shout karaoke till they hear you on the KR.
37 Battersea Bridge Road, London, SW11 3BA
Updated 09/11/2022