The Donovan Bar crew have officially gone emo. No, we don't mean they've all gotten an asymmetric fringe and are playing "Welcome to the Black Parade" on repeat like it's 2006. We do mean they've tapped into their feels by creating a hot new cocktail menu called Evoke, all about the journey through and beyond emotions. Pretty punk rock, yeah?
Led by cocktail legend Salvatore "The Maestro" Calabrese and director of mixology Federico Pavan, The Donovan Bar's team have dreamed up a list of 12 new drinks arranged in pairs that complement each other, punctated by photographs taken by Terence Donovan, the bar's namesake. These cocktails were designed to make ya feel something big, and we're here to tell you they deliver on that promise. We *may* have shed a tear of joy after taking a sip of that glorious red highball below.
And if the thrill of dipping into your overdraft is a feeling you're open to getting in touch with, you're gonna wanna try the vintage spirits collection here. Yup, this place is home to some of the rarest spirits in the world, and they'll mix you up classic cocktails using only the most exclusive bottles for between £120 and £5,500 a pop. This is as luxurious as it gets, baby.  
Ready for a closer look at Evoke? We headed to Mayfair's swanky Brown's Hotel, where this elegant bar resides, to get an exclusive first look at the list before it officially launches on 17 July. Take a peek at our must-try serves... 
Red
This elite riff on the Paloma is an absolute must-order, and not just because it shares its name with a T-Swift album. Patrón Reposado, Amaro Santoni, Ancho Reyes, red bell pepper, Montelobos mezcal and bubbles come together to form a serve that's savoury, smoky, vegetal and more complex than our 12-step skincare routine. Since this one was inspired by passion, it makes sense that it brings the intensity. Oh, and that spice mix they put on the rim? 10/10 would sprinkle it on everything. Genuinely one of the most delicious cocktails we've put in our mouth all year. 
Martini Roots
As the inventor of the Direct Martini and the Breakfast Martini, the Maestro knows his way around this classic drink... so when we learned he'd created a new version inspired by the flavours of his native Italy, we knew it was gonna be legendary. Martini Roots is a mix of Belvedere Vodka or An Dúlamán Gin (your choice - BarChick's a gin drinker), tomato, fortified wine and Grana Padano (yup, that's cheese in a cocktail, and trust us, it works), finished with an aromatic spray of bread made through pure bartending magic and a cheeky amaro jelly olive we'd eat by the jarful.  
Gratitude
Federico and his team told us this drink was inspired by moments they're thankful for, like meeting up with friends for brekky - so naturally they've modelled it after one of our fave brunch cocktails, the Garibaldi. This riff mixes Campari with Whistle Pig Rye, peach, fluffy orange and coffee, for a serve that's bold, juicy and a little bitter. That's BarChick's kinda balanced breakfast!
Indecision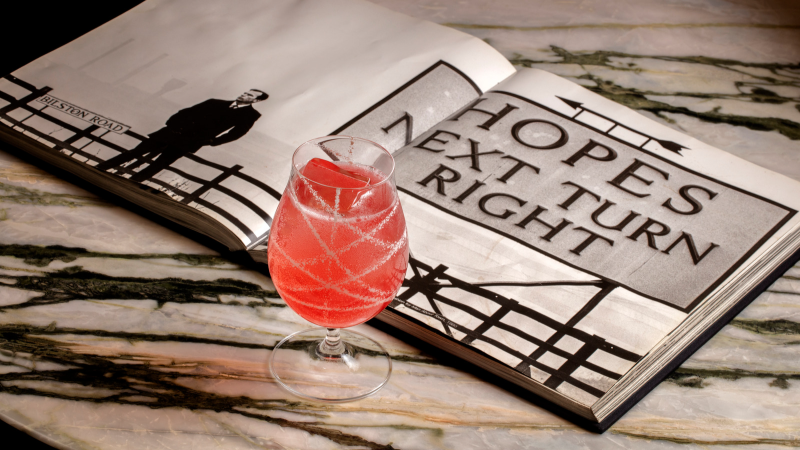 With a menu featuring so many straight bangers, it ain't easy choosing which one to order. Let this drink's name be a sign for the undecided! It's got pisco, Campari, Theorie Cuoir Lontain (that's a wicked French liqueur, FYI), rose and soda water, for a fresh, fun, bright drink with a delicate floral note and a nostalgic candied vibe - a little treat that'll make ya feel young and free.
Photos by John Carey (@johncareyphoto) for The Donovan Bar
13/07/2023