Soho is the place of legends.
After all, it was here that Dick Bradsell invented the Espresso Martini, it's home to the wildest gay bars, the baddest brothels and the craziest cocktail bars, which will all welcome you into their seedy underbelly. At one point there was a petition to 'sanitise Soho', but we like it that little bit grimy, that little bit gritty, and that little bit naughty. 
Saying that it's now home to some of London's - and the world's - best bars and restaurants. There are also plans to make some of the streets pedestrianised this summer, so you can have a care-free and car-free jaunt around Soho on streets such as Brewer St and Old Compton St.  
Here's how to have a day to night that if you can remember, you might want to forget... 
BRUNCH
Scarlett Green's badass brunch
Who doesn't love brunch - Bloody Marys and bacon/pancakes setting you up for the day? You're gonna need to line that stomach cos you're in it for the long run. 
As long as the queues aren't too insane then hit up The Breakfast Club - you can't miss that bright yellow exterior. It's where it all began for these brekkie behemoths and you need at least one visit. Here it's all about American classics like The Club Burrito, Pancakes & Bacon and Fried Chicken & Waffles. Washed down with Club Bloody Mary and a Flat White Martini, naturally.
Scarlett Green is part of the Daisy Green Collective and they serve some banging Australian-inspired dishes that are beautiful to look at and awesome to eat. The menu is divided between sweet & savoury - we naturally go for something from each side. Red shakshouka then Buttermilk blueberry pancakes, yum. They also do a very decent daily 100 mins Bottomless Brunch with free-flowing Prosecco & Mimosas - get involved.
Bar Termini is one to visit at any time of day. They specialise in Negronis - you can try five different types - and have chilled Italian vibes nailed. We say head in for some of their exceptional coffee and a Bloody Mary, a simple spread of Italian charcuterie, and finish up with a Rosato Negroni. So chic, so continental. 
The Breakfast Club, 33 D'Arblay St, London, W1F 8EU // Scarlett Green, 4 Noel St, Soho, London W1F 8GB // Termini, 7 Old Compton Street, London, W1D 5JE 
(LIQUID) LUNCH
French fancy at Cafe Boheme
You think they love their three-Martini lunches in the City? You ain't seen nothing yet. Wander the streets of Soho at lunchtime and you'll see the best of them getting on the sauce. Be rude not to join them, no? 
If meat's your thing, swing by Temper. One of London's hottest barbecue chefs is behind this fire pit BBQ restaurant and it's got a 6m long central fire pit in the dining room. Now that's hot. Whether you're here for the aged beef skewers or the 500g of T-Bone, one thing's for sure - you're gonna want mezcal with that. Their cocktail menu champions the agave spirits and we're so down for the smoky Momma's Margarita. 
Not a member of Soho House? Who cares, you can still enjoy the vibes without the fee. Right next door you can swing by Dean St Town House. Chill out on the outside tables wearing shades and people might think you're famous - while you make your way through a bottle of Lady A and those Picantes while doing a bit of celeb spotting of your own.  
Cafe Boheme is pure Soho - buzzy, relaxed French bistro vibes with old-world charm, and every kind of person bustling shoulder-to-shoulder in there. You might find yourself chatting to actors who will be appearing on stage that night, some famous artist who makes sculptures from foam, and wide-eyed party people who haven't slept yet and are making their way through to the next sesh with red wine and Croque Monsieur. 
Temper, 25 Broadwick St, Soho, London W1F 0DF // Dean Street Townhouse, 69-71 Dean Street, London, W1D 3SE // Cafe Boheme, 13 Old Compton St, Soho, London W1D 5JQ
AFTERNOON PUB SESSION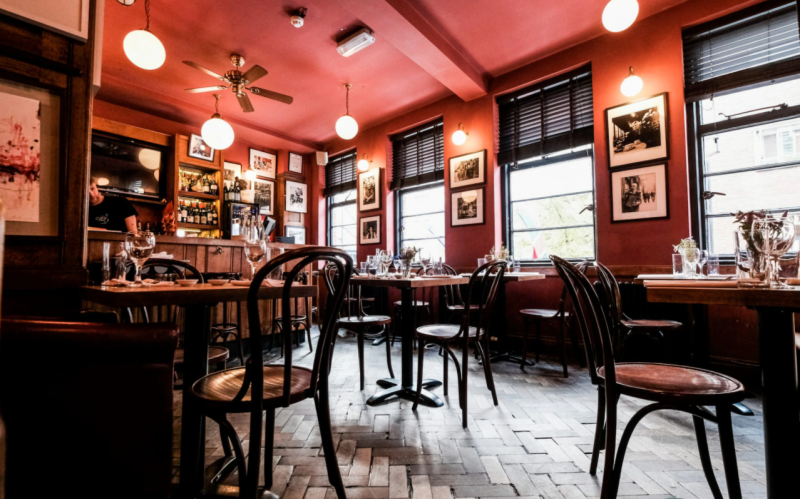 The French House looking sexy. Image credit: Peter Clark
Although Soho sadly doesn't have the same amount of boozers it used to boast (that's central London, baby) there's still a few places for a pint and a packet of peanuts. 
John Snow is a buzzing corner pub that's always rammed and has a saloon bar serving Yorkshire ales, no fuss. It's named after the doctor who traced the London cholera outbreak btw - not the GoT character or the newsreader. 
The French House is a beauty of a Grade II listed pub/bar where you'll be rubbing shoulders with the literati. Plus it's got a no music, no machines, no television and no mobile phones rule which means the conversation - and the 30 wines by the glass - will be flowing. 
More inclined to a Guinness or two? Hit up The Toucan, it's the real deal - the best traditional boozer in this postcode and is one of the best places for a pint of G and some oysters.
John Snow, 39 Broadwick St, Soho, London W1F 9QJ // The French House, 49 Dean St, Soho, London W1D 5BG // The Toucan, 19 Carlisle Street, London W1D 3BY 
COCKTAIL O' CLOCK
Upstairs at Bar Swift
You can sip cocktails at any time of day in Soho - and you'll see people doing just that, getting on the afternoon Manhattans in Quo Vadis, for example. It's gonna be a long night so start off with something lighter in Mele e Pere - sneak downstairs and they have a bar dedicated to vermouth. It's also super sexy down there and ideal to perch at the bar sipping a V&T. 
BarChick always makes sure to stop in at Swift for at least one drink - that usually turns into four or five tbh. They're just so damned good, and we love the staff. Downstairs it's more swanky - dimly lit, sleek booths, and date-central. Upstairs is more chill, with countertop seating and a bright aesthetic. If you can then sit in the window and watch the world go by. Not had a Swift Irish Coffee yet? Remedy that immediately. 
The Blind Pig is a speakeasy that you'll find it you look for the Opticians sign. Best to book this one as it gets pretty popular, and don't expect the drinks to come cheap. But you get your money's worth in the service, the creativity, and the quality. One of their menus was based on popular children's books, for example. It's also above Social Eating House if you get peckish afterwards and don't wanna too far for dinner.   
Quo Vadis, 26-29 Dean St, Soho, London W1D 3LL // Mele e Pere, 46 Brewer St, Soho, London W1F 9TF // Swift, 12 Old Compton St, Soho, London W1D 4TQ // The Blind Pig, 
ALFRESCO VIBES IN THE SUMMER
Soho is pure central London - crowded, crammed, and we love it. It means when it comes to outside spaces then the best you'll usually manage is nabbing one of the much-coveted pavement tables that some of the restaurants can get away with. However, this will hopefully all change once Soho gets pedestrianised. Dean Street and Old Compton Street will be closed for part of the day so places like Barrafina, Balan's Soho Society and Old Compton St Brasserie to make the most of it.
Ham Yard Hotel is nestled in its own little leafty square and offers a bit of peace & quiet for a perfectly fixed cocktail - sit on one of the terrace tables or see if you can blag your way up to the roof terrace on a sunny day. 
Ham Yard Hotel, 1 Ham Yard, Soho, London W1D 7DT
HOT DINNER DATE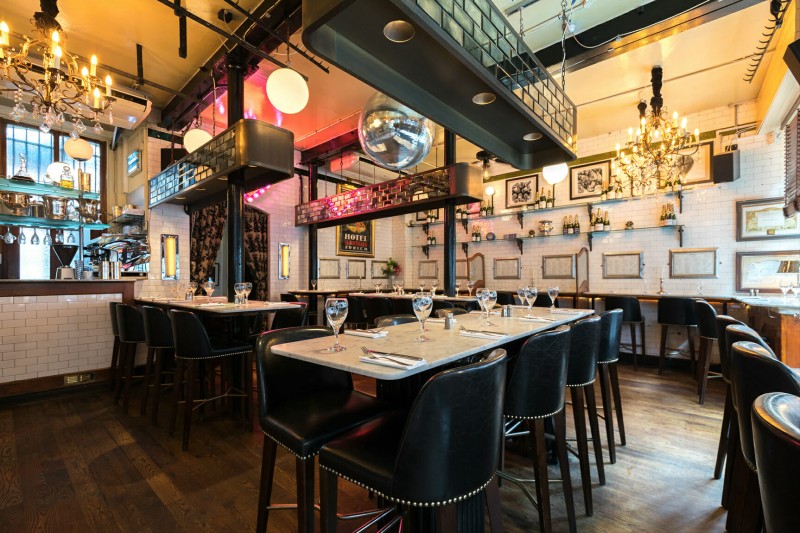 Disco + dinner vibes at Randall & Aubin
For absolute dining decadence then there's nowhere better than Bob Bob Ricard. These are the legends who introduced London to the 'Press For Champagne' button. It's a killer but it makes for a very fun night. The food is kind of luxe Russian-English fusion, so if you wanna go all out then caviar and frozen vodka shots to begin is the only way. 
If you're looking for good booze, great food and fun party vibes then look no further than The Palomar. Sure, Rupert Street is one of Soho's seedier offerings but this modern Jerusalem kitchen is anything but. Get close at the zinc bar and you might end up sharing more than just mezze.
Kiln on Brewer Street is constantly nominated on best restaurant lists and we can totally see why. It's from the same peeps behind the epic Smoking Goat, and South East Asian flavours influence everything from the food (the pork & crab clay pot-baked glass noodles is a must-order) to the cocktails. Make ours a Thai Basil & Peppercorn Mojito, please. 
Randall & Aubin is always somewhere that's top our picks. For one thing, it has a f*ck off huge disco ball dangling from the ceiling and they play chilled house music and funky classics all day. They specialise in seafood, so we say down the hatch with oysters and Champagne to start, then get on the lobster frites. It's all high stool seating at marble countertops and you usually end up chatting away with your neighbours - we say go for it, you'll make new friends and who knows where the night will take you? 
Bob Bob Ricard, 1 Upper James St, Soho, London W1F 9DF // Palomar, 34 Rupert Street, London W1D 6DN // Kiln, 58 Brewer St, Soho, London W1F 9TL // Randall & Aubin, 
LATE NIGHT
Mind those stairs... if you know, you know. The Pink Chihuahua, El Camion
For those that think all good places in London close at midnight we say - swing by Soho. Head here at any time of night and you'll most likely find something going on - insalubrious as it may be. 
La Bodega Negra is open til 1am for top tequila times - go through the back entrance that's disguised at a sex shop and down some stairs, you'll find an underground tequila cellar bar and Mexican restaurant. The tacos are awesome but it's the drinks in this dimly lit den that you wanna get to know.
100 Wardour Street is all about the swanky, high-style vibes and there's various spaces and levels to get your glam drink on. They have top DJs spinning into the early hours (3am weekends) so you can have a dance here before heading off into the night. 
Balans is perfect for those hours when you should definitely be in bed - they're open til 5am Mon-Thurs and 6am Friday & Saturday. They also serve food til late late, so if you get a case of the post-midnight munchies come here. 
The ultimate party spot is El Camion. No trip to Soho is complete without ending the night with a few Espresso Martinis at this legendary Mexican cantina. Downstairs is the Pink Chihuahua - a bartenders favourite, it stays open til 3am and has seen more debauchery than we've had tequila shots. If you're lucky you might just spot BarChick down there dancing on tables...
La Bodega Negra, 9 Old Compton St, Soho, London W1D 5JF // 100 Wardour St, Soho, London W1F 0TN // Balans, 60-62 Old Compton St, Soho, London W1D 4UG // El Camion, 25-27 Brewer Street, London W1F 0RR