Choose-Your-Own-Adventure game? Done it. A fake Oyster card and boozy tube map? Yep, we slipped one into our handbag and took it home. A mix-tape? Been there, drank the cocktails.
The newest way of choosing what you're gonna be boozing is no less creative. It kind of has to be - this menu celebrates ten years of Callooh Callay being open on Rivington Street. Yep, a decade of confusing your guests when you sneak through the wardrobe to the loos (or the hidden JubJub bar at the back).
Not been?
Why not?! This awesome Shoreditch hangout has picked up a fair share of awards and consistently find themselves in 50 Best Bars. The cocktails are always crazy inventive, and the space is just on the right side of retro funky, like your nan had a spliff and redecorated with a trip back to the 70s for interior inspo. What do you expect from a bar that takes its name from a poem by Lewis Carroll, the guy who famously liked to spend a casual Friday getting high and making up words?
And now…
Prepare to pick your drinks from… an auto-manual. You know the ones - there's always a tatty, oil-smudged one kicking about in the boot of the car, or lurking behind the paint cans in the garage. It's got details of fuel gauges, thermo-regulators (probably) and car parts.
Only this menu is all about 'bar parts'. It's a 'Cocktail Bar Manual', and the concept takes you through 'how to create a bar'. The cover promises 'insights into design, construction, operation, and maintenance'. Show us a carburetor, we're out. Show us a coupe full of coconut-washed Cognac and we're the goddamn AA breakdown service of booze.
It comes from the brain of Will Hawes (previously Milk & Honey and BarChick fave, El Camion). He's stripped it all back and built it up so you can get these insights while imbibing. Wanna know what makes up an award-winning bar? We tried one drink from each section of the manual. Read on for the nuts & bolts…
The Concept: Tales of the Coconut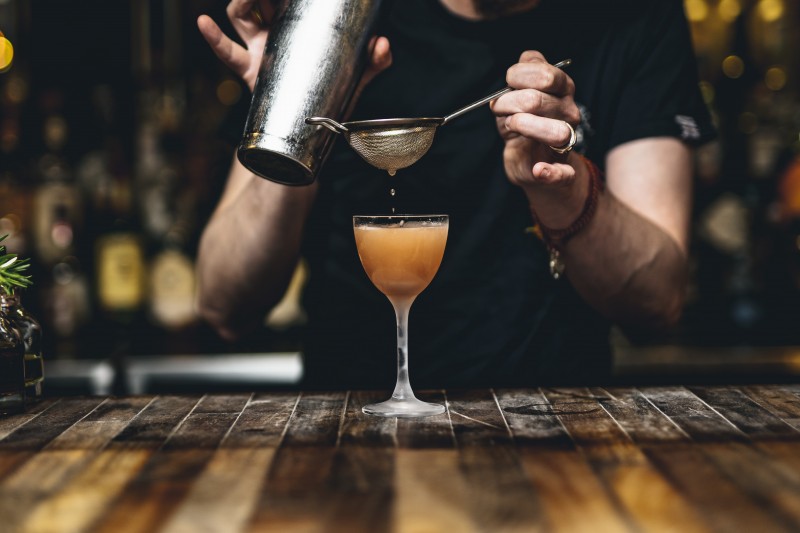 What do you start with first? The concept of what you envision your bar to be, of course. Callooh Callay's is simple yet effective: world-class drinks at a price to suit the everyman. You might also wanna see "Calloohnacy" (verb): reinterpreting classics through the lens of the ludicrous.
From this section, we got sip-happy with Tales of the Coconut. Yes, it's a twist on a classic New Orleans Sazerac. Yes, the name mirrors Tales of the Cocktail, home of The Spirited Awards aka the Oscars of the bar world. What isn't apparent from reading the description is how freaking tasty this baby is. Bourbon and Cognac make a smooth, silky base, but it's the coconut gomme that's lacing our tongue with tropical velvet. Combined with the herbal, aniseed punch of absinthe, and we have a winner, people. The first cocktail we tried and still our favourite of the night.
The Plan: Belladonna
Your concept is in the bag, and it's foolproof, damnit. Let's hope the bank manager sees it that way, right? This section gives advice on how you're gonna fund your new boozy enterprise. The Nan's Orchard cocktail is a tribute to the grandma of Richard, Callooh Callay's founder. When the bank said 'f*ck no', his nan lent him the money he needed to succeed. Behind every great cocktail venture there's a strong women somewhere.
We tried The Belladonna, which teaches you to turn negatives into positives. How so? It's a twist on the classic Italian Negroni Sbagliato. This cocktail was actually made by mistake - a mistake we can most definitely get on board with. The mix of Tanqueray Gin, Merlet Trois Citrus, Rinomato aperitivo, lemon, sugar, and Moet & Chandon Champagne makes for elegant, tongue-tickling and lightly sparkling sipping. If it's all getting too much then come order one of these beauties. Boom, you're refreshed in seriously bouji style.
The Location: Big Smoke Gamble
Anyone with half an eye on the property market will know, location is key. Callooh Callay have always stood by the idea that 'If you want people to find your bar, then do your utmost to ensure that it's in the last place they look.' Whether or not this makes savvy business sense, Shoreditch has welcomed them with open arms.
The Big Smoke Gamble is a reminder that the site used to house an Asian restaurant… slash possible gambling den. They found poker chips and playing cards stashed where the Jubjub bar now stands. We're guessing the fact they didn't have a license wasn't top prioritiy. Anyway, you're far from taking a gamble when you order this cocktail. It's as smooth and soothing as Morgan Freeman reading from a bottle of Night Nurse. The awesome combo of Jack Daniels Single Barrel whiskey and Ardbeg 10 Year Old Scotch whisky give this amber drink a potent, rich base. Then Lapsang Souchong tea and honey syrup do the job of adding a bit of sweetness, a touch more smokiness, some herbal fragrant of tea-leaves… god, this was a good one. Next time we order this we plan to be wearing a silk oriental smoking jacket, lighting up an exotic cigarillo.
The Design: Through The Looking Glass
To earn a coveted #InteriorGoals hashtag, you have to be creative and innovative. Let's not forget budget constraints though, or we'd all have reimagined our bathrooms with House of Hackney wallpaper and the egg-loos from Sketch. At Callooh, for example, you'll notice the cassette tapes on the bathroom walls. Trendy, hipster flourish ahead of the times? Or just that it was cheaper than buying tiles?
There's a nod to the bar's famous hidden mirror doorway in the Through The Looking Glass cocktail. Take a moment to reflect as you refresh your senses with gin, St-Germain elderflower liqueur, lemon sherbet and cucumber, all topped up with tonic. Can you check your reflection in the ice column? No. Will it refresh you more than jumping through sprinklers in your underwear? Hell yes. 
The Build: Jabberwocky Milk Punch
And now… time for the building. Turning dreams into reality… of sorts. Why the Jabberwocky Milk? Well duh, the Jabberwocky creature-thing famously appears in the wacked-out poem. And it just so happens that its milk is the ideal shade of emulsion used in the bar, apparently.
Don't worry if you're lost, all you need to know is that this cocktail is a sweet and silky, frivolous and frothy Ramos style fizz. Tanqueray Gin, lemon, marshmallow syrup, egg white, cream, and soda. Is your favourite thing about fun fairs the candy floss? This cocktail's for you.
The Team: The Innovator
You know what you wanna do, where you're gonna do it, and how bling it's gonna look - now, who's in your gang? Callooh Callay has had a fair share of industry legends pass through its doors, whether serving drinks, on a guest shift, or just propping up the bar.
We don't think there could be a better-named cocktail than The Innovator. It's what these guys are all about, right? Innovators have a concept or flavour in their mind and won't stop 'til they obtain it. Which is why hand-foraged nettle appears on the ingredients list. Okay, so we couldn't tell you if we got nettle from the cocktail exactly. But the combo of Irish Whiskey, apple honey, lemon and egg white created a tongue-tingling sour, while nettle cordial and absinthe gave it enough sting in the tail to make us drain the glass. And if you don't want to build your own bar by now, six cocktails down, there's no hope for you.