There's more to St Paddy's Day drinking than cracking open a cold Guinness (though that's a move we fully support). Step away from the artificial green cocktails and get stuck into some of these Irish drinks…
Irish Booze To Craic On With
Poitín
Traditional Irish moonshine, poitín (pronounced "put-cheen") is a fiery spirit that can only be made from cereals, grain, whey, sugar beet, molasses and potatoes, and unlicensed distilling has been outlawed in Ireland since 1661. Never heard of it before? Maybe you know it by another name: "Mountain Dew" (no, not that luminous green stuff from America), "Mountain Tea" and the "Devil's Spittle" are its aliases... but don't let that last one put you off. This stuff tastes nothing like spittle. 
Nowadays a few kosher distilleries have cropped up bottling the stuff, like Mad March Hare, Teeling Spirit of Dublin and Knockeen Hills (their Gold Extra-Strength is bottled at 90%). If you wanna learn about it from the pros, The Sun Tavern hosts poitín tasting sessions where you can sample a few different varieties and enjoy one in a tankard cocktail. This stuff may be legal, but be careful: at 65% ABV, it's punchy AF.
Irish whiskey
Scotch might seem like it's ruling the roost when it comes to malted spirit production, but the Irish were actually the first distillers rocking whiskey on the British Isles. They were even smashing it over their Scottish neighbours back in the 19th century, which is when it is said that the "e" was added to the name by the Irish to distinguish themselves from their inferior Gaelic cousins. Then popularity waned, and whiskey almost faced extinction on the Emerald Isle... but now it's kicking ass more than ever, and Irish distilleries are bringing out some of the best drams in the biz.
Don't know where to start? Well, research is the best bit, yo. Start by exploring the world of single pot still whiskeys - that's a killer style of Irish whiskey made by a single distillery from a mixed mash of malted and unmalted barley, distilled in a pot still. Redbreast Whiskey falls into this category, and it's epic. Matured in exclusively first-fill sherry and bourbon casks, the 15 year old is a good place to kick things off. Teeling Whiskey also knows how to rock the category, and it's the Small Batch - a kick-ass example of an epic blended whiskey - that sets our world on fire, with its hand-selected casks of grain and malt whiskey.
Or if you love a single malt, seek out Hyde. These guys are "all about the wood", baby, and each whiskey in the fam has been treated to a different kinda cask, from ex-bourbon, port and stout casks to those that used to hold rum and sherry. As well as a wicked variety of barrels, the whiskey is finished in the temperate environment of County Cork, where they're rocking a micro-climate not found anywhere else in Ireland. The warm summers and mild winters make for the best kinda ageing environment for whiskey. 
If you're looking to sample a few drams of Irish whiskey in a bar that knows it's sh*t, it's back to the crew at The Sun Tavern for the good stuff. They've got over 70 to sample, as well as plenty of whiskey cocktails populating their killer menu. Want more options? Check out our list of London's best Irish bars.
Guinness
Or just keep it simple and order a pint at The Toucan. This ISN'T an Irish bar… it's a Guinness bar. As you'd expect, the team here work wonders with this iconic Irish dry stout, and they take their time pouring it - though you might want to turn up early, as they've been known to pour their way through 38 kegs of the black stuff! It's small and it's tucked away in buzzy Soho, so get down early and make your way downstairs to the heart of it all, where you'll hopefully find Colin, the owner, who has knowledge of Guinness and Irish whiskey like no other. 
Classic Irish Cocktails To Make
Irish New York Sour
Just because it's St Paddy's Day doesn't mean you have to drop your morals and drink something green and artificial. Just switch the brown spirit in your Sour for a good Irish whiskey, like Jameson, and float some red wine on top.
45ml Irish whiskey
20ml lemon juice
15ml sugar syrup
Shake all ingredients together, strain into a glass and float 15ml of red wine on top of the drink over the back of a bar spoon. 
Irish Coffee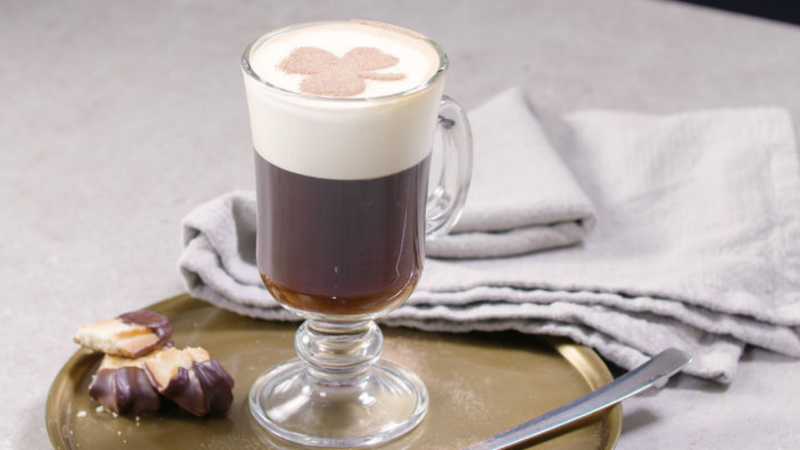 Originally served at Shannon airport to a bunch of chilly American passengers on a layover, who then took the recipe back to San Francisco and spread the word. No need to hop on Aer Lingus to taste one though - it's very easy to make at home.
Hot coffee
2 sugar cubes
20ml Irish whiskey
Lightly whipped cream
3 coffee beans, for garnish
Fill a warmed heatproof glass three-quarters of the way with hot coffee. Add the sugar cubes and stir until dissolved. Add the Irish whiskey, Then top with the lightly whipped cream by pouring it over the back of a spoon so it floats on top of the drink. Garnish with the coffee beans for good luck!
You can learn more about this epic cocktail (and the secrets to making the best) in our ultimate Irish Coffee guide.
Half & Half
While not something we recommend ordering in Ireland unless you're looking for trouble (the original name for this has some pretty unpleasant connotations), it's highly encouraged to knock back this combination of Guinness and ale elsewhere. Start by half-filling a pint glass with chilled ale and then slowly top with Guinness, pouring over a spoon so it sits gently on top. Cheers. 
Black Velvet
By no means unlikely bedfellows, Guinness and Champagne mix nicely together in this classy St Paddy's Day drink.
150ml chilled Guinness
45ml Champagne
Pour the Guinness into a Champagne flute and float the Champagne on top by slowly pouring it over the back of a spoon. 
Alternative Irish Cocktails To Experiment With
Feeling Lucky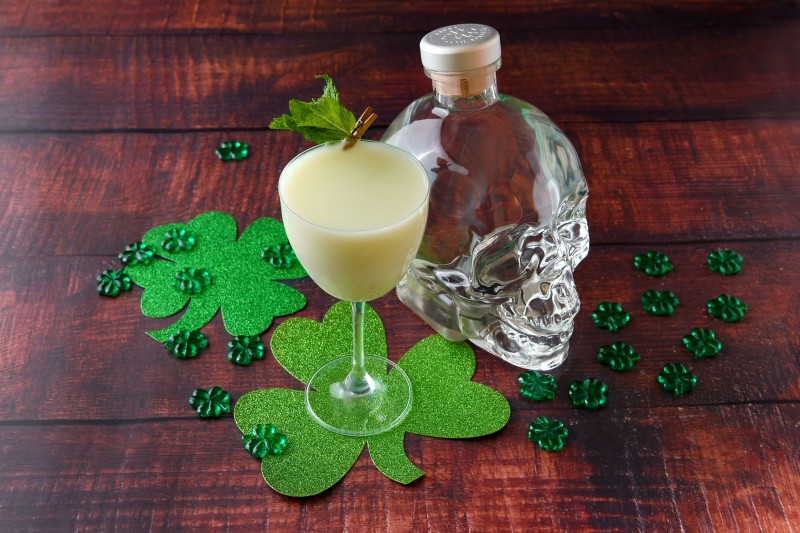 Want something a little more maverick on St Paddy's day? Mix up this boozy banger.
15ml Green Chartreuse
30ml fresh lemon juice
1 level teaspoon of caster sugar
Pinch of salt and lemon zest
Fresh mint, for garnish
Add all ingredients except the garnish to a shaker and dry shake (that's a shake without ice, y'all). Then chuck in some ice, shake again, and fine strain into a chilled coupe glass. Garnish, and you're ready to rock. Yep, it's supposed to be as green as a leprechaun's lawn.
Umami Old Fashioned

Apparently this is a "noctail" (a cocktail made of ingredients that thrive in the darkness) - who knew?! We're into it, partly 'cos after a few whiskeys we like to think that we thrive in the darkness, too. This is gonna take a bit more patience and prep, but trust us - it's worth it. First, you gotta make some Irish cep mushroom-infused Sexton Irish Whiskey...
For the Irish cep mushroom-infused whiskey:
Pinch of dried Irish cep mushrooms
40ml Sexton Irish wWiskey
In a small airtight container, combine the mushrooms and whiskey and let it infuse for two to three days, depending on how shroomy you wanna go. Strain into a small bottle and refrigerate for later use, or make your cocktail straight away.
For the cocktail:
10ml grade A maple syrup
3 dashes Angostura Bitters to a chilled rocks glass
40ml of Irish cep mushroom-infused Sexton Whiskey
Add all ingredients to a chilled rocks glass with a large ice cube. Stir briefly for several seconds, garnish with a purple shamrock and crack on. Ooh-mami my. 
Maize and Ways
This baby was created in collaboration with Aaron Wall from epic Irish bar Homeboy, who describes the Maize and Ways as "twist on an old rum drink called a Corn'N'Oil" with clear banana notes running through this unexpectedly delicious Irish whiskey drink.' Sounds like something we can get down with. Grab the following ingredients:
20ml velvet falernum (a lightly alcoholic lime mint and clove cordial)
3 dashes Angostura Bitters
Squeeze of a lime wedge
Add all ingredients to a rocks glass and stir. Bingo! The party is on.