Eating is never cheating in our book.
Whether you want somewhere stand-out stunning, chilled and fun, or fully #foodporn worthy, these are where we head when we want to get our feast on... 
North
Get ready to sweat baby, and not just cos your date is looking fly. Hoppers is all about Sri Lankan food, which notoriously has a bit of a kick. The mutton rolls come with their own hot sauce, and even the curry is laced with chilli. No drama, there are plenty of tropical punches to cool things down, as well as their own brewed beers on tap. Kick back and enjoy those holiday vibes without having to leave London.
Unit 3, 4 Pancras Square, Kings Cross, London N1C 4AG
When your date is experimental... Black Axe Mangal  
Jellied pigs ears? Grilled ox heart? Octopus and pig cheek skewers? All on past menus at this insane restaurant. BAM, as it's known, has gathered a legion of fans thanks to far-out dishes and a no-nonsense attitude to cooking. There's heavy metal playing on the speakers, smoke on the air, and it's the kinda place that still feels like you just discovered how cool it is. Even though everyone knows. If you've not yet been, grab someone who likes a loud restaurant and even louder flavours. Now's the time.
56 Canonbury Rd, Highbury, London N1 2UP
Image credit: Karolina Wiercigroch 
For when your real love affair is with pasta... Trullo
If pasta is life, this one's for you. The grown-up sibling of Padella allows you to book, so you can waltz past the queues and get down to the business of eating. Beef shin pappardelle, crispy quail, vanilla panna cotta, we want it all. The food's rustic, authentic, and we're confident in saying it'll be some of the best you'll have outside of Italy. Hey, even if your date sucks, this place is worth a visit any day of the week.
300-302 St Paul's Rd, Highbury East, London N1 2LH
Got a date who loves the stage? Bring them here and watch them get as excited about the clientele as the menu. This iconic neighbouhood restaurant is a fave with the luvvies of the art and theatre world, and it's been around since 1978. Respect. The Chef-Patron Bryn Williams is Welsh, so you can expect dishes like leek & potato soup with Caerphilly scones alongside creative seasonal plates.  It's also epic if you want a stand-out Vegetarian Tasting Menu - Bryn's into his vegetables. We say bring it on. 
130 Regent's Park Rd, Primrose Hill, London NW1 8XL
South 
When your date loves tradition... Smoke & Salt 
Smoke & Salt is ideal if your date is a big foodie who loves traditional cooking methods. These guys are all about smoking, curing and ancient cooking techniques. It makes for banging dishes and the best value tasting menu in London. Seriously, £27 will get you a dreamy 7-courses of delicious seasonal food, and the cocktails are killing it too. The Rhubarb Collins is a BarChick fave.    
Currently found at POP Brixton - moving to Tooting in Spring 2020
When your date loves the Clapham scene... The Dairy
This place is renowned, and for good reason - the small plates here are EPIC. Low lit, with a bangin' cocktail list, this place also screams date night - but in a relaxed kind of way, keep the trainers on if you want. It ain't cheap, but it's worth it if they are. We'll be singing The Dairy's praises til the cows come home. 
15 The Pavement, Clapham Old Town, SW4 0HY 
Dates are when small plates really shine. You don't wanna look indecisive, so when given the choice to order the lot - take it. Especially here. The crew at Sparrow hail from all corners of the globe and the menu has been influenced by all of 'em. With Asian touches mixed with Middle Eastern finishes, the grub is always seasonal, always delicious and damn good value. 
2 Rennell St, Lewisham, London SE13 7HD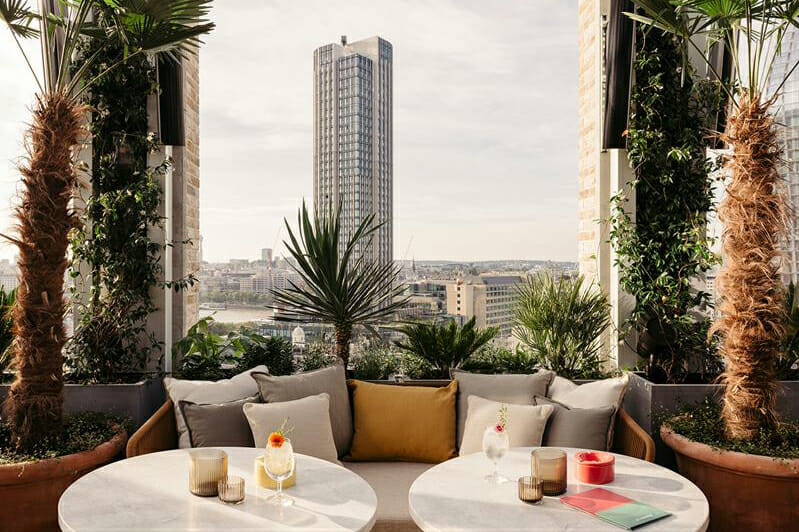 If your date doesn't swoon at the sprawling roof-top views, introduce them to London's largest oyster menu, or the mega impressive marble raw bar. They'll be putty in your hands by the time your tropical cocktails arrive at your table.
14th Floor, 40 Blackfriars Rd, London SE1 8PB
Melanie Brown (not the Spice Girl) set up New Zealand Cellar, so she knows her onions - or should we say Marlborough grapes. So if your date digs a decent vino and an Antipodean menu, bring 'em here. It's tucked in the Walkton Lodge which used to be an actual laundry so it's alright if you wanna get a bit filthy in here.
374 Coldharbour Ln, Brixton, London SW9 8PL
For when you're pretending to play it cool... Levan
This epic European bistro in Peckham is perfect is you want to pull the 'oh let's just drop in here' card. It's relaxed and cosy, but the food is always incredible. Act breezy and pretend you know all the best neighbourhood spots - your date will be well impressed. A meal here is damned good though - the Comté fries with saffron aioli are reason enough to visit. Then there's the wine list, which has a focus on natural wines. Who knows what else might be going au naturel if the date is a success. 
12-16 Blenheim Grove, Peckham, London SE15 4QL
East 
Who knew a crumpet could become so insta-famous. Tom Brown's Cornerstone has been racking up the likes since it opened a few years back. This guy knows what he's doing when it comes to serving up insane fish dishes to a banging soundtrack (the place is literally named after an Arctic Monkeys song - no guesses on the preferred playlist). The legendary crumpet is a must-order, and take it from us - not one to share, so order two.
3 Prince Edward Road, Hackney Wick, E9 5LX
When your date knows their grapes... Sager & Wilde
The coolest kids of the wine world, these guys serve up only the best vino by the glass and bottle. The cocktails rock too... and then there's the food. BarChick snacked on Scallops with XO sauce and some kinda Whitebait tempura jenga. The place is light and airy - with a palm tree in the middle for summer vibes. Or you can just head outside for alfresco fun on the huge terrace. 
250 Paradise Row, London E2 
When you wanna show off... Morito
You'll prove you know your stuff if you bring a date to this legendary place. Lots of small plates from Southern Spain, North Africa and the Eastern Mediterranean (deffo try the cheese fritters with Cretan thyme and honey). It's super bright and airy here so just make sure there's nothing stuck in your teeth.
32 Exmouth Market, London EC1R 4QE 
When you're not afraid to get your hands dirty... Breddos
The best way to BarChick's heart? Tacos and Tequila. And we know we're not the only ones, so make a bee-line for Breddos and you'll have your date eating out of your hands in no time. Possibly quite literally. Who doesn't love to be fed chips and guac?
82 Goswell Rd, London EC1V 7DB
When your date deserves the best... The Smoking Goat
We could give you a whole list of reasons why you should take your date to this place, but all you really need to know is that the Chilli Fish Sauce Wings are the best chicken wings you will ever eat. Even if your date doesn't go well, this dish will bring you true love.
64 Shoreditch High St, Hackney, London E1 6JJ 
When you're planning on making it a late one... Silver Lining
Usually, a restaurant will decide they wanna tack a bar onto their dining space. Not in this case. First came awesome cocktail bar Every Cloud, bringing creative drinks to Hackney (cocktail out of an eagle, anyone?). Then they decided to open a cosy restaurant next door - cos you know, Every Cloud has a Silver Lining. The focus is on pimped up small plates. Expect the unexpected, like cured cod & salted rhubarb, and raw lamb with coal oil. Trust us, it works. Date going well? Carry on the party next door til gone midnight. 
11A Morning Ln, London E9 6ND
When you want sexy Italian vibes... Luca
Get ready to whisper sweet nothings of ti amo to your lover, cos this place oozes sultry glamour. They're channeling 1950s Milan, so you'll wanna look the part when you rock up or face being upstaged by the interiors. Luca is the second opening from the team behind Clove Club, therefore the food is guaranteed to be top quality. They've called it 'Britalian' - British ingredients with Italian flare. We're in. They've also got a stunning marble bar where the smartly dressed team rustle up killer Negronis. It really is love. 
88 St John St, Farringdon, London EC1M 4EH
West London 
When your date's too cool for school... Gold Notting Hill
Portobello Road might not be as edgy as it used to be, but we still love the Bohemian vibes you get from the neighbourhood. Gold restaurant and late-night bar has the kind of arty, sexy,  fun atmosphere that ensures a great night. The outside of the building is a massive graffiti face and inside there's a swanky bar and chilled restaurant area. Get a reservation at the back surrounded by foliage and pretend to be eating in a bouji greenhouse. The food is also epic, so there won't be any complaints. 
95-97 Portobello Rd, Notting Hill, London W11 2QB
When you're cool with dropping the cash... Sette
Knightsbridge can feel a bit of a vacuum for decent restaurants... until you come across Sette in the Bulgari Hotel. It's sleek and chic, and it ain't cheap. But when you're ordering tagliolini with lobster, ravioli with foie gras, and polenta with truffle, that's to be expected. The food is beautifully presented and best to share, preferably alongside Negronis or a bottle of fizz. Well, in for a penny, in for several pounds. If you go money-blind, we dare you to drop into Harrods over the road and dent your bank balance even more. Or head down to Nolita Social for their epic Caviar Martinis. Bling bling. 
Ground Floor, 4 Knightsbridge Green, Knightsbridge, London SW1X 7QA
When your date loves the drama... Bel Canto
Something a bit er... different? At this over-the-top Italian you'll find live opera singers for waiters and they burst into song every 15 minutes. While you listen, you can enjoy their delish European dishes... it also gives you a chance to think about your next convo topic if the chat is lagging. Just try to refrain from joining in. 
Corus Hotel, Hyde Park, 67 Bayswater Road, W2 3LG
We love ALL the Dishooms. But the Kensington branch is probably our fave. It channels 1930s jazz-age Bombay, and it's a stunner. From the red and turquoise booths, Art Deco chandeliers and massive retro clock face, this is a total BarChick vibe, and your date will love it too. Especially if they dig jazz. They have a live band bringing the swing Wednesdays and Thursday nights so head there for that if you wanna impress.
4 Derry St, Kensington, London W8 5SE
The City
When you date's not a looker... Dans le Noir
All sorts of hijinks go down in this pitch-black restaurant. Grab their hand and make out like you're scared of the dark - that should get things moving nicely. We recommend eating with your hands at this place, so if you're feeling brave, how about feeding your date? Could be sexy, could be a disaster... but at least it'll be a fun story for the WhatsApp group chat afterwards. 
30-31 Clerkenwell Green, London EC1R 0DU 
When your date loves a Sunday Sesh... The Gun
Sunday date on the cards? It's gotta be an epic roast, and the crew at The Gun in Spitalfields have created the kinda spread that Sunday dreams are made of. Order the Roast Feast for 2 and settle in for the long haul, cos you probably won't be able to move after you've devoured it. Grab a table near the front and you'll have a perfect view of the live jazz band there to give you the soundtrack to your afternoon.
54 Brushfield St, Spitalfields, London E1 6AG
When your date loves that baller life... Bob Bob Cité
Bob Bob Cité is a vividly coloured, flamboyant and surreal take on the 1930's. All mirrored ceilings, backgammon flooring and gold. Conversations won't dry up with these surroundings, and neither will your glasses with the infamous "Press for Champagne" buttons at each table. Give it a press, your date is worth it.  
Level 3, 122 Leadenhall St, London EC3V 4AB
When your date is nocturnal... Duck & Waffle
This place is open for you 24/7, baby. Seriously. With 360 panoramic views of the city from 40 metres up high, this is the pinnacle of wooing your beau. With a speedy lift that could rival that of a theme park, your adrenaline will be pumping either way.
Heron Tower, 110 Bishopsgate, London EC2N 4AY
Repeat after us: Just think of the Airmiles. You're gonna be parting ways with a big chunk of your paycheque when you eat at this two Michelin-Starred restaurant, but we think the heavenly signature Berlingots Pasta parcels with Baron Bigod cheese are worth not being able to afford any heating for the month. 
10 Trinity Square, London EC3N 4AJ
They reckon 1 in 5 of us meet our significant others at work... but we can't all wait for the boozed-up office Christmas party to make our moves. Nothing brings a pair together better than a mutual love for Hawksmoor steak. Suggest a "working" lunch with that colleague who's caught your eye and get the ball rolling over something succulent. You'll have the new apple of your rib-eye in no time. 
10 Basinghall Street, London EC2V 5BQ  
Central
When your date likes double doses... Xier | XR
What's better than one kick-ass restaurant? Two. Always two. You'll find Xier & XR under one roof and the watchful eye of Chef Carlo Scotto. You wanna push the boat out and go big? Head up to the 1st floor and go all out with the curated 10-course tasting menu in Xier. Or you could stick to a-la-carte XR on the ground floor, where Barchick tried the best Steak Tartare of her life.
13-14 Thayer St, Marylebone, London W1U 3JR
When your date is hard to impress... Circolo Popolare
It's impossible not to be wow'd by this place. It's a proper mouth-dropper, with outrageously presented cocktails, a ceiling covered with fairy lights and more buzz than the little friend you keep in your bedside drawer.  And if your date has sh*t chat, you can pass the time by counting the bottles on the wall. There are over 20,000, FYI. 
40-41 Rathbone Pl, Fitzrovia, London W1T 1HX
When your date is a hardcore carnivore... Temper Soho
The team at Temper are badass on the coals, so if your date has a taste for meat, bring 'em here and watch them go all caveman (or cavewoman) on a hunk of fire-cooked meat. The mezcal cocktails are also banging, so quench your thirst on some smoky Margaritas. On a date we say book a space up at the bar, overlooking chefs at work on the coals. It's basically dinner and a show.
 25 Broadwick St, Soho, London W1F 0DF
Oysters & champagne. What more could you need? If a glass of fancy fizz and a dozen or so oysters hasn't got them in the mood, they're not the one for you.
33-35 St Martin's Court, Covent Garden, London WC2N 4AL
When your date loves a loo selfie... Sketch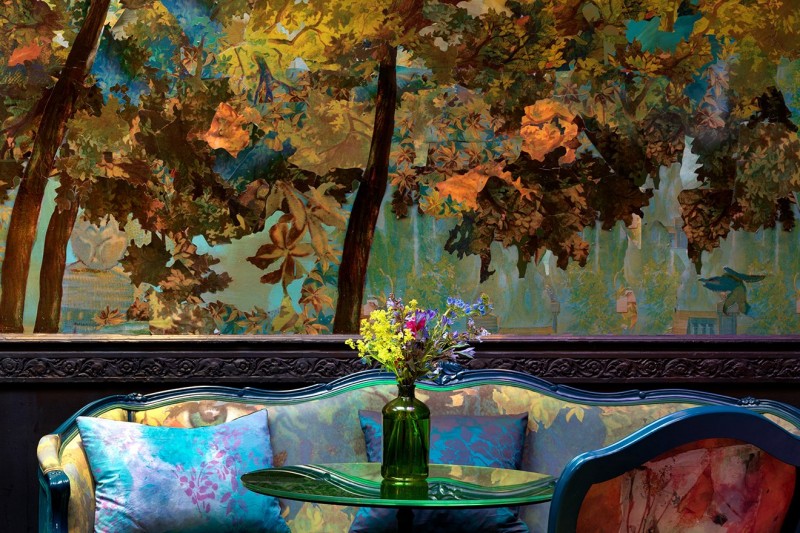 From a quirky Alice in Wonderland style tea parlour, to an enchanted-forest style restaurant and THOSE space egg toilets - there is no doubt your date will be totally blown away, (although if they're a Londoner, they've probably been here by now).
9 Conduit St, London W1S 2XG 
When your date has a little je ne said quoi... Frenchie
If you wanna take your new beau to Paris but can't quite afford the Eurostar just yet, that's alright. A tap of your Oyster card will get you to Frenchie in Covent Garden... and that's the next best thing. It's all fine French food and delicious fancy wines here. Start with the bacon scones and thank us later.
16 Henrietta Street, London, WC2E 8QH
When your date is classic... The Wolseley
This classic Mayfair brasserie is a lower-key high-end option with its busy and bustling vibe and Art Deco touches. They do all the standard date dishes: steak tartare, oysters and shellfish – because what's a sexy date without an aphrodisiac or two? This place is also top for a romantic breakfast, just in case you got lucky last night. 
160 Piccadilly, London W1J 9EB
When your date is predictable... Clos Maggiore
It wouldn't be a romantic dinner-date round-up without this place. It's crowned the 'most romantic restaurant in London'.  Every. Damn. Year. And to be fair, we totally see why. The conservatory is knee-deep in a forest of white blossom, along with fairy lights, an open fire and a window to the stars. Add that to elegant French cuisine and a hefty wine list - yeh, we can't not include it.
33 King Street, Covent Garden, WC2E 8JD 
When you're double dating ... Kiln
The only thing stopping you and your beau from eating delicious, aromatic South East Asian cuisine is probably a 2-hour wait in a neighbouring bar. No dramas, but if you're impatient and starving, you need to get yourself a reservation, and they're only up for grabs if you're a group of 4 or more... life hack? Find another couple and embrace the double date. You'll be seated in no time.
58 Brewer St, Soho, London W1F 9TL
When your date is a wild thing... Amazonico
Love your Peruvian sushi with a side dish of rainforest party vibes? Channel your inner Posh & Becks and rock up to this celeb haunt in Mayfair for Latin-American vibes that'll drive your date WILD. Perch next to the Peacock at the bar and start with a couple of cachaça cocktails before the 'elec-tropical' sounds from their resident DJ really get the night going.
10 Berkeley Square, Mayfair, London W1J 6BR