This man knows everything there is to know about drinks... time you got to know him
We don't think there's anyone who knows as much about the history of booze as Jake Burger. After an awesome virtual gin history lesson and tasting of his new Portobello Road Gin releases, we wanted to dig deeper and learn more about the man behind the knowledge. Time to meet industry legend Jake Burger.
Hey Jake - nice to meet you again! You've just launched three new expressions in the Portobello Road Gin range: an Old Tom Gin, the Celebrated Butter Gin and a Sloe Berry & Blackcurrant Gin – can you tell us what we can expect from each new bottle?
We like to innovate whilst looking backwards, so each of the three new gins are inspired by our historical research into the drinking habits of the past.
The Old Tom is our attempt to recreate the flavour of gin as it was enjoyed in the period around 1780 -1830, before the arrival of modern distillation methods. It is sweeter and maltier, it kind of straddles a line between gin and whiskey in some ways, we believe it to be the most authentic reproduction of gin from that era available today.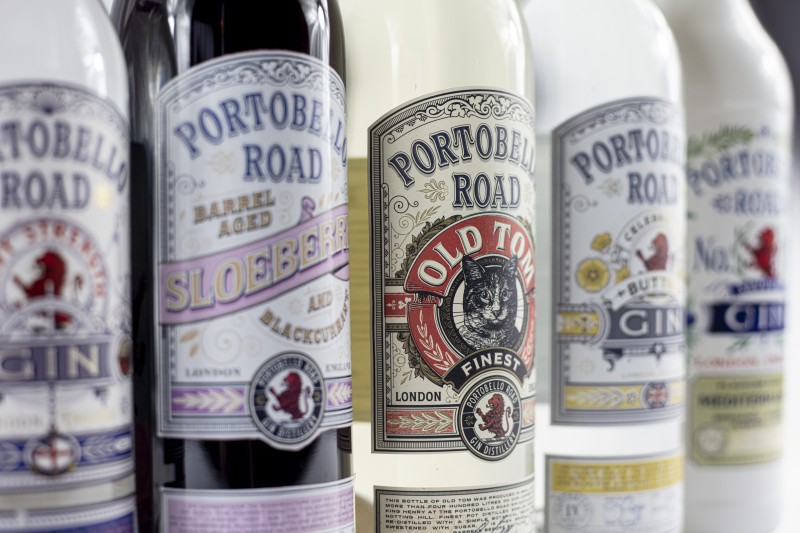 For The Celebrated Butter Gin we took a slightly different approach, this is not so much a recreation of an old gin, but we used our historic research to provide us with the inspiration to make something unique. Celebrated Butter Gin was a brand produced by The Brownings Distillery in the 1800s and was said to be "the finest article of gin ever produced" and was even written about by Charles Dickens.
At the time, the "butter" in the name, we believe, referred to the quality of the product, like calling something the "cream of the crop" or the c"rème de la crème", which doesn't necessarily mean it has cream in it, it just means its good. Well, the word "butter" used to be said in the same way, but it got us thinking as we love playing around with the stills, so we put a batch of Portobello Road London Dry Gin back into one of our tiny little 30 litre stills and distilled it again this time with several blocks of English butter in the still. It was initially just a bit of fun but we liked it so much that we started serving it in the bar and our guests really liked it, so eventually we adopted it into the Portobello Road family of gins.
It actually doesn't taste massively of butter but has a wonderfully soft buttery feel in the mouth and perhaps a slightly lighter, more elegant flavour than the London Dry. The butter subtly absorbs some of the intensity of the flavour. It's a hard one to describe but I absolutely love it.
Sloe Gin has been made at home by generations of English mums, grans and grandads and had historically come around for two reasons: one, to improve the taste of poor quality gin and two, as something to do with the abundance of sour/tart/astringent sloe berries that once grew in the miles upon miles of hedgerows which once delineated the countrysides land boundaries. We didn't just want to make another Sloe Gin though, we tried to think of ways we could do it differently, which we decided on three different elements we could play with.
One thing we very much wanted to make sure of was that the product tasted still of gin, not just of sloes, so we used a concentrated version of our London Dry as the base for the product. We also decided to add some more flavours into the product apart from just gin and sloe, which led to us using small amounts of Italian cherry liqueur and French cassis blackcurrant liqueur in the blend, adding more dimensions to the flavour. Finally, we decided to mature it into an ex-sherry barrel, which took on some character from the wood and some subtle hints of fruit from the sherry. It is intensely and reassuringly "ginny" but also possessing a multifaceted stone fruit character, a welcome syrupy sweetness, and a subtle wood influence from the barrel. Delicious over ice, in your favourite cocktail, or if you're like us, straight from your hip flask.
What are your serving suggestions for each new gin?
The Old Tom is delicious just on its own but I suppose the most natural place to use it would be in the original Tom Collins, mixed with lemon juice, sugar, sparkling water and the tiniest drop of orange flower water.
The Celebrated Butter Gin, due to the generosity of its mouthfeel and the elegance of its flavour, I think it is just divine in a Martini.
The Sloe Gin works well in classic cocktails like the Sloe Gin Fizz or the Charlie Chaplin, but we have also found people really enjoying it is a nice refreshing spritz, just mixed with soda water and prosecco, served over ice, in a large wine glass, with a wedge of orange.
Gin has had one hell of a renaissance over the past decade. What do you think contributed towards the gin boom of the 2010's and what are your predictions for the next spirit that's gonna go big?
If you look at it from a macro perspective the gin boom isn't that surprising, it's not that gin came from nowhere. Except for a brief period spanning about 1960-2000, gin has been the nations favourite drink for the last four hundred years indeed, we just had a little blip when vodka took over a generation. So the gin renaissance of the last 10-20 years has just been a return to the natural order of things! 
We've been lucky enough to take part in a few of your guided gin tastings and spirit masterclasses – which of your masterclasses have you most enjoyed researching or teaching?
That's a tough one to answer, I'm a bit of a nerd when it comes to the history of drinking so I enjoy all the research. The section of our classic Ginstitute session where we talk about the evolution of gin from a medicine hundreds of years ago, through England's gin crazes of the 18th and 19th century, and then right up to date with the modern gin renaissance is always a fun one to deliver, and because I'm always researching and finding new information, it's always developing.
We did a series of dinners called The Distillery Presents, where our guests enjoyed an evening of food and drink inspired by a certain topic and they were immensely fun to put together. Our James Bond dinner is the most popular one, but I enjoyed putting together our dinner inspired by the food and drink choices of the Royal Family over the centuries, and our dinner which was a tribute to my own personal hero Alexis Soyer. I hope we get to do some events like that again when the restaurant side of things can re-open.
(For the record, BarChick LOVED the James Bond dinner, but it was The Agave Sessions blew our mind)
What is your all-time favourite boozy fact?
One of the most fun events I am involved in is a seminar called Liquipedia that I present with my good friends Tristan Stephenson, who writes the excellent The Curious Bartender's Guides To… books, and Jeffrey Kluger, senior writer at Time Magazine and author of, amongst others, the book that inspired the film Apollo13. The three of us love boozy facts and during the seminar we attempt to answer 90 bizarrely obscure questions about alcohol in 90 minutes, all the while drinking whichever alcohol we mention. It all happens in New Orleans, which we have done three times now and it's such a great day. The whole thing came about after a drunken conversation about whether a dead dolphin would float in a swimming pool full of vodka. Full transcript of our answer below: 
Will a dead dolphin float or sink in pure ethanol?
Let us think about why things float, imagine an ice cube. The density of ice is 0.917 grams per cubic centimetre, that of water is 1. So ice, being less dense than water will float.   
The density of ethanol is 0.789 so ice will sink in it. What's the density of a dead dolphin? Hard to say but the density of a human is around 985, a dolphin likely will be lower than a human but not dramatically lower. Thus in ethanol a dead dolphin sinks.
If the dolphin died with air in its lungs it would have a degree of buoyancy, enough for it to float in water perhaps, but not, I believe enough for it to float in ethanol. Indeed even a live dolphin or even David Phelps would find swimming in ethanol impossible, it is just not dense enough.
Evolution has favoured animals to have a density at or close to water, simple thinking as water covers 70% of the earth. If you're denser than water you'll drown easily, if you're lighter than water you'll struggle to dive for food. Even a jellyfish, which is about 95% water is still too dense to float in ethanol.

How has the drinks industry changed since you started working in it?
Next year will mark 30 years since I first stepped behind the bar, and I was washing up for three years before that, which, down to the way the dates have worked out, means my career has now spanned five decades! This makes me sound much older than I am. The industry has changed dramatically in that time in almost every single way. But the most important way is simply that the drinks are better now, much better. I started in the so-called "dark days" of the cocktail when drinks were long, fruity, made with crap liquor and had salacious names. The cocktail revolution that started in the '90s and continues apace today has changed the way the nation drinks, we now have better cocktails and a better range of products from which to assemble them and the general public's appetite for good drinks has changed beyond all recognition. 
Why did you choose to launch a gin brand? What is it about gin that floats your boat?
We could see that gin was about to boom so the timing was right and I think the bartender in me had always wanted to get involved in creating a product, as had Ged, the founder of our company. But at that time certainly, I was more closely involved in the world of American whiskey and tequila - but you can't make either of those in London, so we made a gin. It was a good decision. 
Obviously, you're not just about gin – are there any other particular spirits you enjoy working with or want to create?
The dream would be to retire to France and make Cognac as a hobby. I think it is such a marvellous spirit. Truth be told, there a very few categories I don't have some passion for, I love liqueurs, I love whiskey in all its many incarnations and I don't think I'm ever happier than when I'm in the middle of nowhere, Mexico, looking for some obscure mezcal producer. We have some interesting non-gin products in the pipeline but I can't say more than that just yet.
You've just written a book, An Anthology of 12 Classic Cocktails – congrats! It must have been a fun research project – did you learn anything in particular that blew your mind, or did you already have the knowledge from your own experience?
Thank you! Oh, I loved writing it yes, so much fun, a lot of it was in my head or on my hard drive already, it's the product of a lifetime of research, I suppose! Certainly writing the book kind of helped put a lot of seemingly unconnected facts into order for me. I think the chapter I most enjoyed writing was the Hanky Panky chapter, I've always been a bit of a fanboy when it comes to the American Bar at The Savoy and its a drink, and in Ada Coleman, a person that has not had a great deal written about them in the past. She seemed like such a great character and it's an excellent drink so it was really rewarding putting that tail down on paper.
I wrote the book as a commissioned piece for Hi-Spirits and working with Poppy Croft and the team there was such a delight, I must say they very much gave me pretty free rein with the contents. I hope that people do actually read it as there is plenty of stuff in there relating to the worlds favourite drinks that I don't think is widely known.
(Pssst: An Anthology of 12 Classic Cocktails is available to read as a digital book here)
Where will we find you drinking on your nights off?
I love nipping to The Cow for a Guinness and I live not too far from the river at Hammersmith so I frequently enjoy a beer in the many pubs on the river bank there. As I've said before, I've always loved The Savoy so if I'm nearby I usually call in for a Martini or a glass of Champagne. I kind of naturally gravitate towards Soho, so a Breton in the French House never goes amiss and if it's a late one, a warm bottle of Becks in Trisha's or beer and a shot of tequila at El Camion. But nine times out of 10, you'll probably just find me having a glass of wine somewhere with my old mate Hannah Sharman Cox.
If you could teleport to any bar in the world, where would you be zooming off to?
If it only teleports me through space then I'd probably be heading straight to the Brothers 3 Lounge in New Orleans for a Miller High Life with the greatest bartender in the world, Mister Charlie Kelly, but if it transports me through time as well then I'd have loved to have seen the Limmers Hotel (home of the Tom Collins) in London in all its magnificent debauched 1800s glory.
When you rock up to a drinks biz party or event, who do you always hope you're gonna bump into?
If any of Lydon Higginson, Craig Harper, Tristan Stephenson and Stuart Ekins are there then it's usually a pretty good night. I always enjoy bumping into Bert and Ernie - sorry, Peter and Salvatore. If I'm in New York, then I hope Jay Zimmerman will drag me out of the event, bro-talk me to some excellent ancient place I've never heard of. Internationally there are so many people from this great industry of ours that it would be impossible to list them all here, they all seem to show up on Iberville Street at 3am at Tales though.
What does a typical working day look like for you?
The nice thing is there isn't a typical working day, really - well, pre-Covid there wasn't. I might be distilling, or working on new product development, I might be bartending, or holding a masterclass, or travelling the world talking about gin, or writing a new menu. My job is blessedly varied usually. 
What has been the biggest challenge producing and launching your products?
They each present their own challenges really. Temperance ,our lower-alcohol offering, was probably the most challenging from a technical perspective, so we were delighted when that received Gold at the Drinks Business Spring Tasting recently. The Old Tom was a challenge because it was kind of unchartered territory, piecing a recipe together from fragments of historical data but I love it, I think new product development is the part of my job I enjoy the most, from the liquid to the story, to the packaging, it's very rewarding when you finally have the finished product in your hand. I love that side of things.
Has Portobello Road Gin got any infamous fans or wild stories behind it?
We are lucky with our Local Heroes limited editions that we get to work with some amazing people, the incredibly talented chefs Brett Graham and Carlo Cracco who were both so inspiring to work with. And probably our most famous fan Mr Mark Knopfler who we worked with for our most recent Local Heroes gin was pretty incredible, to spend time with a man whose music I've enjoyed my whole life and is by anyone's standard one of the greatest guitarists of all time, and he made a delicious gin with us too, a talented man indeed!
My bartender discretion gene prevents me from spilling the beans on anything too wild that has happened I'm afraid but there was the time that a globally famous Hollywood star walked into the Ginstitute, declined my offer of a Martini but asked instead if there was somewhere he could go roll a joint. That was a fun night.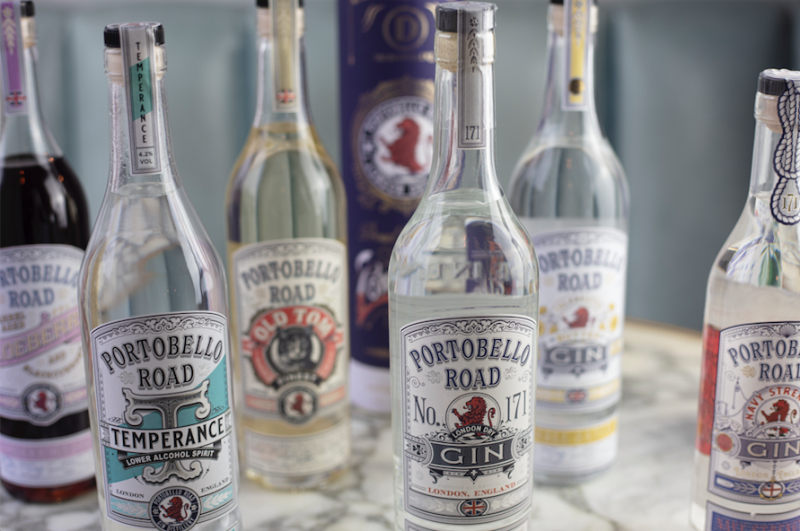 What does the future look like for you and Portobello Road Gin?
Like everyone in this battered industry we are looking forward to getting back to what we do best, creating memorable nights for our guests, so we'll be gearing the bars and the restaurant back up, all the masterclasses and tasting sessions, and re-opening the hotel room at The Distillery. On the liquid side of things, the three latest additions bring us up to seven different expressions in the gin family and I think that's probably enough for a while. We will continue to do the fun and experimental limited editions like our Directors Cut and our Local Heroes and we have something special coming up for our tenth birthday later this year. As I said we also have some non-gin products coming to market soon but If I say any more than that our PR team will kill me.