Ready to take your at-home cocktail game to the next level? Our fave recipes for autumn feature lush seasonal ingredients and bold boozy flavours, but you'll also catch us sippin' lighter serves that prove Spritzes aren't just for summer. Let's get mixing...
Rum Spiced Latte
Pumpkin spice who? We'll be taking our coffees with spiced rum this autumn, thank you very much. 
50ml Hawksbill Caribbean Spiced Rum 
50ml espresso
20ml vanilla syrup, divided
25ml double cream
Cinnamon and three coffee beans, for garnish
Add the spiced rum, espresso and 10ml vanilla syrup to a cocktail shaker and shake. Strain into a heatproof glass (safety first, y'all). Then shake the double cream and the remaining 10ml vanilla syrup until it's nice and thick. Spoon that sweet cream over the top of the drink and garnish. 
Panettone Spritz
Carbs in cocktail form: now that's our kinda comfort. This festive drink from the vermouth legends at Cocchi tastes just like the classic Italian sweet bread and we're HERE for it. 
50ml Cocchi Vermouth di Torino
10ml almond syrup
2 dashes orange bitters
Soda water, to top
Lemon wheel, for garnish
Add the vermouth, almond syrup and orange bitters to an ice-filled glass and stir. Top up with soda water and garnish. Pure nutty goodness. 
New York Sour
With spicy rye and a float of sweet port, this is basically an autumnal sunset in a glass. 
50ml Lot 40 Rye Whisky
25ml lemon juice
15ml sugar syrup
15ml ruby port
Cocktail cherry, for garnish
Add the whisky, lemon juice and sugar syrup to a cocktail shaker. Shake with ice and strain into an ice-filled cocktail glass. Gently pour the port on top of the drink over the back of a spoon to float, then garnish with a cherry. 
La Muerte
The flavour combo of cucumber, watermelon and liquorice is a rogue one, but trust us, it WORKS. It's tequila time...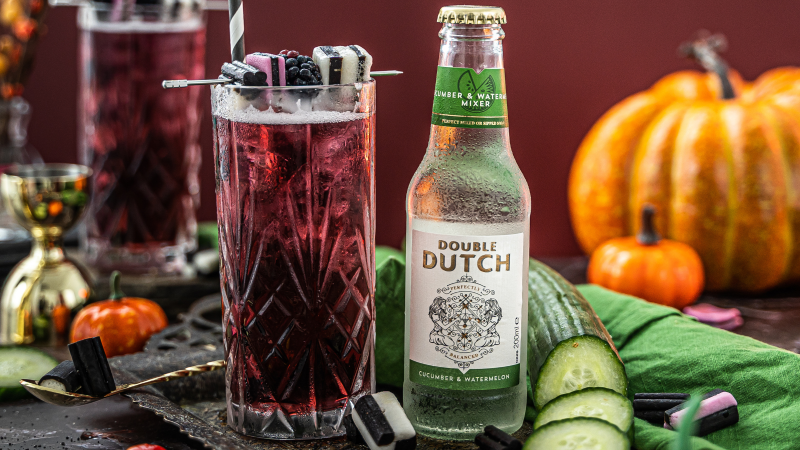 25ml tequila
15ml blackberry liqueur
Double Dutch Cucumber & Watermelon Soda
Liquorice sweets, for garnish
Add the tequila and blackberry liqueur to an ice-filled highball glass. Top up with Double Dutch Cucumber & Watermelon and garnish with a few liquorice sweets on a cocktail pick.
Apple & Bramble
Embrace the cosy vibes of autumn with a serve that packs in all the fall flavours.
50ml Black Cow Vodka
20ml apple juice
10ml blackberry liqueur
Soda water, to top
Apple slice and a blackberry, for garnish
Add the vodka, apple juice and blackberry liqueur to a spritz glass and mix. Add ice and top up with soda, then garnish with an apple slice and a blackberry. 
Looking for more epic drinks? Check out our pick of the best new spirits for autumn.