From the tipples getting us through the heatwaves to the doorstep deliveries that have our backs when the weather turns British (aka rain rain and more rain) - this is what the BarChicks are loving right now.
A Spicy Tommy's Margarita to our door
If we could be transported anywhere in the world, right now? Probably a beach in Tulum, kicking back in a hammock after a lunch of fish tacos & fresh guacamole, feeling the sun on our skin and sipping a Tommy's Margarita. F*ckin bliss. We can't promise you the Baja Mexico vibes but we can tell you where to grab a pretty epic Tommy's Marg - and you don't even need to leave the house! Result. The crew at Black Lines drinks make high quality bottled cocktails that are not only delicious but also super sexy to look at. Their latest release is a Spicy Tommy's Margarita that includes a touch of chilli to add a lil kick. Hello weekend.
Grab your new release Spicy Tommy's Margarita from Black Lines here.
Rosé wine all the time
'Summer's here but I'm kinda bored of rosé'... said no one ever. Including us. Our love affair with the pink vino only increases as the temperature rises, so here's hoping for another heatwave. Three of our absolute faves at the moment are Cosmic Le Météore Ros, Sea Change and Clarendelle Rose.
Cosmic Le Météore Rosé got its name because the grapes are grown in an actual meteorite crater in the South of France, high up in the Languedoc mountains. Wow, outta this world. It's crisp and elegant, with notes of strawberry and white peach. Perfect for daytime sipping with fish dishes & salads. What's more, there's an offer to buy 6 for the price of 4 until the end of July. Totally cosmic. 
Sea Change is a delicious Provence Rosé (and who doesn't love one of those) from the award-winning Chateau Pigoudet in the heart of Southern France. As well as tasting fantastic it also has an awesome eco angle. For every bottle sold they make a donation to marine conservation charities to fight plastic pollution. LOVE. Sea Change is zippy, zesty & has with hints of grapefruit, white peach and exotic pineapple. We'll be enjoying ours at a socially distanced summer BBQ, thanks.
Finally, you know you're most likely gonna be in good hands when Bordeaux is on the bottle. This Clarendelle Rose 2019 from Prince Robert of Luxembourg's company Domaine Clarence Dillon has some pretty killer credentials. It's made by the same team who usually produce wine that can go for £500 a pop. Oof. This comes in at a very purse-friendly £10.89 and it tastes mega. Dry & crisp, it's got a beautiful freshness that comes from citrus balancing perfectly with berries. Be warned - this is not a wine you'll wanna stop drinking, so for this price we recommend getting a fair few bottles in.
Booze in a flash with this hot new app
You can keep your swiping right and slapping filters onto photos of your cat - there's a new app in town that's far more up our street. Beelivery has just launched a 24-hour delivery service for anyone living the London life - and yes, booze is on there. Whether you're having a socially-distanced soiree and didn't plan on how much rum punch your pals would chug, or you've run outta wine on your romantic night in and cba to don your face-mask to head to the shop, these guys have your back. They guarantee to place your order on your doorstep within 45-90 minutes - any time of day or night. Midnight munchies are about to become epic, people.
Head over to www.beelivery.com to find out more.
Breaking the mould with botanical white rum
Foxhole Spirits have a habit of delivering the goods when it comes to unconventional sustainable spirits, and their new offering is just as kickass. Behold - Mad City, a banging blended rum with a shed-load of awesome botanicals cracked on in there as well. Bring it. The white rum base consists of 100% Fairtrade certified rum from Jamaica, Guyana, Dominican Republic & Barbados (basically the best of the best), then they've added 25 botanicals, including coffee, coconut, papaya & cherry. F*ck yeah. It looks epic too - the bottle design is by Bristol-based urban artist Sled-One (we all know some of the best street-artists come from Brizzle) & reflects the energy + multiculturalism of Stokes Croft and St Paul's.
It's not released until 23rd July but you can pre-order here now - BarChick got a sneaky preview & we can confirm it's wicked. Soft n velvety, with a bit of tropical fruit brightness giving way to warming spices, pecan nuts & vanilla. Pow.
Up your Aperitivo Hour with this new Summer Spritz
Got Aperol-ennui? No drama, we got your back. Let us introduce you to the only spritz you're gonna wanna be sipping on this summer. STARLINO Arancione is a ravishing & refreshing Italian aperitif made by blending white wine & orange distillate. Wonder what this includes? IGP certified Sicilian Blood Oranges, lemon peel & seven other herbs and botanicals. Sì grazie. Enjoy it topped up with soda, or just knock it back over ice. We'll be drinking ours with sparkling wine cos you know - why the hell not?
Upping our fizz game with English Cassis
You might associate Crème de cassis with the sticky sweet French liqueur that you a) add to Champs to make a Kir Royale cocktail & possibly b) got hideously wasted on during that French Exchange trip back in your late teens. Well, White Heron drinks is here to change all that. Using fruit picked and blended on her farm in Herefordshire, badass chick and founder Jo had made a home-grown version of Cassis that captures the full intensity of these British blackberries without being at all sickly. Velvety, luxurious and a lil bit naughty, a dash of this will take your fizz game to the next level.
Check out the White Heron Cassis here www.whiteherondrinks.co.uk
Getting down with West Country Rums
We've been loving rum recently (yeh, even more than usual). Compiling our list of our 20 favourite bottles was like the Sophie's Choice of booze, but all that tasting to refresh our memories was one helluva silver lining. One thing we really got on board with the epic selection of rums coming outta England's West Country. Turns out Devon is the British Isles equivalent of The Caribbean when it comes to producing the good stuff. Now they just need a few more palm trees and BOOM. 
Our faves include The Devon Rum Co. who have produced a smashing sipping rum using local spring water, and Hattiers who have nailed it with soft Dartmoor water and a mix of both South American and Caribbean rums. Then there's Black Sail rum produced in the world's first carbon NEGATIVE distillery in an Exeter airport hangar. We guess now we know why pirates like the chill in Penzance. 
Remy Savage's collab with Nude Glass
When one of the world's best bartenders releases a collection of glassware with the crew at Nude Glass, you know it's gonna be INSANE. Remy Savage's unique six-piece collection has been designed for both hospitality and home - excellent news for our home bar game. He's used the creativity and innovation he brings to his drinks to create this collection of simple, delicate crystal glasses which are so beautiful they'll almost distract you from the liquid in them. We can't decide which piece is our fave, but we've got some major love for the thin-rimmed Coupetini glass. 
You can add some style to your home bar with Remy's collection here
Keeping it cool with a Ginger Cow
We've found the ULTIMATE heatwave refresher and it uses the fruity summertime expression from our fave milk-based vodka, Black Cow. Their Black Cow + English Strawberries is made using locally sourced, leftover or misshapen English strawbs that would otherwise go to waste. The guys really are the kings of sustainability. They're rescued from a wasteful fate before being pressed and infused in Black Cow for four days to create a fresh, rich vodka with a beautiful strawberry blush colour. We've been drinking it in a Ginger Cow.
50ml Black Cow + English Strawberries
Fever-Tree Ginger ale
Strawberries and mint to garnish
Load a hi-ball glass with ice and add the vodka. Top with the ginger ale and garnish with a few strawberry slices and a sprig or two of mint.
You can get yourself a bottle of Black Cow + English Strawberries here.
Doorstep deliveries of Cocktails by Lollipop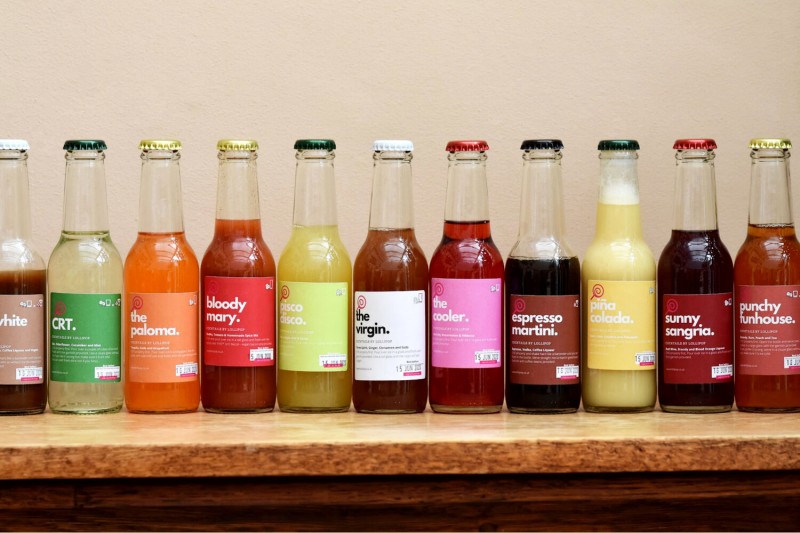 The bars might have started to re-open, but we're still riding the cocktail delivery wave on the days we don't fancy riding into town. The Lollipop crew are better known for some of London's most outrageous cocktail bar concepts (Breaking Bad themed cocktails, anyone?) but during lockdown, they bottled a bit of their creativity & launched Cocktails by Lollipop. Each cocktail comes with a sachet containing a garnish for a profesh twist. We gave 'em a try and got a taste of the best bottled Espresso Martini we've tried during the panny-d. Rich with good quality espresso and with a supermodel-worthy kick of booze.
You can get a selection of your fave Cocktails by Lollipop here.