We're all for a swanky meal, but where can you hit the bar & sample the goods without the price tag/waiting list?
Fresh and HOT off the press: the drinks biz is finally getting its own answer to the restaurant world's Michelin stars.
That's right, it's not just about the food anymore, baby. Bars around the world are on the cusp of their own one, two and three PIN award system which will recognise the world's best bars, all from the newly launched Pinnacle Guide created by our drinks world pals Hannah Sharman-Cox and Siobhan Payne, and Dan Dove, founder of Global Bartending. The first PINs will be awarded in 2023, so 'til then, here's our pick of epic bars found in London's Michelin-starred restaurants.  
Chef John Williams finally won the legendary hotel a star a few years back, but good luck getting a reservation anytime soon. Instead, we say get close to the magic at The Rivoli Bar - intimate and comfortable, with gold leaf, satinwood and Lalique glass, it feels Art Deco and dramatic. The perfect place to impress. You get olives (the best ones) and some nuts to snack on while you enjoy your cocktails, but we say go all out and try their bar snacks… with club sandwiches, specialities, savoury hors d'oeuvres and caviar they are DAMN GOOD. The bill however might not feel so fun.
The Ritz, 150 Piccadilly, London, W1J 9BR
Halfway up Tower 42, you'll find Jason Atherton's sky-scraping offering, City Social. It's a super-hot ticket when you're dining out in The City, and its retained its Michelin Star year after year because of its genius. But if you're looking for something a bit more casual (but still mega impressive), turn right out of the lists and head into Social 24 for booze with your views. Order a Pisco Tower, some delicious bar snacks like goat's cheese churros with London truffle honey and take in that view.
Tower 42, 25 Old Broad Street, London, EC2N 1HQ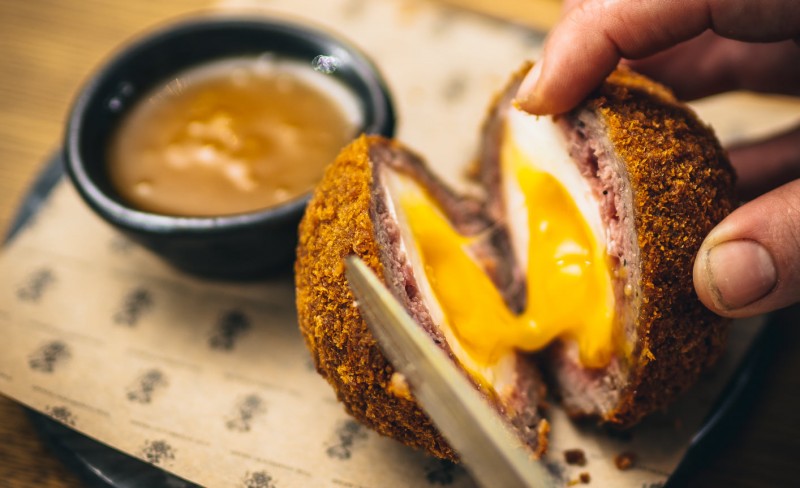 It's fair to say that nothing beats perfect pub grub, especially when it's this good. Screw the waiting list and head straight for a pint at the bar, soak it up with venison scotch eggs, and Roe Deer and walnut terrine, that will transport you right out of London. Don't ask for cocktails, but do ask for the wine list, it'll more than keep you occupied.
Walham Grove, London, SW6 1QP 
If you find yourself in Berkeley Square looking for a Michelin star style snack. Then this contemporary Indian cuisine is some of London's very best, but start with cocktails: they'll charge yours with everything from cardamom to candy floss. Then eat your heart out, we chose crispy soft shell crab, minted wild sea bass and roasted duck.
12a Berkeley Square House, London, W1J 6BS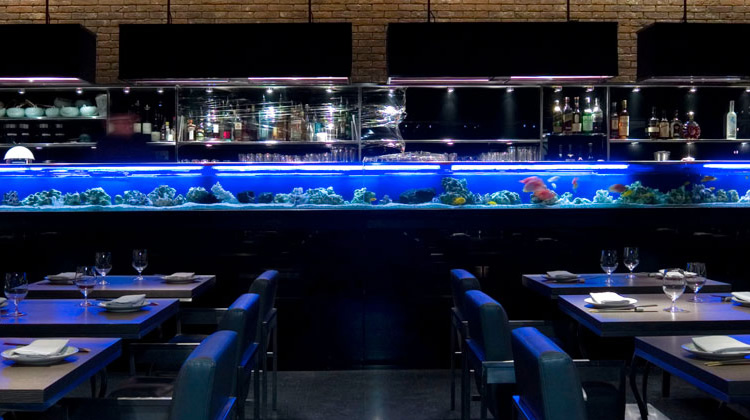 Alan Yau's dim sum teahouse in the heart of Soho is pretty flash, complete with killer cocktails that range from spicy through to aged; a macaroon counter and more leggy customers than you could shake a venison puff at. You had us at Har Gau. The bar's at the back, head on through.
15-17 Broadwick Street, London, W1F 0DL 
Atherton strikes again, and he's got another star for his efforts. Welcome to three floors of cool, with wooden ceilings, brick walls and dusty mirrors. Head up to the hidden bar upstairs, The Blind Pig, for their awesome cocktails (some glow in the dark) and hit the bar food; spiced pork belly slider? Salt and szechuan pepper cornish whitebait? Exactly, see you in there.
58 Poland Street, London, W1F 7NR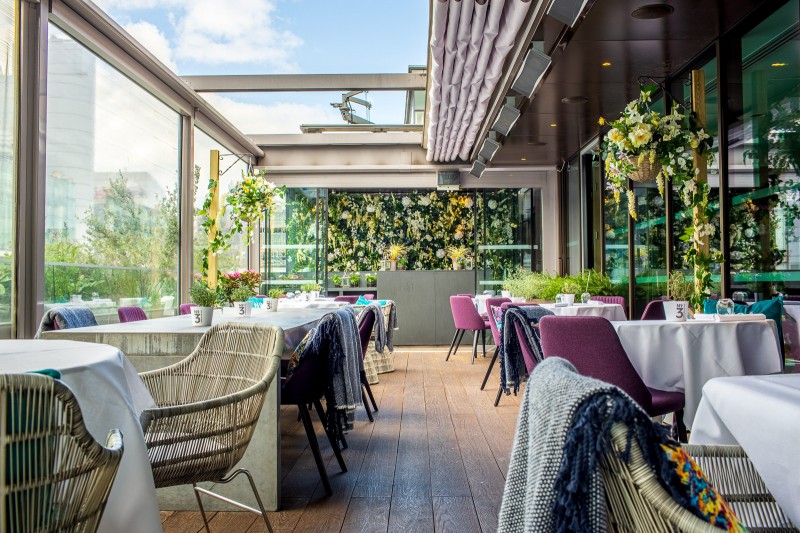 With three bars and two restaurants, this place is always buzzing, but even more so now with its starred status. Bravo The Angler for flying the flag from the rooftop. Up here it's a feast of fish, but if you can't afford the fare then sit at the bar and get stuck into the snacks, sliders and sharing platters - we promise you won't go hungry.
3 South Place, London, EC2M 2AF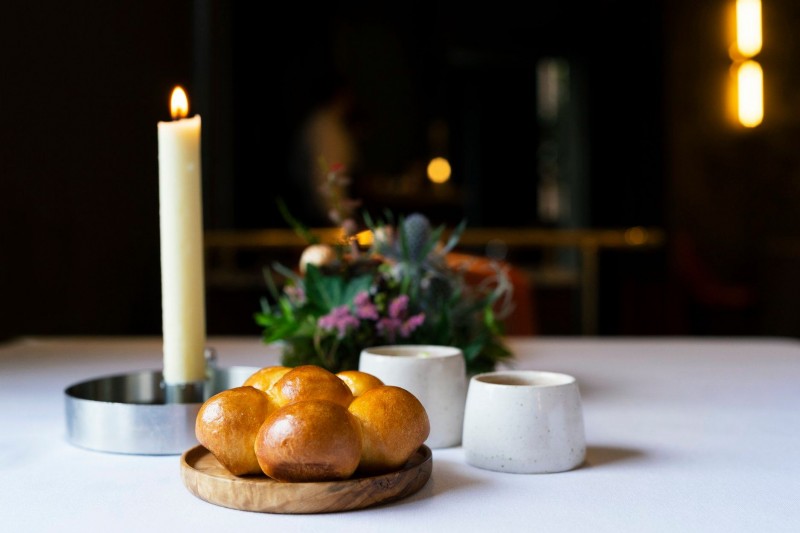 After winning its first Michelin Star just 5 months after opening, Tom Seller's restaurant by Tower Bridge is too hot to handle. The likelihood of getting a booking when you want is pretty slim so we say slip into the small but well-stocked bar at the back. Order yourself a Tom's Collins, Old Skool fashioned or grab the sommelier, he knows his wine better than anyone. There's a clear view of the kitchen from here so work your wink… it may even get you a table.
201 Tooley Street, London, SE1 2UE 
Inspired by the Colonial Indian Gymkhana clubs reserved solely for the elite, if you want Indian food, forget your local takeaway, this place will take you straight to India. The food here is so delicious and the service so impeccable it was prob a no brainer for this place to get given a Michelin Star. Drink in the 17th Century East India Punch House, then enjoy a candlelight dinner that will blow your freakin mind.
42 Albemarle Street, London, W1S 4JH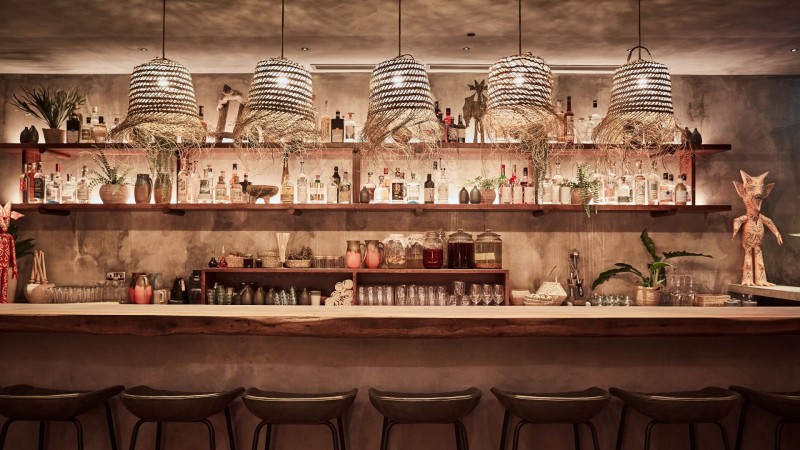 Getting a reservation at this Marylebone hot spot is like trying to get tickets to Glasto. You gotta be online when the reservation lines go live or it's game over for another month. We say it's worth the wait, though. This is sophisticated Mexican cooking using some of the best British ingredients going. Make sure you go for the langoustine tacos. They supply the heads on the side so you can squeeze out the juices for extra flavour. Sounds gross, tastes amazing. If delayed gratifications ain't your thing, though, you can skip the queue and get a taste of KOL downstairs in the Mezcaleria, where mezcal is the soup du jour and the bar snacks give the perfect taste of what's going on upstairs in that Michelin-starred kitchen.  
9 Seymour St, London W1H 7BA
We once heard that the average bill in this Piccadilly restaurant comes in around the £400 mark, which is more than enough to make you weep into your petit fours. If the idea of sp*nking half your months rent on dinner isn't for you (but you still wanna know what the fuss is about), saunter down the mouth-dropping spiral staircase for a cocktail in The Bar Below. The lighting is flattering, the cocktails are wicked (ask for an off-menu Aquavit Martini) and the bill should be missing one of those zeros.
85 Piccadilly, Mayfair, London W1J 7NB
It went from a pop-up by the Truman Brewery to a full corner of Covent Garden and now, finally, Adam Handling has a Michelin-star for The Frog, AKA the home of *those* legendary cheese doughnuts, the best damn butter in London (yes, seriously), and more dry ice than a rock show. And the theatrics continue downstairs in the restaurant's bar, Eve Bar, where temptation should never be resisted. They've collaborated with the guys in the kitchen upstairs to use ingredients that would otherwise be wasted to create their awesome menu. This is the liquid kitchen - get ready for a different kinda feast.
34-35 Southampton Street, WC2E 7HG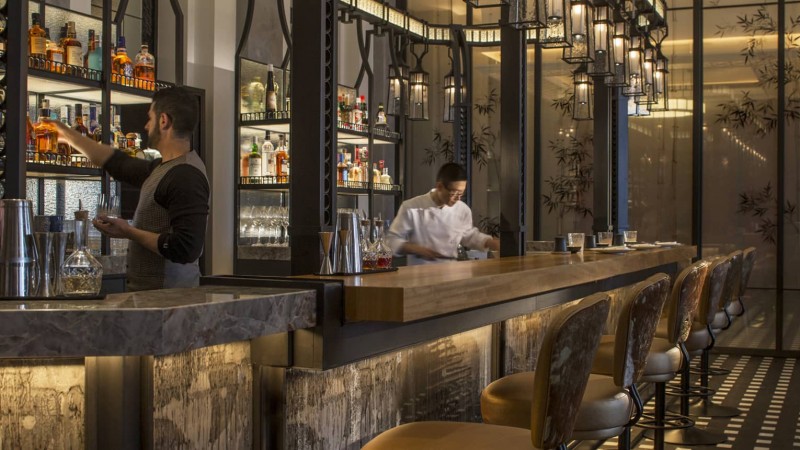 If you have something special to celebrate, La Dame De Pic at the Four Seasons Trinity Square is where to celebrate it. BarChick got her swank on here for her birthday, and nothing marks another rotation around the sun quite like Anne-Sophie Pic's signature Berlingots: perfectly preportioned pasta parcels with Baron Bigod and Sake fondue in a Turnip consommé. All celebratory meals should start with a cocktail, though, so before you hand your coat over to the welcome desk, take a seat in the Rotunda Bar and listen to the pianist tinkle away at the ivories while enjoying a glass of Champagne.
Four Seasons Hotel at Ten, 10 Trinity Square, London EC3N 4AJ
When a restaurant has three Michelin stars to its name, you know it's gotta be somewhere pretty special. Alain Ducasse at The Dorchester is more than pretty special. We've never had hospitality quite like it anywhere else, and the food - well, it's the kinda stuff you'll never forget. Of course, you're not just popping in here for a spur of the moment lunch. You're about to drop some serious cash and we say in for a penny, in for a pound, so start your visit with a drink in The Bar first. Order the signature Martinez and Giuliano, the forty-year veteran Bar Manager, will look after you.
Upstairs in The Lecture Room and Library is where you'll find Sketch's legendary three Michelin starred fine dining offering. The interior is enchanting and quirky but if you cannot wait to dine on Perfume of the Earth, orange-dusted veal and vanilla soufflé then head to the enchanted fairy tale forest downstairs with comfort food, cocktails, tapas and tea in abundance.
9 Conduit Street, London W1S 2XG