With the opening of Bond Street Station, London's Lizzy line is officially complete. No better way to celebrate than going for a joy ride on the Underground and hitting up all the best bars along the way, right? Stand clear...
Paddington
Head inside the Hilton London Metropole hotel for a taste of East London with a West London postcode. Bow Bar prides itself on its creative cocktail list - don't miss the Columbia Road Martini, which looks like a garden in a glass - and its bangin' collection of craft beers. Feelin' adventurous? Snack on some jellied eels as you sip.
225 Edgware Road, London W2 1JU
Paddington party vibes? Yep, they're a thing - just head to Pergola's pop-up paradise and soak 'em in. There's plenty of street food vendors to choose from and two full bars, plus DJs on deck. The theme changes throughout the year, ranging from beachy and Tulum-inspired to beer-soaked Oktoberfest festivities. This one's perfect for groups, so round up your mates and get on it.
4 Kingdom St, London W2 6PY
Bond Street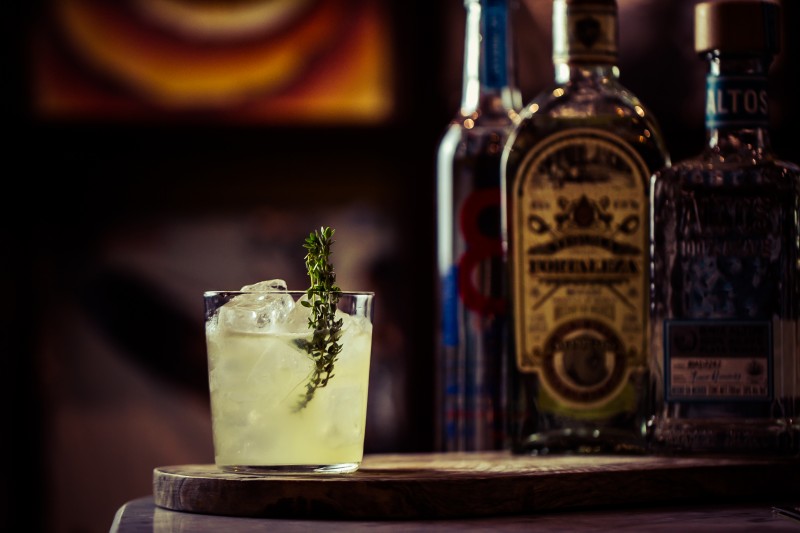 Ya don't have to drop your entire paycheck on designer shoes to have a good time around Bond Street. Just make your way to Fam, order a Marg and settle in for a night of bangin' tunes played on vinyl. This place is super chilled, especially given its location smack-bang in Central London, and you'll wanna become a regular.
Corner of Picton Place & 31 Duke St, London W1U 1LG
If you're up for splashin' the cash, hot-foot it to this luxurious bar at The Beaumont hotel. Le Magritte is an art-deco masterpiece of a drinking den, complete with museum-worthy paintings and white-jacketed bartenders who have perfected the art of the cocktail. Order an Old Fashioned and the bacon and truffle French toast - you can thank us later.
Brown Hart Gardens, London W1K 6TF
Tottenham Court Road
This stalwart of the Soho scene regularly graces the lists of the world's best bars, with good reason: the cocktails and the service are both bangin'. It's also one of the most versatile drinking dens in the game, equally as suited to special occasions as it is to a casual after-work drink or a catch-up with mates. Book a table downstairs for a dark, moody vibe with a killer Soho-inspired cocktail menu, or walk in upstairs and conquer aperitivo hour. 
12 Old Compton St, London W1D 4TQ
The London outpost of Manchester hotspot Tattu is tucked away in the maze of buildings surrounding Tottenham Court Road Station, but you'll be handsomely rewarded once you find it. Dim sum is the name of the game here, with epic Asian-inspired cocktails to match. Snag a spot on the Insta-worthy terrace and sip a Sesame Sour while looking out on the city skyline. 
The Now Building Rooftop, Outernet, Denmark St, London WC2H 0LA
Farringdon
Vintage jazz, plenty of room to cut a rug and some of the most creative cocktails around: yup, Oriole's still got it. The decor has a tiki-chic edge, and the drinks come in a wide variety of over-the-top styles, flavour profiles and vessels that'll take ya on an adventure.
E Poultry Ave, London EC1A 9LH
Liverpool Street
With sleek interiors designed by Tom Dixon Studio and minimalist cocktails worthy of their own art exhibition, Silverleaf delivers big Bond villain energy - and we mean that in the best way. Order the Peach & Toasted Cream cocktail and post up at the bar while plotting your revenge (or, ya know, having a nice chat with the bartender. Your choice).  
3rd Floor, Devonshire House, 3 Bishopsgate, London EC2M 4JX
Descend into the depths of East London hotel One Hundred Shoreditch and you'll be transported to a scene that's straight outta Mad Men (the later seasons, if you're asking). This spot from bar legend Ryan "Mr Lyan" Chetiyawardana is a self-described "lo-fi" bar with a stripped-back, analogue approach to classic cocktails. Translation: mod interiors, a wicked vinyl collection and super-stylish serves. Groovy, baby.
100 Shoreditch High Street, London, E1 6JQ
Whitechapel 
Feelin' outdoorsy? Cocktails come with a side of fresh air at this rooftop terrace at Hyatt Place. Take in the views of Canary Wharf and The Gherkin as you get involved with the bar's serves, which feature a mix of local ingredients and far-flung flavours. 
Black Lion House, 45 Whitechapel Rd, London E1 1DU
It may not be the easiest place to find, but this super-sexy speakeasy is still one of East London's worst-kept secrets. That probably has something to do with the impeccable candlelit vibes, A-class cocktails and hip clientele. Hunt down this hideaway and you'll be rewarded...
29 Wentworth St, London E1 7TB
Canary Wharf
A floating bar from the legends at Hawksmoor? Yup, this one's a banger. Whether you're hanging on the terrace on a balmy day or cosied up at the bar as the wind whips outside, you're in for a treat. The Pink Gibson - AKA Monster Munch in liquid form - should be your first order, along with any of the lush bar snacks. We never thought we'd say it, but... we kinda dig Canary Wharf.
1 Water Street, London E14 5GX
27/10/2022