London is crawling with wicked lil' secret bars – you just need to be in on it. There's the one with a crazy hidden door behind a golden hand and then there's the one in an old jail cell. Now that's BarChick's kinda treasure hunt.
 1. CHELSEA PRAYER ROOM 
The Goat looks like a standard West London pub, but it's got an awesome little hideaway. Chat up the bar staff and they'll slip you the secret code to tap into the hidden bar upstairs. Sink into a Chesterfield, look hot in the candlelight and make eyes at the sexy barman. Don't miss out on the Rhubarb Bellinis, they're the goat's b*llocks. We've got your table waiting. 
The Goat, 333 Fulham Road, SW10 9QL
2. THE VAULT
Turn the right book and you're in!
A solid BarChick fave, located just off Soho square. Head into Milroy's – London's oldest whisky shop – and say you're heading to The Vault. You'll be pointed in the direction of a bookcase, push it open, head down a dark and narrow neon-lit stairway into a little whisky laced speakeasy. The bar staff are laid back and up for giving impromptu cocktail lessons when the bar is quiet. Whisky is the thing here –  The Smoking Gun, where your whisky is smoked freshly in front of your eyes. Oh and give the house dog Chester a pat who you'll find supping water Martini's by the bar. Woof.
3 Greet Street, Soho, W1D 4NX
 3. LOUNGE BOHEMIA
Under a kebab shop
Under a kebab shop in Shoreditch is where you'll find this gem. The peeling corridor looks a bit sketchy, but the bar downstairs is bangin'. Go for the set tasting cocktail menu – five boozy courses that will blow your mind. Set on a theme, which changes every few months. BarChick tried the 'forest theme' where we found ourselves eating edible tree sap and a jelly ball of gin on a leaf. Insane, we loved it.
1e Great Eastern St, London EC2A 3EJ 
4. EVANS & PEEL DETECTIVE AGENCY
Detective agency role play
A classic secret bar you've gotta try. Buzz the bell and head down for your 'appointment' with the detective. This is where the imagination cogs need to turn, you gotta go all 'role play' and discuss with Mr Detective about a case you need solving. He'll spin you some chat and then he'll lead you to a secret hideaway behind a bookcase (classic). In you go to a huge candlelit speakeasy. This place has 'impress your date' written all over it.
310c Earls Ct Rd, SW5 9BA
5. DISCOUNT SUIT COMPANY
Underneath a suit shop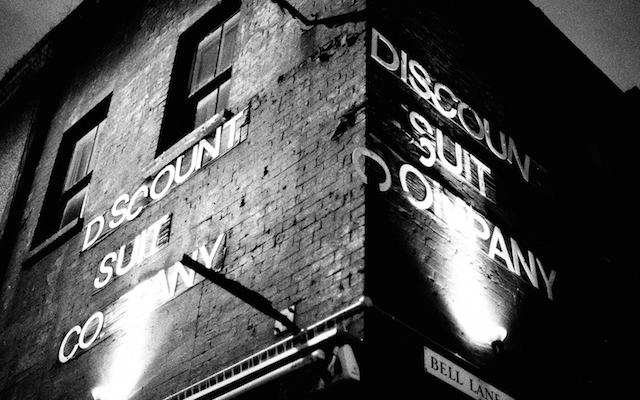 Banker-ville ain't known for cool quirky cocktail bars, but if you veer off where Liverpool Street area meets Aldgate you'll find an awesome lil' booze den. But it's well hidden, so eyes peeled. Find a run-down building where you'll find a cheap-looking suit shop. You'll spot a subtle entrance, scoot in there and down to the bar. Hello speakeasy. It's all candlelit and we like the nod to the old suit storage space it used to be, like umbrellas hanging from the ceiling, and fabric reels by the bar.
29 Wentworth Street, Spitalfields, E1 7TB 
6. BASEMENT SATE
Hidden under kinky shop
It all looks suspicious- you're making a beeline for a door right next to a sex shop. The door you're entering states 'This is not a brothel, there are no prostitutes at this address' just incase you were actually heading for a sex shop and didn't wanna end up in a bar. Get down there and you'll find a bare-bones hidden bar and no naughty business in sight – unless you count the killer desserts that this place is known for.
8 Broadwick St, W1F 8HN
7. BYOC COVENT GARDEN
Hidden in a smoothie shop
Bring your own booze baby! Pick your spirit of choice, slip it in your bag and then seek out this unassuming smoothie bar in Covent Garden. In you sneak, dash past the naive, healthy smoothie customers, straight for a cello case propped on the wall at the back. This dark cave has about three tables and crackly 1920's tunes playing out. Meet your personal barman, he'll whisk up some amazing concoctions using your booze and some homemade mixers and bitters from his trolly. Ask for fire. 
Underneath Juice Club, 28 Bedfordbury, WC2N 4RB
8. KEYSTONE CRESCENT
VERY late night bar in Kings Cross
Kings Cross ain't just a wasteland of mega-chains, it's also home to probably one of the coolest member's bar in London. Sure it's members, but BarChick can get you in. It's a kinda rad 1970's style lair; the staff here are the best and you'll be best mates with them by 4am closing. They make badass cocktails and there's even the option to pimp your own drink if you wanna go rogue. 
Keystone Crescent, N1 9DT
9. OPIUM COCKTAIL & DIM SUM PARLOUR
China Town's hidden gem
China Town has a boozy secret in a former gambling den. Eyes peeled for the jade coloured door. Enter into 1920's Shanghai where you'll find legendary bar staff and epic dim sum. Pow. There are floors of fun to be had, each room with it's own personality and if you can find Peony, the speakeasy within a speakeasy BINGO. The cocktails are all inspired by the orient and they are served up in style. It's our fave place to drink in this part of town.
15 -16 Gerrard Street, W1D 6JE 
10. NIGHTJAR
Wild cocktails in awesome speakeasy
You'll find the entrance to this New York-style speakeasy wedged between two cafes.  It's big time, so get dressed up and get involved. All sorts of ingenious cocktail creations on the menu – for a real showstopper get the smokin' Forager's Shrub, served in two vessels, it looks like some kind of awesome science experiment. Nightjar's all about the live music so expect an eclectic mix of gypsy swing, jazz, and American classics. It's one of the best bars in the world for a reason, yo! BOOK it for god's sake, it's the kinda place with a waiting list. It's that good.
129 City Road, EC1V 1JB
11. LA CABINA
Hidden behind a telephone box
Hunt out the weird telephone/TARDIS keypad on a door on Kingsland Road. Type in a special code (ask us and we'll hand it over) and get down to this makeshift bar that's straight out of Las Ramblas Barcelona. It's very bare bones and neon lights but who cares at 4am? Plus it has a kick ass late night 2 for 1 happy hour between 11pm and midnight. Snack on churros & chocolate. Arriba! Then dance it off to the bangers spun by the DJ in the corner, it's a small dance floor but everyone in there's a solid 7+ so you won't mind getting close.
232 Kingsland Road, E2 8AX
12. BLIND SPOT 
Shake a golden hand for entry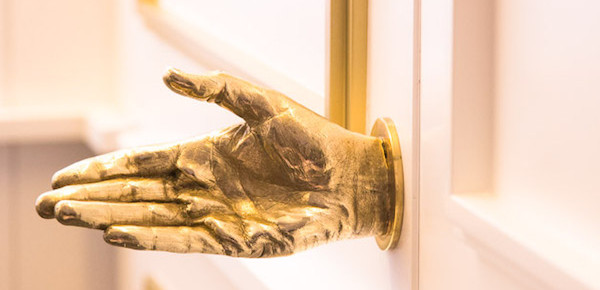 Hey! Not many people know about this one. Head through the neon revolving doors at St Martin's Lane Hotel and look around for a golden hand sticking out of a wall. Yeah random. Give it a shake and it'll open up an entrance to this slick secret bar, think lots of shiny gold decor and smart leather seats. You got bartenders mixing up some cool cocktails. On Martini Mondays rock up and design your own drink according to your mood. It's worth going at least once with a date to impress them on that awesome entrance.
St Martin's Lane Hotel, 45 St Martin's, WC2N 4HX