You're gonna be drinking a lot of this over the next 12 months...
From a coffee liqueur boom and the world's oldest alcoholic drink making a Britney-style come back, to celebrities launching spirits made in partnership with people who actually know what they're doing. There's plenty to come in 2022 for the drinks world, and we've been getting the deets from the inside as to what's gonna come out on top, and why.
Vodka - getting another shot!
Hands up if following the sirens call of a student night out fuelled by shots of Glen's Vodka has led you into the dark pit of a killer two-day hangover and a decade of vodka resentment. Yeah, we get it, sh*tty vodka of your youth is scarring, but vodka has sat in its own bad rep shadow for too long. And vodka producers know it.
Vodka's 2022 comeback is gonna be the drinks biz' equivalent of "The McConaissance" of 2013. Breaking out from its typecasting mould of being a tasteless accelerator for messy nights out, vodka is re-establishing itself with one almighty shift. "When you look at the general vodka category, product development from craft distillers has been key to the renewed interest, which has seen both at-home and on-trade consumption re-establish its love for Vodka," says Chris Frederick, co-founder of Spearhead Spirits who is behind the launch of Vusa Vodka made using sugarcane from the Kwazulu-Natal in the subtropical climate of Africa. "This is partly driven by a shift from artificially syrupy flavours into more refined flavour profiles using botanicals."
The revival of vodka's popularity (which originally peaked in the early 00's) can in part be credited to the meteoric rise gin has seen over the past decade. According to Richard Ryan, co-founder and head of liquid development at Drinksology Kirker Greer, gin's success has opened up the consumer's thirst for new and innovative products and fed consumer awareness of the ingredients that make up the flavour profile. "With gin, it is all about the botanicals, the flavours they impart and the geographical journey they take you on. With Vodka there isn't the same palate of botanicals, but producers can take real care in how they choose and treat the base material. We have adopted this approach at Drinksology Kirker Greer in the creation of our new Japanese vodka brand Ukiyo."
Ukiyo rice vodka is an innovative new product launched at the tail end of 2021, made with  long grain indica rice inoculated with Black kōji, which is then fermented and distilled into a high-quality traditional Japanese Awamori spirit before being redistilled into Ukiyo's pure rice Vodka. The result is a delicate, fragrant aroma and creamy mouthfeel, unlike many other vodkas on the market. "Customers have been curious about the vodka due to its unique distilling process and bottle design," Richard told us.
Carmen O'Neal, Managing Director of 58 Gin Distillery who will soon be rolling out their premium, award-winning vodka to consumers, believes that it is vodka's versatility that has contributed to its popularity. "Vodka is a clean spirit able to blend effortlessly with any ingredient. It can morph to fit any trend - botanical, bitter, fermented, matcha etc. so it appeals to a massive audience."
 "People's desire for high-quality cocktails that they can create at home started during the lockdown, and now they are actively seeking more premium spirits to experiment with new cocktails," Richard continues.  "That is why a premium vodka is perfect for creating those cocktails, its versatility makes it the perfect base spirit."
Premium RTD's Hit The Big Time
Who knew it would be a fictional hot member of the clergy and a TFL rule-breaking MP that would put the tinny so firmly on the British map? Well, it's not just down to those two. Canned RTDs have been making gains for years, but it wasn't until recently that canned, bar-style single-serve cocktails have begun to make a name for themselves within the category, and award-winning Bartender and Drinks Consultant, Rich Woods, AKA The Cocktail Guy, is pretty sure that 2022 is going to be the year of the canned cocktail.
"We all must now have seen the peak of the Hard Seltzer, but in 2022 I feel will see the rise of the single-serve and possibly canned versions and premium cocktails, made with quality spirits, rather than their malt-based bastardised sibling." He tells us. "We've already seen companies such as MOTH and White Box doing it, and I feel this will only become a more prevalent sector within a sector."
We went to talk to Kieran Gandhi, co-founder of Bō Kiri, AKA the UK's first dedicated can bar, about the meteoric rise of the canned RTD, and the culture behind it. The almost completely sustainable bar, found on Peckham Rye in South East London, stocks over 250 varieties of canned drinks, ranging from low and non-alcoholic soft drinks through to cans laced with CBD, as well as beers, ciders and meads, single serve wines of all variety, and premium spirit mixers and canned cocktails. The choice is vast, and with both drink in and takeaway options, the response since the bar opened in November 2021 has been pretty impressive for a never before tried concept.
"Our biggest sellers have definitely been the single-serve cocktails, including brands like MOTH, Vacay and Niche Cocktails. The most popular can has been by far the Pocket Negroni from Whitebox, followed by their Chippers Old Fashioned, despite it being the most expensive can in the shop, priced at £8 a serve."
But what has been the driving force behind the consumer's love for single-serve RTD cocktails? According to Rob Wallis, Founder of MOTH, it's a mix of consumer laziness (guilty!), a need for convenience and a love of high-quality bar-style drinks. "Our drinks were served in a bottle first, and we learnt masses from that – mostly that we needed to make a cocktail the perfect fit for people's lives. Unless you're as easy to serve as a can of beer or a glass of wine, it won't fit – it needs to be an easy swap, because even if the product is way better, if you can't enjoy it without a great deal of effort, frankly, you won't do it."
Rob continued, "I was a bartender for years, and I had all the stuff in my cupboards to make cocktails, and I didn't do it. You're a human being on a Friday night who's tired - making cocktails from scratch doesn't fit your life. I would always choose a Negroni over a pint, always, but if I can have a bottle of beer that takes half a second's brainpower and effort to drink and enjoy perfectly, I'll have that. So that was the reason behind the single-serve bottles, and then moving that to can was making it an even better fit, more sustainable. And we're not seasonal, we're very deliberate in that you don't only bring us out for a picnic in summer – if you're having a dinner party in rainy January, great – crack open some MOTHS."
Much like bottled RTDs and the bottled cocktail movement which boomed over the lockdowns, the pandemic has contributed to the expedited popularity of the premium canned cocktail. "For us, it was a trend that was happening, but no one could have predicted the effect COVID would have on it. There was a small fire, and then COVID poured litres of petrol on it, and it's set to be ablaze for the foreseeable. It's not going to go away, It's the change people have made. And not just towards RTDs, but towards cocktails in general."
Celebrity + Expertise = spirits with more than just star power
Did you see just how quickly Kendall Jenner's 818 tequila sold when it launched last year? Within two months of launch, the brand's sales already exceeded the figures forecast for its first two years of business, according to the company's president. On the first day of sale, there were reports that stores had sold out within 4 hours. FOUR. HOURS. That's some early 00's Kate Moss for Topshop levels of consumer hysteria right there. Now the supermodel is on track to becoming one of the most successful spirit owners (we're not just talking celebrity, here) in the world, ever. Yeah. Even beating Clooney.
That, amigo, is the power of BIG celebrity.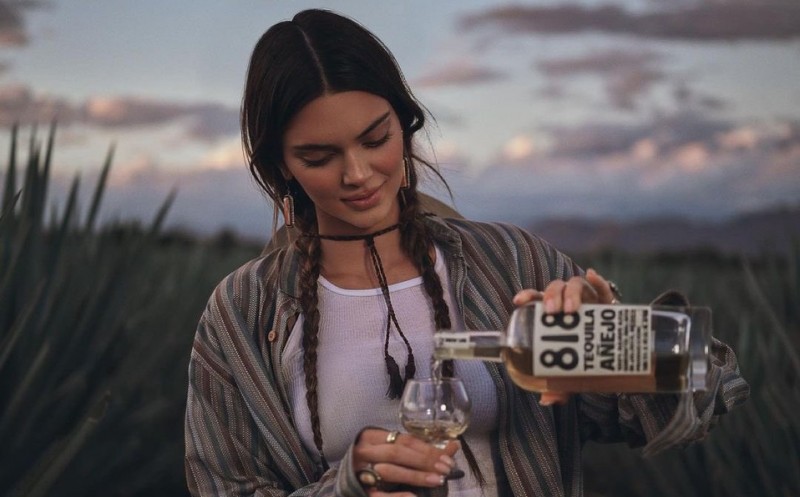 But for most celebrities launching their own spirits, they've decided not to rest on the power their face has on the marketing materials; they know their involvement needs to go deeper, and the product needs to be good, and that's not something they can do alone. That is why a new wave of ultra-premium spirits lovingly crafted by famous faces in collaboration with the world's greatest experts is here to sweep through 2022 and beyond.
In recent year's we've seen the launch of several celebrity-backed spirits made in partnership with some of the finest distillers in the industry, including fashion photographer Mert Alas' SEVENTY ONE Gin made with Master Distiller Steve Wilson, former President of Diageo's Reserve Brands; Joe Jonas' Villa One created by Master Distiller Arturo Fuentes, AKA "Godfather of Tequila," who has three decades of experience in crafting Fine Cognacs, French Champagne and of course, barrel-aged Tequilas; and Rita Ora's Próspero Tequila made with Stella Anguiano, one of the first female tequila Master Distillers.
We asked Rita about working with one of the most important female distillers in the industry. "When I met Stella in Jalisco everything just fell into place. She's a true artisan, a trailblazer as one of Mexico's only female master distillers, and so passionate about what she does. I never wanted to just be the face of the brand, and working with such an incredible advocate, both for tequila and for women in the industry, I had a real opportunity to get completely stuck in."
The British singer, songwriter and actress has the title of Chief Creative Partner of Próspero Spirits, and was keen to take on more than just a spokesperson role for the tequila. Rita spent time with Stella in Mexico to learn about the craft of making tequila at the distillery in Jalisco and educate herself as to the heritage of the spirit. "I learnt so much from her at every single step of Próspero's journey, and together we've made such an amazing product that really champions strong, independent women."
The question is now who will be next to tap into the lucrative market that has seen celebrity-backed brand acquisitions reach into 10-digit figures, and who will be the distiller they choose to help them get to those vertigo-inducing heights? We bet it won't be long before we find out.
Agave Love Pushing The Margarita 
According to research carried out by the crew at RTD and mixer company Funkin, the Margarita was the most searched for cocktail online in 30 countries (including here in Blighty) last year, with an average of 546,280 searches world-wide per month.
When a cocktail suddenly reaches dizzying heights of popularity, it's usually because there's something else going on in the world to inspire the popularity surge. Don Draper's love of the Old Fashioned made this old-timer new again back in in the late 00's; Martinis are suddenly everywhere anytime a new Bond movie comes out, and Cosmos became the powerful woman's cocktail of the 90's from the moment Carrie first ordered one in Sex & The City. So WTF has been going on the make the Margarita so popular today?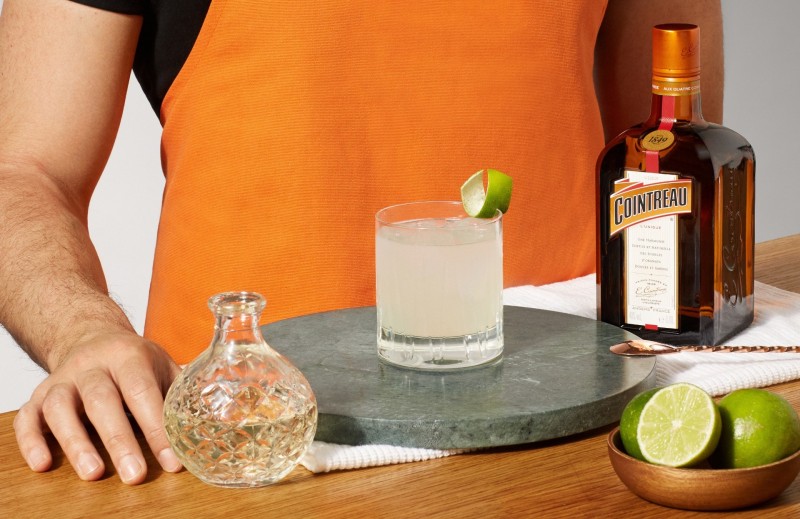 It turns out that time at home over lockdown led to a lot of us trying our hand at some at-home bartending, and the Margarita sits just on the right side of achievable for any mixology rookie.
"Cointreau sales went crazy over lockdown, and you don't buy Cointreau other than to make Margaritas and Cosmos, you know?" says Rob Wallis, founder of MOTH drinks. "People became obsessed with cocktails. Our RTD canned Margarita was our biggest seller. It was one of the early points we knew we'd found success when we were selling Margaritas to lots of people in horrible British February!" Yep, the Marg was an at-home hit.
Once the bars reopened, however, the popularity just kept going.
"Sales in one of our signature cocktails, Margarithai, have skyrocketed over the past few weeks" the team at Mayfair bar, Bar des Pres, told us. "It's one of our most popular cocktails - an incredible and smokey concoction, combining Volcan de mi Terra tequila, lemongrass, Casamigos mezcal, lime, coriander, agave, black salt."
But is it the love of Margaritas that is on the rise, or is it the growing appreciation of agave-based spirits that is pushing Margarita sales forward? We spoke to Will Meredith, Bar Manager of award-winning bar, Lyaness, and picked his brain on the subject; "Drinks like Margaritas sold way more than usual last year for us, so that's always a sign [of the] continued growth of Tequila and Mezcal in the UK."
The trend continues at the top of Regent Street in Treehouse London's rooftop bar, The Nest in Treehouse, where they've seen a significant rise in the number of visitors ordering Tequila and Mezcal based drinks in general. "With the sense of missed moments post-lockdown paired with increased knowledge around more unique spirit offerings, we noticed that consumers are moving away from gin or vodka cocktails, and opting for smokier (Mezcal) and aromatic (Tequila) serves."
Looks like Palomas, Picantes and maybe even Tequila Sunrises are gonna be joining the Margarita up on the popularity podium this year, and baby - we're ready for it. 
Creativity in Coffee Cocktails – The Benefits of a Coffee Liqueur Boom! 
In the world, there is no beverage that comes even remotely close to the popularity of coffee. It's the Prom Queen, class jock, cheerleading captain and Homecoming King of the beverage world all rolled into one. Every single day, 2 billion cups of the black stuff are consumed around the planet. In the UK alone, it's 98 million. Is it any surprise that none of us sleeps well and cocktails laced with the stuff are popular? No sir, it is not.
Coffee has been a key ingredient on cocktail spec sheets for decades, but it's always the same serves taking the limelight: Espresso Martinis. Irish Coffees. Black Russians. White Russians. But 2022 is the year the world is gonna get more from its favourite beverage.
"Bartenders are becoming more and more creative in terms of coffee cocktails and they aren't just mixing the obvious classics," Martin Hudak, co-owner of Sydney-based Maybe Sammy, and Global Ambassador of Mr Black Liqueurs tells us. "I see a big creative boom utilising coffee liqueurs in combination with spirits such as mezcal or smokey whiskies or even with vegetables or fruits."
We see it too. But there is no doubt that this new wave of caffeinated creativity will have been fuelled by the rise in the number of premium coffee liqueurs entering the market, and with that, the number of people drinking it. According to tastewise, the yearly growth rate of Coffee Liqueur consumption is 43.88%, and makers of premium cold coffee liqueur, Mr Black, recently celebrated a YOY growth of +150% since the beginning of the pandemic.
Despite the category's growing popularity, however, Bacardi announced back in October that they would be discontinuing their Patrón XO Café, which had gained a cult like status around the world since it was first brought to market in 1992. The internet lost its damn mind (and yeah, we freaked out for a moment there, too) but a quick glance at the other offerings on the liqueur shelves really liberated us of our grief. With brands such as Jameson, Jaegermeister, and Aluna Coconut all jumping on the coffee train in recent years, it's obvious this isn't a hole that is going to be left gaping.
In one serendipitous turn of events, in the week Bacardi dropped their bombshell, the premium tequila brand VIVIR announced the launch of their very own Café VS coffee liqueur, AKA the perfect replacement to the cult-driven OG. And this wasn't just them seizing a sour of the moment opportunity to fill a gap in the market. We spoke to  VIVIR's founder Paul Hayes about the process behind their latest launch. "We originally created our VIVIR Café VS coffee liqueur before the pandemic but held off on launching it as our core lines saw such growth that we had to put our focus and support towards them. It also took quite a while to develop the formula as we didn't want to cut any corners."
VIVIR VS Cafe is made using a mix of their Blanco Tequila, along with locally sourced coffee beans in Mexico, all sweetened with Piloncillo, a sustainable natural Mexican cane sugar. "Once we had created something we were very proud of, we then thought it best to wait until the pandemic started to ease and we knew bars would be fully open again before we launched." Paul continued. "When we made this decision, we were just extremely fortunate that the leading Tequila coffee liqueur got pulled from the market that we suddenly had the perfect replacement. We have since seen unprecedented demand. In fact, our first batch sold out in less than 8 minutes online and through our wholesalers."
It's all starting to point towards a turning point in coffee-based mixology. "I guess having an opportunity to use such good quality products makes their creations even much easier," agrees Martin, and evidence of it can be found on the menus of some of the best cocktail bars in London, including Homeboy, where the team have created a "Flipped Flat White" to create textures and flavours of the popular coffee choice using 40ml Grey Goose Vanilla, 20ml Coconut Barcadi, 20ml Coconut Sugar Syrup 3 drops of their own innovatively created Irish Coffee Bitters and a Lotus Biscuit for garnish.
New Approaches To The World's Oldest Alcoholic Drink
Back in 2017, mead, a fermented honey-wine that sits between the 3.5% to 18% ABV mark, was the fastest-growing adult beverage in the US, with its popularity growing faster than any other class of drink, including wine, beer and spirits. In the UK, sales of mead increased by an average of 10% annually from 2015 to 2018, according to English Heritage, and between April 2017 and March 2018 the charity sold 29,750 bottles, all made by the Lyme Bay Winery in Devon, AKA one of the UK's leading producers of award-winning meads. Why?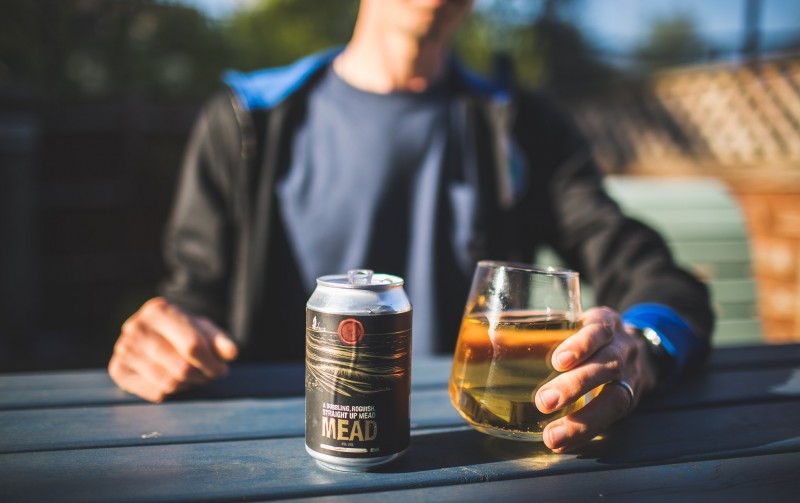 Well, Game of Thrones has a lot to answer for. And we're not just talking about explaining themselves for that last series.
Lanarkshire mead producer Beehive Brae reported a 42% increase in sales while the fantasy series was in its 5th season of broadcast. "Game of Thrones and similar fantasy dramas such as Vikings and Outlander helped to introduce mead to a new hipster audience of trendy twenty and thirty-somethings."
Now it seems that the honey-wine's popularity is back again, this time thanks to "the shift of consumers from high and concentrated alcohol consumption to low and flavoured alcoholic beverages" according to Fortune Business Insights report on the emerging mead market, which is subsequently "expected to increase the demand of mead during the forecast 2019-26."
We spoke to Tom Gosnell, founder of Gosnells, the colourful Peckham-based mead brand, to get the low-down on why they decided to make a modern version of the world's oldest drink.
"Luckily mead is a known word, so we are not trying establish a new category. That was important in trying to enter that world.  And it sells so well in America, where I first experienced it, and quite often where America leads in drinks, we follow. That gave us confidence, and we are now besotted about reinventing it."
"Mead is the world's oldest alcoholic drink, but it had become lost in its own past, with emotional ties to Game of Thrones, Wolf Hall and Castle 'Gifte Shoppes'.  It was also very high in alcohol, very sweet and rather wintry. Gosnells decided to move away from high alcohols, brown bottles and traditional packaging and design. Instead we moved most of our production into brightly coloured modern cans, which celebrate bees and have better ecological credentials – cans are light, easy to recycle etc."
So why is 2022 going to be mead's year?
"The reason that it is suddenly more relevant than ever is due to its totally modernised natural flavours – and its close link to nature and the environment. During lockdown most people have been interacting with wildlife and bees, sometimes for the first time, and this wildlife plays a crucial part in the ecosystem and the pollination of all the crops that we eat..." Tom tells us. "Mead can encompass all of this. By talking more and more about the need to help native pollinators, and bumblebees and moths and beetles as well as honey bees - mead can help to spread the message."