Your wet-nosed pal is always there to show you some love, and now it's time to take your canine out for a cocktail to say thanks. These are the best bars in the capital for when you're out with your real best friend.
Milroys is London's oldest whisky shop, and we've been buying our booze from here since forever. They've got hundreds of bottles of the good stuff, it's almost impossible to choose which one you wanna take home with ya. We like to drop by for a dram at their seated Soho bar on the ground floor and enjoy one of their epic tasting flights to see what we're digging right now - and the best bit about it is your pup is just as welcome as you. 
3 Greek Street, London W1D 4NX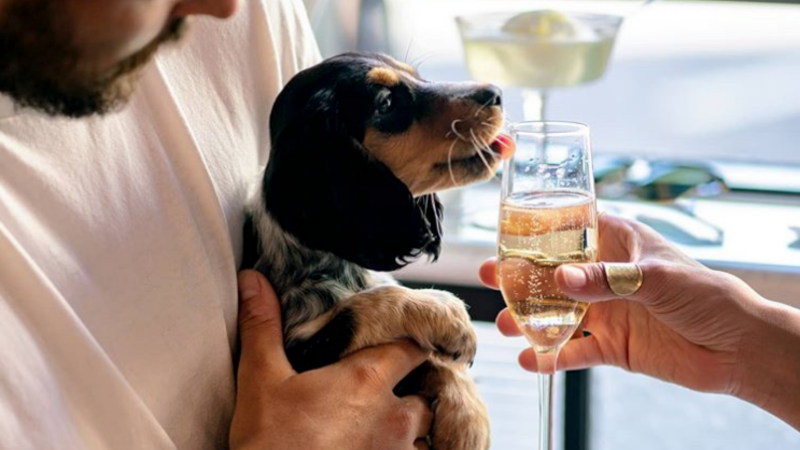 If your hound has an appreciation for award-winning bars (of course they do), they're gonna love the second outpost of "London's best bar", found just off the Old Street roundabout. With all the chilled, bright upstairs vibes of the Soho original, rock up to Swift Shoreditch for a few Spritzes with your crew, and don't forget to bring your favourite boozehound along for the ride.
93 Great Eastern St, London, EC2A 3HZ
The modern Irish hospitality this neighbourhood bar is famed for isn't just for humans. The lads here are happy to keep both you and your pooch fed and hydrated, with a bowl of water and plenty of treats for your furry side-kick to chow down on while you kick back with a few pints of "the best Guinness in London" and a big bowl of their epic curry sauce chips. Warning: your dog won't be the only one licking the bowl.
108 Essex Rd, Islington, London N1 8LX
Every rascal and his dog in Bromley has a new place to hang their hat and lead now that this lively and beautifully restored pub has opened its doors on Bromley High Street. With some epic beers on draft for two-legged boozehounds, and non-alcoholic dog beer "Bottom Sniffer", packed with vitamins and minerals for those with four, The Artful Duke has it nailed it. Your furry mate can even chow down on oven-baked bone biscuit bites throughout the week, or a slow-cooked pork roast with gravy on Sundays while you have your own human version. They'll also get a complimentary bed for that post-meal nap (seriously). 
196-198 High Street, Bromley BR1 1HE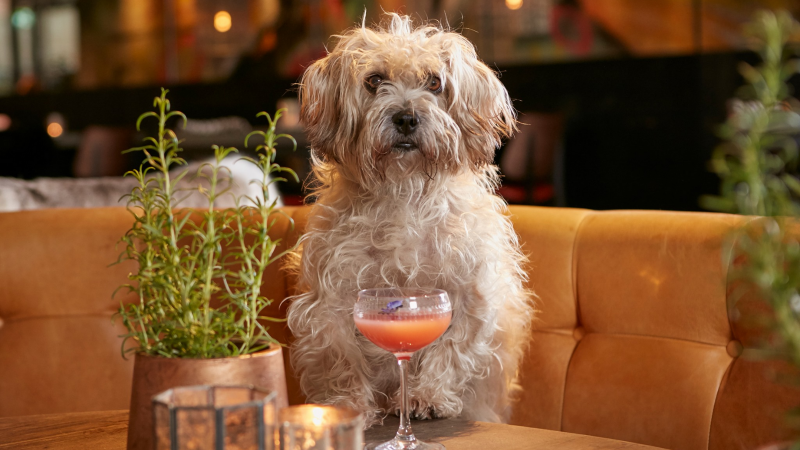 If you take your canine into the office with you (whenever you can actually work from the office), you don't wanna both be stuck with an al desko meal deal when lunch time rolls around. After they've conducted some business of their own, you can take your doggo into this garden-inspired bar and restaurant at Monument junction for a few drinks that'll have tails wagging all round, including a glass of paw-secco for your pal.
And PS: ALL the Drake & Morgan venues are dog friendly - they even have special crockery for their puppy-eyed visitors. Bonus.
41 Gracechurch Street, London, EC3V 0BT 
Let's be honest, if a bar with "dog" in the title denied our furry drinking-buddies a seat at the bar, we'd have been pretty devvo. But it's all good, cos all the bars in the BrewDog litter will welcome your pooch with open paws, and then some. They'll even throw your dog's "birthday pawty", if that's your vibe, complete with dog-safe pupcakes for all four-legged attendees. If there's one kinda party we can't resist, it's a puppy party. 
Various locations across London
Not only does this Piccadilly bar allow you to bring your wet-nosed best pal in to join you while you imbibe, but there's also a whole menu waiting just for them. It's actually London's first permanent drinks list created entirely for canine consumption. Treat your pup to a range of "Dogtails", including Bubbly Bow Wow or a Poochie Colada. Bow WOW, indeed!
Piccadilly, Mayfair, London W1J 7BX, London, W1J 7BX

Insta pic: @frank.choccyhorror
After a long walkies across Peckham Rye, we defy anyone not to have worked up a thirst. Good news is that round the corner you'll find this awesome bar serving up epic cocktails and natural wine that'll see it quenched while you listen to vinyl records and enjoy the good vibes - and your furry friend is as welcome as you are. 
42 Peckham Rye, London, SE15 4JR
If you consider your pup to be one of the crew (who doesn't?) take 'em along to Notting Hill for an afternoon with the flatmates of The Little Yellow Door. When he's finished browsing/cocking his leg on the Portobello market stalls around the corner, bring him in here for a snooze by the fireplace while you and your crew crack on with the cocktails. Woof! 
6-8 All Saints Rd, Notting Hill, London W11 1HH
If your dog's had enough of strolling along the river, this pub is the ultimate pit stop. It's located right on the river so you can watch the rowers scull on by as you tuck into a pint. Cosy and charming with a roaring log fire and comfy sofas, there's papers and board games to keep you occupied, and even chess for the more intelligent breeds.
The Terrace, Riverside, Barnes, London, SW13 ONR
We love it when a venue caters to all dietary requirements, but we love it even more when they cater to our canine companions. Take your pooch with you for afternoon tea at The Egerton House Hotel and instead of your eager hound snatching your sarnies off the table, they'll have their own Doggy Afternoon Tea menu to indulge in, incuding chicken and beef meatloaf and doggy ice cream. Sounds delish, but think we'll stick to the homemade cakes and Champagne...
17-19 Egerton Terrace, London, SW3 2BX
When nothin' but a steak and a cocktail will do, grab your furry friend and hotfoot it to an outpost of this bangin' Argentine restaurant group. All locations are dog-friendly, but head to Gaucho Hampstead on the first Sunday of every month for Doggy Sundays and you'll both be in for a gourmet experience, with multi-course menus for you and your pup.
Various locations across London
Updated 27/01/2023