There are nights for just one drink and then there are nights for rounds, shots, pulling and dancing (on the tables).
These bars are for just that. Wicked for Birthdays, when you wanna go big or those wildcard nights, these are the bars know how to get the party started. 
CENTRAL
Sometimes called Dick's Bar (after the legendary Dick Bradsell), sometimes out of control and always nestled between 2 sex shops, Pink Chihuahua is pretty much an institution. If you're not already a part of The Pink Chihuahua Club, get on it. You're gonna be dancing on tables till 3am. The playlist's always crossing genres (think disco, 90s RnB bangers & classic party tunes), but it's always epic and it's bound to make anyone wanna dance and drink loads. Go for their namesake cocktail and keep the tequila and mescal shots rolling. This place guarantees naughtiness and a sh*t load of fun.
25-27 Brewer Street, London W1F 0RR      
Below & Hidden at Bourne & Hollingsworth Buildings
We have a soft spot for small, intimate basements and the history of nightlife is filled with legendary places no bigger than a living room. This place is killer; designed to feel like the dark, cool and moody alter ego to its light and airy sister venue upstairs. Below & Hidden offers a secret drinking and dancing den in Clerkenwell for discerning night owls. When the DJ hits his stride, Below & Hidden feels like the coolest party you've ever been invited to. As the night unfolds, the luxurious tapestry-covered walls reveal floor to ceiling LED light panels, illuminating the beat. It is a place for when you don't feel like winding down the night just yet. Elegant misbehaviour has a place in everyone's life we think.
42 Northampton Road, London EC1R 0HU
If your mates can't have a good time at LCC, you need new mates. These bars are the original party starters, the party place for people who are into their drinks and all of JJ Goodman's empire keep the drinks flowing, the beats pumping and the crowd on it.  There are a few dotted around London now (BarChick's favourite is the Shaftesbury Avenue classic) but despite varying themes / decor if you bag a table at any of these and kick things off with their famous happy hour you probably won't care what colour the walls are. Go wild.
Shaftesbury Avenue: 224a Shaftesbury Ave, London, United Kingdom WC2H 8EB
Oxford Circus: 4 Great Portland St, London W1W 8QJ
Goodge Street: 61 Goodge St, London W1T 1TL
SOUTH
There are some serious tropical colonial vibes going on at this Bermondsey party bar. The sound system has been resurrected from a past life, where until 2015 it powered London Bridge's legendary club, Cable. Now on Saturday nights, it's responsible for cranking out a killer soundtrack to accompany after-dark drinking.
8 Holyrood St, London SE1 2EL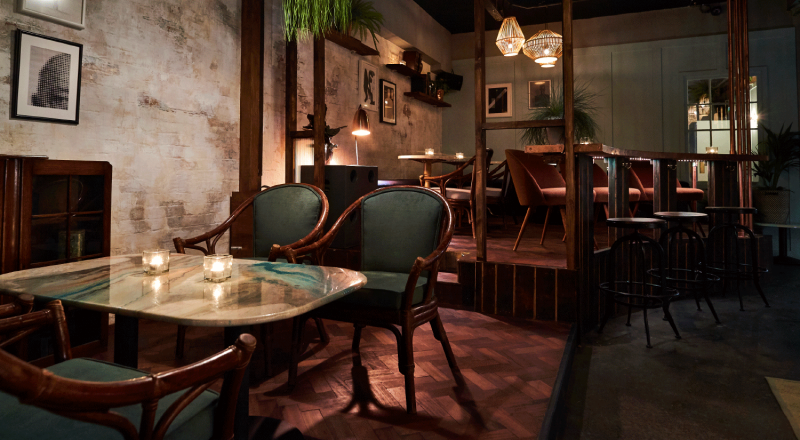 Think High Fidelity meets pizza and booze warehouse and that's where you'll be grooving in Clapham Common. If you want to kick things off with cheap drinks, come from 3pm-8pm and get involved with the happy hour; but what you're really here for is the music, it's properly dance-worthy. They've got live music and DJs who dig music from bands like Oasis, Bloc Party and Yeah Yeah Yeahs, so you've got an idea of what the vibes will be: spot on.
78 Venn St, London SW4 0BD
This one's Peckham and proud, and BarChick's all about it. We dig playing pool here, but they've got a little something more to offer than balls and sticks. It's not every night that they push the furniture aside and reveal the famed dance floor, but when they do, insanity follows. We're talking karaoke, resident DJs and Guinness. The building's kinda grotty, the bartender's are of the no-f*cks-given variety and the loos look like something out of Trainspotting, but it's no doubt one of our favourite places to hit up on a proper night out when we're in London. No frills, no fuss, brilliant underground DJs, a licensed bar till 4am. What a dream.
188 Rye Lane, Peckham, London SE15 4NF
EAST
A disco-dancing tiki hot house from the 70s awaits you and your mates itching for Red Stripes and sweaty times. The DIY look of this dive is sure to make you feel like anything goes...and it does.  Reggae and motown are in the mix so you'll find BarChick on the chequered floor beneath the glittery disco ball with something questionable and orange in a plastic cup--it always does the job.
49 Ridley Road, Dalston, London E8 2NP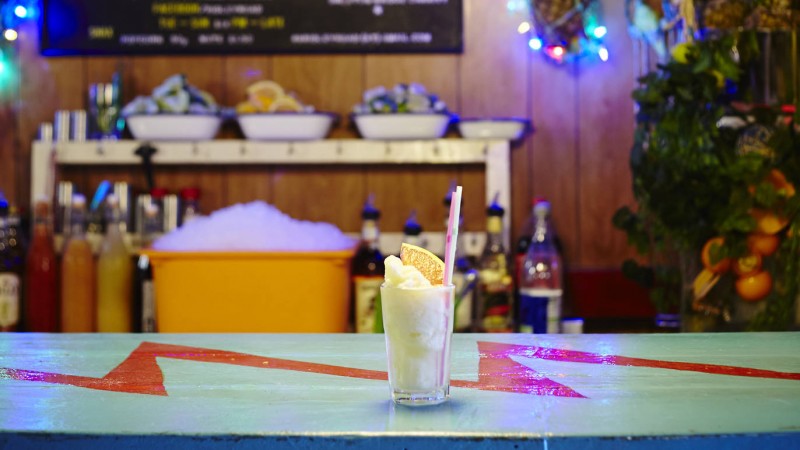 This is where you go to jive and do things like an American in what looks like a New Orleans grotto meets warehouse diner. Cajun fare, Rhythm and Blues and a massive copper bar housing an insane selection of bourbon are all on the cards. There's live music 7-days a week from soul to swing to dixieland jazz, you're sorted. You can book big areas for your most fun mates, make like a jitterbug and get involved.
134-146 Curtain Rd, London EC2A 3AR
NORTH
Simmons reputation kinda precedes it so if you're a penny pincher their happy hour drinks are gonna sort you out. Rock up for happy hour (4-9 Mon-Fri) and hang while playing Connect Four or dancing underneath a skull disco ball. Cocktails come in teacups, weird graffiti covers old school desks and DJs play classic tunes with a 70s/80s flex. Come on a Friday or Saturday and you won't be booted till 3am.  
32 Caledonian Rd, London N1 9DT  
It's colourful, it's tacky and it's mega. This isn't where you go to sip on Martinis and wax about parliamentary affairs. Leave that sh*t at the door and get on the Caipirinha train. Barrio Allstar DJs will serenade you with everything from golden era hip hop, funk and soul to Latin and tropical beats. Come for Amigo Hour (week-daily till 9pm) and you'll get high-octane cocktails for a £5. There will also be an oversized inflatable parrot chilling on the dancefloor if the rest wasn't tempting enough.
45 Essex Rd, London N1 2SF
WEST
The upstairs has had a bit of a facelift, but the downstairs is still a Notting Hill treasure and keeping with its Caribbean heritage. Start the night off at Moral Fox for a Brandy Milk Punch and some fried chicken and make your way to the basement dive for afro, reggae and hip hop beats. If you reckon you're in the mood to make bad decisions and be naughty, best to do it underground with rum and that dude with the 'rollie' in the corner.
103 Talbot Rd, Notting Hill, London W11 2AT
Paradise by Way of Kensal Green
One part Southern Gothic, one part Victorian drawing room and a dash of greenhouse is what to expect from this bar/restaurant/nightclub. It's named after a poem opposing the prohibition of alcohol but it's not one of those stock slick speakeasies. Come on a Saturday for their Paradise Sessions if you're into hip hop, house, disco and the like. Alternatively, if you fancy dancing along to live music, they've got that too and in spades. All tuckered out? Chill on one of the chesterfield sofas.
19 Kilburn Lane, Kensal Green, London W10 4AE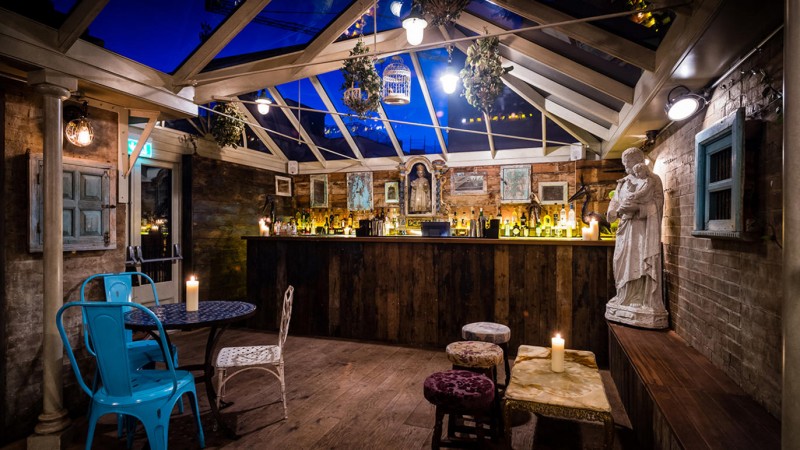 SaveSave