Sure, there are evenings where you just want one sensible drink - but this ain't one of those nights, honey. Whether you're celebrating a birthday or just in the mood for a wildcard night, these are the bars that know how to get the party started. Espresso Martini, anyone? 
CENTRAL
Imagine the rowdiest house party you've ever hit, then plop it in the middle of Soho and add some next-level cocktails to the mix - that's the energy you'll find at The Little Scarlet Door. This spot combines the cosy corners of a New York City loft with the sweaty dancefloors of a London club, and you can migrate between 'em while sipping serves out of tea cups and disco balls. And if ya wanna make your party a private affair, they've got a whole space inspired by The Factory available for hire, so you and your mates can have a Warhol-esque knees up.
12-13 Greek Street, London W1D 4DL
Sometimes called Dick's Bar (after the legendary Dick Bradsell, creator of the Espresso Martini), sometimes out of control and always nestled between two sex shops, The Pink Chihuahua is pretty much an institution. If you're not already a part of The Pink Chihuahua Club, get on it. You're gonna be dancing on tables till 3am. The playlist's always crossing genres (think disco, '90s R&B bangers and classic party tunes), but it's always epic and it's bound to make anyone wanna dance and drink loads. Go for the namesake cocktail and keep the tequila and mezcal shots rolling. This place guarantees naughtiness and a sh*t load of fun.
25-27 Brewer Street, London W1F 0RR     
We have a soft spot for small, intimate basements, and the history of nightlife is filled with legendary places no bigger than a living room. This place is killer, designed to feel like the dark, cool and moody alter ego to its light and airy sister venue upstairs. Below & Hidden offers a secret drinking and dancing den in Clerkenwell for discerning night owls. When the DJ hits their stride, Below & Hidden feels like the coolest party you've ever been invited to. As the night unfolds, the luxurious tapestry-covered walls reveal floor-to-ceiling LED light panels, illuminating the beat. It is a place for when you don't feel like winding down the night just yet. Elegant misbehaviour has a place in everyone's life, we think.
42 Northampton Road, London EC1R 0HU
If your mates can't have a good time at The Cocktail Club (formerly known as London Cocktail Club), you need new mates. These bars are the original party starters, the place for people who are into their drinks. All the bars in JJ Goodman's empire keep the drinks flowing, the beats pumping and the crowd on it. There are a few dotted around London now (our favourite is still the Shaftesbury Avenue classic), but despite each location's varying themes and decor, if you bag a table at any of the venues and kick things off with their famous happy hour you probably won't care what colour the walls are. Go wild.
Shaftesbury Avenue: 224a Shaftesbury Ave, London, United Kingdom WC2H 8EB / Oxford Circus: 4 Great Portland St, London W1W 8QJ / Goodge Street: 61 Goodge St, London W1T 1TL
Get ready to go Latin American, baby. Head downstairs in this boujee Peruvian party den, beeline towards the beat and into the dimly lit room with its bright turquoise walls, long marble tables and grand gold details. This is where the party vibe of Latin America is well and truly alive and kicking. It's the place to come if you're after a mega-dose of luxurious, glamorous hedonism. Wanna go all out? The Coya Party Brunch is the wildest in town - we're talking three and a half hours of unlimited booze that includes Pisco Sours, Bloody Marys, Margaritas and Champagne; a goddamn ceviche buffet; and a help-yourself dessert table.
118 Piccadilly, London W1J 7NW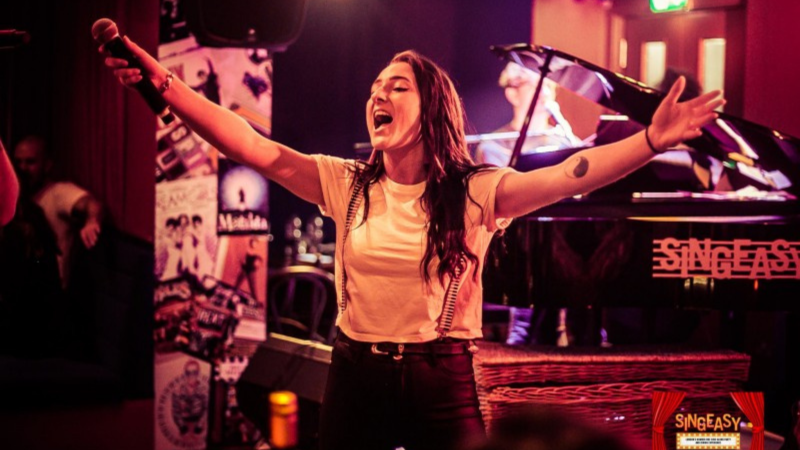 Karaoke is fun, but when it comes to belting out the high notes of "I Wanna Dance With Somebody", we prefer to leave it to the professionals (most of the time). We love Piano Works at the best of times, but when we discovered this venue within a venue that comes complete with a baby grand piano, singing waiters and an endless repertoire of hits you can request all night long, it was like winning the night-out party lottery. And if you wanna sing along, well, that's encouraged. Your mates will just be spared the addition of a microphone.
47 Whitcomb St, London WC2H 7DH
SOUTH
There are some serious tropical vibes going on at this Bermondsey party bar. The sound system has been resurrected from a past life, where until 2015 it powered London Bridge's legendary club, Cable. Now, on Saturday nights, it's responsible for cranking out a killer soundtrack to accompany after-dark drinking.
8 Holyrood St, London SE1 2EL
Think High Fidelity meets pizza-and-booze warehouse - that's where you'll be grooving in Clapham Common. If you want to kick things off with cheap drinks, come from 3pm-8pm and get involved with the happy hour. What you're really here for is the music, though; it's properly dance-worthy. They've got live tunes and DJs who dig music from bands like Oasis, Bloc Party and Yeah Yeah Yeahs, so you've got an idea of what the vibes will be: spot on.
78 Venn St, London SW4 0BD
Who doesn't wanna play like T-Pain on a boat? Admittedly, the vessel we're referring to is a Dutch barge as opposed to a super yacht, and you'll be moored between Lambeth and Vauxhall Bridge, not Miami. But whatevs, the Tamesis Dock Boat is a floating pub y'all, this is how we do it this side of the pond. Oh, and if you wanna really get the party started, you can hire it for up to 150 people. Party hats and sea legs are a must.
181 Upper St, London N1 1RQ
EAST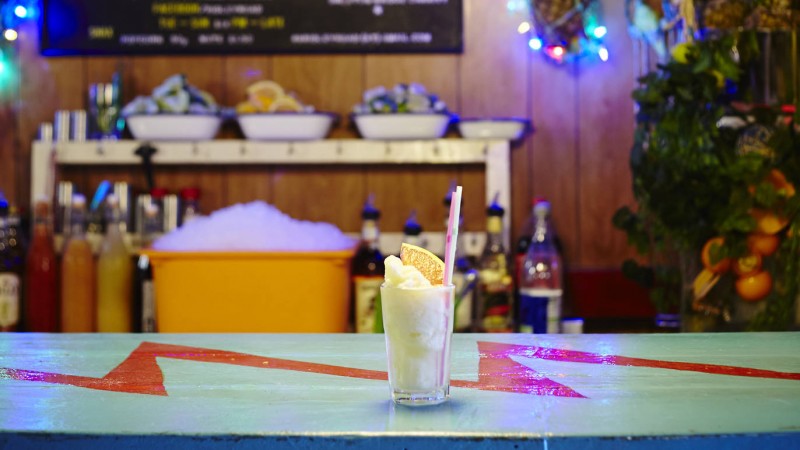 A disco-dancing Tiki hot house from the '70s awaits you and your mates itching for Red Stripes and sweaty times. The DIY look of this dive is sure to make you feel like anything goes - and it does. Reggae and Motown are in the mix, so you'll find us on the chequered floor beneath the glittery disco ball with something questionable and orange in a plastic cup. It always does the job.
49 Ridley Road, Dalston, London E8 2NP

This is where you go to jive and do things like an American in what looks like a New Orleans grotto meets warehouse diner. Cajun fare, R&B and a massive copper bar housing an insane selection of bourbons are all on the cards. There's live music seven days a week, from soul to swing to Dixieland jazz, and you can book big areas for your most party-ready mates. Make like a jitterbug and get involved.
134-146 Curtain Rd, London EC2A 3AR
This notorious party spot sort of started the trend for finding a rooftop in East London and turning into one helluva boozy bash. BarChick has been known to spend nights chilling in a hot tub on this abandoned college and council office rooftop (inflatable, but whatevs). Needless to say, the team here know how to do it right. Oh, and it has a total capacity of 700, so you can invite everyone in your DMs.
1 Westgate St, Hackney, London E8 3RL
NORTH
Palm prints, carved wooden tables, steel drum serenades and cocktails in coconuts - this is the party bar for those looking for a party that's gonna get wild. If you're planning a big one you can take over the whole venue: choose from one of the themed tropical areas in the main bar, or commandeer the private Spiced Dry Rum Club upstairs, complete with your own sh*t-hot bartender and a rum masterclass.
144-145 Upper St, Islington, London N1 1QY
Simmons reputation kinda precedes it. If you're a penny pincher, the bar's happy hour drinks are gonna sort you out. Rock up from 4-9pm Monday through Friday and hang while playing Connect Four or dancing underneath a skull disco ball. Cocktails come in teacups, weird graffiti covers old school desks, and DJs play classic tunes with a '70s and '80s flex. Come on a Friday or Saturday, and you won't be booted 'til 3am.  
32 Caledonian Rd, London N1 9DT  
It's colourful, it's tacky and it's mega. This isn't where you go to sip on Martinis and wax poetic about parliamentary affairs. Leave that sh*t at the door, and get on the Caipirinha train. Barrio's DJs will serenade you with everything from golden-era hip hop, funk and soul to Latin and tropical beats. Come for Amigo Hour on weekdays from 4-7pm, and you'll get high-octane cocktails for £6. There will also be an oversized inflatable parrot chilling on the dancefloor, if the rest wasn't tempting enough.
45 Essex Rd, London N1 2SF
WEST
The upstairs has had a bit of a facelift, but the downstairs is still a Notting Hill treasure and keeping with its Caribbean heritage. Start the night off at Moral Fox for a Brandy Milk Punch and some fried chicken, then make your way to the basement dive for reggae and hip hop beats. If you reckon you're in the mood to make bad decisions, best to do it underground with rum and that dude with the "rollie" in the corner.
103 Talbot Rd, Notting Hill, London W11 2AT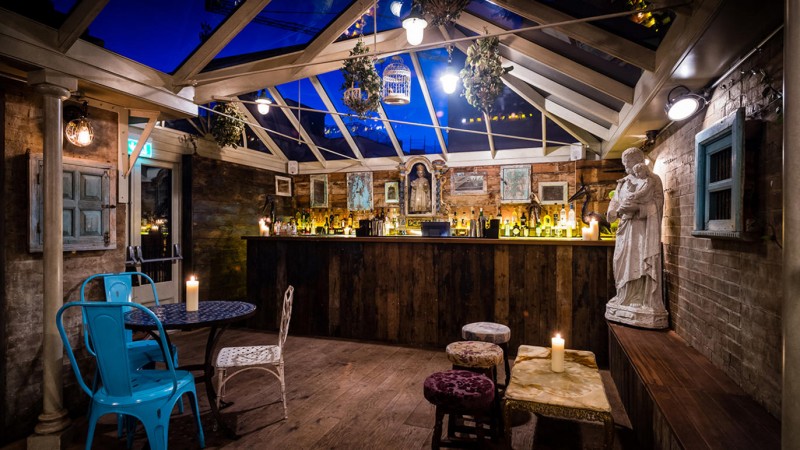 One part Southern Gothic, one part Victorian drawing room and a dash of greenhouse: that's what to expect from this bar, restaurant and nightclub. It's named after a poem opposing the prohibition of alcohol, but it's not one of those stock slick speakeasies. Come on a Saturday for their Paradise Sessions if you're into hip hop, house, disco and the like. Alternatively, if you fancy dancing along to live music, they've got that too. All tuckered out? Chill on one of the chesterfield sofas.
19 Kilburn Lane, Kensal Green, London W10 4AE  
SaveSave