Who doesn't love a good happy hour? When Payday seems like lightyears away but you're craving the good times with your crew, a decent Happy Hour can be a bloody lifesaver.  BarChick has been all over town finding you the ones where you'll be happy to stay once the prices go back up. And no, there's nothing wrong with doubling up every time you hit the bar – it is happy hour, afterall.
CENTRAL LONDON
Their naval themed place on Shaftesbury Avenue has wicked drinks and a sexy, low-lit tattooed look with swallows and pin-up girls on the walls, while their Goodge Street spot has more drinks and delicious bar snacks. The Oxford Circus one is absolutely huge, so a good one for a large gang and if you're looking for somewhere to let loose in The City, the Monument outpost is where you need to head.
Happy Hour: 2-4-£12 on ALL LCC Cocktails. Everyday. Every LCC. Until 7pm. PLUS every night of the week see's a different cocktail offered at 241 all night long.
Various locations across London. Pick your fave.
It's one of the best bars in the world, but even Bar Swift ain't gonna rob ya of the chance to get a few of their infamous aperitivos down you for a little less cash. Their colourful collection of spritzes are just what you need to get your evening started, so if you're heading for a swift one (that turns into four) after work, you know where to go.
Happy Hour: Until 7pm every day, All aperitivos £6 each.
12 Old Compton St, London W1D 4TQ

The Londoner is the new swanky Central London hotel found in Leicester Square that happens to be rocking a cosy pub with rustic tavern vibes on the ground floor. This laid-back neighborhood drinking spot specialises in terroir led gin and tonics. and during their Inkeepers Hour, those speciality G&Ts are coming at ya with a purse-friendly price. And they're not gonna let you go hungry either, cos this happy hour includes snacks, baby.
Happy Hour:  The Inkeepers Hour offers any pint of beer of house gin and tonic, with a bowl of Joshua's Tavern's infamous prosciutto, pecorino & truffle popcorn, for £5, 4pm-6 pm Tuesday-Friday.
Joshua's Tavern, 38 Leicester Square, WC2H 7DX
Cheap drinks with a side of live music? Sign us up. This West End live-music party bar brings ALL the tunes and one helluva Happy Hour that includes champagne, cocktails and beers: the perfect fuel for dancing the night away to your fave tunes.
Happy Hour: Moet & Chandon NV Glass £6.50 Bottle £36.00, Selected Cocktails for £6.50 Thursday - Friday 5pm - 7pm, Saturdays from 11am - 1pm. All details in here.
47 Whitcomb St, West End, London WC2H 7DH
Feeling in the need to get your groove on, Latin American style? We've all been there. The Lost Alpaca is the basement bar below the Lima Floral restaurant in the heart of Theatreland, and if Pisco Sours are your jam, get there after work and you'll get 'em 2-4-1.
Happy Hour: 2-4-1 on selected cocktails. Tuesday-Friday 5PM - 7PM 
14 Garrick St, Covent Garden, London WC2E 9BJ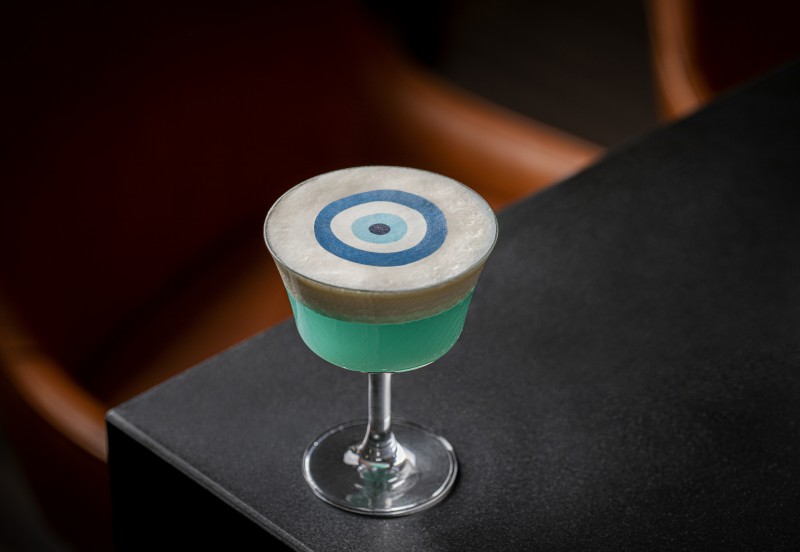 Hitting a restaurant for Happy Hour? You're probably just as invested in the snacks as you are the drinks, so this Happy Hour deal is for you. RÜYA in the heart of Mayfair is the King of the Anatolian snacks, and when you hit them up for Aperitivo Hour you get complimentary snacks when you order one of their epic signature cocktails, like the Nazar Sour made with Cardamom Infused Belvedere Vodka, Rose, Pear, Blue Curaçao and Champagne Foam, or the Turkish Raki. 
Happy Hour: Complimentary snacks between 5-6pm every day when ordering a signature cocktail
30 Upper Grosvenor St, London W1K 7PH
NORTH LONDON
If you're a penny pincher, Simmons' Happy Hour £2.50 drinks are gonna sort. you. out. There's also bottles of wine for £12, 2 cocktails for a tenner, or you can grab a few of their cocktail teapots for £15 while you play a few rounds of something old school on the SEGA megadrive.
Happy Hour: 2 of the same cocktails for £10, from 4pm—9pm (3pm-8pm in Soho Tottenham Court Road, Oxford Street & Piccadilly Circus) and from Sunday-Friday, beers & spirit/mixers for £2.50 and bottles of prosecco for £18.  All deal details here.
15 venues and counting across London including Angel, Euston Square, Kings Cross, Camden, Soho, Fitzrovia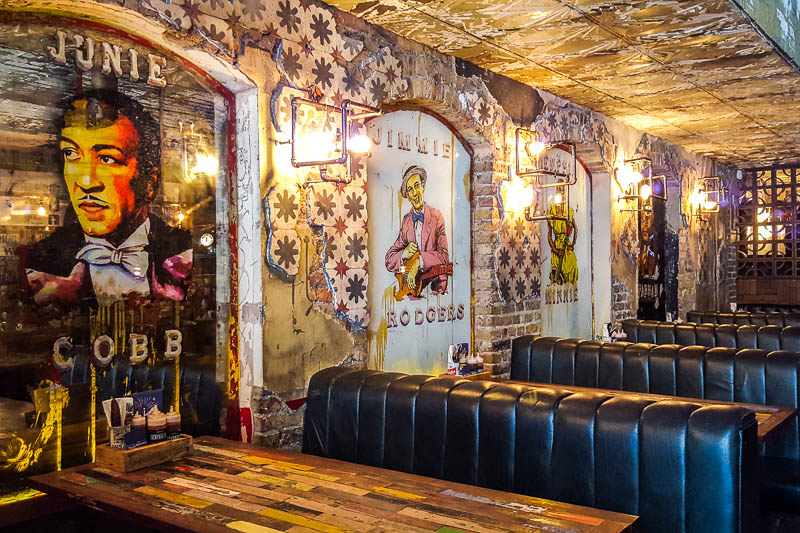 This joint rocks the largest Bourbon collection in London, so if the blues and jazz scene of NOLA is your vibe, rock up here on a Wednesday where there's live jazz and an all-night-long Happy Hour of £5 cocktails. The "world famous" house band will also play the blues, soul & grooves while you're sipping. Get ready to belt out some Aretha at the top of your lungs. The table next to ya will love it.
Happy Hour: £5 cocktails all night long from 5pm on Wednesdays
111-113 Camden High St, Camden, London, NW1 7JN
EAST LONDON
The Shoreditch post of the Barrio train is nothing that the cool east end kids can't handle, but it sure is some kinda psychedelic Latino playground. This place is all pineapples, foliage and quirky bits. They have an Amigo Hour happy hour that's cocktails for £6 every day from midday – 5pm. Got that mid-afternoon office slump? This is your cure right here.
Happy Hour: 2-4-1 cocktails Sunday-Thursday til 9pm, and Fridays til 7pm. Plus a week-daily 2-4-1 Barrio Classico available all night. More details here.
141-143 Shoreditch High Street, London, E1 6JE  
SOUTH LONDON
Chilling in the edgy-meets-yummy mummy triangle of Dulwich, Herne Hill and Brixton? Park's Edge Bar & Kitchen can be found at this neighbourhood crossroads and it's a real hidden gem of a bar with some chilled after-work vibes, made all the better for their "Cocktail Club" happy hour. During this purse-friendly witching hour, a selection of their artisan cocktails are only £7 a pop, and even their wine of the month benefits for a sexy price slash.
Happy Hour: £7 selected cocktails Wednesdays and Thursdays from 6pm to 7.30pm
Park's Edge Bar & Kitchen 49-51 Norwood Road, Herne Hill, London SE24 9AA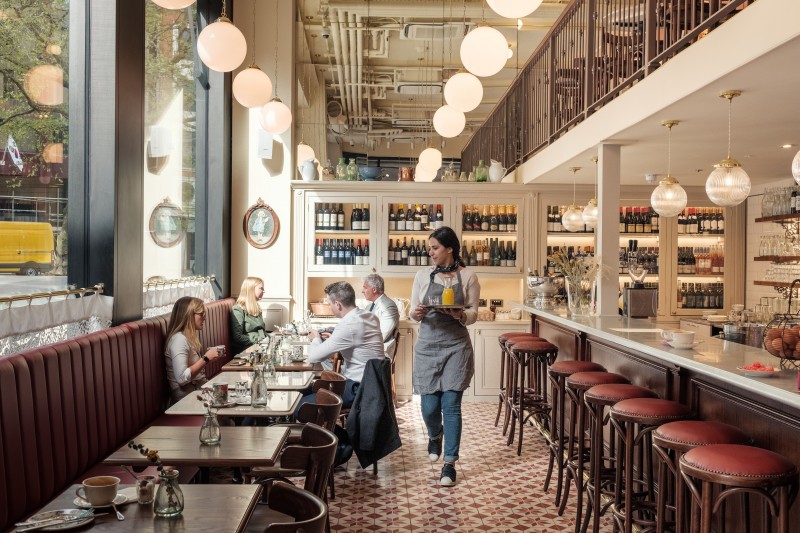 This sassy little French-inspired bistro is bringing the boujie to your happy hour in Victoria. Keeping it chic (AKA the only way the French know how), the two-hour window will offer up serves such as their French Negroni and St Germain Spritz, along with classic Cosmos and Margaritas made using the best spirits and liqueurs, at a price a bit more reminiscent of the pre-Brexit days. Tres bon, bebé.
Happy Hour: A selection of its cocktails from just £7 and mocktails at £5 between 4.30pm-6.30pm Monday to Friday. 64 Buckingham Gate, 22 Palmer St, London SW1H 0PH
Two things BarChick loves: puns and tequila. But it's not just about the agave spirit at these South London bars. They know how to shake up pretty much any cocktail using all our fave spirits, and their daily happy hour means you can get 2-4-1 on all of 'em from 5-8pm daily. We'll never say no to two of the Mockingbird Punches.
Happy Hour: Happy hours run daily from 5pm-8pm at all TM venues, offering buy one get one free cocktails.
Various locations: Tooting, Brixton, Clapham Junction, Earlsfield, Shoreditch, Wimbledon & Putney 
The ultimate party bar that looks like Saved By The Bell's Zach's kinda hangout. Think table football, basketball hoops and 80s music bangers. There are also some serious cocktails made by bartenders who are anything but. And during Happy Hour get them for just £5 and two BEERS FOR A FIVER. Loving life.
Happy Hour: Tuesday to Saturday from opening until 7pm: Two Cocktails £10 or Two Bottles Becks Beer £5
109-111 Long Lane, London, SE1 4PH
Happy Hours are overrated. Our fave tropical bar takes discounts to another level with Happy Days, which sees a selection of our favourite cocktails being served at discounted prices til 7pm. Take a mate and act like it's Friday! Or go on a Friday and go absolutely f*cking' wild. Go for their Jamrock Punch for starters – it's a blend of rums and plenty of tropical juice, you'll think you're in the Caribbean rather than South London.
Happy Hour: Selected cocktails £5.95 daily til 7pm (£8 each after)
Coldharbour Lane, Brixton, SW9 (you'll also find them in Shoreditch and Soho)
WEST LONDON
Head down a neon-lit staircase into this sexy subterranean speakeasy den with a meat-heavy menu and inventive cocktails, plus live music in their lounge every month. They've got delicious sloppy burgers and £5 dirty cocktails & beer specials.
Happy Hour: Select £5 signature cocktails: Kensington: Mon-Thurs from 5-7pm, Carnaby: Mon-Fri, 3-6pm, Soho: Mon-Thurs from 3-6pm, Shoreditch: Mon-Fri, 3-6pm
20 Kensington Church St, Kensington, W8 4EP
The live music, frozen cocktail, Yankee rib shack formula has been working a treat for almost 30 years, which is why this Kings Road BBQ joint is basically never empty. There's an offer on every night, from all you can eat shrimp, or buckets of Brooklyn beers to 2 for 1 cocktails. 
Happy Hour: Sunday to Friday: Early Evening 4pm - 7pm: Bottled & tap beer from £3.50, glass of wine or presecco for £4, Slushy cocktails £4 per glass or £11 pint and selected cocktails £6 each. All specifics can be found here.
332-334 King's Rd, Chelsea, London SW3 5UR 
Lovin' this? You'll go wild for: