Rooftop raving is the dizziest way to soak up the heady heights of London's skyline, so head to these terraces when the sun's shining and make the most of it, babe. 
EAST LONDON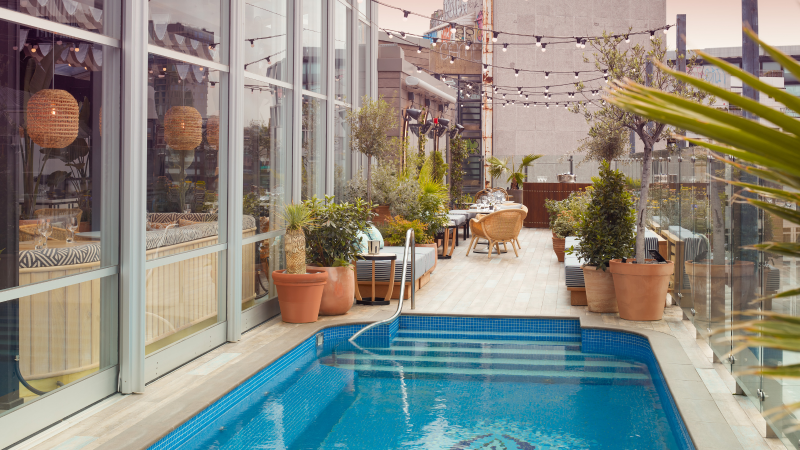 If you're California dreamin', the rooftop bar at the Mondrian Shoreditch hotel is the place to go for Golden State vibes in London - its design was inspired by 1970s pool parties in the Hollywood Hills, and it's got retro cocktails and food to match. Oh, and did we mention there's a pool? (Swimming's for members only, but the sparkly water adds to the atmosphere). 
45 Curtain Rd, London EC2A 3PT
 

 

 

View this post on Instagram
This killer rooftop is one of east London's greats with its all-out themes, but it's been on hiatus for the past two years thanks to you-know-what. Now it's back in all its glory for 2022, and it's got a brand spankin' new theme to kick things off: Cherry Blossom Garden. You'll find the terrace decked out with loads of the namesake flower and vibrant paper lanterns, with a menu to match. The cocktails range from fruity Sours to classic Spritzes and Champagne slushies (don't mind if we do), and there's loads of beers and wines if that's more your style. Worked up an appetite from all that cherry blossom Instagramming? Queenie's also got Asian-inspired dishes like gochujang burgers and tempura prawns for when you're feeling peckish.
1-5 Curtain Road, London, EC2A 3JX
The one that's got it all: Sushisamba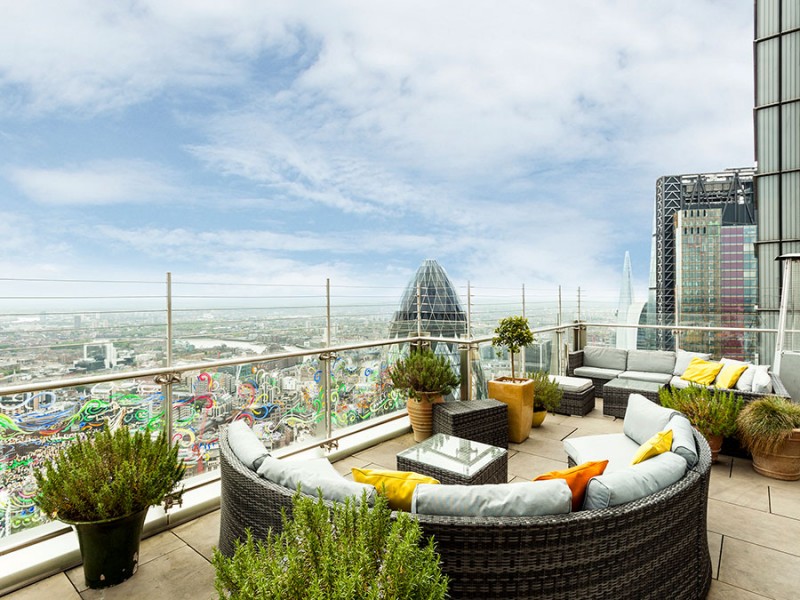 A high-glamour affair smack bang in the centre of the business district. You'd be silly to expect anything other than chinos, spray tans and Ralph - no judgement from us, any friend of the bartenders at Sushisamba are a friend of ours. Situated on the 39th floor an uplit tree marks the spot. Eat sushi, schmooze and try not to puke in the lift on the way down. This rooftop is open all year round, but it's killer in the summer. 
Heron Tower, 110 Bishopsgate, London, EC2N 4AY 
Credit cards at the ready: Coq D'Argent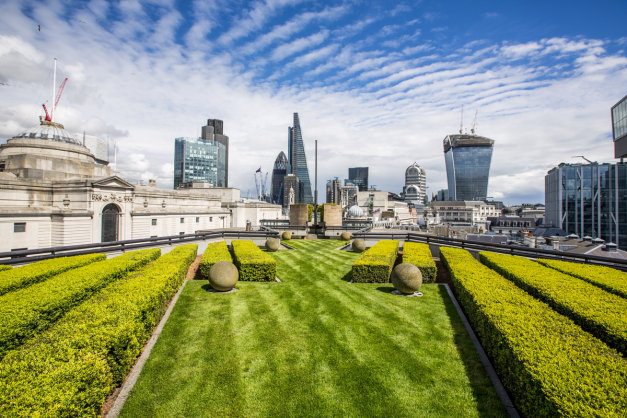 This is the perfect place to drag out a lunch meeting. Expect awesome views and be warned, it's easy to do some damage to your credit card and your liver here. Get into the spirit of it and drink their Champagne Cocktail, a fancy ass blend of Hennessey VS, Sugar, Bitters and Blanquette de Limoux. If you go midweek you'll be mingling with cigar drinking business people on Dom P - but everyone's in a good mood on a roof terrace, so just enjoy.
16 Kirby Street, London, EC1N 8TS  
Pack your trunks and kiss a member to get in. This converted east London warehouse is the ultimate daytime party place, but if you're not a member you'll need to play it cool (if in doubt, wear your sunglasses and keep them on). We drink the Dillionaire, because we like saying it, and like to eat at the outdoor BBQ. See you by the heated pool.
Ebor Street, London, E1 6AY 
Start drinking at breakfast: The Boundary
Now this place is really, really cool. Bag yourself a sofa beneath the fairy lights and take in the ridiculous 360-degree views of London. Eat if you wanna, or just get hammered on Martinis. The only, and we mean only, thing wrong with this place is that it shuts early (11pm) but the roof terrace is open year round so it only serves as an excuse to start drinking at breakfast - that's when you'll find BarChick here. Spend the day getting your tan on and saunter off to another bar in Shoreditch come nightfall.
Redchurch Street 2-4 Boundary Street, Shoreditch, London, E2 7DD  
There's always something going on at Dalston Roofpark, whether it's a party, free film night or a pop-up restaurant. They currently have a sweet line-up of regular events, including DJs and dancing, a disco brunch and a Sunday social club, and you can book a table on the terrace to dive into some burgers, beers and cocktails while taking in the east London views.
Print House, 8 Ashwin St, E8 3DL
This roof knows how to throw a party: Netil 360
This rooftop is all about banging events and parties, so fill up your diary in advance and remember to buy a ticket first. It's open from 10am, too, and in true east London style, the building also has 'office and social space', which translates to us as an opportunity to work our way through a pile of magazines, spritzer in hand.
Netil House, London, E8 3RL 
Hidden away in Moorgate's South Place Hotel is the city's secret sun trap. Order a No.69 cocktail - tequila, lime, agave and avocado, served straight up - then grab some terrace food bar snacks like the devilled whitebait and calamari. It's attached to the Michelin star Angler restaurant but no worries, everyone's welcome here.
3 South Place, London EC2M 2AF  
Smack bang in Shoreditch: Golden Bee
You can't argue with a rooftop in the middle of Shoreditch that has a fire pit. Plus, this one's open year-round, so if you're looking to enjoy some crisp winter air with a drink in hand, Golden Bee is the place to be.
Singer St, Old Street, London EC1V 9DD
After-work al fresco drinks nailed: Chiringuito 
This place opened in Bethnal Green during the long, hot summer of 2018, and it's got another steamin' season of super-chill Spanish-inspired weekend brunches on the terrace and sunset cocktails on the rooftop lined up. For cocktails and dinner under the stars with your bevvy, these guys have nailed the al fresco summer scene.
Museum Gardens, Cambridge Heath Rd, Bethnal Green, London E2 9PA
 
If you're looking for a spot to get that next killer profile pic, this rooftop gives you the perfect backdrop. And the cocktails aren't bad either. Keep your fingers crossed for another scorcher of a summer cos this place rocks out with a killer music system and a steamin' BBQ menu when the sun is shining. 
Courthouse Hotel Shoreditch, 335-337 Old St, London EC1V 9LL
CENTRAL LONDON
Killer cocktails and two terraces: Aqua 
Ok, so the entrance to the Aqua building is shiny, but if Picklebacks taught us anything it's that we should never judge a book by its cover. Keep your eye on the prize and catch the lift straight up to the fifth floor. If you're looking for seats head through to doors and turn left past the black bull statue. Order a cocktail and chill in the heaven above the hectic buzz of Regent Street.
5th Floor, 240 Regent Street, London, Entrance on 30 Argyll Street, London, W1B 3BR
Even if your meditation practice started and ended with the free trial of the Calm app, you can find your zen at the stripped-back, super-elegant lounge and garden on the eighth floor of The Londoner hotel. With a Japanese izakaya-inspired menu, bangin' cocktails and insane views across Westminster, you'll find your inner peace in no time.
38 Leicester Square, London WC2H 7DX
This terrace is open all year round (British weather permitting) which makes it perfect for a date, because everyone knows two tipsy people plus a blanket equals a good time. Order a bunch of cocktails from the rooftop bar, watch tourists fail to climb on the lions (actually hilarious) and remember, this place is a suntrap so wear as little as possible on sunny days. Best of all? It's rarely as busy as it should be.
2 Spring Gardens, Trafalgar Square, London, SW1A 2TS
For glam vibes and 180-degree views: Radio 
Make sure you wear something sparkly here - not only will you fit in with the glam crowd, but it'll distract from the uncontrollable "OMFG!" reaction you'll involuntarily experience when you see the 180-degree view. From sunrise to sunset, you and your crew can enjoy the changing views of capital stretching from the Shard and St Paul's downstream, to the London Eye and Big Ben in the west. Epic!
336-337 Strand, London, WC2R 0EZ  
It isn't exactly blessed with space, but The Terrace Bar & Grill at Meridien Hotel is the perfect spot to grab something to eat before chilling with a cocktail. It's smack-bang in the middle of Piccadilly, so the view at this place is a tourist's wet dream. 
21 Piccadilly, London, W1J 0BH
Just when you thought Bourne & Hollingsworth couldn't get more Instagrammable, they went and opened a killer roof bar right in the middle of the West End with an insane panoramic view of London - from the Eye to St Pauls. Every table has a view, and there's a small terrace outside for you to sip your light n fresh cocktails on when its a scorcher. 
10th floor, above Assembly Hotel, 31 Charing Cross Rd, London WC2H 0LS
Perched on the sixteenth floor of The Treehouse hotel, this is a go-to for chilled vibes, 360-degree views of London and, of course, some killer cocktails. This summer they're hosting a pop-up with Sipsmith Gin, so if you're in the mood for a banging G&T or Martini, this is the place to go. 
14-15 Langham Place, London W1B 2QS
WEST LONDON 
The enchanted garden: Lyric 
This place is covered in greenery, so it feels like you're getting fresh air in an enchanted garden when in fact you're above a theatre in Hammersmith. Get lost between trees and find a hidden table in a romantically lit corner. It's all very charming until you find the pizzeria, then there's no going back. 
Kings Mall, Lyric Square (just off King Street), London W6 0QL
Cocktails on a cigar terrace: Broadway House
This place has two roof terraces, a rooftop bar, cocktail bar, outdoor cinema, BBQ, restaurant AND cigar terrace. Get obsessed with Toffee Champagne, work your way down the cigar menu and find a member to give you a guided tour of the place - seriously, if they let us live here we would.
474-476 Fulham Road, London, SW6 1BY
SOUTH LONDON 
The really f*cking cool one: Frank's Cafe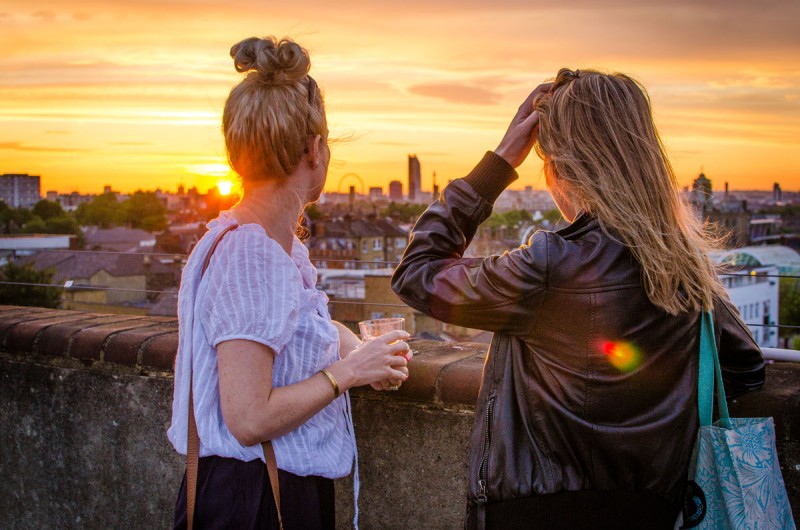 This unique multi-storey carpark bar is officially open for the summer, slinging Margs and Negronis and serving up a mean brunch. You'll feel cooler just stepping foot on the rooftop. And don't miss the live music line-up, if that's your thing.  
95A Rye Lane, London, SE15 4ST 
Where the sexy people hang: 12th Knot 
A rooftop bar with a terrace and a kick-ass view of the river? You had us at hello. OK, the terrace is teeny but it's on the Thames, so well worth squeezing onto. This sky-high joint at Sea Containers is one more reason to hit South Bank for a drink (Lyaness has already stolen our hearts, of course). 
20 Upper Ground, London, SE1 9PD  
Didn't get into Frank's? Don't sweat it, this place is just round the corner. You'll have to climb what feels like a thousand flights of stairs, but it's worth it for the view. When you get in grab a table to your left - that's where the sights north of the river are, and the skyline's beautiful.  
133 Rye Lane, Peckham, London, SE15 4ST
They love a long table on the terrace at this place, so take your time and make sure you squeeze in next to a hottie. It's in Clapham, so your cocktails will probably arrive with a side of toddler screams, but the staff have put effort into their drinks menu which features house syrups, sherberts and craft beer. Try everything and the daycare vibe won't bother you.
32 The Pavement, SW4 0JE
The POW is a local Brixton classic - you'll get great tunes, good people and you won't have to queue long for a drink because this place has all the bars - the terrace alone has three. This one's also special because it's a two-storey sitch, so you can have fun running up and down the place like it's a playground for p*ssheads. There are different rooms blasting the bass - get lost all night and dress casual, you won't stop dancing from the minute you get there.
469 Brixton Rd, London,  SW9 8HH  
It's easy to miss this gem of a terrace among the street performers and crowds of tourists that congregate along the South Bank, but once it's on your radar you're gonna feel really smug. This place is mainly about grabbing a few bottles of wine at the outdoor bar and arranging chairs in a semi-circle with your mates so you can enjoy that riverside view, but they've got Pimms if you're feeling patriotic. Expect to see couples snogging behind fruit trees and big groups of people taking to the floor when the chairs run out in the evenings.  
Southbank Centre, Belvedere Rd, SE1 8XX  
The South Bank is having its moment. Hit the Oxo Tower early to bag a seat on the terrace - we're talking all the epic food served in the restaurant, killer cocktails and views straight out at that river. Come at night - we all know London's at its best when lit up.
OXO Tower Wharf, Bargehouse St, London, SE1 9PH  
The one worth the climb: Bar Elba
Better get working on your cardio, cos this place is several storeys up and there's no lift. But it's worth it for the killer cocktails and epic view at the top. Setting itself apart from other rooftop bars, Elba (named after the island that Napoleon was exiled to, of course) serves some of the best frozé in London. They make theirs with vodka, rosé, strawberry purée, grapefruit and agave nectar, and on a hot evening, it's all you need. 
Mercury House 109-117 Waterloo Road SE1 8UL
You need friends in high places to get into this... high place. This Brixton members' club is super chill, with wicked views over this south London neighbourhood served up with cocktails and a hella creative food menu. Members can take three of their crew up for drinks, so time to buddy up with someone on the inside... 
Entrance at 10 Stockwell Avenue, London, SW9 8BQ
The balcony bar with all the extras: The Exhibit
This place has pretty much everything you want - bar, restaurant, cinema, dance floor, gallery and of course, a terrace. It's small, but hey! Size doesn't matter, amirite ladies? And if it gets too busy, you can head down here to their al fresco garden instead.
12 Balham Station Rd, Balham, London SW12 9SG
NORTH LONDON
This hidden roof terrace lurks above London's largest indoor market. Get spendy downstairs before heading up the art deco building for a bottle of wine in the sun. Foodwise, expect everything at this contemporary cafe from a full English to a selection of tapas. A seriously cool daytime spot.
Alfies Antiques Market, 13-25 Church Street, London NW8 8DT 
The one with beers, burgers and beats: Big Chill 
You don't have to dress up for Big Chill because, as far as terraces go, it's kind of a dive, but hey who cares when all you're after is some beers, a burger and chilled-out times? Sit back on the brightly coloured garden furniture and enjoy the beats. There's a cool crowd up here, and you could easily stay all afternoon.
257-259 Pentonville Road, King's Cross, London, N1 9NL