In case you've been under a rock... Peckham's the ultimate London cool kid.
Anyone who's anyone in the food & drink world is getting involved with the scene down here bringing killer cocktails, street food markets, gastropubs, raves and plenty of Flat Whites with them. When you hear about gentrification don't go expecting shiny Shoreditch, this place is still gritty but that's why we love it.
BRUNCH
Brunch is everyone's favourite meal of the day; London's all over it and Peckham's got it on lockdown.
Pass the Afro-Caribbean hair salons and fish stalls and turn into the haven that is Bellenden Village. More Primrose Hill than Peckham, this street is all village grocers, florists and cafes - one being Anderson & Co AKA the place that knew Peckham was cool before you did. Head through to the greenhouse yard for brunch with a side of botanicals; think eggy classics, Turkish yoghurt with granola and French toast.
Hidden away in the old train station ticket office and owned by the Kings of Peckham -The Coal Rooms it's a coffee house out front and awesome restaurant out back.  Settle in for a sit down affair or bacon roll like BarChick, perched up at the window.  They smoke their bacon over coffee, chuck it in some kind of friend bap and it's unlike anything you've ever had. Trust us.
It's time to revel on a whole other level! Near & Far Peckham is a buzzing cocktail bar right in the middle of level 6 of Peckham Levels, where you can sink a Bottomless Brunch every weekend while snapping pics of the mega view for the gram. We like to stay here til the evening and crack on with their cocktail menu.
Anderson & Co, 139 Bellenden Road SE15 4DH  ● Rosie's, 28 Peckham Rye, SE15 JLR  ● No. 67, 67 Peckham Road SE5 8UH  ●  Level 6 Peckham Levels, 95a Rye Lane, SE15 4ST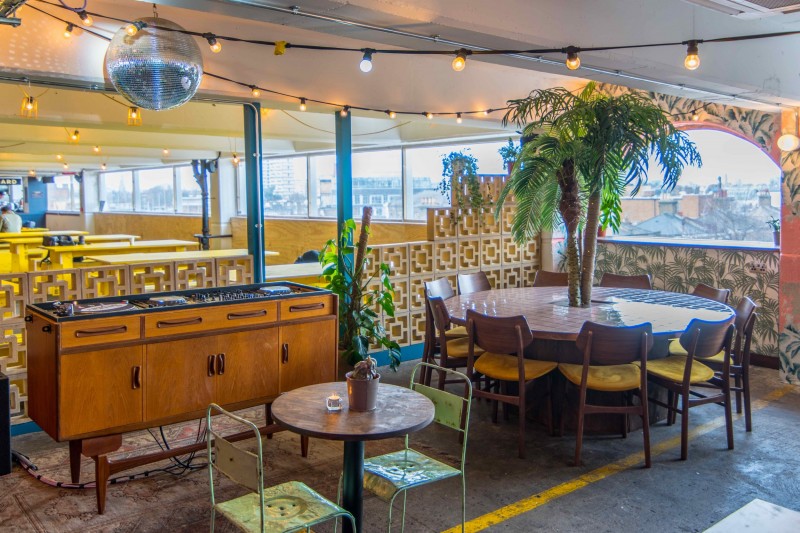 (LIQUID) LUNCH
Head to the top of Rye Lane and to Peckham Pelican where bagels and freshly topped pizzas are served up with local brews (Meantime and Brick Brewery) and £5 cocktails. Don't leave without knocking back a Mexican Smokebomb (mezcal shot chased with orange and cinnamon).
For all your wine needs, it has to be Peckham Cellars. Owned by three mates, it's nailed the chilled neighbourhood vibes we come back for again and again. They've got 80+  varieties of wine and are showcasing awesome and unique grapes from places like Slovenia and Tenerife. Also the seasonal dishes coming out of the kitchen are banging. You'll fall in love. 
If you're about on a Sunday, the only place to head is Coal Rooms. It's got the most epic roasts South of the river cooked over their bespoke charcoal grill and oven. Bloody Mary followed by Welsh lamb saddle with all the trimmings, anyone? If you need more convincing just check out Professor Green's Insta. He's a regular at this relaxed, top quality spot. Chances are, you will be too.
Stick on Rye Lane and get ready to queue for the best loaded Jackfruit nachos of your life at Taco Queen. Here it's all chilled vibes and bad-ass Mexican fair. Expect a banging soundtrack too; the owners use to work in the music biz so know the best tunes to serve up with your tacos & epic cocktails.
Peckham Pelican, 92 Peckham Road SE15 5PY   ● 191 Rye Ln, Peckham, London SE15 4TP
AFTERNOON PUB SESSION
Afternoons are for laid back liquidation in local boozers, and south London sure ain't short on those. Time for a pub crawl, Peckham style.
Back in Bellenden is your best bet with an influx of independents like The Montpellier and The Victoria Inn, all classic and all give just as much as they get with hidden independent cinemas, rooms upstairs (for that kinda afternoon session) and serious snacks.
Looking to booze with a view? The terrace out front of The Clockhouse overlooks Peckham Rye park or The Angel Oak on the other side of the park has a mega garden and outdoor table tennis for all you outdoorsy types.
The Montpellier, 43 Choumert Road SE15 4AR  ● The Victoria Inn, 77-79 Choumert Road SE15 4AR  ● The Clockhouse, 196A Peckham Rye SE22 9QA  ● The Rye, 31 Peckham Rye SE15 3NX 
COCKTAIL O CLOCK
Post-6pm is when Peckham's in its prime, and by now you're def gonna be in need of some serious booze & grub and there's nowhere better than Pedler Good Fortune. Owned by the legends behind Little Bird Gin, this gin cocktail bar/Asian-hybrid restaurant is what liquid good vibes are about; Downstairs you'll find a celebration of criss-cross Asian influenced dishes while upstairs in Lucky Gin, it's a high-energy, neighbourhood cocktail den and micro-distillery.
Only Fools & Horses probs has you thinking of Peckham as the home of wheelin' & dealin', and Funkidory are the dealers of funky music, tasty drinks and good vibes. From 5-8pm daily it's all about the £5 aperitivos, while the rest of the night, it's all about jammin' with their epic cocktail menu. Or if you're looking for someone to slip you a few serves of wicked South African cocktails, get yourself to Smokey Kudu for a few of the BBQ inspired bold and boozy drinks.
Pedler Good Fortune, 169 Queen's Road, SE15 2ND ● Funkidory, 42 Peckham Rye, London, SE15 4JR  ● Smokey Kudu, 133 Queen's Rd, Peckham, London SE15 2ND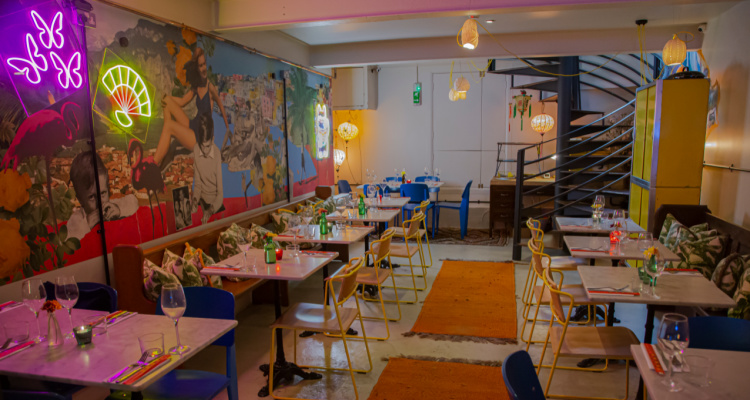 ROOFTOP VIBES IN THE SUMMER
Come summer months it's all about that bar on the roof of a carpark. Despite the hype, Frank's is actually awesome. The views across the city are some of the best around and if you're here at sunset you defo won't be needing a filter.  Over it? The Bussey Building has a rooftop too and it's fun. Get up there and turn left not right or you're gonna end up midway through a movie 'cos Rooftop Cinema's up there doing its thing this summer too.
 Franks Bold Tendencies, 7th - 10th Floors Multi-Storey Car Park, 95a Rye Lane, SE15 4TG  ●  Bussey Building 133 Rye Ln, Peckham, London SE15 4ST
HOT DINNER DATE
Like most things, it all started with food. Peckham first got on the map because of its foodie vibe when London's creative chefs bagged some cheap space down here and the rest is history. Whatever you're after, you'll find it here.
Award-winning, impossible to get into but worth the wait your thing? Everyone's raving about Artusi so you should probably go. Mr Bao is doing the bun thing and it's awesome. Small Spanish plates and a sh*t load of epic sherry? Join the queue outside Miss Tapas.
If Middle Eastern fare, rabbits roasted over a firepit and rare European wines get you going then Peckham Bazaar is for you, and yes they take bookings.  If you're a planner you'll have already booked Forza Win for a stellar sit-down affair of some of the best Italian food in London - don't forget to head up to Forza Wine, the rooftop wine & snack bar afterwards.
Want a plate of grub that is more London than pigeons and angry commuters? Swing by Manzes Pie And Mash AKA the oldest Pie, Mash & Eel shop in London and order the namesake with Liquor (no, not that kind of liquor) - it ain't elegant but it's authentic as f*ck. 
Artusi, 161 Bellenden Road SE15 4DH   ●  Mr Bao, 293 Rye Lane, SE15 4UA  ●  Miss Tapas, 46 Choumert Rd, London SE15  ● Peckham Bazaar, 119 Consort Road SE15 3RU  ● Peckham Refreshment Rooms, Unit 4, 12-16 Blenheim Grove SE15 4QL  ●  Manzes, 105 Peckham High St, Peckham, London SE15 5RS
LATE NIGHT
Keeping it civilised? Take the party back to Pedler where the gin is flowing and cocktails are still being shaken.  Or head down to the Confession Box beneath the Four Quarters for underground gothy late-night dive bar vibes; the boilermakers are waiting for you.
Ready to rave? The Bussey Building is calling, and yes you're going to have to stand in that long queue that's running down Rye Lane. The Bussey is a Peckham institution; by day it's all yoga classes and art studios, come evening Rooftop Cinema and Kerb get involved and by night anything from Hawian Bop Disco to South London Soul Train take over its many floors pumping out good vibes, old school RnB and Motown until sunrise. Peckham, you've got this nailed.
Pedler, 58 Peckham Rye SE154JR  ● Confession Box, The Basement of Four Quarters, 187 Rye Lane, SE15 4TP  ● The Bussey Building 133 Rye Lane SE15 4ST