Anyone who's anyone in the food and drink world is getting involved with this South London scene, bringing killer cocktails, street food markets, gastropubs, raves and plenty of flat whites with them. Don't go expecting shiny Shoreditch (though Peckham gets shinier with each passing day...) - this place still has some true OG spots alongside new establishments, and that's why we love it.
BRUNCH 

Good Neighbour
For a taste of NYC in Peckham, Larry's is calling. The interiors give a hip deli vibe, and the menu is concise and dreamy. It's open for coffee, pastries and sandwiches on weekdays and throughout the week for dinner - bangin', btw - but we like to head here on the weekend for inventive brunch dishes, accompanied by their signature cocktail, the Larribaldi, natch.
Unit 5, 12-16 Blenheim Grove, London SE15 4QL
Hidden away in the old train station ticket office and owned by the kings of Peckham, Coal Rooms is a coffee house out front and awesome restaurant out back. Settle in for a sit-down affair or bacon roll like BarChick, perched at the window. The bacon is smoked over coffee, and it's unlike anything you've ever had. And if you're about on a Sunday, this is the only place to head. It's got the most epic roasts south of the river cooked over their bespoke charcoal grill and oven. Bloody Mary followed by Welsh lamb saddle with all the trimmings, anyone? 
11a Station Way, London SE15 4RX
We dig Good Neighbour for brunch 'cos you can go classic with a Full English or pancakes, or you can get involved with some of the bold flavours they serve up in their evening menu (crispy pig cheek brioche, anyone?). Plus they do a damn fine Bloody Mary - which is really what you came for, after all.
58 Peckham Rye, London SE15 4JR 
(LIQUID) LUNCH

Peckham Cellars
Head to the top of Rye Lane and make your way to The Peckham Pelican, where bagels and freshly topped pizzas are served up with local brews (Meantime and Brick Brewery) and £5 cocktails. Don't leave without knocking back a Mexican Smokebomb (a mezcal shot chased with orange and cinnamon).
92 Peckham Road, London SE15 5PY
For all your wine needs, it has to be Peckham Cellars. Owned by three mates, it's nailed the chilled neighbourhood vibes we come back for again and again. They've got 80+  varieties of wine, showcasing awesome, unique grapes from places like Slovenia and Tenerife. Plus, the seasonal dishes coming out of the kitchen are banging. You'll fall in love. 
125 Queen's Rd, London SE15 2ND
Peckham's best buns are right here, baby. Beat the evening crowds and come for lunch, when you can get involved with all the fresh, steamy bao buns and still have some elbow room. Oh, and check the seasonal cocktail specials, 'cos they do 'em right.
293 Rye Lane, SE15 4UA
AFTERNOON PUB SESSION

The Clockhouse
In Bellenden, this is one of your best bets - an independent with a hidden cinema, live jazz and serious snacks.
43 Choumert Road, London SE15 4AR
Ya don't need to venture far for the next stop on your pub crawl. Come here for a pint and a full-on meal - and if it's one of those kinda afternoons, you can even check in to the boutique B&B rooms upstairs.
77-79 Choumert Road, London SE15 4AR
On the hunt for booze with a view? The terrace out front of The Clockhouse overlooks Peckham Rye park. Soak it in, honey.
196A Peckham Rye, London SE22 9QA
Another one for the outdoorsy types: The Angel Oak on the other side of the park has a mega garden and table tennis. Game on...
31 Peckham Rye, London SE15 3NX 
COCKTAIL O'CLOCK

No, YOU'RE obsessed with Funkidory's Rye Lane cocktail
Only Fools & Horses probs has you thinking of Peckham as the home of wheelin' and dealin', and the Funkidory crew are the dealers of funky music, tasty drinks and good vibes. It's all about jammin' with their epic cocktail menu.
42 Peckham Rye, London SE15 4JR
A quick stroll from Peckham Rye Station, Peckham Arches packs an art gallery, screening room, dance room and drinking and dining options all in one space. Come for a Blood Orange Margarita at the terrace bar and see where the night takes you...
Blenheim Grove, London SE15 4QN
Vintage-chic interiors, loadsa plants and bespoke cocktails: Zapoi is a whimsical wonderland, ideal for a romantic evening or a catch-up with mates. 
138 Rye Ln, London SE15 4RZ
ROOFTOP VIBES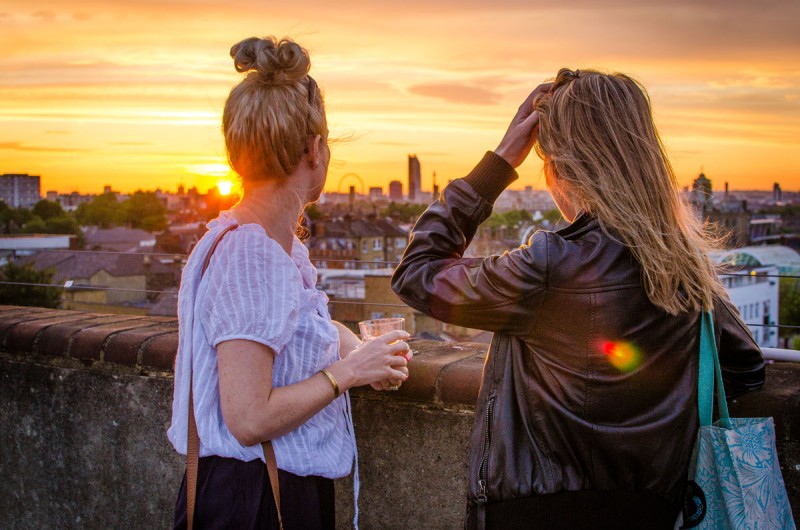 Yeah, the views at Frank's really are **that** good
Come summer months it's all about that bar on the roof of a car park. Believe the hype: Frank's is awesome. The views across the city are some of the best around, and if you're here at sunset you defo won't be needing a filter. 
7-10th floor, Multi-Storey Car Park, 95a Rye Lane, SE15 4TG
Get up to the tippity-top of the Bussey Building for a fun summery vibe, all decked out with tropical decor. Oh, and turn left, not right, or you're gonna end up midway through a movie, 'cos Rooftop Cinema's up there doing its thing too.
133 Rye Lane, London SE15 4ST
This rooftop bar doubles up as a sh*t-hot snack spot above one of our fave Italian joints, Forza Win. When the weather's on your side, check out their frozen cocktails. Rolling with a crowd? We dig the "whole menu" option, which lets ya sample everything they've got.
Floor 5, 133A Rye Lane, London SE15 4BQ
HOT DINNER DATE

Forza Win lookin' fine. Credit: Intagram @forzawin
Truly some of the best food in Peckham, with South African-inspired dishes and a cosy atmosphere. Wanna wow someone? Take 'em here.
119 Queen's Road, London SE15 2EZ
Years on, this award-winning spot is still tricky to get into - but be patient and nab a booking, 'cos its effortless date night vibes and next-level Italian sharing plates are worth the wait. 
161 Bellenden Road SE15 4DH
Small Spanish plates and a sh*t load of epic sherry? Join the queue outside Miss Tapas.
6 Choumert Rd, London SE15 
If Middle Eastern fare, rabbits roasted over a firepit and rare European wines get you going, then Peckham Bazaar is for you. And yes, they take bookings.  
119 Consort Road, London SE15 3RU
If you're a planner you'll have already booked Forza Win for a stellar sit-down affair with some of the best Italian food in London.
133A Rye Lane, London SE15 4BQ
Want a plate of grub that's more London than pigeons and angry commuters? Swing by Manze's Pie and Mash, AKA the oldest pie, mash and eel shops in London. Order the namesake with liquor (no, not that kind of liquor) - it ain't elegant but it's authentic as f*ck. 
105 Peckham High St, London SE15 5RS
LATE NIGHT

Game on: Four Quarters
When you've got that midnight craving for pure nostalgia, this arcade bar will treat you right, with retro games and mega DJ nights bumpin' '90s classics until 3am on Fridays and Saturdays.
187 Rye Lane, SE15 4TP
Ready to rave? The Bussey Building is calling, and yes, you're going to have to stand in that long queue running down Rye Lane. The Bussey is a Peckham institution; by day it's all yoga classes and art studios, come evening Rooftop Cinema and Kerb get involved, and by night anything from Hawaiian bop disco to South London Soul Train take over its many floors, pumping out good vibes, old school RnB and Motown until sunrise. 
133 Rye Lane, London SE15 4ST  
Updated 02/06/2023