No, the Pornstar Martini isn't technically a Martini - it's a bawdy mix of vanilla vodka, passionfruit liqueur and passionfruit purée served with a sidecar of bubbly, and it's a hell of a lot of fun. In honour of National Pornstar Martini Day on 6 September (yup, it's a thing), here are four of our fave riffs on this saucy serve.
PORNSTAR BELLINI
Take ya Pornstar to brunch: swap the peach purée in a Bellini for the signature passionfruit of a PSM, then add a few extra touches to kick things up a notch. So good, you'll wanna go bottomless.
Ingredients
1/2 passionfruit
10ml passionfruit liqueur
10ml vanilla vodka
10ml vanilla syrup
7.5ml lime juice
Champagne
Method
Scrape the seeds of the passionfruit half into an ice-filled cocktail shaker. Add the passionfruit liqueur, vanilla vodka, vanilla syrup and lime juice, then shake. Double strain into a Champagne glass and top with the sparkling stuff. 
PORNSTAR FROSÉ
How to make the Pornstar Martini even flashier? Turn it into a slushie and add something pink, of course. Best served poolside.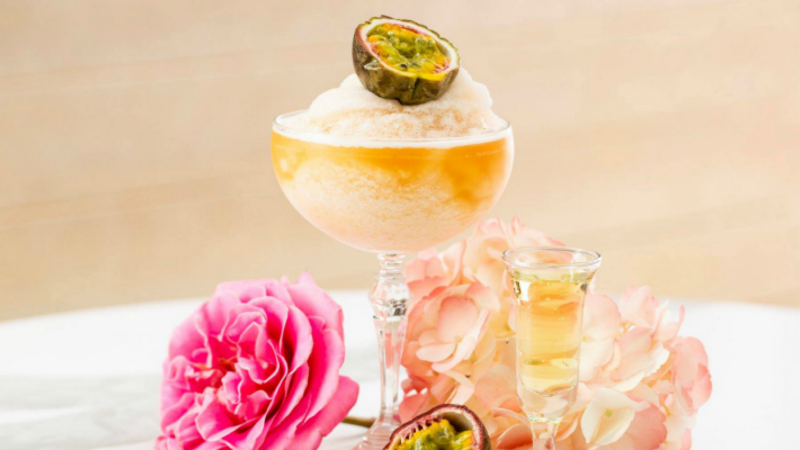 Ingredients
1 bottle of rosé
350ml passionfruit juice
120ml Aperol
60ml vodka
1 tsp vanilla extract
40ml sugar syrup
Sparkling rosé (optional)
Passionfruit, for garnish
Method
Freeze the rosé overnight in ice cube trays. Add the frozen rosé cubes and all the other ingredients except the garnish to a blender, then give that baby a whirl until the drink is a thick slush. Serve in a coupe glass with an extra splash of sparkling rosé if you're feelin' flash, then garnish with half a passionfruit.
Imagery: Sunset by Australasia, Manchester 
NAKED & INFAMOUS
This sleek twist on the Pornstar comes from the lads at Homeboy, North London's epic Irish boozer. It's perfect for both serious cocktail connoisseurs and peeps who just wanna have fun, as it's got all the awesome flavour of the original plus a herbal boost from Yellow Chartreuse and a bitter kick from Aperol. 
Ingredients
20ml Grey Goose Vanilla
20ml Yellow Chartreuse
20ml Aperol
20ml apple juice
20ml passionfruit purée
10ml sugar syrup
Method
Combine all the ingredients in an ice-filled shaker and shake it, baby. Strain into a coupe glass and serve.
Like things smoky? Try swapping out the vodka for mezcal and thank us later. 
STRAWBERRY PORNSTAR MARTINI
If Carrie Bradshaw had known about this pretty-in-pink drink circa 1998, she would've ditched the Cosmo for sure. 
Ingredients
35ml vanilla vodka 
25ml strawberry liqueur 
25ml strawberry purée 
50ml pineapple juice 
Fresh strawberry, for garnish
Shot of Prosecco, to serve
Method
Combine all ingredients except the Prosecco and garnish in an ice-filled cocktail shaker. Shake it up, then strain into a Martini glass and top with Prosecco. Garnish with the strawberry and serve with a shot of Prosecco.
Recipe adapted from Shook Cocktails
05/09/2022