Sweet, outrageous and fun, the Pornstar Martini is the ring-leader of the modern cocktail renaissance that arrived in the early noughties. Much like the saucily named cocktails that came before it (shoutout to the classic '80s cocktails Sex On The Beach and Long Comfortable Screw), the Pornstar Martini has the much-loved combo of sweet, tropical flavours and a healthy measure of innuendo. That's what she said.
The basics: What is a Pornstar Martini?
To make the original Pornstar Martini, you gotta start with a spirit base of vanilla vodka. It's then shaken on ice with passionfruit liqueur, passionfruit puree and sugar, poured into a coupe and served up, garnished with a sliced open passionfruit half - oh, and don't forget the sidecar shot of Champagne. Its appearance is as iconic as its name. Although initially called The Maverick after a multi-level strip club in Cape Town that its creator, the late, great Douglas Ankrah, visited while in South Africa, "It was the Pornstar that stood the test of the time," he told us. "It's provocative and memorable. And bars are supposed to be fun after all."
Cocktail purists will know that this cocktail isn't actually a Martini. Much like the Espresso, Lychee and French, the suffix "Martini" is more of a nod to the era when everyone was using oversized stemmed cocktail glasses. Of course, a quick peek at the recipe is enough to realise that - ya won't find any gin or vermouth in this bad boy, but you will find a crowd-pleasing combo of sweetness.
Make your own: 
40ml vanilla vodka (something like Absolut Vanilla or Grey Goose La Vanille, but any vanilla vodka will work)
30ml passionfruit liqueur
60ml passionfruit purée
2 bar spoons vanilla sugar
50ml chilled Champagne, to be served on the side 
Who's the daddy?
Can you remember what you were doing back in 2003? While The Terminator was becoming governor of Cali and low-rise jeans were freezing the kidneys of Millennials across the nation, Douglas Ankrah was inventing this modern-day classic at his bar, Townhouse, in Beauchamp Place (or as we like to call it, the original Pornstar Hub). While the bar itself is no more, there's no sign that this cocktail's popularity will be going anywhere quite so soon. In 2019, it was reported to be the most-ordered cocktail in the whole of the UK, and in 2020 it had a record 18,000 online searches... that's a lotta people trying to get their Pornstar fix in lockdown, man.
Image credit: Jamie Lau
So what is it that makes this cocktail so popular?
It's hard for many to resist the party-starting novelty of a Pornstar. Yeah, it's not a high-brow drink like the classic Martini, it doesn't have the sexy aperitivo vibes of a Negroni, and it's not as suave as an Old Fashioned... but that's not why this cocktail gets ordered. How many other cocktails do you know that come served up on a "Pornstar Martini Tree" or as a fish-bowl style mega cocktail? This is 100% a drink for the 'gram, yo, so dig out that mini dress and pull on ya slickest "night out" shirt and get ready to cheers to the camera, baby.
When Ankrah launched it at Townhouse and LAB (his other Soho-based joint), it was always in the top three cocktails sold, and they couldn't shake 'em fast enough. So was it the fun, theatric presentation, or the ingredients that got drinkers hot for the Pornstar?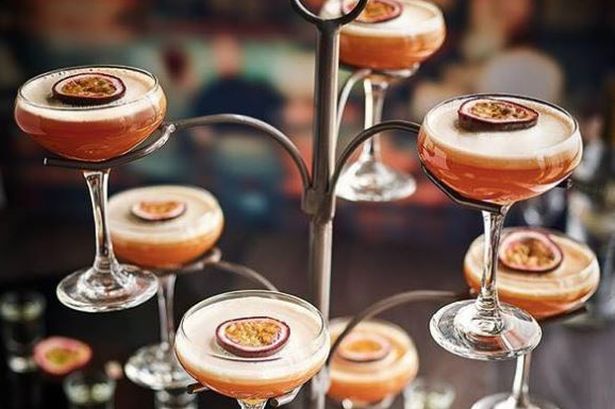 These were "three of the most popular ingredients of that moment: Prosecco, vodka and passion fruit, all together in one drink," said Simon Ford, former Pernod Ricard ambassador. It's an easy-to-consume trio of flavours, and each brings the fun. When combined with the arousing name, you've got a recipe for a serve that tantalises and excites.
Of course, a provocative name doesn't come without some raised eyebrows, right? The semi-iconic M&S RTD was famously forced into a joyless rebranding of the drink's name to a Passionfruit Martini by a pearl-clutching customer who found it offensive (well I never!), and email servers ain't having any of it either, tipping the drink's name down into the spam folders of inboxes. That's probs why Ankrah created a new format for the drink in 2017, launching a pre-bottled version called P*Star - a lot more search engine and shop-shelf friendly.
This bottle of P*Star is now the only way you can get your hands on Ankrah's OG cocktail. He developed it along with Wim Koolhaas of KoolhaasSystems and the folks from De Kuyper, and in this bright-orange bottle you'll find the classic blend of vodka, vanilla and passion fruit. Just pop it in your fridge (or shake up over ice) to serve it chilled in a long-stemmed cocktail glass with half a passionfruit to garnish. Don't forget that Champagne on the side, obvs. You just gotta find those shot glasses from house parties gone by...
So How Do You Drink Yours?
There are loads of different ways to drink a Pornstar - that's one reason it's such as popular serve. And who can resist a cocktail that comes with its own side-piece, right? Still, this two-in-one serve leads to some questions: when are you meant to drink that shot of Champagne? What do you do with the garnish? We've heard a few stories... and you know we dig the saucier ones.
The Squeezy Way:
If you love your OJ with extra pulp, you'll probably dig squeezing the juicy pips of the passionfruit into your cocktail to give it a bit of texture and an extra kick of fruitiness. Make sure you have a wet wipe ready to clean your hands. Or use a spoon. That's probably a more sensible way, TBH.
The Build-It-Up Way:
This way kinda lets you turn your hand at a bit of mixology... in its most basic form. Like the squeezy way, get that passionfruit flesh in your drink, give it a quick mix and a cheeky sip, and once you've made enough room in your glass, decant that fizz in there to give it a bubbly evolution.
The Back-And-Forth Way:
The Pornstar Martini is a bit like being double-parked with two drinks, and you can sip your way between the two for a fun alternation between sweet and dry. 
The Pornstar Way:
It was a try-hard Tinder date that told BarChick this is the way you're meant to enjoy this drink. First, you fish out the floating passionfruit garnish and seductively lick the seeds out with your tongue. You then savour the cocktail, the way you would savour "a session of passionate lovemaking". The climax comes when you splash the shot of Champagne in your face *shudders*.
He was probably trying to be sexy and provocative, but that it just sounds like a waste of perfectly good Champagne to us. Take it from us, ladies - when a lad suggests throwing away your cocktail, he ain't the one.
The Lovers Way:
This method comes straight from the creator's mouth, and it makes it the perfect cocktail to order on a date. "It was originally intended as a drink for lovers. You first scoop out the passion fruit with a spoon and feed the flesh to the other person. Then you drink the shot of Champagne, which cleanses the palate. And finally, you enjoy the Martini at leisure."
Mixing Things Up
The original recipe is a modern classic. But you know us: we love seeing how bartenders showcase their creativity and innovation with twists. While the Pornstar Martini ain't usually our vibe, we definitely dig these creative hot takes on the OG.
Reformed Pornstar, Hawksmoor
The crew at Hawksmoor revamped their cocktail menu for the first time in a decade last year, ignoring the age-old mantra of "don't f*ck with a classic" and giving a mad scientist twist to the older reliable serves. In an unlikely turn of events, their Reformed Pornstar takes the pinnacle of sweet, silly London excess and merges it with a clarified milk punch recipe based on one from the 17th century. The result is a refined, elegant, sophisticated drink with the beating (silly) heart and seductive soul of the original.
This bar is a fave of ours. The crew here know how to work serious magic with their cocktails while maintaining the comforting neighbourhood bar vibes that drew us here in the first place. When it came to their take on the "Pornstar" (and yes, the name actually includes the inverted commas), they took the sophisticated route, mixing passion fruit vodka with pink passion fruit cordial, wine, verjus and Domaine wine, and then carbonating the whole drink for the "bubbles" portion of the original. They took this bad boy off the menu - join us while we lead the campaign to get 'em to bring it back.
Debbie Does Dallas, Eve Bar
Adam Handling sure does know how to lead us into temptation. At his basement based bar in Covent Garden, they've gone a bit gastro with their interpretation, using passionfruit butter syrup, vanilla, lemon and thyme. It's all shaken up to give a deep top of fruity froth. We guess you could say this Pornstar gives good head...
If all this talk of pornstars has got you a bit flustered, you can cool off with the boozy float take by the team at the ultra-suave 45 Jermyn Street. These liquid fantasies were created with all the passion and fun of the original sugar rush floats and sodas back in the 1950's. They've mixed passionfruit, Prosecco and Spuma Limoncello, then topped with passion fruit sorbet and vanilla ice cream to create this fun heatwave worthy spin on the OG. Is it a drink? Is it a dessert? Who cares! It's the bomb.
Naked & Infamous, Homeboy
This naughty little twist on the ultimate crowd pleaser comes courtesy of our fave Irish boozer, Homeboy in Islington. This new generation Pornstar is all about equal measures - that's equal parts liquid and playfulness. The lads use vanilla vodka and passion fruit, but for this take they leave out the bubbles, replacing them with Yellow Chartreuse, Aperol and apple juice. Wanna make it yourself? You'll find the recipe here. 
If you think BarChick's the kinda gal who doesn't throw on her sequins and have spontaneous kitchen discos in her crib, you're one olive short of a Martini. That's why we get extra measures of disco delivered from Disco Cocktails, and their ready-to-roll Disco Pornstar Martini is a simple twist, made with Vestal Vodka & Fanta syrup - yeah, the kinda syrup they use in the soda taps in pubs. This is one for the ultra sweet-toothed. 
Love getting your nerd on with cocktails? Get the low-down on the Piña Colada with our ultimate guide.
Want more Pornstar recipes? Check out our fave PSM riffs.