Street-food alleyways, heated terraces, magical drinking gardens & Michelin-starred pergolas...
Time to make a date with these awesome al-fresco destinations. 
The Brunch date one:
South-facing terrace and a booze list to make wine-lovers weep with delight. It certainly got our attention, and all that makes for a date to remember. As this place is on the edge of Brixton Village, you're right to expect a pretty sensational menu - and you won't be disappointed. This one has an Antipodean twist and a pretty amazing selection of vino. Crack on with Caravan coffees with pastries in the morning, then get involved with the brunches served until 3pm every day. If your date wants to continue past then, there are loads more al fresco spots to check out in the village.
374 Coldharbour Lane, Brixton, SW9 8P
The fun one (hundred and eighty!)
Cupid's arrow is always aiming for a bullseye, and the chances are pretty high if you rock up to the Magic Gardens of Victoria's Flight Club. Alfresco cocktails, pizza paddles, a wicked bandstand and a disco phone box - if that isn't a recipe for love, we don't know what is.
6 Sir Simon Milton Square, Westminster, London SW1E 5DJ
The Blind Date one: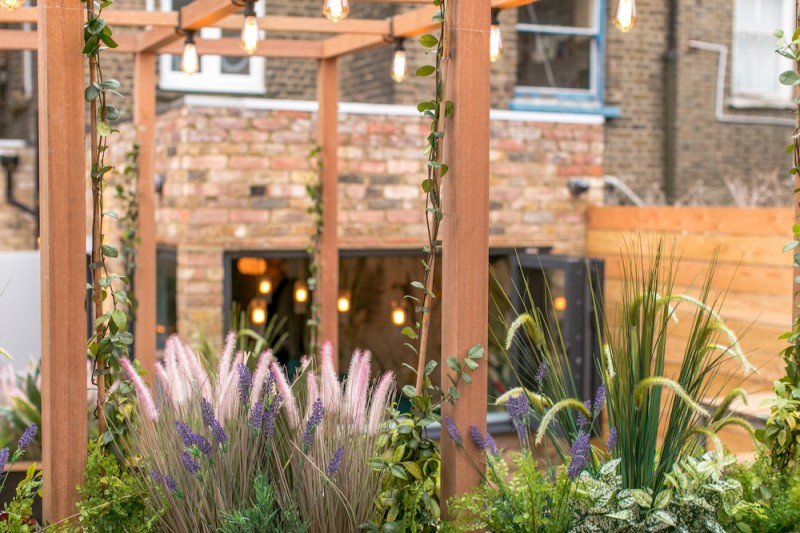 Unsure what your date's vibe is? This place gives you the choice of two bars in one with its killer dual personality, and you can cover 'em both when you sit outside on in their lush garden. With cushion clad benches, a sh*t load of flower boxes bringing colour and a hatch that gives you direct access to the bar, you and your date can get to know each other while getting even more familiar with the multi-faceted cocktail menu.
175 West End Ln, West Hampstead, London NW6 2LH
The one that'll take you back to nature:
One thing we know we'll appreciate more now in a post-lockdown world is a bit of nature. If you wanna surround yourself with flora and fauna, this Michelin-starred Richmond restaurant is a plant-lovers paradise. When the weather holds, you can dine on a menu of seasonal dishes in their Instagram worthy wisteria and rose-covered outdoor pergola. Lush. It's an open-air affair at their Covent Garden-based restaurant too - Get cosy in their Floral Court for some beautiful Italian dishes from their Italian Kitchen La Goccia.
Church Lane, Off Petersham Road, Richmond, Surrey TW10 7AB  /  Floral Court, London, WC2E 9FB
The one with the view: 
Do you wanna know what sets BarChick's world on fire? Cocktails, killer bar snacks and a fine view. Gunpowder in Tower Bridge is bringing the goods from their terrace in the shadow of London's most iconic bridge in all its architectural glory - not bad eye candy to accompany your Indian inspired cocktails. Or your date.  BarChick's a tequila girl so the Pan Puri Margarita with tamarind spice is what to order if you're the same; then see if your date can handle the heat with The Bloody Batra with a dollop of Bengali mustard and chilli. HOT HOT HOT.
4 Duchess Walk, London SE1 2SD
The wine bar one:
Nothing sucks more than opting for a pricy bottle of wine and then finding it tastes like vinegar... other than a world-wide pandemic that stops us from having fun for a whole year. But let's not dwell on that sh*t right now. The Vagabond bars are able to stop the former tragedies occurring with their awesome Enomatic wine machines which host up to 100 wines of every variety that you can check out in 25ml samples. Once you've found the one you wanna go official with, hit up their "secret garden", complete with fairy lights, blankets and cosy armchairs and decide if you wanna go official with your date.
4 Northcote Rd, London SW11 1NT
The one that'll give you the horn:
This riverside joint from our favourite shellfish loving brothers is as good as it gets. What sets this place apart from the rest of them is those insane views that stretch out beneath one of London's most iconic buildings. There's something about being waterside that cranks up those romance levels. When it comes to dates, we're all about shucking. And if you're going to do it, Wright Brothers is the place, especially with their awesome Oyster Happy Hour that runs daily from 4-6pm all week. Let the shucking commence.
Battersea Power Station, 26 Circus West Village, London SW8 4NN
The one that'll get you high: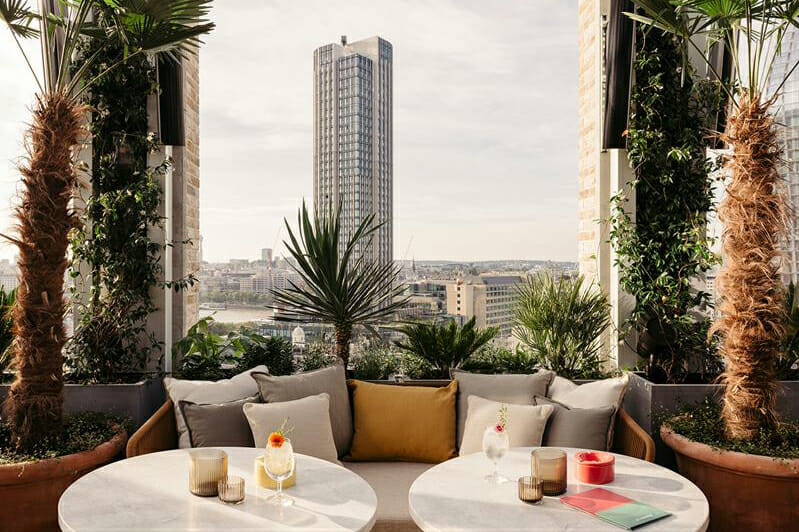 This place will have your date weak at the knees, especially if they're scared of heights... you'll probably wanna check that before you book. But anyway, if your chat-up lines aren't working their magic, they'll soon be swooning at the stunning, sprawling roof-top views from this sky-high terrace. Then you can hit 'em with London's largest oyster menu, then double down with a few rounds of their epic tropical cocktails. Before you know it, they'll be putty in your hands...
14th Floor, 40 Blackfriars Rd, London SE1 8PB
The one that'll float your boat:
Wanna test your dates sea-legs? Start with a couple of drinks and plates onboard this 118-year-old barge found in Hackney Wick. It used to be a cargo barge in Holland, now it's bringing a fusion menu of global flavours to anyone who enjoys being gently rocked while they eat. Hello! If you can't get a spot on board, no dramas. Grab a seat in the Barge East Gardens. They've also got a kick-ass heated riverside terrace where you can kick back with casual street food and boozy hot chocolates that'll keep the shivers at bay.
River Lee, Sweetwater Mooring, White Post Ln, Hackney Wick, London, E9 5EN
The Luxurious One
In the Summer, this sun-trap is where you wanna hit for an extra side of Vitamin D to go with your cocktails. For the colder nights, there's nothing more romantic than snuggling beneath the canopy with views, bubbles, fondue and small plates galore. This is a spot to hit if you wanna impress. Splash some cash and plonk for a bottle of champers while you get cosy under the blankets and take in the view of the West End's rooftops.  
The Trafalgar Hotel, 2 Spring Gardens, Trafalgar Square, SW1A 2TS
Searching for more epic date ideas? We've got a load over here.