We're pretty clued up on the world of spirits (if we do say so ourselves) Whisky? Yeah, we know our stuff. Tequila? Practically family. Armagnac? Yup, even that. But there are some spirits that don't tend to make it into our peripheral vision as much as they should do, so when we get the chance to get our nerd on with someone who knows wtf they're talking about, we take it. So here we are, sharing the intel we've been given by Morten Pharo-Halle, founder of Nuet Dry Aquavit, who when it comes to this Scandi-spirit, sure does know his onions.
So WTF is Aquavit?
Ready for a quick language lesson? Buckle in, class, we promise not to make this as tedious as those Year 9 french lessons you used to endure (for starters, we're talking about booze, not asking for directions to the swimming pool) See if you can spot a pattern...
Aqua Vitae: A Roman phrase translated to "Water of Life" and used for describing any type of distilled wine.
Uisge Beatha: Scottish Gaelic meaning "Water of Life". Uisge sounds like "oosh-gae", and that's where the word "whisky" comes from (try saying it in a Scottish accent)
Eau De Vie: French translation meaning "Water of Life". Used as a generic term for distilled spirits (but usually clear brandy). Sounds heavenly in either language.
Okowita: Polish translation meaning "Water of Life". Used as an Old Polish term for a high % alcoholic drinks produced from cereals and potatoes.
Aquavit: Latin translation for "Water of Life". Used to describe the traditionally potato-based spirit produced in Scandinavian countries.
Did you notice the pattern? It turns out that many of the globally produced spirits that pride themselves on being unique all consider themselves to be a "Water of Life" in some capacity, and hey, we tend to agree. Nothing gives us life more than a perfectly produced spirit. But we're only talking about one of these, right now. "Aquavit, in this case; a Scandinavian tradition that was first mentioned in 1531," Morten tells us. "It's usually based on potato spirits, needs to be above 37.5% abv, and needs to have either dill or caraway as the main spice."
Sounds pretty similar to gin and vodka, right? Right. So why isn't aquavit as popular as the likes of gin or vodka in the UK?
Well, it's kinda an acquired taste. If you're a big fan of spice-forward spirits, this might just be your bag, as traditionally it's made with plenty of caraway, fennel and anise, and usually drunk alongside fatty Christmas foods in Scandinavia. However, since the first recorded mention of aquavit in 1531 (when a Danish nobleman sent a package to a Norwegian Arch Bishop containing some water that "helps for all his illness that a man can have internally" - lol) there hasn't been much effort put into further developing aquavit hense why it hasn't been widely used in cocktails (nor neat) outside the Scandi borders.
But that's about to change. With brands such a Neut innovating and exploring the potential of aquavit beyond the traditional styles and bringing them to UK shores, this spirit is getting a facelift.
So not all aquavits are created equally?
Nope. Just like gin, the flavour profile of aquavit is dependent on the botanicals used within it.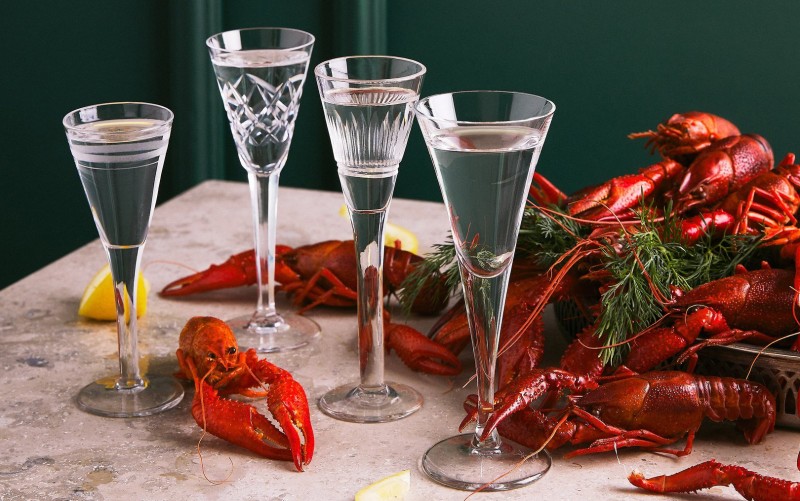 And the similarities don't just end there. To make aquavit is to basically apply the same distilling principles as gin. We turned to Morten to get an understanding as to how these processes differ: "The main difference is that traditional aquavits often have quite a lot of added sugar, and they are often barrel-aged. Norwegian and Danish aquavit is often caraway-forward and barrel-aged, whilst the Swedish "nubbe" is often unaged and dill-forward, making it more suitable for the midsommar celebrations and the crayfish parties in the autumn." 
"Whilst the healing powers of aquavit can be questioned, aquavit rose to fame in Scandinavia in parallel with gin's rise in Britain" Morton continues. "Since then, Denmark, Norway and Sweden have all developed their styles of aquavit, based on the same principles."
Image: Stills at the O.P Anderston aquavit distillery
Norwegian & Danish:
Usually heavy on the caraway, fennel and anise seeds, which tends to reinforce the taste of alcohol heat in the spirit, making it taste far stronger than it really is. This can also lead to a burning sensation and a few frowned noses on non-Scandi faces.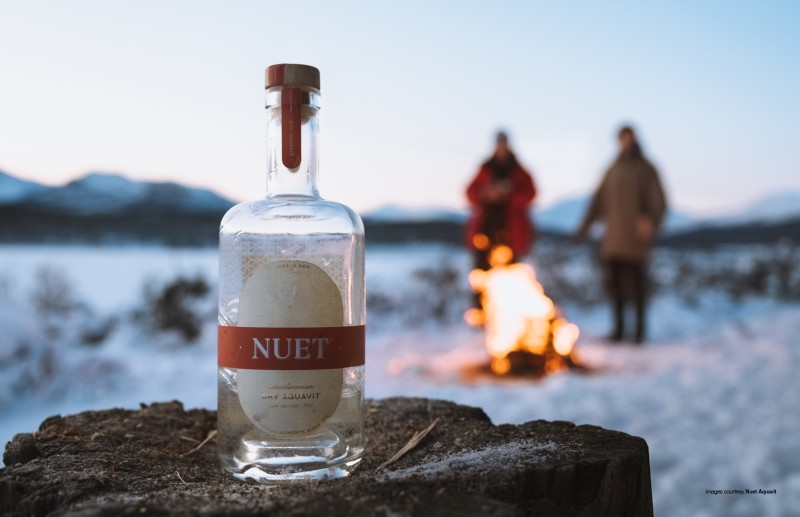 Aalborg Jubiläums (produced in Denmark) was first created in 1946 to celebrate the centenary of their Taffel Akvavit. Jubiläums is flavoured with dill and coriander so depending on which way you swing on the taste-scale, this will either be delicious (and probably banging with salmon) or taste like soap.
Nuet Dry Aquavit (produced in Norway) on the other hand, is distilled just like London Dry Gin, with the help of a vapour basket to extract most of the flavours. "We add no sugar, hence the "Dry", and we do not barrel-age at all. We kept the traditional Norwegian caraway, sourced from beautiful Inderøy in the north of Norway, and we replaced the fennel and anise seeds with modern fresh botanicals like grapefruit peel and blackcurrant, amongst others."
Swedish:
Caraway is replaced with dill, is milder and sweeter to the taste, and a bit fresher.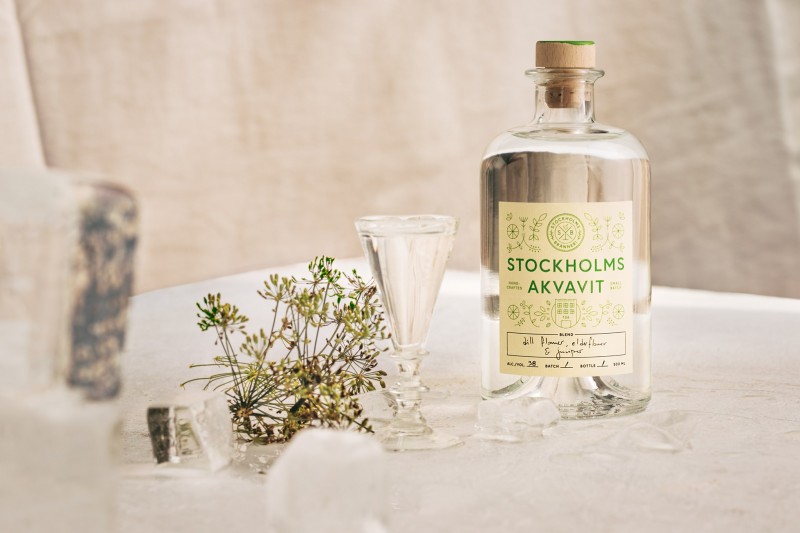 Skane Aquavit is a mildly spicy aquavit from O.P Anderson Distillery, offering notes of cumin, caraway, fennel and anise. It's a classic in terms of aquavit, and named after the province of Skåne in Sweden where vodka and aquavit production is kinda their forte.
Stockholms Akuavit is definitely an expression for gin lovers, having been infused with juniper, elderflower and coriander alongside the more traditional aquavit spices like dill flower, caraway and fennel seeds. It goes nicely with Indian tonic water for that not actually a Gin & Tonic vibe.
How should you drink aquavit?
If you're drinking the traditional Norwegian and Danish aquavits like Linie Aquavit, Aalborg or Gammel Opland, Morten recommends serving it neat, with fatty foods. "Ideally with pork belly or something along those lines. The traditional Swedish aquavit with dill like O.P. Anderson I would enjoy neat with crayfish or other shellfish during summer, or perhaps in an old fashioned."
"Nuet Dry Aquavit," he tells us "was developed to work specifically with tonic and in a dry martini, and the signature serve is a Spritz: Add 40ml Nuet Dry Aquavit over ice, add 80ml lemonade and top with your choice of bubbles (prosecco, cava, crement or champagne). Gently mix together and garnish with a slice of grapefruit and a rosemary twig."
Where can you drink aquavit? 
Lets face it, it'd be f*cking weird if this place didn't serve the stuff it's been named after. This perfectly polished Scandinavian restaurant has aquavits from across Scandinavia on its extensive menu, so if you're up for trying a variety, this is the place to head to.
St James's Market, 1 Carlton Street, London SW1Y 4QQ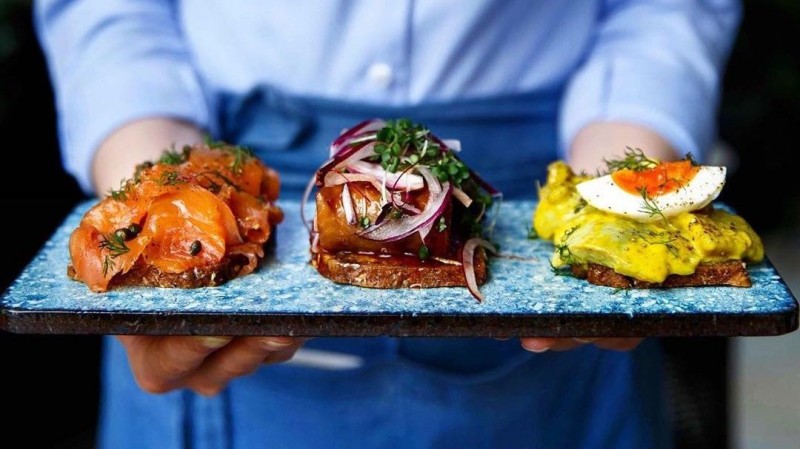 We hit up this City-based Nordic restaurant on Norway's national day (May 17th) and made our way through a menu of epic SMØRREBRØD (top marks for the curried herring on homemade sourdough Rye bread) and washed it down with plenty of aquavit cocktails. Try the Nuet in an Aquavit Negroni to see how versatile this spirit really is.
2 -8 Bloomberg Arcade, London EC4N 8AR
Classy, low-lit and beneath one of the sexiest restaurants in Mayfair, HIDE Below has plenty of aquavit on its menu, so head down that jaw-droppingly gorgeous spiral staircase and order the signature Nuet Aha Spritz, or try the Nuet Martini for the purest taste of the spirit.
85 Piccadilly, London W1J 7NB 
Scandi-coffee shop vibes fill this high-ceilinged venue found on the canal at Paddington Basic. With bright floor-to-ceiling windows, you can bunk down here for FiKA (that's a coffee, cake & a chat, FYI), top yourself up at lunch with a SMÖRGÅSBORD and stay here til cocktail hour for a Scandinavian Smash (AKA a riff on a mojito featuring Dild Aquavit and fresh dill) or any of their other scandi-spins on the classics.
Unit 53, 5 Merchant Square, Paddington, W2 1AS