FAVORITE BARS?
Cafe Pacifico, Callooh Callay, El Camion, The 12 Bar - London La Perla, Hotel Raphael - Paris Tacheles(RIP) - Berlin Mayahuel, PDT - New York Bourbon and Branch, Tommy's, Madrone - San Francisco Harvard and Stone, Seven Grand, Hotel Cafe - Los Angeles Moskito, El Rey - Guadalajara La Capilla – Tequila
FAVOURITE DRINK?
Siete Leguas D'Antaño w/ a side of Negra Modelo
Bad ass barman/rock n roll moment?
I'd like to keep my job, so I'm not quite at liberty to say :p
What's next for you?
I'd like to open my own place that features a great tapas menu, low key live music, and classic drinks with an unpretentious nature. Oh, and a great selection of premium tequilas of course :D
Best/worst chat up lines you've heard at a bar?
"Hey, you come here often?" - WORST "I just made you come with one finger, imagine what I can do with the rest of me" - (says the woman after motioning for service) BEST
Tell us a secret or something we don't know?
I worked in a women's shoe store for 3 years. Now, whenever I see women with shoes that don't fit them properly, it drives me nuts.  Big turn off..
If you were to make a barchick cocktail, what would you put in it?
I'd make her my Bacardi Legacy cocktail "Mother Superior": 50 ml Bacardi Superior 15 ml Pink Grapefruit Juice 10 ml Lime Juice 10 ml Orgeat Almond Syrup 5 ml Campari Barspoon of Apricot Jam Add ingredients into shaker w/ 4 mint leaves, shake and double strain into a rocks glass. Fill with cubed ice and top with crushed ice. Garnish with a squeezed lime shell, mint sprig and grapefruit zest. Serve, and don't forget to smile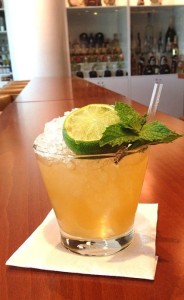 How do you like your Martini?
I'd rather have a tequila sazerac
What did you want to be as a kid?
A farmer, a pilot and a race car driver. In that order.