Ho-ho-holy sh*t, it's that time of year again already.
With the countdown to December 25th officially ON, it's time to get your home bar stocked with the best Christmas spirits going. And FYI: these aren't liqueurs. These are legit full-strength spirits with festive infusions ready to bring full measures of Christmas cheer to your home bar. Bring it on.
Tarquins Figgy Pudding Gin
Bring us some figgy pudding, but bring it in gin form. Tarquin's have gone retro this Christmas and recreated the table-side drama of a flaming figgy pudding with this limited edition spirit. These seaside dwellers have lovingly infused their award-winning Tarquin's Cornish Dry Gin with dried figs, fresh clementine zest, warming Christmas spice botanicals and blow-torched brandy-soaked cherry wood chips to masterfully craft a gin packed with nostalgic festive warmth. We've been sipping it in their Festive Fig-Roni (turns out early Autumn wasn't too soon to sample the festivities, FYI) served with a clementine twist but it's also pretty epic served long with spiced ginger ale or a light tonic over lots of ice with a slice of orange. 
Tarquins Figgy Pudding Gin, 70cl (42% ABV) RRP £36 available from Tarquin's website. 
Black Cow Christmas Spirit
The Black Cow crew are known for creating a vodka smoother than the velvet on Santa's suit, and for a second year, they've taken their classic pure milk vodka and given it a festive shakeup. The Black Cow Christmas Spirit takes inspo from all the best bits of the quintessential Christmas pud. We're talking citrus, cloves, cinnamon, figs, currants, raisins, and vanilla all macerated in Black Cow Vodka to create a rich, smooth spirit bursting with Christmas vibes. Serve it with champagne, make it into a mulled cocktail or sip it straight over ice. Now that's the spirit.
Black Cow Christmas Spirit, 50cl & 70cl (37.5% ABV) RRP: £25 & £32 Available from the Black Cow website
That Boutique-y Gin Company Yule Tide Gin
Wouldn't it be handy if all of the things that make Christmas Christmas could be found within one small vessel? Well Bullseye, Bingo! and Yahtzee, baby, cos that's basically what this is. Ya see, what That Boutique-y Gin Company have done here is distilled Christmas using a sh*t loada traditionally festive botanicals, as well as ingredients that are 100% Christmassy but technically not botanicals, including Christmas Tree Needles, Chestnuts, a big pile of chocolate truffles, Panettone, a whole gingerbread house, Frankincense and Myrrh - then they popped some edible gold flakes into the mix to complete the trinity and BOOM! It literally IS Christmas in a bottle.
Yuletide Gin 50cl (ABV 46%) RRP £34.95 Available at Master of Malt
Edinburgh Christmas Gin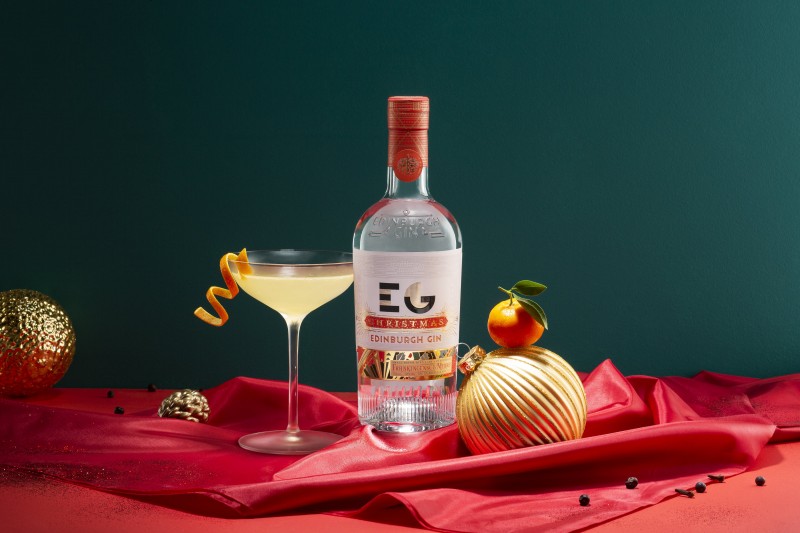 Forget about gifting perfumes or scented candles this Christmas. This Christmas Gin from the Edinburgh Gin fam has got all the aromas you could possibly want to open up on Christmas morning (or maybe wait until after lunch for this one, yeah?) with the classic yuletide aromatics of frankincense and myrrh - two things never talked about outside the context of Christmas - as well as nutmeg and ginger root to bring a warm spiced base. All of that is framed by plenty of juniper for that unmistakable gin body. 
Edinburgh Christmas Gin, 70cl (43% ABV) RRP £35 Available from The Edinburgh Gin website.
Sacred Christmas Pudding Gin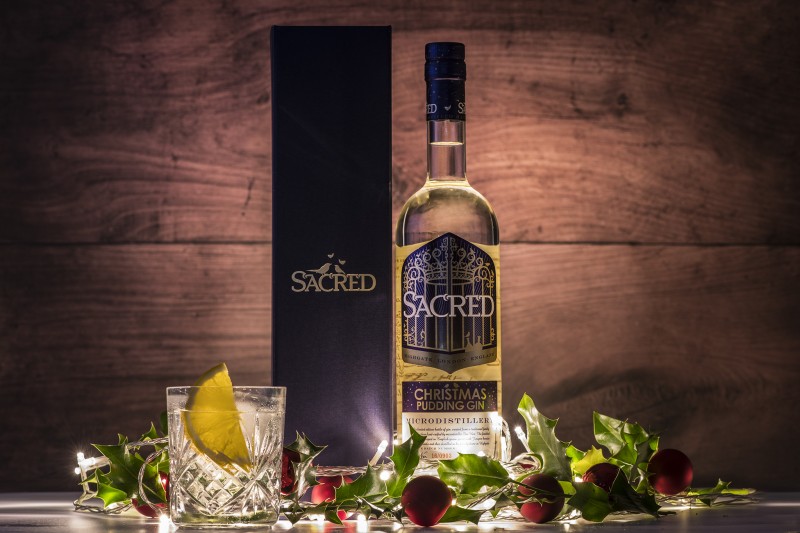 You might think at this time of year there's a tendency to over-egg the proverbial Christmas pudding when it comes to boozy festive expressions, but this smasher from Sacred is the OG of the Christmas Pudding gins, and it's as classy as it is festive. This is a gin, not a liqueur, so don't go expecting anything overly sticky or sugary. This bottle is what we hit up when we wanna give classic cocktails a festive makeover (which is how they roll at London institution, Rules, FYI) while keepin' them sacred. P.S It happens to make a mean Dry Martini, with an orange twist, of course.
Sacred Christmas Pudding Gin, 70cl (40% ABV) RRP £34.95 Available from the Sacred Gin website.