The English Outlaw
We ain't gonna be leaving bonny England for a while, that's for sure - so let's chill out and celebrate the bounty of the island. This twist on a classic Manhattan is The English Outlaw, made with Cotswolds Single Malt Whisky, which is the first whisky ever distilled in the Cotswolds. The robust malty base makes it complex and seriously moreish. Yum. Only got Scotch at home? No drama, try whipping yourself up a Scottish Outlaw!
Ingredients:
60ml Cotswolds Single Malt Whisky
30ml Vermouth
1 x bar spoon of marmalade
1 x dash of Aromatic Bitters
Method:
Dissolve the marmalade in Cotswolds Single Malt Whisky, add Vermouth and dash of Aromatic Bitters, stir down with ice and fine strain into a martini glass. Garnish with cherries, Maraschino if you have them in the cupboard!
Cotswolds Single Malt Whisky available from waitrose.com, thewhiskyexchange.com, Harrods, Laithwaites and cotswoldsdistillery.com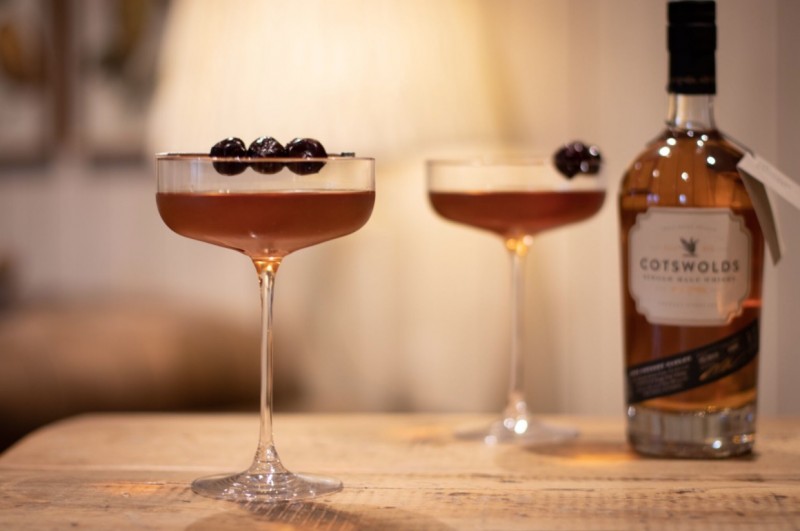 Crème de Cacao
Easter is on the horizon, but it's not eggs we're after. We like our chocolate in more of a liquid form - spiked with some seriously tasty booze, naturally. Give the Easter Bunny a day off and check out this simple but effective sweet treat with a kick. 
Ingredients:
25ml Tamova Vodka
500ml water
60g sugar
60g The Pantry Cocoa Powder (or any cocoa powder you have lying around)
Method:
In a small saucepan, boil 250ml of water then remove from heat and add cocoa powder and sugar. Stir to dissolve and then add the remaining 250ml cup of water. Once cooled, add the Tamova Vodka to the mixture and leave to infuse. After the vodka has successfully infused, strain the liquid through a coffee filter to remove any fine particles and pour into a glass of your choice. 
Tamova Vodka is available now in stores nationwide and online www.aldi.co.uk/c/spirits.
Harvard Drop Out
One of our fave London bars Coupette is giving you the secrets to a world-class cocktail at home. Designed by head bartender Andrei Marcu, Harvard Drop Out uses only three simple ingredients - Cognac, port and sherry. Basically all the booze you've still got lying around from last Xmas, then. It's rich, decadent, and brilliantly boozy. 
What's more, Coupette has teamed up with Whiskey Exchange to create a bespoke cocktail bundle so Londoners can get these three exact ingredients delivered. Check it out here. 
Ingredients:
30ml of Courvoisier VS Cognac
50ml of Croft Triple Crown Port
10ml of Tio Pepe Palomino Fino sherry 
Method:
Pour into mixing glass, add ice and stir. Strain into a small coupette and garnish with orange peel to serve.
Red Zealot
Spring is in the air, and we're feeling fruity with this dreamy gin cocktail. Juicy strawberries, sweet honey, sharp lime juice - oh yeah, and a kick of gin, please. Zealot's Heart gin is from that savvy BrewDog gang, but at a pinch, any you have to hand will do. 
Ingredients:
50ml Zealot's Heart gin 
25ml fresh lime juice
25ml honey syrup (50/50 honey & water)
3 strawberries (fresh or frozen) 
Method:
Pour ingredients into a shaker (or a jam jar if you don't have a shaker), strain into a martini/wine glass, garnish with strawberries.
You can get your own delivery of Zealot's Heart gin here. 
The Crave Buster
Staying sober during lockdown, or just had too many boozy Zoom seshes? This cocktail is for you. It uses Amplify, a refreshing & zingy non-alcoholic spirit that's distilled and made with invigorating ingredients such as juniper berries, coriander seeds, Angelica root, lemon peel, lemongrass and ginseng root. Banging. Mix the salty flavour of pickle brine with apple juice and voila - you've got that unbeatable sweet and savoury combo. 
Ingredients:
50ml Amplify
12.5ml Pickle Juice
10ml Lime Juice
60ml Apple Juice
15ml Sugar Syrup 
Method:
Add Amplify, pickle juice, lime juice, apple juice and sugar syrup with ice in a cocktail shaker and shake hard to combine. Strain and add into a glass filled with ice and top with soda. Garnish with a pickle. 
Amplify is available to buy at Morrisons and other online retailers, priced at £15.