These cocktails really sleigh...
Mariah is back on the radio, the Oxford Street lights are up and sprouts have somehow snuck their way onto the supermarket shelves like that "friend" who always turns to a party they weren't invited to. The Christmas countdown is ON and we're cranking up the cheer with these five merry serves.
Cranberry and Orange Gin Fizz 
Long, fizzy and refreshing, this kick-ass recipe from 6 O'Clock Gin is total a party-pleaser - perfect for a Christmas Eve sesh.
You will need:
20ml Cointreau
25ml cranberry juice
25ml orange juice
15ml lemon juice
½ tsp caster sugar
Soda water
Orange wedge
Method: Add all the ingredients except the soda water to a cocktail shaker, fill with ice and shake. Strain into an ice-filled rocks glass and top with soda. Serve with a decorative orange wedge. 
Wilfred's Non-Alc Mulled Wine
If you'd rather avoid that Christmas morning hangover (and when there are screaming kids around, who doesn't?) you'll wanna hit up Wilfred's botanical aperitif for a killer alternative to the booze.
You will need:
300ml Wildred's Aperitif (0% ABV)
30ml of honey or maple syrup
Freshly sliced oranges 
A sprinkling of earthy spices from your cupboard (such as cloves, cinnamon, aniseed, coriander seeds etc)
Method: Place all ingredients into a pan. Warm it up until almost simmering, but don't boil. Leave to rest with a lid on for 5 minutes and serve with a ladle into mugs. 
Currant Affairs
Politics is off the table at Christmas, but there's always time for some currant affairs...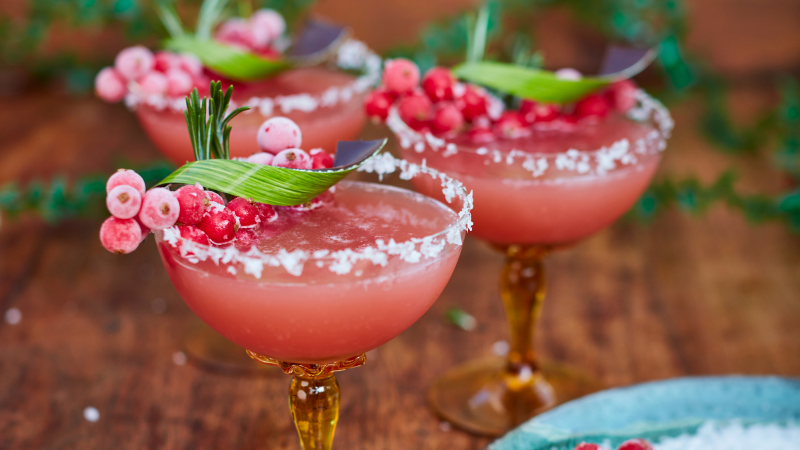 You will need:
1 or 2 lime wedges
Maldon salt
3 parts grapefruit juice
3 parts blood orange juice
1 part vodka
Frozen redcurrants, sprigs of rosemary for garnish
Method: Run the lime wedge around your cocktail glasses and dip into Maldon salt (AKA the best salt). Combine all the parts in a cocktail shaker with ice then shake well and strain into your prepared glasses. Garnish with the frozen berries and a spring of rosemary. 
Black Cow Egg Nog 
This is a festive drink that usually splits a room, but when you throw in the spiced flavours of Black Cow Vodka's Christmas Spirit, even the haters will be swayed over to the creamy side.
Serves 6
You will need:
3 Clarence Court Burford Brown eggs, separated
75g caster sugar
300ml full-fat milk
150ml double cream
Pinch of ground cinnamon
Pinch of ground nutmeg
Method: Grab two bowls from the cupboard, crack your eggs and separate the yolks from the whites into their respected bowls. Whisk the egg whites and half of the sugar for two to three minutes until light and frothy. Add the milk, cream, alcohol, spices and mix together with the egg whites Then whisk the egg yolks and the rest of the sugar until fairly stiff. Fold the egg whites and alcohol mixture into the yolk bowl, combining everything together and gently whisk one last time. Pour into a sealable bottle and store in the fridge to chill until ready to serve. Serve in any glass you see fit with a light dusting of cinnamon powder and grating of nutmeg.
Sloe Gin Hot Toddy
The ultimate fruity winter spirit has been given the heat treatment to make a cosy makeover. 'Cos Christmas is for taking it sloe. Duh!
You will need:
2 measures of Two Birds Sloe Gin
80g fresh blackberries
20ml hot water
2tsp honey
Hot water to top up
Sprigs of rosemary and extra whole blackberries to serve
Method: Place the blackberries in a small bowl. Add the 20ml of hot water and then use a fork to crush and mash up the berries. Push the berries through a sieve allowing the juice to fall into a clean jug. Use a wooden spoon to push through as much juice as you can. Discard seeds. Add the honey to the blackberry juice and mix well.
Divide the sweetened blackberry juice between two tall mugs or double walled glasses. Add a measure of sloe gin to each glass and then top up with hot water and stir. Decorate each glass with sprigs of rosemary and extra whole blackberries.
Want more killer cocktail recipes for the countdown to Chrismas? Check out our socials, 'cos BarChick Christmas is BACK, baby! We're bringin' ya 12 days of awesome recipes, epic giveaways and wicked bar experiences. BRING IT ON!