Passports at the ready. These are the global bar openings we're psyched for this year.
The Americas:
Opening soon
Here's another New York institution opening an additional site, this time in... New York. Yep, everyone's fave NYC Italianate bar (and currently the World's Best Bar) isn't straying too far - up the street in West Village, to be precise. Dante has gone a bit more geographically adventurous with the new theme though. They're trading Negronis for Spritzes as this is gonna be Spanish themed. Basque Country, to be precise, driven by seafood and wood-fired grilling. There's a focus on Martinis too. The speciality at Dante West Village will be the 'thrown' Martini - where the drink is poured over and over again from shaker to shaker to give it a lighter texture. Then there's the Mediterranean Martini served with Cerignola olives. Be still our beating hearts. 
551 Hudson Street (Perry Street)
Opening Summer 
Hold up - this is a big 'un. The boys behind Dead Rabbit Grog & Grocery - yeah the sick twist on an Irish pub which has won a bunch of awards including 2016 World's Best Bar - are opening a spot in New Orleans. You'll be able to drink their banging Irish coffees and epic whisky cocktails at their pop-up during the mixology world's biggest shindig Tales of the Cocktail in July. Then a couple of months later they get comfortable in a permanent spot in the French Quarter. The new bar will have the relaxed, unpretentious vibes as the original Taproom (sawdust covering the floor, bottled punches, Guinness good enough to make you weep for the Emerald Isle etc). And word on the street is that they're planning a global expansion of 10 bars in the next 10 years. Eyes are on Singapore and London - we say bring it on. 
Just opened 
Anyone who's headed to the original Death & Co in New York will know the drill. A sexy jazz-bar feel, slick service, and an intimate, swanky lounge vibe. Oh, and f**kin awesome cocktails. Their third outpost in LA's Art's District isn't straying too far from this tried and tested formula. Head down to this subterranean bar when you want a night of mad creative cocktails under categories like 'bright and confident,' and 'boozy and honest'. Don't forget to try the small plates - caramelized potatoes with winter truffles and fontina cheese, we see ya. Fancy stretching your legs? Head to more casual space The Standing Room. This walk-up bar has eight cocktails on offer - great for the indecisive, or anyone wanting to nail the whole menu. 
Opening soon
Low ABV cocktails, vermouth and organic wines - hey, BarChick's a fan. And like us, they show no sign of slowing down in 2020. So Margot Natural Wine & Aperitivo Bar is shaping up to be bang on-trend. They'll be serving low-alcohol cocktails made with vermouths, amaro, and aperitifs, for your Miami easy-drinking fix. This new bar comes from Bar Lab, the guys behind Broken Shaker bars. Cocktail royalty, then. Word on the street is that the music playlist will mostly be female artists with a bit of contemporary, classic R&B, soul and funk to jazz things up. The wine selection is gonna be au natural baby, with a focus on minimal intervention, and zero chemicals, from sustainably-grown grapes by smaller producers. One Miami vice that you don't have to feel guilty about. 
21 SE 2nd Ave, Miami, FL 33131
Opening February 
Fans of the killer spiked-slushies at Mother's Ruin NYC - rejoice. Soon you can get your frozen boozy kicks in Chicago. This neighbourhood dive-bar is big on the chill, even bigger on the craft cocktails. They're bringing the laid back vibes and top-notch hospitality direct from the Big Apple to the Windy City. Expect the same kinda interior as the original NYC site: exposed brick, wooden floors, and a massive mirror surrounded by menu boards. Whether you want a basic beer or a more experimental elixir, these guys are catering to it. All about that late-night snackage? We hear the best-selling spicy fried chicken sandwich with waffle fries is making the cut. Boom. 
2943 N. Milwaukee Avenue
Estimated opening: February
This is the most disruptive new resident D.C has seen since January 2017. Mr Lyan is taking his pride across the pond to shake things up in the States. And by things, we mean cocktails.  In signature Lyan fashion, Silver Lyan is gonna reimagine the traditional hotel bar. You thought his London & Amsterdam outposts were epic, you ain't seen nothing yet. Expect more innovative ingredients, wild serves and some groundbreaking design. 
900 F St NW, Washington, DC 20004, United States
Just Opened
This opening of this Italian joint was first announced last Summer, but no official opening date was given. Well, now they've gone and opened on the quiet and overnight become the hottest joint in Vancouver for fine Italian spirits, wine, and tapas.  Love a dose of grappa? They've got loads of it, along with plenty of cocktails that'll have you dreaming of La Dolce Vita. 
1566 Commercial Dr, Vancouver, BC V5L 3Y2, Canada
Asia
Opening November
Luxury hotel on a private island? This is the level of lavish we expect from 2020. Raffles Hotels are majestic by dint of their existence. Now they're upping the ante and opening their first outpost in India on a 21-acre private island in Udai Sagar Lake. We're sold. This serene water city is where lavish royal palaces rub shoulders with colourful temples. There's a reason they call this place the "Venice of the East." It's arriving in the Autumn with all the Raffles' Signatures; 1,100 square meter Raffles Spa, an all-day dining restaurant, a swimming pool, and deck. But it's the addition of the legendary Long Bar, and Writers Bar along with a rooftop restaurant that has our attention. 
Opening Summer
If you thought the Olympics was the biggest thing to hit Tokyo this year, think again. The EDITION hotels are expanding and they're hitting the Japanese capital harder than a gold medal boxer.  They're opening two distinct hotels, starting with the larger Tokyo EDITION, Toranomon this Summer which will come with EDITION's signature cocktail bar,  Punch Room. They haven't dished the dirt on whether the menu will differ from it's London based sister, but we'd put money on it being as bad-ass as the original. 
Opening Early 2020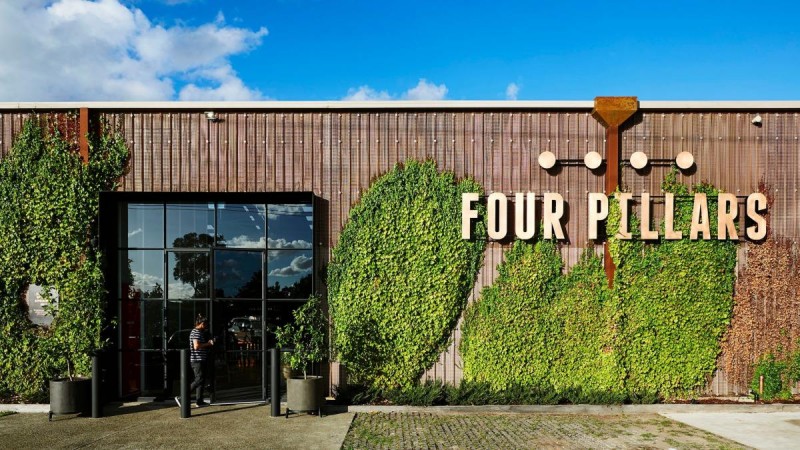 If you're regularly found kickin' it in Sydney's Surrey Hills and happen to be a big fan of Four Pillars Gin, you're going to dig this newcomer; The new Four Pillars Distillery and Drinks Lab is the latest resident to the neighbourhood. Their resident 70L still 'Eileen' has moved in to create small batches of perfectly crafted gin, and she's been joined by an outrageously specced bar where the crew will showcase all the miraculous things you can do with Four Pillars Gin as a base.
410 Crown Street, Surry Hills, Sydney.
Europe
Opening Summer
Love NYC, hate jetlag? 2020 is bringing you a TREAT. One of our fave spots in the Big Apple is setting foundations in BarChick's hometown. NoMad is heading to London, baby!  The fashionably boutique NoMad hotel is settin' up shop in the former Bow St Magistrate's Court in Covent Garden this Summer. Expect the same epic cocktails that landed the O.G at No.4 on the World's 50 Best Bars list last year!
Bow Street Magistrates Court & Police Station, 28 Bow Street, Covent Garden, WC2E 7AW
Just Opened
Things are gettin' spicy in Barcelona. Especiarium is the new bar From Antonio Naranjo of Dr Stravinsky, and it's all about spices and their influence over the ages. Hot damn. Expect to have your mind blown with the epic cocktail menu.  Never had a Daiquiri with a curried twist before? Get yourself to Barcelona and give the Curryquiri a go. It's made with two rums and three different curries and it'll set your world on fire. 
Carrer de la Princesa, 29, 08003 Barcelona, Spain
TBC 2020
This is the first bar from the award-winning brothers Joe and Daniel Schofield. It was promised to us in 2019 but as yet, the doors still haven't opened to us eager drinkers. And it's just made us even more thirsty for it.  Here's hoping 2020 is the year, cos these guys are legends when it comes to mixing up epic cocktails. The lads have been prepping for the launch by hosting events and takeovers with some of the world's best bars and, judging by those, we're in for one massive treat. 
Estimated opening: Mid-2020
Ex-Artesian and Little Red Door head bartender and current Co-Director of Le Syndicat in Paris is prepping to have a BIG year. He's got plans to  be master of the multi-task, opening two bars on either side of the Channel. Starting in Paris, he'll be opening a PMU (a traditional French café/ bar/ tobacconist/ betting shop) in an attempt to reconnect with the role of the neighbourhood bar and French culture, and then London will be getting one helluva bar inspired by the Art Nouveau movement. It won't be just another London cocktail bar. He's planning on taking this one to another level.  We are pumped!
Africa and Middle East
Re-opening February
Okay, so this is more of a relocation than a new opening. So sue us. We're still hella excited about the revamp of Rick's Cafe. Channel your inner Scarlett O'Hara cos the theme here is that 1942 movie classic "Casablanca". Think vibey Moroccan colours, wicker furniture and plenty of palms. The new site promises to have all the sass of the original and more. The views will be banging, with a  roof-deck bar and grill station and a full uninterrupted panorama of Table Mountain. Downstairs is a stylish bar with one of Cape Town's biggest selection of tequilas and gins, or hang on the first-floor balcony with a cocktail and snacks. Oh yeah, and there's a piano lounge. So you can demand 'Play it again Sam' until the staff get bored and ask you to stop. 
103 Kloof Street, corner 101 Weltenvrede Avenue