The tinny, AKA the perfect accompaniment to any picnic, BBQ or commute. It's always there to welcome you into the evening, join you in the park with your crew or keep ya hydrated at a festival. But with so many out there, which ones are worth taking up precious real estate in your cooler? These are the RTD (that's ready-to-drink, FYI) faves we like to get down with.
When the sun's out, we're on the Moths like, well... like a moth to a flame. This party-ready range features canned versions of the classics, including the Old Fashioned, Margarita, French 75 and Mojito. Our go-to? It's gotta be the Aperitivo Spritz, which tastes just like the real deal - 'cos it is the real deal, just in tinny form. Wicked.
We don't know about you, but we could really do with a vacay right now. These awesome craft canned cocktails are ready to take you wherever you want, and they're doing it with some seriously high-quality spirits. Mexico? The fresh-as-hell Paloma will take ya straight there. Hawaii? A sip of the Vodka Soda made with orange, hibiscus and lemon is the best way to get lei'd.
Take yourself away with Vacay here
Always the most adorable canned cocktails in the game, the Whitebox range is ever-growing and loaded with straight bangers, from the epic Pocket Negroni, to the next-level Freezer Martini, to a smoky Mezcal Margarita and a seriously good Whisky Highball. Pull these out at a picnic and your mates will be awed by both their flavours and their awesome designs - promise.
If you like Pina Coladas and getting caught in the rain - you should probably pick up these for your picnic. This range has all your guilty pleasures, from the Amaretto Sour to the Piña Colada and the Pornstar Martini. Now that's a party! Plus they're infused with nitrogen for a velvety feel and real-deal smoothness.  
Canned wine has been making major gains, and we're digging these Nice slimline packaged vinos. With a pale rosé from the Montpellier area and a Sauvignon Blanc from Cotes de Gascogne, they call it "wine for whenever" - for times wine is essential and glasses are optional. We're talking on-the-go, al fresco, home alone with your fridge; whenever wine calls, these guys are here for you. In a can. Nicer than nice.

These all-natural British tinnies are made with four-times-distilled vodka and soda water, and naturally flavoured with real fruit - no sweeteners, preservatives or artificial flavours insight. We love to see it! Currently available in three wicked flavours (we're partial to Peach & Raspberry), they're the perfect refreshing accessory to accompany your park hangs and BBQs this summer.
Like summer's smacked you round the face. One is juicy and rammed with passionfruit; another's a little tart with a zing of raspberry. Then there's the exotic Tropical Daiquiri, which gets our vote every time. Get 'em chilled and the first sip will have you feeling as fresh as Will Smith. They all pair extremely well with a night in, so if you're getting the house party started, these tinnies have you sorted.
The Bloody Mary: it's a staple of brunch, but it's a ball-ache to whip up when you're hanging out your arse, so these cans of hair of the dog are a must. The batch-crafted recipe can be enjoyed straight from the can or poured over ice and a slice if you wanna be a bit fancy. They're punchy and balanced, made with a peppery pickle juice, premium vodka and cream sherry. The heat is subtle but MEGA effective and comes from their own hot sauce recipe. Hot damn!
Get a Bloody delivery by ordering here
Coffee liqueur brand Kahlúa has nailed its signature Espresso Martini - or should we say Mar-tinny?! It's the buzziest of all the cocktails, and the Kahlúa crew have managed to ensure maximum frothiness with a clever nitro-powered can which forces bubbles to the surface as soon as it's opened. The best thing about the one? It's a double serve, so you can share it with a pal or... not. You know how we'd roll.
Buy your cans of this classic here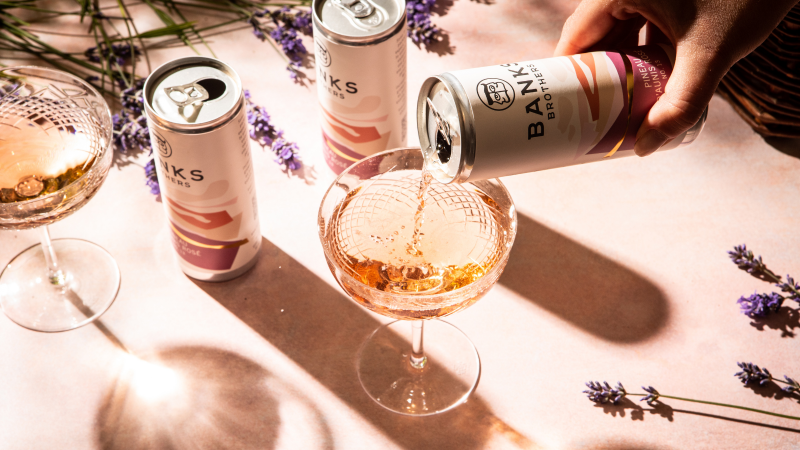 A posh take on tinnies? These cans from Tommy and James Banks, the fine-dining duo behind Yorkshire restaurants The Black Swan and Roots, fit the bill. The Banks bros are all about highlighting independent winemakers, and you can head to their site to learn all about the suppliers behind the grapes. From a fresh, juicy Gamay Pinot Noir to a rich, honeyed late-harvest Chenin Blanc, this is some seriously good juice.
POV: you wanna sip Italian vino without having to a lug a full bottle to the park. Enter: Vinca. This range leaves the wine jargon and fuss at the door, serving up fully organic, straightforward and delicious red, white and rosé for all your summer sipping needs. 
Rosé (and white and red) this way
If you're trying to increase your intake of water but tend to crave the more exciting, you'll f*cking love this. The Bodega Bay crew have taken thirst-quenching sparkling water and spiked it with booze and natural flavours - think Apple, Ginger & Açai, and Elderflower, Lemon & Mint - to make this refreshing (and low-cal) hard seltzer tinny that'll put a bit of oomph into your hydration. 
Jump on the hard seltzer train here 
Your fridge will feel naked in the summer if you haven't packed it with these refreshing tins. We're big fans of Edinburgh Gin. We dig the brand's G&T, but its spicy, fruity, ready-mixed Gin & Ginger, made with Rhubarb & Ginger Gin Liqueur, has really stolen our heart. Get ready for sweetness, a juicy rhubarb tang and a gingery kick - the perfect antidote to a heatwave!
Get your fridge stocked with a case over here
English wine? In a can? It's safe to say the team at The Uncommon aren't afraid to go rogue - but one sip of their epic wines and you'll see that this maverick attitude has paid off. Made from grapes grown within 50 miles of London, these wines are fresh, spritzy and crisp while still feeling extra AF... just as good for sipping at a festival as they are for serving at a dinner party, you boujee babe. 
No one does a classic G&T quite like the team at Portobello Road Distillery. After all, they have three sh*t-hot gin bars in their four-storey mecca, and one is literally named after the drink, so obviously they've perfected this classic serve. But for when you can't make it to W12, they've got this portable version, which pairs their Portobello Road Gin with Franklin & Sons Natural Indian Tonic Water for you to carry with you at all times. Ace!
Grab a few cans of this classic here
Up for a mid-summer jaunt to the south of France? Crack open a can of the Provençal pink stuff from the rosé legends at Mirabeau and you're as good as there. will occur. These tinnies of 13% ABV wine made from Syrah and Grenache grapes bring a sophisticated, light flavour, dryer than a Mormon's wedding. Grab a can and get that summer holiday feeling, mon ami.
Get your cans of rosé to go here
These guys are all about making natural fruit punches, but they haven't just stuck with the booze. Yeah, some have a bigger punch than others, but they've managed to put their non-alc cocktails on a level playing field with the hard stuff. WOOF. Looking for a holiday romance? The zero-ABV mix of peach, ginger and chai will give you some sweet summer lovin' vibes - but if you wanna make it steamy, the boozy counterpart spiked with rum will have ya hot under the collar in no time.
Order some canned punches over here
If you've tried Something & Nothing's soda range, you know this brand doesn't mess around when it comes to refreshment - and they kept things just as light and breezy when they added booze to the mix. At 4% ABV, their Spritzes pack unique flavours in tinny form, from a Junmai Sake & Yuzu Spritz to a Sauvy B & Cucumber sipper. Hell yeah!
For quality cocktails in a can, look no further. The crew at East London Liquor Company have decided to step into the RTD ring and boy, have they brought their A-game. Known for awesome spirits - and a diehard dedication to bringing booze production back to the East End - these tinnies are summer in a cylindrical package. Get some island vibes with Rum & Ginger, or perk things up with Vodka & Rhubarb. On a sober flex? No biggie, you can enjoy their non-alc Grapefruit G&T, which comes in at both 0% and 5%. We're in. 
Get your hands on these babies here
We know that tinnies are a global thing, but there's something about them that just seems synonymous with British culture. Probs something to do with hot priests and our innate love for drinking on public transport (Dianne Abbott walked so we could run). Now Thomas Tipple has captured those thirsty British vibes with its awesome branding, creating serves that taste just like quintessential British summertime. We're all over the Raspberry Bellini, which has picnic on Primrose Hill written all over it, rain or shine.
Updated 21/06/2023