Having a Zoom party? There's a drink for that...
Love it or hate it, you've probably succumbed to some kinda Zoom meeting/catch-up/party by now. Maybe you're the kinda person who's been making their own virtual backgrounds. Maybe you feel yourself die inside every time someone suggests another 'zany' Zoom sitch (fancy-dress bingo, guys!). Whatever your Zoom flex, we've found the perfect cocktail for the situation - and they can all be DELIVERED!
Zoom with... your friends on a Saturday night
It might be lockdown but it's still the weekend baby, and that deserves a drink to match. We're ordering the Fuck It, It's Still The Weekend from the crew at Cocktail Trading Co. Jagermeister Manifest, walnut-spiced Pinot Noir, cold brew coffee & Rooibos soda. BOOM - your Saturday night just got serious. 
Order yours here: it's only £7 so you can get a bunch in... 
Zoom with... the hottie you dated 3 times before Lockdown
It was going somewhere, it really was... then lockdown happened and you both live on opposite sides of London. Now you've agreed on a Zoom date and you have to wear a bra/trousers/makeup for the first time in weeks. The most important thing: be drinking something that says 'I'm creative, adventurous, and my finger's on the pulse'. We recommend Mr Lyan's Candlelit Manhattan. When they ask what's in it you can casually say - 'oh you know, actual wax. It's from Ryan Cheti, he's a bit of a cocktail legend.' Instant cool/edgy points. Bonus is, it tastes great too, so if the date's a fail who cares? 
Order your bottle from The Whisky Exchange here. It's worth the investment. 
Zoom with... your colleagues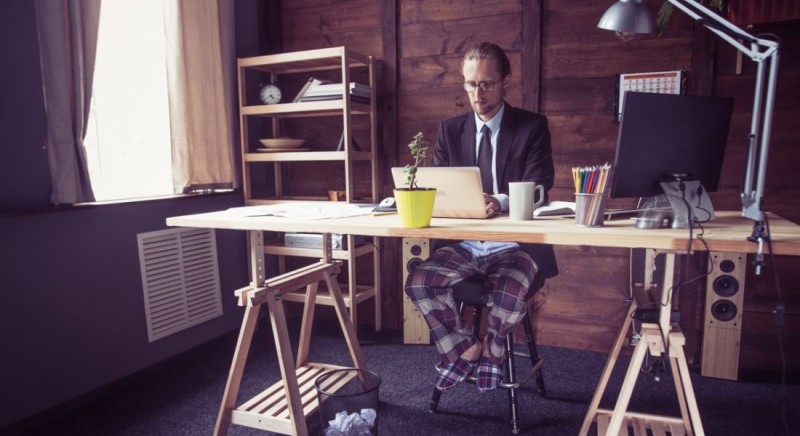 Image: © Svyatoslav Lypynskyy/Stock.adobe.com
It's probably not the best idea to get on the sauce for that midday meeting with the boss... especially since at the last virtual catchup you got up to get a coffee & everyone noticed you were still in your PJ bottoms. But hey, if you feel like living your best life/taking things to the edge/you know Boring Hilary is presenting,  then we recommend the Mirror Margarita from Hacha. All the epic Margarita flavours you know and love, but it looks exactly like water when it's poured in a glass. The perfect crime.  
Zoom with... your friend who lives in another time zone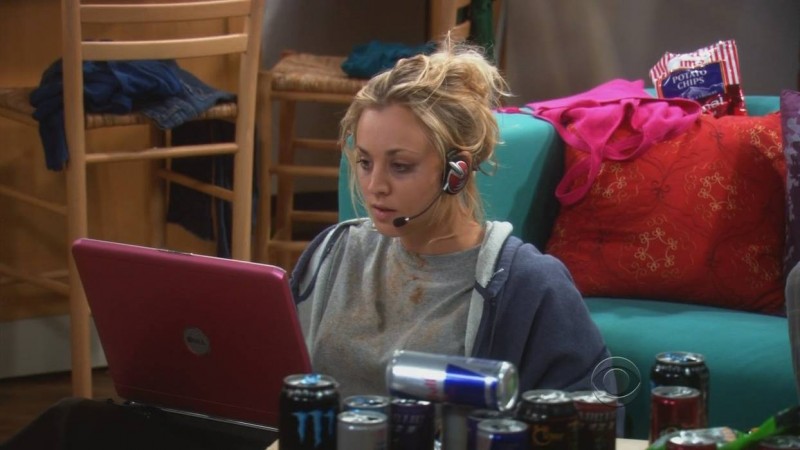 Image: The Big Bang Theory, CBS
Covid-19 has brought us all together, and now your mate who lives in New Zealand (and who only ever wanted to speak twice a year before now) is requesting weekly updates. Trouble is the time difference. For them it might be 4pm but where you are it's pushing 11.30pm, and lockdown hasn't exactly made you a night owl. Keep yourself awake with an Espresso Martini from Cotswolds Distillery. Caffeine & booze to the rescue. 
Get a bottle of rocket fuel here.
Zoom with... your brunch club
Image: Olivier Douliery/AFP via Getty Images
In these unprecedented times, we're all holding onto some semblance of normality - which means your weekly brunch club is still going ahead! Who doesn't love a good gossip over something sparkling? Grab The Valentina Bellini from Lollipop - it comes in a litre bottle so that's practically like bottomless bubbles, right? Show those other suckers how real brunch queens do it. 
Get your bottle of pre-mixed Bellini here. 
Zoom with... your parents
You're trying to convince them you're fine and not to worry, and yes you have gotten out of your PJs in the last week (they don't need to know you've upgraded to sweatpants). To convince them you're a functioning adult, pour yourself an Old Fashioned for your next catch up. It'll look suave and sophisticated. They don't need to know it's a tasty as f*ck Salted Caramel Old Fashioned from World of Zing.
Get your bottle of liquid crack here. 
Zoom with... all your mates for quiz night
This is gonna get messy, so in for a penny, in for a pound. You answer questions better when you're a few sheets to the wind anyway. Miss being in a pub and chugging through the craft beers? Order a case from Biercraft. Not technically a cocktail, but you get a wicked selection box of treats, plus every week they partner with a new restaurant (Bao & Quality Chop House are both on board). It's almost as fun guessing the beers as guessing the answers. 
Check out the banging variety packs here. 
Zoom with... the babe you've been speaking to on Hinge
You've never met, and yet they could be The One. They've got great online game anyway, and you're about to take it to the next level and... chat face to face. Gulp. You want them to think you're a laugh/intriguing and it's gotta be a show stopper, so go for the Negroni from Deli Cat & Sons. They're served in a vacuum bag so we say just stick a straw in it and slurp straight from the plastic. a) guaranteed conversation starter b) you can test their sense of humour & c) when they say they love Negronis you can come out with 'oh really? We'll have to head to Frank's when this is all over...'. 
Take a look at what Deli Cat & Sons are offering here. 
Zoom with... your bezzie
You're both missing each like hell and even though neither of you has been anywhere or done anything for over a month, each time you catch up it's totes emosh. On your next Zoom call, why not relive that sun-drenched island holiday you took - or that you drunkenly talked about every time you ended up in Soho - and get on the rum. We recommend the Banana Daiqiari from The Sun Tavern. Bacardi Anejo Cuatro, Forever lime and banana turn any online natter into a virtual vacation.
Get your hands on this punchy cocktail here. 
Zoom with... 'The Gang'
There are 12 of you cramming into this Zoom call... you're blatantly not gonna get a word in edgeways. Therefore you need a kickass drink to make showing up worth it - but not a cocktail that can be drunk too quickly. Otherwise it'll be like that time the waiter was topping you up at your cousin's wedding and you ended up throwing up in the photo booth. Order in an Elderflower Collins from Black Line. It's refreshing and not mad boozy, best served over loads of ice, so you can sip rather than gulp. Another bonus - it comes in a big bottle so don't need to worry about running to the kitchen to top up & missing the latest gos.
Check out the gorge bottles here.
Zoom with... your complaining mate
Image: Mean Girls, Paramount Pictures
They're stuck in lockdown with their overly-protective parents/annoying flatmate/soon-to-be-ex partner - and every time you catch up they like to tell you about it. All about it. You need something sweet to keep your mood up - we say order in a Grasshopper from Heads & Tales. With creme de menthe, creme de cacao and milk, it's fabulously retro and basically a dessert in a glass. Just keep nodding away to what your mate's wanging on about while actually enjoying a little bitta liquid indulgence. 
Order your bottle of Grasshopper here.
Zoom with... your aunties, uncles & cousins
Errrr gaaad, you can't really be arsed with this. Your auntie keeps wandering off, your uncle is putting his ear to the screen, and your cousins are being little sh*ts, But you're doing the diligent family thing, well done. You need something soothing and comforting to help you keep your calm - we reckon hit up the Big Smoke Gamble from Callooh Callay. With Jack Daniels single barrel, Ardberg 10 yrs old, honey and Lapsang syrup, it's like a sippable sedative. Plus there are 10 cocktails with each serve, so if all else fails just get merrily pissed.
Order your calming Callooh Callay cocktail here.
Zoom with... your ex
For some mad reason, you've agreed to a Zoom call with your ex. They're feeling needy/need answers/have used lockdown to have a long hard think and wanna get some stuff off their chest. FFS. No matter who dumped who, the rules of breakups is that you must always appear alluring & mysterious afterwards. Order the Harvard Dropout from Coupette, pour it in a coupe/Martini glass, and sip away with one eyebrow raised as they go off on a ramble. Warning - it's made of Cognac, port, sherry & nothing else, and is f*cking boozy. Great if you wanna get stuff off your chest (Dutch Courage), not so much if you have, erm, issues to resolve. 
You buy this in a bundle, so stock up your bar by ordering here.