...and what we'll be drinking with them, obviously.
Our weekend plans: catching some sun-rays, whipping up one of these frosé recipes, and getting these damn good dishes delivered straight to our casa. Because BarChick knows fantastic food can make you feel f*cking fabulous.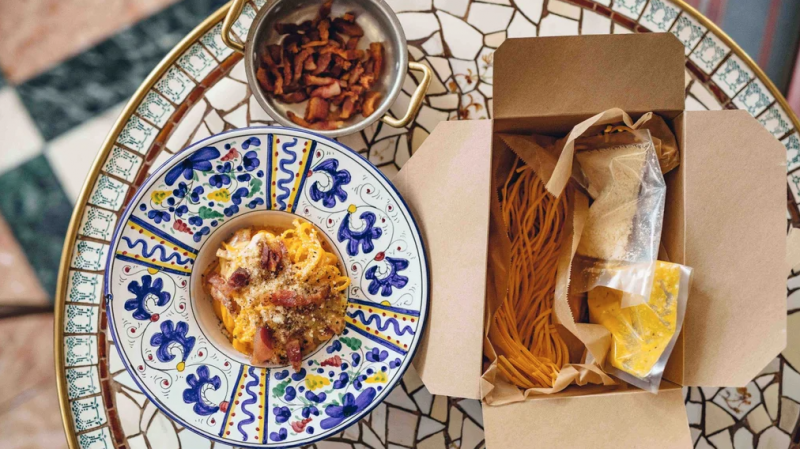 You went wild in the restaurant, you dined beneath the f*ck load of fairy lights, now you wanna recreate the magic at home. Well - you can! The Gloria gang are delivering! Not only can you order dreamy dishes like burrata with pesto heart & 'The Incomparable Lemon Pie' but they've got DIY kits for some of their bestsellers including yes, that carbonara. Okay so you don't make it in a wheel of cheese, but it's still pretty epic. 
Drink with: Negronis all the way - we'll be necking the kickass Maison Negroni from MAP Lab. Hey, why not go all-out and create an epic lockdown date night while you're at it? Read our tips here. 
Deliveroo or check website here.
They're back, baby! And they've got a sexy special to put you in the mood for the weekend. The SPRING is Honest beef, smoked bacon, Westcombe cheddar, wild garlic pesto, rocket and pickles. Served with Honest's signature homemade rosemary salted chips, obvs. Check the website, but they're delivering to a bunch of locations in the UK. You can't keep a banging burger down. 
Drink with: Supporting artisan producers is important to Honest Burgers, and most of the ingredients come from the West Country. Better crack open a bottle of Tricky then - Somerset cider and a burger in the sun? Bank Holiday bliss.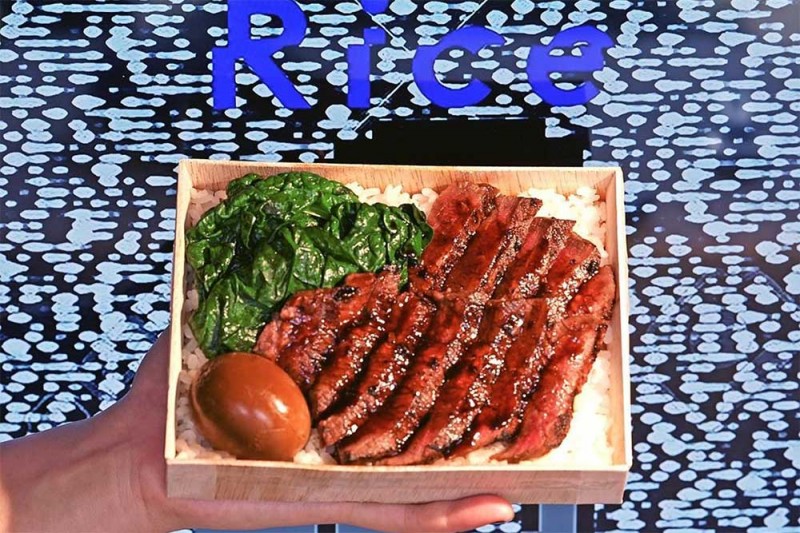 Trust those crafty Bao folk to come up with something achingly cool. They've moved on from fluffy Taiwanese buns & are bringing us sticky Taiwanese rice with an assortment of insane toppings. As well as this Marinated Beef Denver with Black Pepper Sauce and Soy soft boiled egg (oh mama) there's boxed delights like Cha Shao pork belly and Prawn Kimchi fried rice. Oh, and pineapple cake to finish. We bao down.   
Drink with: If you're North or East you can get one of their cocktails to your door - we'll be hitting up the BAO HI with Toki Whisky, Salted Citrus Cordial & Peach Bitters. Otherwise get involved with these springtime cocktails delivering all over. 
Deliveroo or check website here. 
Flame-grilled chicken - come at us. Cooking meat on an open fire might not be a good idea in a lockdown kitchen, but awesome to get delivered from the experts. The guys at Casa de Franco went to the grill-masters of the Algarve to learn their techniques and secret recipes, and the result is pimped poultry the likes of which you've not tried before. These Gs are also offering free Casa meals for all NHS workers to take away - just call the nearest Casa & ask for the NHS offer. Legends. 
Drink with: Portuguese chicken deserves Portuguese wine - luckily you can order a case from Bar Douro. Expand your wine knowledge by sipping on a zesty and fresh Vinho Verde from the North, or perhaps Filipa Pato's creamy and chalky white from Bairrada. We're considering it an education. Order by emailing info@bardouro.co.uk.
Check the Casa De Franco website here. Hit up the Bar Douro website here.   
Did someone say 'dream team'? For the first time ever, the best of Duck & Waffle and SUSHISAMBA is coming to the comfort of your couch, and it's the lockdown combo we're here for. So much so we're gonna order from both of their menus. Duck & Waffle is more 'swanky comfort food' whereas Sushisamba is all about the Brazilian/Peruvian/Japanese blend - time to get adventurous. Sadly it's only delivery til 9.30pm though, so no 3am fancy food for you. 
Drink with: This is a pretty eclectic mix, so we're gonna need something to cover all bases. Have you tried Empirical Spirits yet? This unique distillery in Copenhagen has spirits that are pretty hard to categorise - a bit like the cuisine we'll be munching on with our order. 
Via Supper - check website here.
Vegan or non-vegan, you're not gonna wanna miss these punchy plant-based bowls of perfection. Hackney hotspot Mao Chow excels in vegan Chinese food and now you can order their noodz to your door. These guys aren't shy with the Sichuan pepper so expect some mouth-numbing and tastebud-tingling dishes - but then that's what you came for. The Dan Dan noodles is a creation of pure excellence - soy mince, cucumber, pak choi, spicy sesame noodles - boom.
Drink with: This Sichuan cuisine comes with a kick, so be prepared. Did you know that sweet or off-dry white wines like Riesling, Moscato, and Chenin Blanc are a natural complement to hot and spicy dishes? Well, now ya do. This Lievland Old Vines Chenin Blanc should do the trick, plus 12.5% is donated to the hospitality industry. Perfect. 
Via Deliveroo - check website here.
If you wanna give your usual Indian takeaway a bit of a glow-up, now's your chance. As of Sat 23rd May you'll now be able to order from Gunpowder - the Indian restaurant cooking up ace regional specialities. Their delivery menu's been designed for sharing at home, with dishes such as Gunpowder's Kashmiri lamb curry and Avial curry. But it's the soft shell crab that sparks our interest.
Drink with: Mr Lyan's bottled Diamond Rickey cocktail is a mix of gin, lime and almond liqueur and grapefruit distillate. It's crisp, zesty, and perfect for those summer evenings pretending you're in some exotic climate. 
Deliveroo and check website here. 
Nothing says 'summer is here' like diving into an epic paella - but excuse us if we CBA with the faff of making our own. Anyway, there's no need, since quaint Spanish restaurant Trangallan are now delivering! It's all freshly made so the menu changes daily, but the Garden Paella with shellfish stock has already stolen our hearts. Oh yeah, and it's brought to your door by bike. How cute!
Drink with it: You can't seriously expect us to have paella without a cerveza or tres, surely? Check out the mixed cases of beer from Biercraft, where they've partnered with restaurants such as Naughty Piglets and Two Lights. Or go full-on Spanish and get involved with the Estrella Galicia World Lager - you can also get it gluten-free. Result. 
Join their WhatsApp broadcast group for regular updates and produce orders 07802 655 045, and check website here.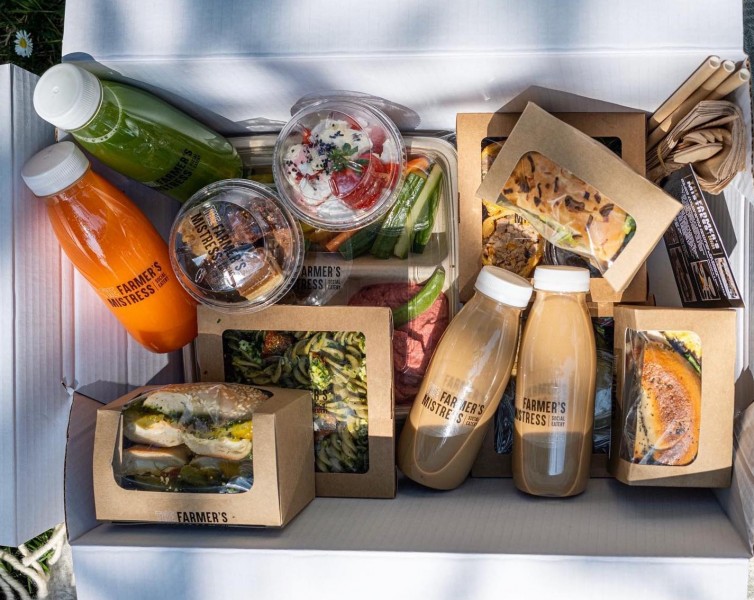 Chances are that after sinking a few too many of these wines in cans on Saturday night, you're not gonna fancy cooking on Sunday. Banish that hangover with some Vitamin D and get to your nearest park with one of these awesome picnic boxes from Farmer's Mistress. Now we can spend a bit more time in the sun we'll making the most of it with this quintessential collection including banging bagels, pimped pasta salad, saucy sausage rolls, blissful fudge brownies and even scones. Their last one sold out pretty quickly so hop to it. 
Drink with: Alfresco drinking demands a spritz - fact. We're mixing things up a bit with SELECT, the aperitif that makes a very tasty Venetian Spritz. It's been around for 100 years, so you know it's a keeper. Haven't tried it yet? Now's the time! Aperol, you're on the bench - aperitivo hour has a new hero. 
Because let's face it, we all want a happy ending to this goddamn sh*t show, don't we? As the temperatures continue to rise, so does our craving for frozen desserts, and these sexy sandwiches of the ice cream variety should do the trick. Choose from 8 varieties including sweet & creamy Tres Leches and their Strawberry Shorty cheesecake one that comes between layers of buttery brown sugar shortbread. Holy christ. These are the guys who invented a Negroni ice cream sandwich, so no wonder we love 'em.  
Drink with: Coffee and dessert - hell yeah. Even more so when it's boozy coffee of the Espresso Martini variety. Indulge your inner mixologist with the help of newly launched Cocktail Porter. They're delivering craft cocktail boxes from Global Drinks Agency Sweet&Chilli, directly to doors around the UK. The Cold Brew Espresso Martini kit will be keeping us chill during the Bank Holiday weekend. 
Via Slerp and check their website here.