For your dad, step-dad, grandad or the bad-ass mum who's bossed both roles all ya life. Father's Day is on the 20th June and when it comes to showing our old man we think he rocks, these gifts say it all... 
For The Don of all Papas

Got a papa that loves a rum? He'll go wild for this limited edition bottle of Don Papa, perfectly packaged in a hella tropical Father's Day canister covered in the flora and fauna of Don Papa's island home, created by acclaimed designers Stranger & Stranger. This buff canister holds the signature Don Papa Rum 7-year-old blend. We love it for its long, rich-textured finish and flavours of vanilla, honey and candied fruits, he'll love it cos you gave it to him.
You can pick up this limited edition bottle & canister in Sainsburys for £28 now
The Whisky Me gift that keeps on giving
Get the old man in your life the gift that keeps on giving in the form of a rockstar booze subscription. With most subscription clubs you can pick how often they get a doorstep drop of their favourite booze - whatever suits ya budget. We love the monthly drop from the lads behind our fave whisky bar, Black Rock. You might have seen these guys on Dragon's Den the other day getting a hefty investment from no less than three dragons (who clearly all love a dram.) Whisky Me sends a pouch of Single Malt at the beginning of each month, from rare or limited edition expressions to a few better-known brands - who knows what you'll get next!
Sign him up for a monthly drop of epic Scotch drams right here (and for a limited time if you sign up for a year you'll get a free welcome pouch with this link, too!)
The Botanist Gin planter for the green-fingered boozer
It is a truth universally acknowledged that dads just bloody love a shed. If your old man already has every tool going, how about throwing a curveball and getting him something he can grow and drink? The Botanist Gin Tin Planter might just look like some wicked packaging but it turns into the perfect vessel for growing fresh rosemary for you to pick and garnish your Botanist Gin cocktails with. Now you've flown the nest that'll give him something else to nurture.
Give him a botanical boozy project over here.
Give some guaranteed sunshine to the BBQ Master 
If your old man is anything like ours, nothing can stop him from firing up the BBQ, so you can expect at some point this summer you'll be eating soggy sausages under a patio umbrella while the British weather rampages through your garden. C'est la vie. To guarantee at least a measure of sunshine, treat him to one of The Duppy Share's Sunshine Syrup Kits featuring The Duppy Share's brand new Sunshine Syrup made with tropical pineapple, mango and guava, two branded gold cups, and a selection of mixers from Fever Tree and Dash. You can pick between two sizes: The £25 pack contains a 20cl bottle of The Duppy Share Aged rum and the £40 pack includes a 70cl bottle. 
Pick up your Sunshine kit here.
Convince your pa you're a domestic deity with Cinnamon Club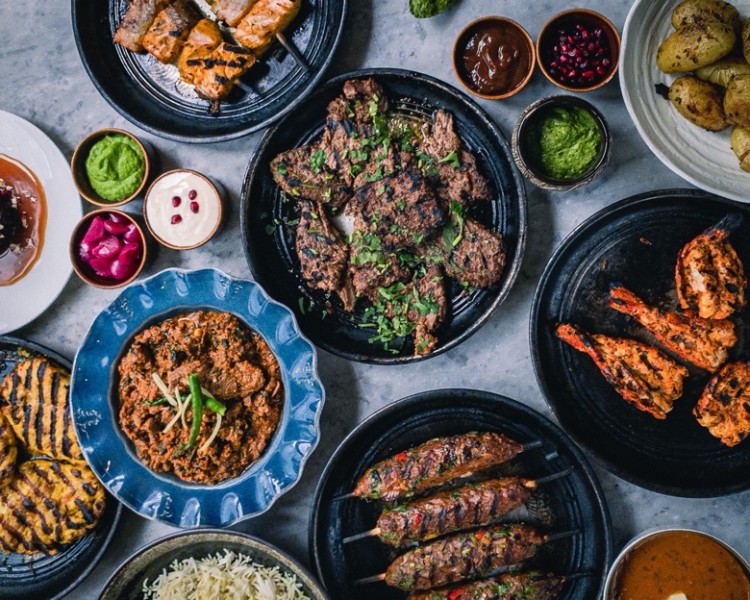 Father's Day is only one day short of the official end of lockdown (if all goes to plan!) so make it a double whammy celebration with a fine-dining DIY feast delivered straight to his door from the kitchen of Cinnamon Club. Nah your dad shouldn't be doing the cooking on his special day, but he's gonna love firing up the BBQ to get the epic assortment of marinated meats grilling away. We're talking black Stone Flower beef escalopes, Sandalwood tandoori chicken breast and lamb seekh kebabs come alongside tandoori spiced Scottish salmon skewers and king prawns. Come to daddy!
The Cinnamon Club meal kit is priced at £140 for up to four people to share. Nationwide delivery on Friday 18th June. Order here.
A gift with his (and Johnnie Walker's) name on it
Look, it doesn't get better than buying your dad a bottle of whisky with his face on it. Unless you include a pic of your own face on it too, so he knows which of his kids bought it for him (smart!). You can customise any one of Johnnie Walker whiskies with a photo of your own, as well as include a personal message, to let him know you think he's an absolute legend. And yes, we loved this one so much we got one for ourselves! We know a good thing when we see it. 
Personalise a bottle of Johnnie Walker here. 
Make his day a Cheesy one with The Cheese Geek
Father's Day and cheese has a certain ring to it, doesn't it? The crew at The Cheese Geek have put together a few wicked gift boxes to give your old man a lactose feast on his special day. Choose from boxes such as "The Freddie" (£45) which pairs three excellent British cheeses with three excellent craft beers from Northern Monk; "The Elton" (£45) which chucks together an unapologetically epic Harrogate Blue with a killer vino; or if gin is more your pop's thing, hit up "The Katrina" (£48) which comes with three cheeses expertly paired with Sipsmith gins, which should leave ya man feeling like he's walking on sunshine.
If you're the type who likes to cut it close to the wire, the latest you can place your order is before 9am on the 18th June.
For the dad who's gotta drive you home after

One of the cons of growing up is the swap you have to make from Dad's Free Taxi to the always surcharged Uber. Of course, there are still some occasions that Dad's Cabs will reopen for business (cos your old man is a legend) and when that happens, he needs to be as sharp as his jokes. The CleanCo crew have created some killer non-alc bottles for when he wants to enjoy a wicked cocktail without going too hard on the booze. Whether your old man favours the flavours of a Jamaican rum, the earthy and fruity notes of a killer tequila or the botanical vibes of a gin, CleanCo have a low-alc alternative, with Clean R, Clean T & Clean G stepping up to the plate.
Pick up on an alternative bottle of your main man's fave spirit here (and pssst. there's 15% off right now)
For the Old Man with a sweet tooth
Booze and chocolate might be the combo you think of for Mother's Day, but baby, it's a winning combo for dad's too. If your pa is as partial to a bar of Dairy Milk as ours, he'll dig one of these wicked gift boxes created with the sweet-toothed in mind. If he's a man who isn't afraid to try out off the wall flavour combos, treat him to the Taste of Greece Gift Set (£65 via Oliveology) a bottle of the OG Greek amber spirit, METAXA 12 Stars, alongside sweet and savoury Greek delights including homemade orange & balsamic chocolates from Greek chocolatiers, Esophy. 
Or if your papa is more of a gin man, he's gonna love the citrusy gift set from Hayman's Gin which comes with a bottle of the new Hayman's Exotic Citrus gin, 9-piece selection box of Rococo Chocolates inspired by the flavours found in it, plus a Hayman's Vintage G&T Glass & 2 Fever-Tree Mediterranean Tonics to create the perfect serve for the perfect dad.
Grab the METAXA gift box here, or treat him to the Hayman's gift set here.
For The Dude that likes to DIY, hit up Mr Black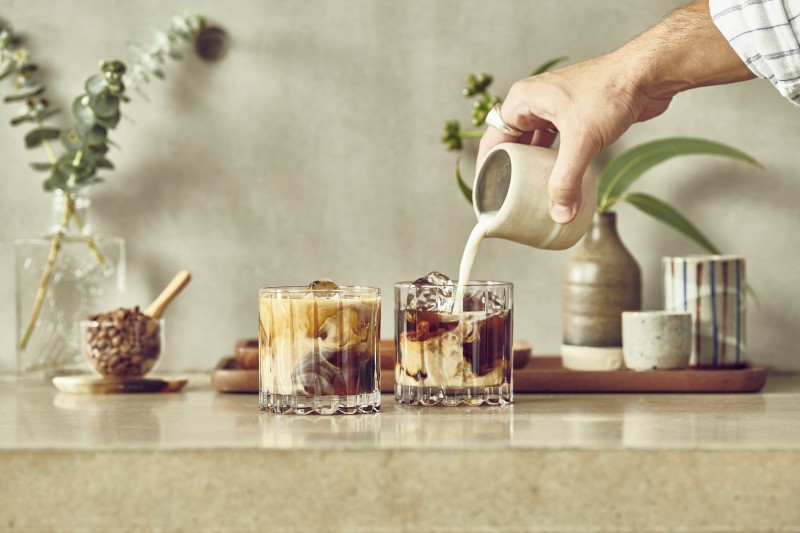 If your pa is the kinda dude who loves to DIY, he'll dig this delicious White Russian kit from Mr Black. It includes a full-size bottle of Mr Black Coffee Liqueur as well as two miniatures of Chase original vodka so it'll take his White Russian to the next level. BOOM. This limited edition luxury cocktail kit comes complete with two enamel mugs so he can kick back in his dressing gown and enjoy his coffee the grown up way.
The kit will make 4 White Russians – and the Mr Black will make at least 10 more tasty coffee cocktails. Give your dad the gift of mixology here.
Bring on the Dad Dancing with a Tequila cocktail from Pimentae
 
You might cringe at the sight of your old man doing the funky chicken, but this is his day, and he can dance if he wants to. If there's anything that can really loosen up those hips, it's tequila, honey. He won't have time to shake up a cocktail from scratch while he's shaking his hips, so get him one of these Tommy's Chilli Margaritas, created and bottled by two babes who were craving an alternative to bar-made cocktails over lockdown. It's a little bit spicy, but hey, he handled you during your teenage years, he can handle the heat.