Pick the right venue and the rest is easy... ish
First dates can be stressful enough without the stress of picking a venue. Don't worry, BarChick has you covered. From snug speakeasies to swanky cocktail bars... we've listed our failsafe spots so you can focus on looking banging. 
The Vault This is a basement bar hidden inside Milroy's, our favourite whisky shop. Head inside, nudge the bookcase, get down the stairs and get into the sh*t-hot drinks, good tunes and easy vibes. This is one of Soho's best-kept secrets so it's bound to impress. Order up something spiked with whisky and get cosy. If this has gone down well, find more secret bars for the inevitable second date... 3 Greek Street, London W1D 4NX
Opium Cocktail & Dim Sum Parlour Step into China town and keep a look out for that jade coloured door. Inside is 1920's Shanghai where you'll find legendary bar staff, crazy smoke cocktails and epic dim sum. Pow. 15 -16 Gerrard Street, W1D 6JE
Discount Suit Company Find the most run-down building you can find on Wentworth Street and look for a cheap-looking suit shop. You'll spot a subtle entrance, scoot in there and down to the snug lil' speakeasy. It's all candlelit and cosy as sh*t, so it's the perfect place to get all up-close and personal with your hottie. 29 Wentworth Street, Spitalfields, E1 7TB
La Bodega Negra This place does Soho proud – lead your date downstairs to the tequila cellar bar and get a couple rounds in. If getting tipsy on tequila, surrounded by the super cool worn down decor and the smell of some of London's best Mexican food isn't enough to make this date a good one you can head to the adjoining restaurant and make a run for it through the neighbouring sex shop. The world's most ironic date escape route. 16 Moor Street, London, W1D 5NH
Oriole You can't really beat this killer Smithfield's bar. Oh boy is it rockin'. Upmarket tiki chic vibe with palm print walls and a touch of colonial. Lots of 2-man tables by the bar for hot dates. Live music to set the tone - think jazz, funk, swing and blues to shake your snake hips too. Don't forget, you're here for the cocktails and they're gonna blow you away. Expect original, daring and adventurous creations served up in beautiful and weird vessels. East Poultry Avenue, London Central Markets, London, EC1A 9LH
The Gibson This pimped up Edwardian style bar has officially killer cocktails (and what's better than a bar from th e World's Best Bar list baby!). If this place doesn't impress, well, they're definitely too high maintenance. 44 Old Street, London EC1V 9AQ
Hawksmoor Spitalfields This is where the friendliest bartenders in the city work, they'll give you a wink when your date turns up and pour you something strong if they don't. This is one of the best bars for killer cocktails and the bar food is ideal if you can't book a table for dinner upstairs. Need something to steady your nerves? Order a Shaky Pete's Ginger Brew; gin, ginger syrup, lemon juice and ale. 157a Commercial Street, E1 6BJ 
Found is a BarChick favourite for dates because they've got wicked drinks like mescal Negronis and calvados Espresso Martinis and some seriously sexy, dark corners to cosy up in. Great lighting, killer drinks and little nooks and crannies to hide away in are everything a good date needs. Under Casita, Ravey Street, EC2A 4QW
68 and Boston Not sure if your date's into wine or cocktails? This bar has got two storeys; one which is all about the vino and the other is all swanky Art Deco and cocktails. You can't go wrong with either but BarChick reckons the wine floor is where it's at - and they have a wine list with loads of bottles for £20, so no risk of looking stingy. 4-5 Greek Street, London W1D 4DD
Loves Company Plonked on City Road, this East London hangout has it all: banging cocktails, locals street art, top tunes and gourmet motherf*cking TOASTIES. Cocktails are banging, made with homemade syrups, liqueurs and spices. 104 – 122 City Road, London, EC1V 2NR
Mr Fogg's Gin Parlour Head to the back of Mr Fogg's Tavern up to this Victorian-era gin den/living room, with enough gin to send you time travelling (we're talking 315+ gins). 1 New Row, WC2N 4EA London
69 Colebrooke Row A.K.A the bar with no name. It feels like you've stepped right into an old school Italian cocktail joint when you slip into this cosy lil' bar. It's pretty much always busy in here, often with a piano tinkering away in the corner, so you can easily blend into the bustle as you stumble through those classic awkward 'first date' moments. The cocktail list is epic, so get stuck in. 69 Colebrooke Row, N1 8AA
Quaglino's Hidden down the back streets of Old School Mayfair, you'll find this swish party restaurant/bar/fail-safe date place. Like you've stepped into a scene from Titanic, think splendour and v. glam - remember to put your glad rags on. Head to the bar for cocktails overlooking the vast restaurant below. Quaglino's 16 Bury Street London SW1Y 6AJ
Bob Bob Ricard If you've got the cash to flash on a first date then it's got to be Bob Bob Ricard, with this lavish 1930's-style bar. Downstairs it's all private, with everyone getting their own train like booth, so if the date goes well.. no one's watching…you get us. And you've probably heard about the Champagne button in your booth that delivers you a glass in seconds. You're on fire. 1 Upper James Street, W1F 9DF
The Cocktail Trading Co.  You can't not have a good time at the booze playhouse that is Cocktail Trading Company and the cocktails will do nothing but impress when they rock up in welly boots, miniature graveyards and Chinese take-out boxes, and they use epic garnishes like candyfloss and maple bacon noodles. Enjoy the playlist of party classics and when Purple Rain comes on and the lights change to violet, that's your cue to start dancing. 68 Bethnal Green Rd, Shoreditch, London E1 6GQ
Little Mercies - If you're both North London locals,  this neighbourhood bar is prob already on your radar. If it isn't, go discover it together cos it's wicked. It's super chill, and they have a pretty special cocktail menu which will give you both plenty to talk about. Grab a spot in the window and let that natural light do you justice. 20 Broadway Parade, Crouch End, London N8 9DE
Sketch This one is perfect for a double date. It's difficult to communicate via eye contact alone how a DD with your mate and each of your dates is going. You'll want a catch-up mid-evening, and Sketch offers the perfect excuse because everyone here loves heading to the toilets for a selfie. Seriously, the toilets here are little white eggs that play bird song on loop and you and your mate can go hide behind them to discuss whether or not you want to swap dates. If you need more advice, just ask the sexy French maids that host both the ladies and gents. They've seen everything. 9 Conduit Street, London, W1S 2XG 
Bar Termini Get a £2.50 espresso to shake you up (these Italians are taking coffee old school), order two Rose Negronis and ask the pros to keep 'em coming. Reservations here work on a strict 1 hour-only slot and the staff will come and tell you when your time at the table is done there's your escape route sorted. 7 Old Compton Street, London, W1D 5JE
Four Sisters Townhouse It's like you've stepped right into a Charles Dickens novel, with gilt-framed mirrors, traditional Victorian floor tiles and gargoyle heads hanging from the ceiling. Cocktail-wise we're talking sourced sh*t, with homemade barrel-aged aromatic bitters, tinctures, curds, syrups, foams and cordials. 5 Groveland Court, Bow Lane, London EC4M 9EH
ABQ Step inside the abandoned-looking RV and you'll find a science lab/cocktail bar... and a scene straight out of Breaking Bad! Step into a giant rubber jumpsuit (a nice opportunity to see how yur date looks in head-to-toe latex!) and get to work making bubbling cocktails. You can't fail to have fun in this crazy place.
Ladies and Gentlemen This place used to be Kentish Town's public lav but it's now a slick and sexy cocktail bar. Climb downstairs and dive behind the blue velvet curtain for secret live music and some of the best Old Fashioneds like, ever. Oh and it's damn small so you're probably gonna have to get in close; you're welcome. 2 Highgate Road, London NW5 1NR 
Evans & Peel Detective Agency If you haven't pulled this one out the bag yet, do it. Buzz the bell, head down for your 'appointment' with the detective. You gotta go all 'role play' and discuss with Mr Detective about a case you need solving. He'll then lead you to a secret hideaway behind a bookcase (classic) and you take it from there... 310c Earls Ct Rd, SW5 9BA
Cahoots Step foot inside the old tube carriage complete with vintage TfL carriage seats, white underground tiles and 'Mind the Gap' reminders. The theme continues with the cocktail menu, with ration-inspired cocktails garnished with peardrops and crumbled Oxo cubes, served up in teacups, Thermos flasks and milk bottles. Carnaby Street to Kingly Court, London
Hoxley & Porter Is this a bar or an opulent train carriage travelling express from Cape Town to Cairo? Who cares when the booze is good? With loads of quirky drinks on offer and garnishes like absinthe-soaked scorpion, and decadent but epic Art Deco meets House of Hackney decor, you'll never run out of things to talk about. 153 Upper Street, London N1 1RA 
Bermondsey Arts Club Another toilet turned bar joint, this Bermondsey basement spot is all 30's Art Deco with a marble-topped bar and original tiling. The drinks are seriously on point with grappa cocktails and incense stick garnishes, natch. Get there for the mid-week jazz sessions, art collabs and live music.102A Tower Bridge Road, SE1 4TP
Original Sin Two words; pool table. If there's anything youth clubs taught us, it's that pool tables are less a fun pastime, more a vehicle for flirtatious groping. Plus the games are free at this place. What else do you need? Booze. Luckily the 10 metre long bar is serving up some killer cocktails so get the drinks in, mention you don't know how to play and spend the night being straddled by your hot date. No real conversation necessary. 129 Stoke Newington High Street, London N16 0PH
Nine Lives -  Found beneath the cobbles of Bermondsey Street, this basement has some serious tropical colonial vibes going on. They call it 'Tropicalifornication' – think cascading leaves hanging from bamboo scaffolding and cosy shag covered seats parked on parquet floors. The best bit? There's a Shuffleboard in the corner. Challenge your date to a game to get the measure of them. Loser buys the next round. 8 Holyrood St, London SE1 2EL 
Temper  This is a BBQ meat mecca found right in the heart of Soho. Don't bring a vegan here, but any meat-loving date will be all over it! Grab a seat at the bar for a full evening of theatricals - watch the ginormous hunks of meat sizzle away before being brought straight to you. Thirsty? These guys have a wicked Mezcal menu that you need to check out. Broadwick St, Soho, London W1F 0DF   Want more dinner date ideas? Check out our other dinner date ideas here. 
Dans Le Noir If your date hasn't lived up to their sexed-up Tinder profile, then head to Dans Le Noir for dinner in the pitch black. This is your opportunity to ask your date a few saucy questions without them seeing your blushes. After supper, you can head to the dark bar upstairs for a couple of drinks... by the time you've had a few you may well be in the mood for a cheeky fumble. 30-31 Clerkenwell Green, EC1R 0DU
Lyaness is already a solid BarChick fave following its reincarnation from Dandelyan back in March 2019. And it's a great date spot. It's sexy but not in an OTT way. It's bang on the river so views are ticked, the extraordinary menu will wow you and gives a failsafe conversation starter; they're the work of London bartending legend Ryan Cheti and his team. If you want an epic first date story to tell your grandkids, this is where you need to head. 20 Upper Ground, London SE1 9PD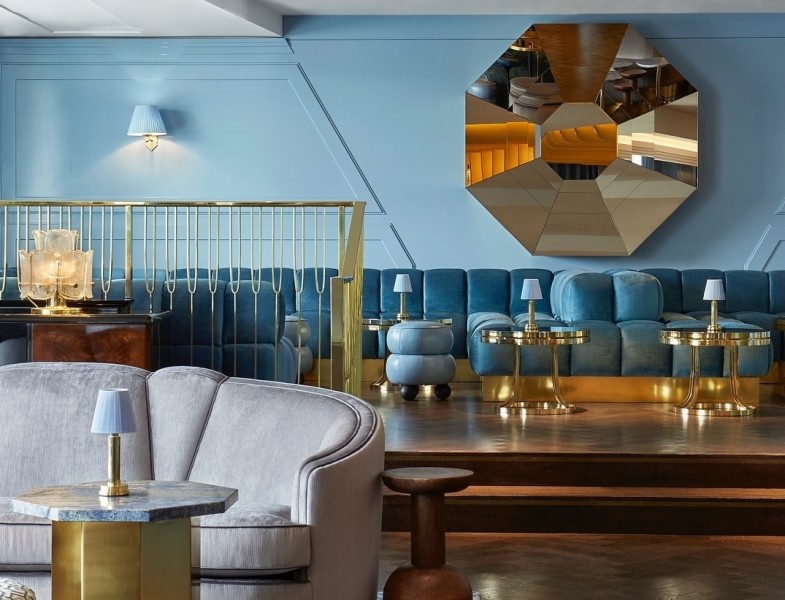 Peckham Springs Skint? Don't be a date d*ck – drinking tap water after the first bottle of cheap beer because you're a hot mess who can't budget is never ok. Cocktails at Peckham Springs are £6 a pop and absolutely killer (they've even been named 'best value cocktails in London'). Remember you're in Peckham and these guys keep it casual – you don't want to ruin your fancy shoes when searching for the best seats in the car park out back. 22A Blenheim Grove, SE15 4QN
WC This shabby refurbed public toilet bar has got south of the river date night written all over it. From the sexy candlelit curtained booths to the old wartime love letters pinned up on the toilet walls, if you wanna get things hot from the first date then this is the perfect spot. Go hard then take 'em home. Clapham Common South Side, SW4 7AJ 
Gremio de Brixton Forget all over your face spaghetti or sushi (we love it but no one wants to snog a salmon seaweed cone), first dinner dates are all about the tapas. This restaurant is f*cking cool. It's hidden underneath an old church, they take reservations so you can avoid awkward small talk in the queue and it's super sexy – we're talking bare-brick walls and flickering candles. Order some sherry with a couple sharing dishes and work your way through the mega Spanish wine menu. St Matthew's Church, Brixton Hill, SW2 1JF
The Lido Cafe If you want an excuse to see your gym-obsessed date in as little as possible, then go get a sun lounger at Brockwell Lido. Have a perv behind your shades as you lounge in the sun and hit the cocktails (they even do a 'healthy' boozy juice list). Dulwich Road, Brockwell Lido, SE24 0PA 
Backyard Cinema Slip through the magical wardrobe, through a secret tunnel of trees into the indoor enchanted forest. Then pull up a tree stump and tuck into warm mulled wine and a mince pie while you watch some epic Christmas films, like Home Alone - nice one! 42 Newington Causeway, London SE1 6DR, UK
Viktor Wynd's Museum of Curiosities This bar is insane. If you're anticipating awkward silences on your first date then it's got to be Viktor Wynd's – the place is dripping with conversation starters. If the weird and wonderful menu or collection of old school McDonald's Happy Meal toys doesn't give you something to talk about, the two-headed taxidermy cat will. 11 Mare Street, London E8 4RP
Sager + Wilde Restaurant  Don't get nervous if you're dating someone who knows their sh*t when it comes to vino – even the most extreme wine connoisseurs would have trouble picking a bottle fast at this place. Be safe in the knowledge that they only serve the best here, so if you've got to order you won't end up choosing a bad one. If you want more reassurance, remember that the dudes here teamed up with Domaine de la Cote in the Santa Rita Hills to create their very own Pinot noir. It's epic, pick that one. 250 Paradise Row, E2 
Noble Rot Like stepping into 1940s Paris, everything in this place is très vintage, from the green walls to the huge windows, refurbed light fixtures, dark wood panelling and those roaring log fires. All wicked glasses of wine with bottles from underrated countries like Croatia and Greece, and hard to find labels that'll keep the wine snobs happy, pair the vino with some bar snacks and you've won date night. 51 Lamb's Conduit Street, London WC1N 3NB
Brasserie of Light  For a first date that will go down in glam history, grab a seat at the bar of this epic Selfridges restaurant. You'll be able to see your date reflected in the gleam of what feels like 1000 mirrors. There's gold leaf, those cute little Art-Deco lamps, and what look like mini disco balls hanging from the ceiling. It would all feel a little extra if it wasn't so damn fabulous. And that f*cking ginormous Pegasus flying overhead with its 30-foot wingspan designed by Damien Hurst will provide endless chat. Selfridges, 400 Oxford St, Marylebone, London W1A 1AB
Flight Club Can't deal with the awkward first date chat? Score a bullseye at this epic Shoreditch darts bar instead; when the small talk dries up, just start shooting arrows. There's real time live scoring, wicked beers and British boozer vibes, this one is perfect for a chilled, fun date. Alphabeta Building, 2A Worship Street, EC2A 2AH
Nolita Social  If you want a date with a taste of glam, this subterranean basement bar filled with dark corners and the chilled vibes of Little Italy in the 70's is the spot to hit up. V. impressive.  And you'll look hot in the golden light of the back bar.  The cocktails which nod to famous songs from the 60's, 70's and 80's are brought to life with the killer live music sessions 4 nights a week. 4 Knightsbridge Green, Knightsbridge, London SW1X 7QA
Serpentine Bar & Kitchen Agreeing to a daytime date always seems like a casual plan until you realise you're without the important end point that being kicked out of a bar at last orders supplies. Plan something active so that being tired leads to a sit down, which will lead to booze, taking you back on the dating straight and narrow. We say rent a boat on the Serpentine Lake in Hyde Park; and afterwards, get a bottle of wine and a woodfired pizza at the Serpentine Bar. Done. Serpentine Road, Hyde Park, W2 2UH
Do Not Disturb Take your date through the keyhole of this epic new basement bar in The City and you'll find a hot spot for your clandestine rendezvous and killer drinks. Once you're in on the secret, you'll find a den of old-school Manhatten glamour. The cocktails are a mix of barrel-aged and twists on classics. The Lift Yourself is includes Asparagus, Coconut Water, Vinegar and a kick of Ocho Blanco Tequila. Did you know Asparagus is an aphrodisiac? Have a few of these and perhaps you'll be getting a different kinda lift if you know what we mean?
Bungatini It's all about Bunga Bunga's swish Soho sister bar Bungatini. Open from 7am-1am – they've covered all bases here, from coffee and  breakfast to aperitivo, dinner and drinks. So whether you're slipping in a quickie pre-work date, or rockin' up for an after hours fumble, this is your place. 167 Drury Lane, London, United Kingdom
Coppa Club, Tower Bridge With a terrace opening out onto the South Bank, those insta-famous igloos for snuggling in with killer views of London Bridge, it's a great spot to sit during the daylight hours and into sunset. When the sun goes down, hop inside, soak in the bustling Italian-style atmosphere, and tuck into some cocktails before a romantic walk along the river. Winner. 3 Three Quays Walk, Lower Thames St, London EC3R 6AH
You should also check out: Where to take a guy on a date / Where to take a girl on a date / Where to take your Tinder date