Whether it's a big celebration, first date, hungover binge or you've got the late-night munchies, these are the best places in town to satisfy your Chinese cravings. We're talking dim sum trolleys, crispy duck and wonton soup by the bucket load.
Without a doubt the best roast duck in the UK. Call ahead to secure your duck order as they run out quite quickly in the evenings. Big fresh, hot portions thrown on the table but always done with a sweet smile. Look out for the ducks hanging in the windows and you're in the right place.
12 Gerrard Street, Chinatown, W1D 5PR  
The newest Chinese kid on the block. This one's not you're average 'here just for the food' Chinese either: the owners, who studied at Royal College of Art created a joint that 'takes people to a curated time and space where they can experience the 80's Chinese family time and food'. We're not sure what they mean either. But go. The decor and crockery is kitsch as f*ck, the whole place a little bit weird and a lot wonderful, and the food - it's epic. They even do a laundry full breakfast, so you haven't gotta save that Chinese craving 'til dinner. Result.
One of London's best Chinese food secrets is hidden at the top of a dated 5 star hotel in Kensington, and home to one of the best roast duck experiences in town and killer views. Order the "Legendary wood-fired Beijing Duck" which will be served to you twice; first the chef comes with the duck and slices the best bits for you to enjoy with homemade pancakes and both classic and contemporary fillings. The duck then disappears and returns to you in one of 4 ways. Oh and the dim sum is delicate and the chilli and garlic soft shell crab epic.
Royal Garden Hotel, 2-24 Kensington High Street, London W8 4PT
Probably the best Sichuan (aka Chinese food) in London. Great for a special occasion - especially the private rooms where you seem to get away with being as naughty, noisy and messy as you like (BarChick tested). Be warned though… it's spicy (beware those whole dried chillis)! In fact, There probably isn't much point going if you don't like chilli.
28 Frith Street, Soho, W1D 5LF
Just tucked off High Street Ken is Naga, sexed up Pan Asian restaurant and bar. Head here for some serious Chinese and innovative cocktails in a chic yet casual setting. The food here is epic and with everything from Szechuan duck to black cod you could get a little carried away, and the same can be said about the drinks. We sipped on a Flaming Lamborghini and our healthy date had a Tofu Colada - for real.
2 Abingdon Road, London, W8 6AF
If you're looking for tasty Chinese food and something a little different, it doesn't get much better than eating it on a boat. This floating Chinese restaurant is incredibly unique being the only one of its kind in London, plus the surrounding area of Regent's Park is beautiful. You will get the food quality without paying Hakkasan prices, tick tick.
Cumberland Basin, Prince Albert Road, NW1 7SS
Sister restaurant to Barshu, serving Hunanese cuisine which is well known for its hot spicy flavour, fresh aroma and deep colour. It's just as good as its sister but cheaper and a little more relaxed. The décor (nor the service for that matter) isn't going to blow your mind (think wood) but the food will. Start with thin strips of beef and then have the red-braised pork, both of which will smack you round the face with their hotness!
24 Romilly St, Soho, W1D 5AH
Crispy Duck
It's the only place in town to get Chinese at 3am (we've all been there), whether you want lobster noodles or crispy chilli beef - Crispy Duck on Brewer St is where it's at! It's a bit of an institution and at that time in the morning the place will be heaving with clubbers and big groups of Chinese youngsters. And it's open 24hrs – bonus! Don't expect to eat in peace either - it will be playing random Chinese dance music VERY LOUDLY.
7 Brewer Street, London, W1D 5PH
This is where to Chinese if you're on a budget (cash only!) – but don't want to skimp on quality. This place has got rave reviews all over town and it's not hard to see why. The skewers of lamb and pork belly crusted in salt are amazing and big plate chicken is enough to satisfy two hungry diners. Pack in on the canteen style tables and get your fill.
49 Camberwell Church Street, London, SE5
Mr Chow is an iconic institution when it comes to Chinese food in Knightsbridge, in fact it's so good it's now set up shop in Beverly Hills so all those glitterati can get a taste of the Orient too. The service and the restaurant itself is impeccable, tuck into traditional, authentic dishes as well as some original and exciting recipes then venture out into the Knightsbridge hood.
151 Knightsbridge, London, SW1X 7PA 
A cheap and delicious Sichuan restaurant where you can always get a table. BarChick's been known to drive across London for this one! The service is great and there are over 100 unique and delicious dishes to choose from.
32 Hanbury Street, Brick Lane, E1 6Q
Tian Fu
Just around the corner from Westfield, so if you're doing a bit of Chinese New Year shopping then this one will be perfect. Make sure you order the Sichuan stuff on the menu. The staff are sweet and they make some of the best wok-fried green beans in London, good work team! Maybe not the place to long out lunch/dinner, but if you're looking for good value, generous portions and great food, this ticks all the boxes.
37 Bulwer Street, Shepherd's Bush, W12 8AR
We love this dim sum restaurant in a big way. It's relaxed and delicious, in fact if you went in your pyjamas they wouldn't care. Make sure you order the Chiu Chow Fan Kou – really amazing handmade dumplings. Normally you can get a table as a walk in, although perhaps not after we've told you about it!
207 Earl's Court Road, London, SW5 9AN
Open for 30 years this restaurant is still cooking up some of the best dim sum in London, and it's surprisingly affordable considering the location. Book a table or a private room for a long dim sum weekend lunch with friends and be sure to hit their cocktails and Chinese flower teas.
8 – 10 North Audley Street, Mayfair, W1K 6ZD
The dim sum trolley experience is one not often found in London so it's quite fun to come here with a group of friends. Make sure you sit on a seat at the edge of the table nearest the trolley's path so you can be in charge of grabbing your favourites! It has to be said that some of the dim sum doesn't always taste super fresh, and compared to the two dim sum suggestions above it doesn't provide much competition, but if you're in the area then it's a must.
1 Gerrard Place, Chinatown, W1D 5PA
BarChick is  a regular at this Paddington Basin classic. We think they serve some of the best dim sum in town, which kinda makes up for the random area that its in. Go for lunch, and stay till dinner, it's particularly perfect before or after and train journey from Paddington. Choo Choo.
8 Sheldon Square, London W2 6E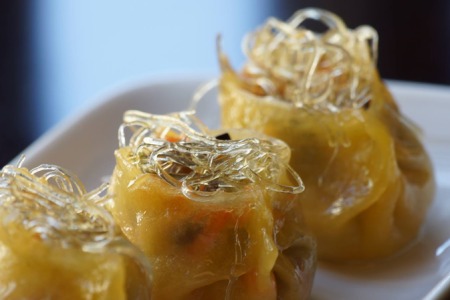 Baozi Inn
Great little street food snacky style restaurant. Make sure you go only in a pair otherwise you'll never get a table! It's kind of like North Chinese street food but smartened up a little bit for the likes of London.
25 Newport Court, Chinatown, WC2H 7JS