When the weather is looking fitter than The Hot Priest in a dog collar, the best thing to do is follow his lead and get on the tins in your garden... though we think you can def do better than some Tesco G&Ts. Time to stock your fridge with these fly canned cocktails that have launched this Summer.
Silent Pool G&T
M&S might have won the caterpillar cake battle (love ya, Colin), but they've lost the G&T war to the Silent Pool distillers who have played to their, err... strengths, and brought out the strongest RTD G&T on the market, knocking the highstreet giant's tinnie unceremoniously from the top spot with an 8.6% ABV sucker-punch. BOOM! They've mixed 200ml of their bespoke Indian tonic (created specifically to complement Silent Pool Gin) with 50ml of Silent Pool Gin. That's a full double measure, baby. 
Silent Pool G&T | 12 cans for £35 | Silent Pool Distillers (and coming to Waitrose soon)
HUN AF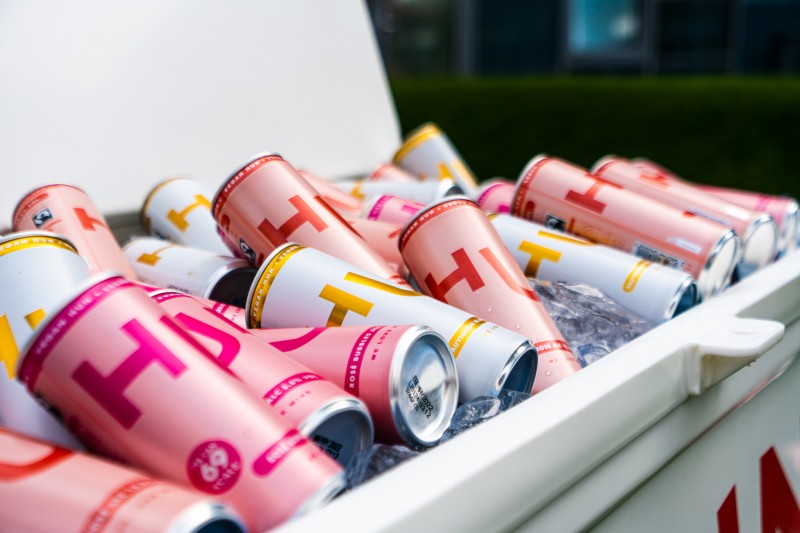 HUN is the sassy brand stepping up to be your non-alc wingwoman this Summer. Using an innovative process that retains 100% of the wine's original aromas and flavour even when the booze has been given the boot, HUN AF (that stands for "alcohol-free", FYI) is a sparkling Chenin Blanc made from single-origin South African grapes, and just so happens to be the UK's first alcohol-free canned vino, so you can take it easy without missing out on the flavour (or your memories the next morning). Yes, HUN!
HUN AF | £2.50 | HunWines.com
Banks Brothers
You can't even stop chefs jumping on the tinnie bandwagon these days. The Banks Brothers, AKA Michelin-starred TV chef Tommy of The Black Swan in Oldstead and Roots in York & his bro James who spearheads the drinks offering at both restaurants (alongside business partner Matt Lockwood, no relation) have turned their hands at canning some buff vinos worthy of being paired with Tommy's v. popular Made in Oldstead at-home dining experience. They've canned up two wines for their July launch: a Syrah Mourvèdre (a powerful and spicy wine, full of the rich flavours of dark fruits and pepper) and a Chardonnay (a succulent and elegant wine with notes of apples, pears and butter) both sourced from small growers in South Africa. Chin chin.
Banks Brothers | £21 for 3 |www.tommybanks.co.uk
Grey Goose Cocktails To Go
GREY GOOSE have teamed up with four rockstar bars from across the UK to create a slick collection of limited edition custom-designed tinnies, so that one for the road can actually be enjoyed on the road. Sweet. The vibey cans have each been inspired by the area each bar resides in. You want cocktails that look as good as they taste? Done. Grab an elderflowery "Le Fizz" from Clapham Common's London Cocktail Club (where you can get two for a tenner during their legendary happy hours), or head to OXO Tower for a fruity can of "Southbank". Never Really Here in Edinburgh have canned a punchy Death Before Decaf with cold brew coffee & chocolate bitters that already has our hearts racing, while Science + Industry in Manchester has created an Amplified Mule with Ginger & Strawberry Fizz. Did someone say road trip?
GG To Go | £7-10 | OXO Tower / LCC / Science + Industry / Never Really Here
6 O'Clock Gin - Mango, Ginger & Lime
It's 6 O'Clock somewhere, right? How about 6 O'Clock everywhere? The Bristolian gin producers 6 O'Clock Gin have created a fresh new flavour to add to their portable range of canned serves, turning to celebrated chef Romy Gill MBE for the second summer in a row to nail the art of a perfectly balanced can. They've gone bold with the can design (think if Elle Woods was an RTD), and the liquid inside doesn't stray far from the packaging. Indian summers were the inspo for the flavours, so they've infused their gin with juicy mangos and combined it with premium tonic water. The result is a circus high-wire level of sweet n' spice balance. 
6 O'Clock Mango, Ginger & Lime Gin & Tonic | £2.85 | www.6oclockgin.com
Pocket Negroni
Give BarChick a dress with pockets and you can guarantee she's gonna fill 'em with booze. These dinky travel companions are the perfect single-serve for drinking in transit, made by the Porter's Gin fam at their Aberdeen-based distillery. And yeah, they are v. cute. The recipe comes from their perfected pre-batch pouches that took last Summer by storm, just repackaged into a perfectly balanced bitter-sweet can. Negroni to-go-ni for one? Hell yeah. 
Pocket Negroni | £5 | ShopCuvee.com
Empirical Can 03
The Copenhagen-based Empirical gang are doing their best to distract us from the fact that leaving the country is a no-go by bringing out CAN 03, the third expression of their canned drinks range. The Mediterranean coast that we'd love to be on is metaphorically chilling in this teal wrapped can; citrusy notes come from lemongrass, lemon myrtle and Andaliman pepper; warming earthy vibes come from carob, coffee chaff and golden Yunnan tea; and it's all rounded up with hints of the fragrant coconut-like Fig leaf. This isn't a simple drink, but Empirical aren't simple flavour makers, and that's the way we like it. 
CAN 03 | £5.00 | Shop Cuvee
Apples by Coupette
How d'ya like them Apples? Once voted the best cocktail in the UK, the signature calvados cocktail from the award-winning team at Coupette is now ready for on-the-go drinking. Designed in London, made in France, the Coupette crew have partnered with Maison SASSY to create these canned "Apples" using a rotation of juice from a variety of 5 different apples each pressed, filtered, and carbonated. That juicy blend is then added to some bad-ass calvados to bring notes of caramel, nutmeg, brown sugar and toffee to the party. 
Apples | £5 | Coupette Shop
El Sueño Tequila - Paloma & Margarita
El Sueño AKA the mixto tequila with a premium vibe knows how to get the party started at a picnic. It's a tequila designed to be lengthened or mixed into a cocktail, but if you don't have ya shaker with you in the park, cracking open one of their canned party-starters will do the job. Get vibey with the limey Margarita or kick back with the pink-hued Paloma and let the good times roll. 
El Sueño Cans | £1.75 | Sainsbury's
Liberation Cocktails
The lift on restrictions is on a small hiatus, but turns out liberation can be found in your fridge this summer, honey. Pick up a can of these mixology grade cocktails and take 'em with ya to your next BBQ, park-hang or commute (to the pub). They use natural and craft distillery spirits to make their popular expressions, and you're only a shake away from a generously portioned perfect serve of Espresso Martini, Strawberry Daiquiri, Gin Garden, Pisco Sour or Pornstar Martini. Liberation has never tasted so good.
Liberation Cocktail Cans | From £6 | Liberation Cocktails