The end is nigh, gang. We've done our time, played our part, stuck to the rules... and our reward is finally being allowed to get excited about these epic new bar, restaurant and hotel openings coming this Spring/Summer. Obviously, there's a big Prime Minister sized caveat to these opening dates, but baby, we're confident - good things are coming!
Schofield's Bar & Provisions
Open now for delivery & takeaway
We thought the day would never come, but the epic new Schofields Bar (which has been in the making for literal years) found within this iconic Art Deco building in the heart of Manchester is now OPEN FOR BUSINESS, baby. The Schofield brother's kicked things off with a new delivery & takeaway concept (obviously) - think bottled cocktails, coffee, wine, cheese & charcuterie boards, which'll give ya a taste of what's to come when we're finally allowed inside in May. Bring it on.
Now open for delivery, with doors opening for in-house drinks 17th May at 3 Little Quay St, Manchester M3 3JZ

Hot Stone
Open now for delivery
Top-notch sushi and sashimi, razor-sharp maki rolls and a sh*t hot Ishiyaki menu inspired by the ancient Japanese art of cooking on a searing-hot stones. That's everything you can expect from the second Hot Stone restaurant opening in Fitzrovia in May. Yeah, you might be sick of cooking your own dinners, but we bet at no stage of lockdown have you trying cooking an A5 Wagyu steak on 300°C sizzling stones. Yeah, thought not. This is a whole other level of cooking, baby. And hey, you won't have to do the dishes after.
Hot Stone will open for in-restaurant dining on 17th May at 3 Windmill Street, Fitzrovia, London W1T 2HY, with delivery and collection of its at-home menu available now.
Heritage, Dulwich
Open now for delivery
A neighbourhood as posh as Dulwich deserves a place like Heritage. Executive Chef Dayashankar Sharma is at the helm of this new fine-dining Indian restaurant, and he's created a sick menu celebrating traditional and authentic Indian recipes & ingredients, all taken to new levels with seasonal produce and some bad-ass modern cookery techniques. This is not your average ruby murray, my friend. Whether you're rocking up to this joint in May when restrictions are lifted, or you wanna check out their delivery options (available now if you live within 2.5m of the restaurant). The chargrilled truffle murgh kebab has our mouths watering, and the gruyere and chilli naan def has our name on it.
Heritage will be opening at 101 Rosendale Road, London, SE21 8EZ on May 17th, and delivery is available now
Homeboy Embassy Gardens 
Opening 12th April
Aaron Wall & Ciaran Smith AKA the two Kings of Modern Irish Hospitality are taking their irresistible charms South of the river with the opening of the sequel to their award-winning Irish cocktail bar. Homeboy Embassay Gardens, or "Southside", is gonna be bringing "the best pint of Guinness in London" to Nine Elms, along with their menu of epic cocktails including the legendary Irish Coffee made with their own bitters. Unlike its Northern sister, this one won't have a miniature Irish pub hidden out the back, but it will have a killer heated terrace wrapped around the front, as well as an all-day food offering, from brunch through to a la carte and Sunday Lunch at the weekend. We have everything crossed for a southern migration of their epic Tayto's crisp sandwiches.
Homeboy Embassy Gardens will open at 1 Ponton Road, Nine Elms, London SW11 7BD for drinks and dining on the terrace on April 12th
The Cheese Barge
Opening 17th May
Let's be honest, the guys behind Pick & Cheese and The Cheese Bar won us over when they brought a god damn cheese conveyor belt to Covent Garden. Now, they're floating their way into our hearts with a double-decker Cheese Barge. That's right, y'all. This new lactose-based water-bound restaurant will have a permanent mooring on the Grand Union Canal at Paddington Central with a menu that'll focus on serving seasonal dishes centred around the best of British cheese. Expect dishes freshly made with locally sourced ingredients, and plenty of small producer & natural wines and London craft beers to wash it all down. Bring on the cheese dreams.
The Cheese Barge will be opening on 17th May at Sheldon Square, Paddington Central, London W2 6HY
Ganymede, South Kensington
Opening May 2021
The Lunar Pub Company are nothing if not consistent with their celestial branding. This May they're adding a new 30-cover bar and 46-cover dining room to their catalogue which already includes South Ken's Hunter's Moon, and this new joint on Ebury Street will be named after the largest moon of Jupiter and the third-largest celestial being in the solar system. That's right quiz nerds - Ganymead is coming into Belgravia's orbit. Expect classic Lunar Pub Company staples such as foie gras parfait and scallop ceviche, a sharing fillet of beef wellington alongside innovative daily-changing menus. And because no-one can resist the gravitational pull of an epic brunch or traditional roast, they'll be offering those up on Saturdays and Sundays respectively.
Opening in May at 139 Ebury Street, Belgravia, London, SW1W 9QU
KRAFT Dalston
Opening 17th May
Beer, gin & kebabs. The holy trinity of an epic night out. And from May you'll find them all together at this exciting new London outpost from forward-thinking aparthotel brand Locke in Dalston. Can we get an Amen?! KRAFT Dalston is the new home of a sustainably managed microbrewery German Kraft Brewery, a sustainable urban gin distillery Jim and Tonic, and the first of two new East London homes for kebab legends Le Bab. More about the other below. 
KRAFT is opening at 130a Locke Kingsland, Kingsland High Street from 17th May
Le Bab Old Street
Opening 17th May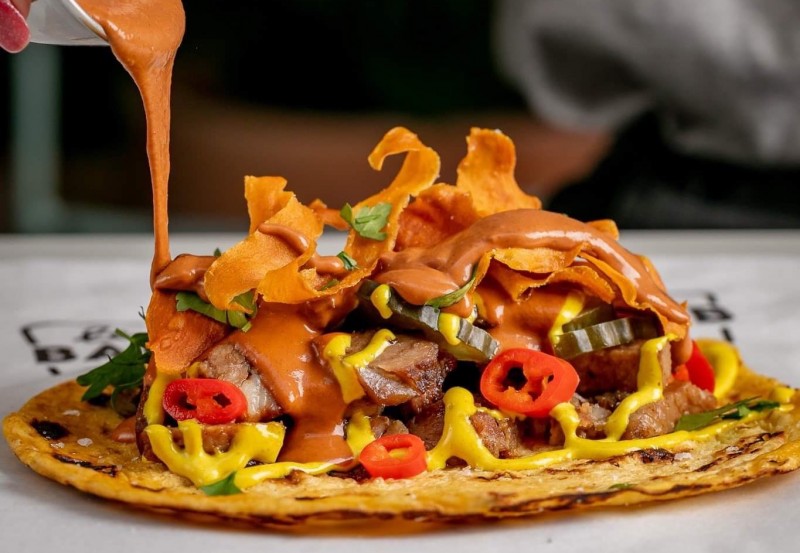 It's amazing the things you start to miss when you can't have them, isn't it? A packet of crisps ripped open and placed in the middle of a pub garden table to share; a pint of beer served in an actual pint glass that you don't have to wash up; the restorative kebab at the end of a night out with your friends. They're all in touching distance now, baby, and in May, we're gonna be beelining for the nightlife heartland of Shoreditch for that early-hours kebab, as the team behind Le Bab open up their third joint on the former site of "Turkish Delight" kebab shop in Old Street. Open until 5am, they'll be bringing a mix of Middle Eastern flavours with international influences and fine dining techniques to the small hours.  
Le Bab 231 Old St, Hoxton, London, EC1V 9HE will be open from 17th May  
NoMad London
Room reservations available from May 25th
Love NYC, hate jetlag? 2021 is finally bringing you a TREAT. It's 2020 opening might have been delayed by you know what, but now one of our fave spots in the Big Apple is setting foundations in BarChick's hometown. NoMad is coming to London, baby! The fashionably boutique NoMad hotel is setting up shop in the former Bow St Magistrate's Court in Covent Garden this Spring. Expect the same epic cocktails that landed the O.G at No.13 on the World's 50 Best Bars list last year in their two bars; Side Hustle and Common Decency. The former is NoMad's take on the lively British pub through their unique lens, while the latter is a subterranean craft cocktail bar x stylish lounge. They've also turned the original courtroom into an epic private event space available for hire and dining will take place in a lushly landscaped atrium with a soaring glass ceiling.
Bow Street Magistrates Court & Police Station, 28 Bow Street, Covent Garden, WC2E 7AW
El Pastor
Opening June 2021
We were pretty gutted when HIX Soho closed it's doors for the last time. RIP to a solid date night venue. But from its ashes is rising El Pastor Soho, and if their menu of fiery seasonal seafood tostadas doesn't beguile any potential love interests, they ain't the one for you. All the dishes at this terrazzo tiled Mexican joint have been designed to reflect the epic eating experiences in Baja California. We're pumped for the debut of their crispy duck taco sharing plate, and the killer selection of mezcals, tequilas and agave spirits they'll be serving at the zinc-wrapped bar. Remember the cool, dimly lit Mark's Bar found in the basement? That space is now gonna be rocking some Mexican nightclub vibes, complete with DJ decks. Looks like post-lockdown life is gonna contain a lotta tacos, tequila and dancing, amigos. Bring it on!
El Pastor Soho will open this June at 66-70 Brewer St, Soho, London W1F 9UP
Indian Alley, Camden
Opening Spring 2021, Date TBC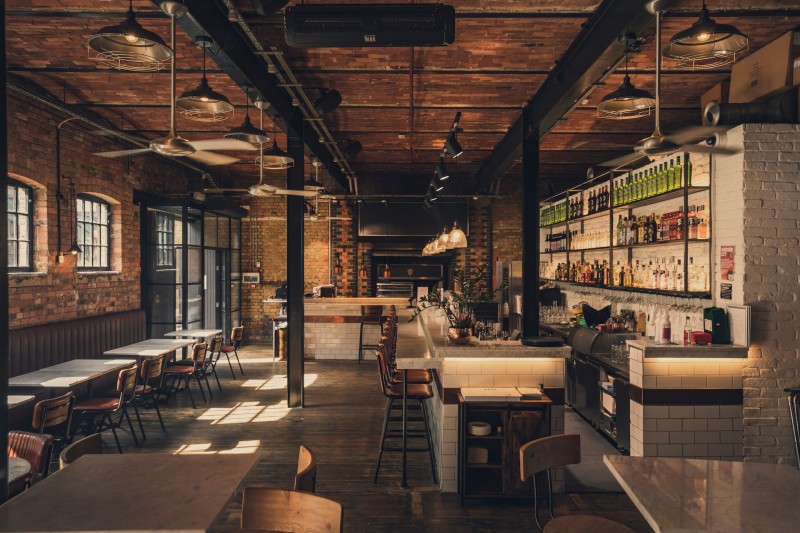 When it comes to fine-dining Indian cooking, the crew at Benares are the dons. And when it comes to colourful roadside-style cooking, well, turns out the Benares crew are pretty slick on that front, too. What more would you expect from a Michelin star kitchen, right? They're opening Indian Alley this Spring which you'll fine within a 2,250 sq Grade I-listed building in Camden's Stables Market. This place is gonna be all about the buzzing vibe of Indian street food of Delhi - think spicy chicken wings, paratha wraps, lamb seekh kebabs and thali plates. To wash all that down, they've got a spicy collection of cocktails, beers and wines, available to enjoy in the 80-cover restaurant or on their 30-cover terrace.
Indian Alley will open this Spring at Unit 92, North Yard, Chalk Farm Road, NW1 8AH 
The Londoner Super Boutique Hotel
Opening date TBC
After a year of staying at home, we all deserve to stay somewhere a bit special, right? Well that's what this luxury new 16-storey hotel is bringing to Leicester Square this Spring. Forget what you know about boutique hotels, cos this is next level boutique. As well as 350 luxurious rooms, its gonna be rocking a spa, swimming pool, gym, beauty salon and a barber, and of course, you can't open a hotel in Leicester Square without incorporating a couple of cinemas. This is "Premier Square" after all. We bet the Hollywood elite won't be able to resist slipping back here for a few nightcaps in the slick new rooftop bar after walking the red carpet. This new bar with it's epic views of the city is bringing contemporary Japanese vibes to the West End, with a menu of exclusive cocktails to sip around the open-air fire pit. If heights ain't your thing, there's always the restaurant, tavern and lobby bar available for a bit of indulgence closer to the ground.
The Londoner and it's 8th-floor rooftop bar can be found at Whitcomb Street, London WC2H 7DT and will open in early 2021.
Park Row
Opening date TBC
If you have a Harley Quinn poster on your wall for reasons other than the fact that Margot Robby is a total babe, then this new joint found on the site of MASH in Soho is gonna rock your world. The former Brewer Street steak joint is being turned into an immersive restaurant themed around the DC Multiverse. It's gonna be split into five unique areas, and if you know your DC and Batman universes, chances are you're gonna recognise them. Every inch of the 317-cover restaurant will be dedicated to DC, and it's the two dedicated drinking spaces that have piqued BarChick's interest; We're feelin' the idea of the Penguin's Iceberg Lounge which'll bring mixed cold drinks, killer international plates and live events, and Old Gotham City, a bad-ass villain inspired speakeasy, has our next saucy date night written all over it.
Park Row's will be opening at 77 Brewer Street W1F 9ZN London on a date TBC