"There is a widespread realisation that the clock is ticking and we must all act now if we are to avoid an environmental catastrophe." Those are the words of Lee Smith, Founder Cane & Able Spirits, and ya know what? The man is right. The planet's getting hotter, sea levels are rising faster than a running bath left unattended, and if we don't sort our sh*t out, it's game over for our planet. But hey, we're not here to take Greta's job. We're here to tell you about awesome booze brands, and these ones, in particular, are doing some pretty smashing things when it comes to sustainability. 
Rum:
Neptune Rum
This guys behind these Barbados and Caribbean rums have combined the finest natural ingredients, centuries-old distillation methods and tropical aging to create what is one of the most awarded rums on the planet. And speaking of the planet, sales of every bottle of Neptune Rum generates some pretty vital funds for projects that prevent, clean-up and restore the earths oceans. From helping to fund the placement of Seabins (those cool sink-hole style bins that flat on the sea's surface and suck in all the rogue plastics and rubbish floating there) to supporting Surfers Against Sewage who help keep the UK beaches clean - they're all about raising awareness. Ya can't name a rum after the god of the ocean and not vow to help protect it, after all.
Two Drifters Rum
Ever heard of a carbon NEGATIVE distillery before? Well honey, ya have now. The Two Drifters cohort have sustainability running through their veins... and that's not cos they've been drinking too much of their own supply. Two Drifters Rum is made in the first distillery in the world to become carbon negative, but the mission for sustainability doesn't end there. They've just upgraded their packaging with a whole new bottle, designed to reflect the eco-credentials of being the world's most sustainable rum brand. The new lighter, taller and British-made bottles feature a natural cork with FSC wooden top, 100% compostable tamper seal, and paper labels made from 95% sugarcane fibre, 5% hemp and linen with a plant-based adhesive. Oh and they haven't stopped there. Even their website is sustainable, made with low carbon emission technology. Bravo, guys!
Lost Years Rum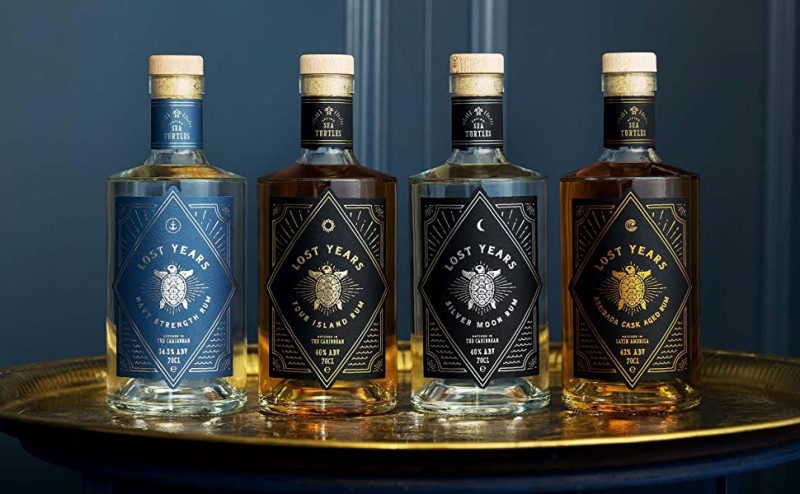 As well as having a plastic-free clear tamper-evident seal made from plant based cellulose which composts in a matter of weeks; 100% recyclable cardboard delivery packaging; and lighter than average bottles which lesson carbon emmisions while being transported, the Lost Years Rum team also have a few other priorities when it comes to making the planet that little bit better. These guys are all about saving baby sea turtles (google them, they're v. cute) Every bottle of their delicious Lost Years rum you buy saves up to ten baby sea turtles by supporting community-based conservation efforts at key nesting sites across the Caribbean and Latin America. Did we just help you justify buying a bottle of each of their four different rums? Yeah, thought so.
Whisky:
Nc'Nean Organic Single Malt
From the off, this awesome whisky distillery has done things the sustainable way. They're working with a "waste not, want not" kinda vibe; their leftover grain feeds the cows on the farm and the waste products are spread on the fields as fertiliser. And of course with whisky this delicious, they never waste a drop. This is Scotland's leading organic whisky distillery and they use only renewable sources for its energy. The distillery has recently been verified as net zero (that means it's totally carbon neutral) for their ops, and the booze itself is totally certified organic. Of course, they've also made sure their clear glass bottle is 100% recycled, which is an industry first. BOOM.
Bruichladdich Distillery - Bruichladdich, Octomore & Port Charlotte Whiskies 
When it comes to producing spirits in a sustainable way, Scotch whisky producers are kinda on the back foot, especially those based on the beautiful Islay on the West coast of Scotland where its nine distilleries burn 15 million litres of oil every single year, resulting in the highest per capita CO2 levels of any community in Scotland. Ooof. That's because they rely on fuel oil brought to the island on diesel-powered ferries to fire up the boilers used in distilling. That's pretty hefty and there ain't an easy fix - but the Bruichladdich Distillery on Islay has set itself the challenge of ensuring that by 2025 its distillation process will be net zero. Their plan is to pioneer the use of a wicked new innovative type of green hydrogen production which uses green electricity and water electrolysis rather than natural gas, and their hope is that if successful the techniques they implement could help power Islay's other distilleries, businesses and homes. Hell yeah to that!
Gin:
Foxhole Spirits - HYKE Gin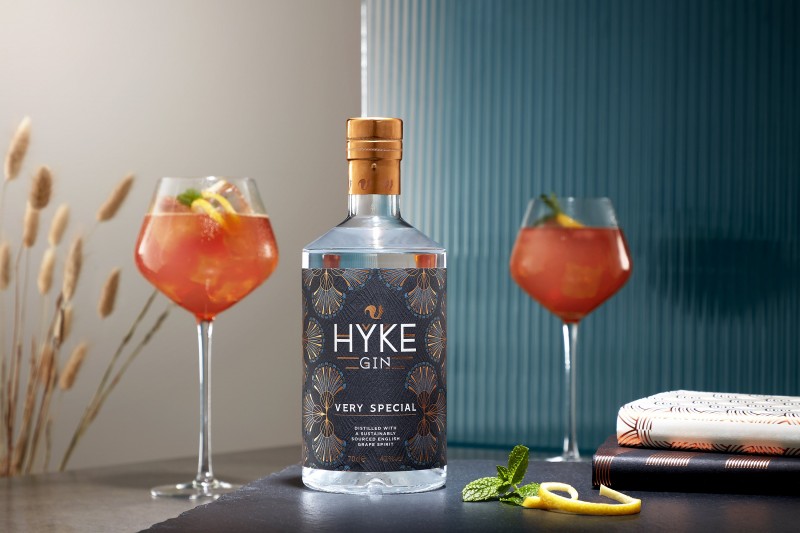 Not so fun fact: 30% of our food goes to waste. Either in supermarkets, restaurants or at home (yeh, we're talking about that bag of salad you've let go soggy in the bottom of your fridge). Foxhole Spirits are doing their bit to change that by tapping into the surplus table grapes market, which annually has approximately 713 tonnes of fresh table grapes not suitable for fresh consumption.  They create their base spirit from those surplus grapes, helping to reduce food waste in the supply chain. They've also hit up the wine industry to take on the crushed grapes usually discarded by the English wine industry to create HYKE Gin Very Special. The result is two totally unique products which taste exceptionally delicious, are beautifully presented, sustainably conscious and yet still affordable. Oh, and they don't taste like wine, before you ask.
Mermaid Gin
Have you ever seen a more beautiful bottle? The net zero Isle of Wight Distillery has created a vessel just as gorgeous as the booze you'll find within it. These stunningly sculpted mermaid-tail bottles are exclusively made from sustainable materials and are totally plastic free. They've decorated each glass bottle with biodegradable paint and they feature an all-natural cork with a wooden top and a paper seal. The gin itself has rock samphire as its lead botanical, known locally as 'mermaid's kiss'. This aromatic succulent clings to the cliffs surrounding the Island, so the team don't have to travel far to get it. Another win for the planet.
Cooper King
As one of only a handful of distilleries in the UK to run on 100% renewable energy from day 1, it's safe to say the bunch at Cooper King have sustainability at their core, and the stats they're rocking speak for themselves: Every 700ml bottle of Dry or Herb Gin they make removes 1kg more CO₂e from the atmosphere than they emit, making them England's first carbon-negative gins. 1 square metre of native broadleaf UK woodland is planted for every bottle of gin sold, thanks to their wicked charity partnership with the Yorkshire Dales Millennium Trust (YDMT), and they've planted over 15,000 square metres of managed woodland so far, offsetting approximately 250,000kg of CO₂ over the 50 year lifespan of the trees. Holy moly. That all sounds impressive, but they reckon moving to a green energy supplier is the single biggest thing they've done to tackle climate change. It's more expensive, sure, but hugely reduces the environmental impact of operations, supports Britain's energy independence, and reduces reliance on fossil fuels. These guys are killing it.
Vodka:
Koskenkorva Vodka Climate Action
Fly less. Upcycle furniture. Grow food. Drink… vodka? Yep - getting on the Martinis is now actually saving the planet. We've literally been waiting for this moment for all our lives. This new vodka (officially launching on October 1st) is a legit world first, and the clue's in the name: Koskenkorva Vodka Climate Action. That's this new Finnish spirit's full title, and not only is it hella smooth, but it's also hella sustainable. They use a unique legit to make this vodka, using regeneratively-farmed barley that helps fight climate change. This regenerative farming aims to remove CO2 from the atmosphere and store it in the ground, creating carbon sinks that reduce the impact of climate change. This isn't a "sweep it under the rug" solution. This process actually improves biodiversity, stops nutrients leaking into water bodies and provides better crops at the same time. If all the farmers in the world swapped to regenerative farming, they could remove up to 322 billion tonnes of CO2 from the atmosphere. That's nearly as much as we emit globally in 10 years. Time to start following in some boozy footsteps, y'all.
Discarded Grape Skin Vodka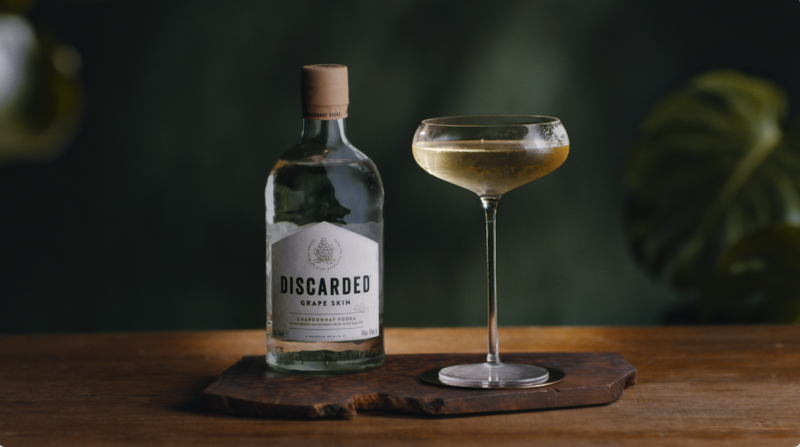 The lot at Discarded Spirits absolutely f*cking hate waste.  They know that 70% of food and drink waste is avoidable, so they're doing whatever they can to actually avoid it. By reusing traditionally 'wasted' ingredients, they've unlocked a new dawn for the spirits industry. They've discovered 'undiscovered' flavours, brought back to life 'redundant' ingredients and invented techniques to 'reuse creatively.' They've basically proven their very well made point that almost everything can be made into something. Like grape skin, for example. Their Grape Skin Vodka is made by distilling all the parts of the wine-making process that are normally discarded: the skins, stems, the seeds… otherwise known as the pomace. In a bid to combat this needless waste, Discarded has distilled this pomace into the base of their Grape Skin Vodka, thereby creating something totally new, innovative, sustainable, and would ya believe it: utterly delicious. If you don't think "I wonder if I could turn this into booze" the next time you chuck away a banana peel, you ain't their people, and tbh, you're prob not ours, either. 
Black Cow English Strawberries Vodka
Ready for a v. simple cheese making lesson? Here we go: When making cheese, the milk is separated into the curds and the whey. The curds are what get turned into cheese... and the whey... well, it gets thrown a-whey. Well, not at the Black Cow Distillery in Dorset. There, they collect up the leftover whey from making their Black Cow cheddar (which, btw, we could eat by the kilo), then they ferment, distil and blend it up to turn it into the "world's smoothest vodka". But their dislike for waste runs much deeper than whey. They caught on to the fact that often strawberries that didn't confirm to a classic strawb shape ended up getting chucked, so they started to collect them up, press them down and combine them with their creamy Pure Milk Vodka to create Black Cow English Strawberries. Sort of like strawberries and cream in a bottle, made almost exclusively from product originally destined for the bin. Whey-hey!
Sapling Spirits
Image via: reve-en-vert.com
Sapling is a four times distilled, charcoal filtered vodka made right in the heart of London, using local ingredients to reduce transport emissions. For every bottle of this creamy, subtly sweet vodka you buy (perfect for a Martini), they plant a tree. And you don't just take their word for it, either. On each bottle a unique code tells you what tree was planted where, and a little about the planting project. From fruit trees in London to Oak trees in Bristol, each tree they put in the ground can absorb up to 1.5 tonnes of carbon in its lifetime. When ya think about how every bottle of this vodka made emits about 2.5kg of carbon, they offset 535 times more than that. Talk about having a lovely taste left in your mouth. 
Agave:
Mijenta Tequila
Man, we love us an artisinal tequila. Especially one with a commitment to environmental sustainability and support for the local community. Mijenta (pronounced Mee-hen-ta, FYI) is inspired by "Mi Gente" meaning "My People". They're all about repping a collective mindset, being part of a community of likeminded people who come together to celebrate life. And nothing celebrates life more than tequila, right? Right. Their ethos is that they should do everything in their power to reverse the environmental impact of creating their spirit, so all the paper-related components of their product (like the label and box) are made of agave waste, and the organisation actively supports local businesses and communities by purchasing all packaging elements from Mexico. They're also v. keen to look after their land (it's what creates the agave for them to make this kick-ass spirit) so they've kept it all totally organic, and with an absense of pesticides in their fields, it's not just agave that grows there. That's what they think gives a special taste to Mijenta.
The Lost Explorer Mezcal
The Lost Explorer Mezcal launched in the UK in October 2020 on a mission to become one of the most sustainable mezcal brands in the world. And boy, they're doing a pretty killer job. They've focussed on using the agave waste produced in the making of their mezcal, and they've taken a pretty creative approach. First up, they've created organic compost used to fertilise the agaves in the replanting process (where they plant three agaves for every one that is harvested). They also use it to manufacture adobe, which is a sustainable building material (and they're pretty sure this is the first of its kind using agave waste). They then use it to create 'copitas' AKA the sipping cups used to drink mezcal. The sustainability doesn't stop there; the bottle the spirit is presented in is designed and made in Mexico City from more than 50% recycled crystal scraps, with a stopper made of natural certified wood before being sealed and stamped with biodegradable natural beeswax that has been sustainably harvested. Absolutely smashing it, amigos.